Be on time for your meetings, appointments, and classes with our list of the best alarm clocks. These clocks are particularly necessary for heavy sleepers who don't wake up easily and need good-quality alarm clocks to avoid oversleeping. Modern alarm clocks are multifunctional with various advanced features, including nightlights, radios, phone chargers, and more for your convenience.
With different customizable sounds and other features, you can choose an alarm clock that fits your needs. So, go through our list of products to choose the right one.
Types Of Alarm Clocks
Alarms clocks are of two main types, namely analog and digital. You would also find many options within these two types. 
Traditional: The traditional alarm clock is an analog clock and uses a mechanical gear system. It consists of a small hammer set between two bells. Once the alarm is set, the hammer moves quickly between the bells to make a ringing sound. These clocks need to be wound-up and do not require batteries or an electrical power supply.
Radio clock: A clock radio or radio clock is a device that combines radio and an alarm clock. The radio clock does not use a gear system and bells but sounds at the required time. Modern radio clocks are digital and function as a normal clock with alarm and radio options. The radio clock ensures that you wake up to radio music every morning.
Dual alarm clock: These are digital alarm clocks that allow two different alarms to be set for two different times, and they have a snooze button and an LED to display time. You can operate these clocks with batteries or even use electricity.
Light-based: This type of alarm clock uses light instead of sound to wake up people. Once you set the alarm time, the LED's brightness starts to glow shortly before the time. The light increases gradually, depicting sunrise and help people wake up naturally.
Novelty clock: These are ordinary alarm clocks with fancy shapes and silly sounds. Children love these.
Phone alarm: Smartphones have become the new wake-up devices. All smartphones have basic alarm settings and tones. You can also download apps that allow you to customize the alarm sound to favorite songs, dialogues, or any sound.
19 Best Alarm Clocks
The stylish wooden Jall digital alarm clock has multiple convenient functions. It has a large LED that can display time, temperature, and humidity in the air. It has three alarm settings, which can be set for different members at different times. It also has a weekday mode, and the alarm can be set to ring at a specific time from Monday to Friday. The LED light brightness is adjustable and can be turned off. The clock can be connected to a barrel power cord via USB. The exquisite decorative clock is ideal for gifting purposes. If you need further convincing, check this YouTuber's review out.
If you are a heavy sleeper, the Sonic Alert Sonic Bomb is what you need. The dual alarm clock comes with a 113dB super-sounding alarm, flashing lights, and backup battery. Moreover, if this is not enough to wake you up, it also comes with a vibrating bed shaker, convenient for people with hearing impairment. It has multiple alarm setting modes, adjustable duration, and a snooze button. Sonic Bomb is easy to use with a 12- or 24-hour time format, knob settings for volume and tone, switches, and buttons for controlling multiple alarms, snooze, dimmer, and clock. Check out the review of this product on YouTube to know why it is one of the best out there.
The Travelway Digital alarm clock has one of the loudest alarms to wake up heavy sleepers. It has a simple design and a night light, suitable for reading. The alarm clock volume has low and high settings and rings for five minutes with a nine-minute snooze button. The red digital display has an adjustable brightness dimmer, and the clock is powered by the AC electric cord and has a battery backup system to sound the alarm. In this YouTube video, you will find a detailed review of this product.
Mpow digital alarm clock has three alarm sounds and adjustable volume control. The five-inch curved LED screen has a blue display with 12- and 24-hour settings and has five brightness levels. The clock has several ringtones suitable for children and adults. The clock comes with a power adapter and a micro USB cable.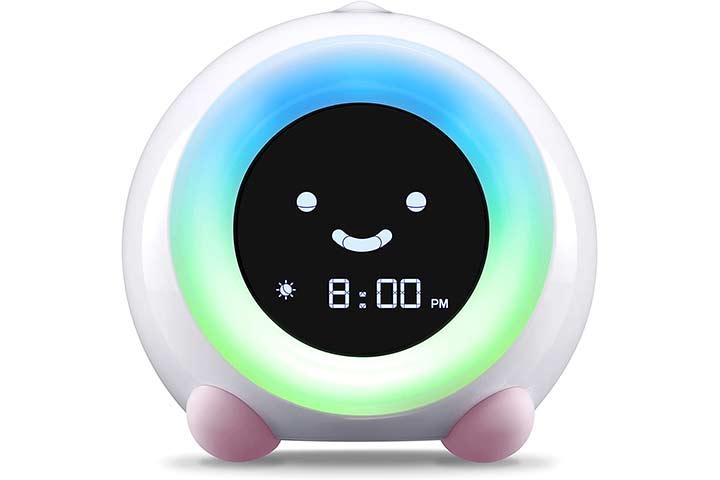 LittleHippo Mella trainer and alarm clock is an attractive, simple, and easy-to-use alarm clock with a modern design and many functions. The clock has multiple colors and facial expressions to help children learn about bedtime and wake-up time. It has five night light colors and three sleep sound options to let your child fall asleep. It has the silent countdown option to time activities and emits a yellow light half-an-hour before the actual wake-up time. Mella clocks are made of ABS and silicone and are non-toxic, durable, and safe.
Mesqool alarm clock has a large seven-inch LED screen and seven soft colored night lights. It has 12- and 24-hour time formats. The plug-in alarm clock is loud for heavy sleepers and gradually increases in volume to gently wake you up. You can adjust the brightness from 0% to 100% using a slider dimmer. The package comes with a dual USB charger, which allows you to charge your phone or tablet along with the clock. This alarm clock also has a battery backup, so a power outage will not erase your alarm and light settings.
Peakeep is a small, battery-operated desk digital alarm clock. Apart from time, it also provides you with the internal temperature of the room. The lightweight clock measures 5.25x2x3in, has a high-definition LCD screen, and is easy to read. The clock also features a built-in surrounding light sensor that triggers a soft night light to automatically light-up the display if the room has low light. You can adjust the light to off, low, or high options. The alarm emits a beeping sound whose speed gradually increases and lasts for 90 seconds. Its snooze time is eight minutes, and you can press it before the alarm stops. It runs on three AAA batteries and supports 12- and 24-hour time settings.
This fascinating projection alarm clock from Pictek has a digital display and a USB mobile phone charger. The five-inch curved LED screen has big red numbers for easy reading. You can adjust the projector from -30° to 90°. The adjustable dimmer with four brightness settings can display the time from a distance of five meters without affecting your sleep. It has 12-hour and 24-hour time setting modes and a nine-minute snooze time.
Reacher small alarm clock is easy to operate and can be used as a desk or shelf clock. The large white LED numbers are easy to read any time of the day or night. Tap anywhere on the top of the clock to operate the snooze mode. The dimmer slider can adjust the brightness from 0% to 100%, and the alarm volume is adjustable from 30 to 85dB. The compact digital alarm clock saves space, measures only 5.6×2.9×1.9in, and uses AC power. In case of a power outage, it has a battery backup to store the alarm and time settings.
DreamSky digital alarm clock has automatic settings and a USB charging port. You can manually set the alarm clock if necessary. It has a large 6.6in screen that can display the time, date, and temperature of the room. The full-range brightness dimmer has six levels and is easy to adjust according to your comfort. If there is no power, the backup battery system saves the settings. The clock  automatically adjusts to Daylight Savings Time when DST is on. You can select from seven U.S. time zones and one Newfoundland time zone based on your location.
Sukeen Digital Alarm Clock has a large six-inch LED screen that can be seen from 30ft away. You can use the screen as a mirror for daily use. It has three adjustable levels of brightness and can be adjusted automatically or manually. The snooze function allows you to sleep for five minutes. Equipped with two USB charging ports, you can charge your mobile phone and other electronic devices with the clock. The battery backup can store time and alarm settings. The digital clock is made with PMMA material that is light, slim, and not easily breakable.
Sharp Digital alarm clock is an automatic smart clock ideal for both children and the elderly. It is equipped with an automatic time-set, and the time-zone selector at the bottom of the clock sets the time to where you are. The dimmer control allows you to adjust the brightness of the screen to your comfort. The red LEDs are clear to the view, and the pre-installed battery back-up system can retain your time settings.
Housbay digital alarm clock comprises a 5.3in large LED display and 1.8in large numbers and is visible even from a distance. It provides various dimmers and night lights in two colors. The brightness can be adjusted and used as a soft light for the baby to fall asleep or illuminate the passage to the bathroom. Dual USB ports help you charge your mobile phones, tablets, or any five-volt gadgets simultaneously. The buttons are large and easy to use. The clock has a snooze function and a button to mute the alarm. The plug-in clock runs on electricity but has a backup option in the event of a power outage.
Tinload Silent clock is a simple 5.5in non-ticking analog clock. It wakes you up with a slow beep and has a five-minute snooze option. The clock is made of high-quality plastic, has a square face, a white dial with black Arabic numerals, and a light-up function for easy readability. The button on the top is easy to locate, and the compact design has a mute function, which can make you sleep without disturbance. The large display and simple operation make the Tinload alarm clock suitable for the elderly. The clock runs on a single AA battery.
If you are a heavy sleeper and need a loud alarm clock, the Rocam digital alarm clock is the right choice. The dual clock comes with a USB charger for mobile phones. It has a bold white digit display and five-level brightness dimmers to bring you comfort. The clock is easy to operate and is ideal for the elderly and children. It has two alarms for different schedules and an adjustable volume button. The snooze button allows nine minutes of extra sleep time in the loop until the 'alarm pause' button is pressed.
Holababy home digital clock is a plug-in alarm clock-cum-USB port phone charger. It has a 7.3in LED screen that displays larger numbers and has a five-level brightness dimmer. It has 12- and 24-hour clock modes, dual alarm settings, and adjustable volume for heavy and light sleepers. A big snooze button on the top makes it easy to press for a nine-minute quick nap. It has a DST model, which increases or decreases by one hour when activated. It has a backup battery that can save your settings during power cuts and is useful during travel.
Pointuch digital alarm clock can double as a wireless phone charger and a colorful night light with eight color modes. It has two alarm settings with a time display. Once the alarm is set, the child lock protects the alarm from being changed by mistake. The package includes a wireless charger, an alarm clock, a type C cable, and a QC3.0 USB plug.
Nicewell digital alarm clock supports all QI-enabled devices and saves a lot of space. The clock has a large LED display screen with four adjustable brightness levels. The snooze time is nine minutes, and you can use the button to operate the clock to light up and snooze or turn off the alarm mode. Nicewell is suitable for bedside or office desktops, provides 12- and 24-hour clock displays, and allows two alarm settings. The package contains a 5V/2A adapter and a type-C charging cord to ensure stable charging of your phone.
Housbay alarm clock has a dual alarm system and night lights in seven colors. It includes a snooze timer of 10 to 120 minutes and an FM radio function with an automatic shutdown timer. The three-in-one glow device has customizable brightness, volume levels, and alarm sounds. You can adjust the dimmer through the dial display. The dual alarm function can wake you up with your favorite radio station, built-in beep sound, or birds chirping. The small bedside clock has buttons that glow in the dark for easy visibility. It works on power and features an additional battery backup.
How To Choose The Right Alarm Clock?
Here are some points to consider while buying an alarm clock.
Display screen: Choose an alarm clock with a large display, as this allows you to view it from a distance. The background needs to be well-lit, and the numbers need to be legible.
Adjustable settings: Alarm sound, volume, screen light dimmers, and night light colors are basic functions of an alarm clock. It is best if these are adjustable to meet your specific preferences and optimum comfort.
Vibration: The vibration option is a crucial factor to consider for people with hearing impairment. This option will shake you out of bed if the alarm sound is not enough to wake you up.
Extras: Alarm clocks, especially the digital alarm clocks, have additional functions, such as bed-shaker, night light option, USB charging port, display projectors, wireless phone charging, radio, etc. They also have multiple alarm settings, timers, and sound and light color options.
Operating system: It is best when the alarm clock has dual operating modes, namely power cable and battery. The battery backup function can help retain settings when there is a power cut or while traveling.
Smart features: Features such as wireless connectivity, Bluetooth options, and voice commands through Alexa or Siri are quite popular. These functions help you set the alarm or answer calls without manual operation.
Why Trust MomJunction?
Wedetso Chirhah is an electronics enthusiast who is passionate about researching the latest and most useful appliances for daily use. He has compiled this list of the best alarm clocks in the market based on user reviews and data from online forums. This article also explains the types of alarm clocks available and how to choose the right one based on factors such as display screen, operating system, and vibration.
Recommended Articles: