We've heard numerous times growing up that the solution to almost any bodily problem can be solved by drinking more water. But for people like coffee addicts or those who simply hate the bland taste of water, it can be quite the task to get the required dose of hydration every day. Hydration is super essential for daily functioning and if you need some help with getting your 3 litres in, read this list of the 5 best alkaline water bottles.
They are tools that allow you to neutralize water in your own kitchen, which can combat stomach acidity or slow metabolism. Adding to that, the taste of water you so dread is replaced by something smoother, so you will definitely look forward to chugging until the last drop!
Top Products From Our List
5 Best Alkaline Water Bottles In 2021
DYLN's alkaline bottles transform regular water into a smooth taste. Built with a VitaBead diffuser that is replaceable and capable of increasing the pH levels up to 9.5, it makes the water rich in antioxidants and hydrogen. The DYLN alkaline water bottle is made of 316 surgical-grade stainless steel and 3 layers of vacuum-sealed insulation that helps keep your water cold for up to 24 hours. An inner coating of copper aids in insulation while also preventing excessive condensation on the outside. Free of any plastic and BPA, this bottle also has an ergonomic shape, making it easy to carry by the flexible handle.

This alkaline water bottle filter by GoFiltr can fit into bottles made of any material to make continuous ionized water. It gets to work in about 15 minutes and the filter lasts you for 3 months or approximately 750 refills. GoFiltr's natural proprietary granules called sioFuse X are are laden with minerals like potassium, calcium, magnesium, and other electrolytes. You could also use any water you fancy from tap water to sparkling and reap the health benefits of this infuser that is free from artificial substances.

pH ACTIVE's alkaline water ionizer bottle contains a huge filter capacity of 416 cups. It allows your water to both smell and taste delicious as it gets rid of chlorine, fluoride, and other heavy metals. To boost your health, nutritious minerals such as selenium, iron, and zinc are added, which raise the pH levels and decrease the OPR. Water molecules are also further broken down for better hydration and absorption. With this bottled water, your cold beverages remain cool and hot ones hot. You can also swap the sports lid for an eco-friendly bamboo covering.

Within merely 3 minutes, GOSOIT's ionic water filter sports bottle raises the pH value with an advanced PEM and SPE technology for safety. The glass body of this bottle is double-layered and made of borosilicate to be able to withstand high temperatures. Anti-scald, heat-resistant, and BPA-free, this alkaline filtered water bottle is also anti-slip with an ergonomic make for easy portability.

With pH Revive, you can enjoy the best alkaline bottled water that has a 624-cup filter capacity. Removing harmful metals, healthy minerals are added which lowers ORP levels while increasing the pH of your drinking water. Molecular-sized structured water is produced from the filter, which keeps you healthy with a faster metabolism. No more odor or bad taste in your plain water, this technology works to increase antioxidant sources for optimum nourishment.

Now that we've seen some of the best alkaline water bottles on the market, let's learn how you can choose one for yourself and your family.
How To Choose The Right Alkaline Water Bottle
You can choose from stainless steel water bottles or glass ones or pick an infuser that you can insert into any bottle of your choice. Stainless steel is a great option as it is quite durable and will serve you well in the long run. With glass, there is no fear of rusting as with the previous metal but it can be prone to breaking upon falling. Infusers are an eco-friendly option as they help you put to use the bottles you already own and most of them work on any kind of water.
Water that measures above 7 pH is generally ideal but for optimum nourishment you can seek out bottles that offer up to 9.5. A number between these 2 will help keep your water alkaline.
If you want to travel with your water bottle, look for features like vacuum insulation, which can help keep beverages hot or cold for longer hours. An ergonomic lid and handle for easy portability are also desirable qualities you can look out for.
If you've been debating whether switching to alkaline waters will do you any good, read on to know its advantages.
Benefits Of Alkaline Water
Alkaline water is a full-on hydration boost and benefits those that are active and lose lots of bodily fluids. This is because the water molecules are broken down, which causes them to be absorbed into your cells easily.
Factors like poor diet, stress, and outside toxins can wreak havoc on the immune system. Ionized water can neutralize the acid produced by these elements and improve your immunity.
Minerals such as magnesium, calcium, and potassium are present aplenty in alkaline water and they aid in the formation of healthy and strong bones while also preventing their deterioration.
As this type of water is also rich in antioxidants, free radicals are eliminated, which can otherwise speed up the aging process.
As acidity in the body is neutralized as mentioned above, gastro-intestinal issues are taken care of as well. This helps with healthy digestion, efficient blood circulation, and a faster metabolism.
If you're embarking on a new health trend every month there's no way you haven't heard of alkaline water. With celebrities and fitness influencers swearing by this wonder liquid, you have to see for yourself what the rage is about, right? Our list of the best alkaline water bottles helps you create your very own without having to use one-time use plastic or perform some fancy chemical experiments. Pour some H2O into the bottle, wait for a couple minutes, and chug down better-tasting (and smelling) water filled to the brim with nourishing minerals! We assure you that your hydration game will be top-notch by the time you're slurping up the last drop.
The following two tabs change content below.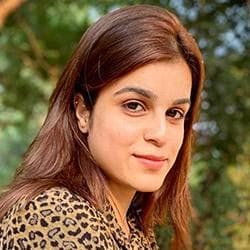 Sakshi John
Sakshi did her graduation in Journalism from the Madras Christian College, Chennai, before starting her career as a freelance writer. She is into blog writing and for MomJunction, she covers various topics, including products to buy for your kitchen, furniture, and other home requirements. Previously, she interned as a content writer in a cyber security firm. As a content writer, Sakshi...
more