You can expect soft, supple, and nourished skin when you have the best aloe vera lotions. They help you treat dry skin, acne, and even burns, and so are known to be a wonder product for skin. That is why many manufacturers now include aloe vera in their skincare products. However, many brands claim they have aloe vera products, so it's difficult to pick the best ones suitable for your skin. Scrolling through our list of popular aloe vera lotions with their specific descriptions can help you choose the right one for yourself. You could even find one for your friend or family member.
17 Best Aloe vera Lotions
Moisture intense with the goodness of Ylang-ylang, lavender, aloe vera, oat protein, and vitamins, this aloe vera lotion nourishes, soothes, and restores the skin. It also acts effectively to aid in treating skin problems like rashes, psoriasis, eczema, redness, itchiness, etc. Being vegan, the product is hypoallergenic and safe for both adults with sensitive skin and kids as well.
This aloe vera face lotion contains jojoba oil, Trehalose and vitamin E. The moisture intense properties of this lotion keep the skin healthy and fresh. The properties of the key ingredients also make the skin well hydrated, nourished, and non-oily. The product is dermatologically tested and found to be safe for sensitive skin as well. It comes in an easy-to-use pump bottle.
This lotion with aloe vera provides all-day moisturization. It is good for relieving the skin of excessive dryness and skin irritation. Enriched with vitamins A and E and Pro-vitamin B5, the lotion soothes all kinds of skin. The rich emollient base helps to remove signs of dullness while restoring the soft and supple skin to its best. It is available in 16oz and 32oz bottles. 
This aloe vera moisturizing lotion is heavy on moisture and, therefore, soothes and nourishes the skin without making it oily. Said to be dermatologically tested and cruelty-free, the product is fit to suit all skin types. The product is fast absorbing and also leaves a fresh feel to the skin, instead of an oil and greasy layer. The small size of the pack makes it travel-friendly as well.
Rich in aloe vera, rosehip oil, organic lavender, calendula, chamomile, herbal extracts, and vitamins, this aloe face lotion is a powerhouse of moisturizing agents. With anti-aging and skin-soothing properties, the cream is perfect for a range of skin issues.
The plus point is that it's hypoallergenic, non-greasy, and leaves the skin fresh, healthy, and hydrated. Its lightweight formula makes it perfect to be used both during day and nighttime. It is free of paraben and artificial fragrances.
The Triple Lanolin aloe vera lotion is created to address excessively dry skin concerns. The combination of rich lanolin and aloe vera fights skin dryness with adequate moisture, while soothing and healing the skin as well. The aloe vera lotion makes sure that it heals the skin while it intensively moisturizes the skin. The small-sized tube makes it perfect for taking it during travel.
Packaged in the form of capsules, this aloe vera face lotion is perfect for travelers. It has Vitamin E, in addition to aloe vera, and fights issues of aging, dryness and dullness, fine lines and wrinkles effectively. The product is very effective for use in cases of sunburn. It's equally potent to address scars and blemishes on the face, making the skin appear smoother and younger.
The product is rich and creamy as it contains ultra-rich moisturizers, including cocoa butter, vitamin A & E, aloe vera, and exotic moisturizers. The ingredients help in replenishing the moisture loss in the skin while leaving the skin with a beautiful fragrance and a fresh feel. In fact, the tropical smell allows your skin to feel fresh and ready for an outing to the beach!
This lightly scented aloe vera lotion is good for daily usage as it gets easily absorbed into the skin, leaving it healthy and supple. The triple lanolin in it, with aloe vera, soothes the skin from irritations, redness, dryness, and even swelling due to acne. Due to its potency to soothe and heal the skin, it is appropriate to be used regularly by both men and women.
Along with moisturizing, the pure aloe vera lotion has whitening, anti-acne, oil-control, after sun-repair soothing, and healing properties as well. The natural aloe essence quenches the skin's need for moisture by trapping adequate water in the skin. It addresses the hydration issue, making the skin healthy, without making it oily. It's perfect for applying post sun exposure to soothe the skin and works for all skin types as well.
This non-GMO aloe vera lotion is free of parabens, phthalates, sulfates, and artificial fragrances, as well as any harsh preservatives, making it a completely organic product. The product is completely vegan and not tested on animals as well. The shea butter, calendula, and beta-glucan, with essential oils, help the skin in restoring its lipid balance and keeping it well hydrated. 
The product is perfect for stressed and sunburn skin, as well as with dry skin. This fast-absorbing pure aloe vera lotion (contains 100% natural aloe vera extract) is light on the skin but very effective in keeping it well moisturized. The natural aloe also helps to calm and soothe the irritated skin. In fact, the micro-droplets of Vaseline jelly help in binding the skin and healing it in just three weeks! 
Pure aloe vera essential oil is blended with lavender, coconut extracts, sesame oil, vegetable glycerin, vitamin E and B5. The lotion is free of parabens, phthalates, artificial fragrances and dyes. Due to its potent ingredients, this aloe vera lotion combats skin dryness effectively. In addition to this, the essential oils impart a fragrant smell on application. The aloe lotion is perfect for all skin types and can be applied to the hands, face, and body.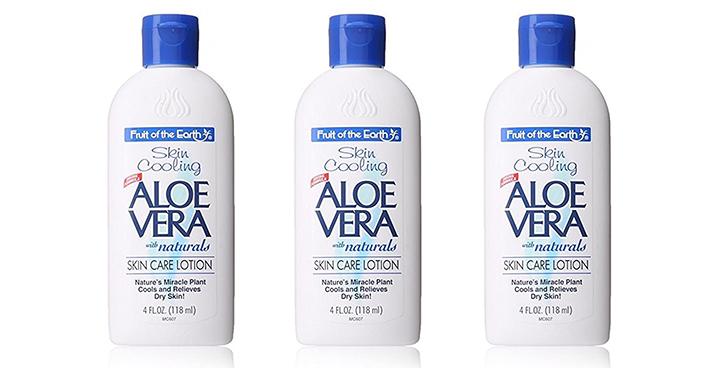 Known to retain the inner moisture of the skin and alleviate surface dryness, the Fruit Of The Earth Aloe Vera With Naturals Skin Care Lotion is the perfect solution if you have dry skin. It is enriched with the goodness of natural ingredients such as sesame oil, sunflower seed oil, and wheat germ oil to give your skin the pampering it deserves. It comes in a pack of three, and each bottle weighs approximately five ounces.
Made with cold-pressed natural aloe vera grown in the USA, this pure aloe vera lotion keeps the skin hydrated for a longer duration. Besides aloe extracts, the product contains coconut, cocoa, avocado, vitamins A, B, C & E, neem oil, and jojoba oil, which heal dry and itchy skin, as well as dermatitis and eczema type of skin issues. Pure aloe, combined with vitamins and essential oils, also addresses sun damage, wrinkles, and other signs of aging. 
One of the best aloe vera lotions, the product seeps well into the skin to cool, soothe, and refresh it. Enriched with a blend of moisturizers along with aloe vera, the lotion is able to protect the skin from the harmful effects of sun and wind. To steer clear of everyday skin drying, this aloe lotion is perfect for using on a regular basis. Use it regularly to reveal healthy and glowing skin. 
Containing certified organic ingredients, this aloe face lotion is known to be safe for regular use. Also, the product's non-greasy and sunscreen formula makes it a preferred choice for everyday usage to keep the skin nourished and healthy. Since it has added SPF 30, the product doubles up as sunscreen cum moisturizer during summers! 
A Buying Guide To Choose Best Aloe Vera Lotions
Known as the miracle plant, aloe vera is good to treat a host of skin and body issues. A little understanding of aloe vera benefits will keep you safe while choosing your products. The following are what you should check to buy the best aloe vera lotions.
Pure/organic aloe vera: Products that contain aloe vera extracts, cold-pressed aloe vera, or aloe vera essence are known to deliver aloe vera benefits better because of their organic forms. These organic products with aloe vera are also great for treating skin conditions, such as psoriasis, dermatitis, eczema, redness, and other skin rashes as well.
Important vitamins: The aloe vera lotions for face and body, which combine aloe vera with vitamins like A, C, and E, are believed to aid in skin repair and healing. You can check for the presence of vitamins in the ingredient list. 
Triple lanolin: When aloe vera combines with Triple Lanolin, it makes fighting dry skin an easy job. Try and look for triple lanolin and aloe vera lotions if you have excessively dry, flaky, or itchy skin, as it will help heal and soothe such skin. In addition to this, the combination assists in treating a range of dry skin issues as well. 
Moisturizing properties: Aloe vera in the composition will ensure that the skin of the face and body is well hydrated owing to its moisture intensive properties. Also, its calming and healing properties will help soothe the skin. 
Preservative-free: Also, when Aloe vera is contained with products that are devoid of parabens and other harsh preservatives, they effectively combat the skin dryness issues. Hence, try and buy aloe vera lotions that are organic, free of parabens, etc.
Why Trust MomJunction?
Poulami Nag is a writer and editor specializing in all things clothing, fashion, footwear, skin and hair care, and makeup. To help her readers get their hands on the best products, she reviews tons of them each day, saving her readers from confusion. In this article on the best aloe vera lotions, she has given a detailed review of each product. You will also find a helpful buying guide section to make the right choice.
Recommended Articles