A bowl of cereal is the best way to ensure that your little one is kick-starting his day on a healthy note. And, we're sure that your kitchen cabinet must be full of different breakfast cereals, some of your kid's choices and some of yours. But, are these cereals truly healthy enough to become a part of your child's diet?
Most brands claim to offer wholesome and nourishing healthy cereals for kids, but contain heaps of salt and sugar. A recent study by the Environmental Working Group found that kid's cereal these days contain more sugar than it did a few years ago.
But, you don't have to steer entirely clear of cereals. An intelligent choice is what you need to make in purchasing cereals, and we'll help you with it. So today, we've got you a compilation of ten healthy and not-so-healthy cereals from various brands.
Ten Best Cereal For Kids:
1. Barbara's Original Puffins: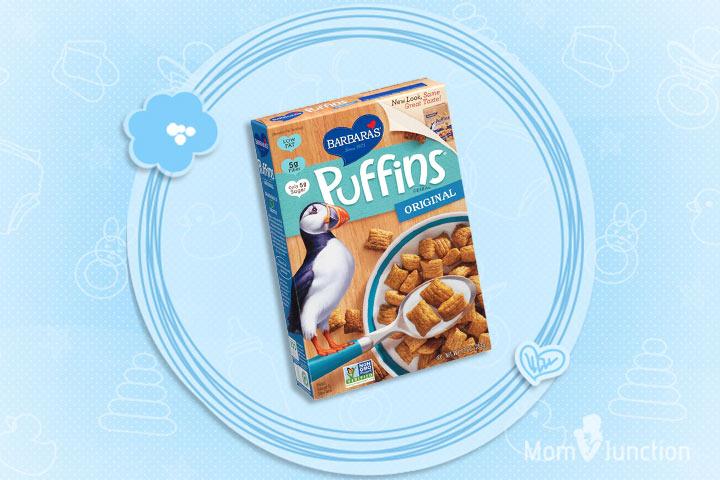 This good old healthy cereal for kids has a lot of mommies going for it. It is crunchy, wheat-free, has a low sweetness and is high in fiber. So your kid will get a solid breakfast. And the adorable image of the Puffin is another plus point.


2. Uncle Toby's Shredded Wheat: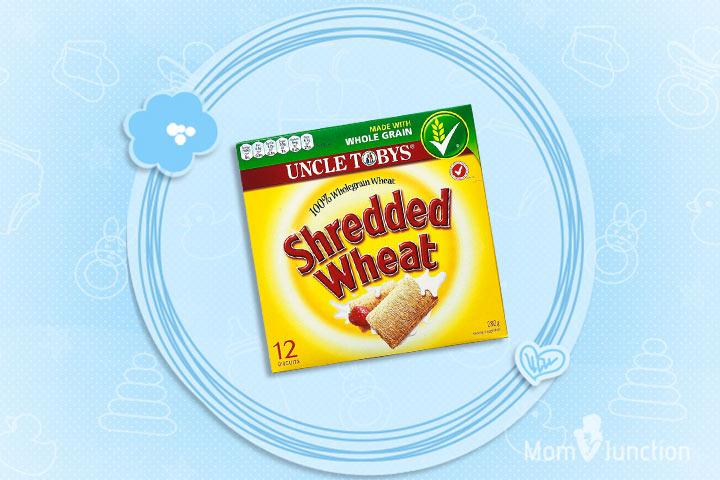 Uncle Toby's Shredded Wheat is 100% whole and is low in sodium too. Yes, the cereal does contain added sugar, but not in exorbitant amount. This cereal has a bland taste, so we would recommend you to add low-fat flavored yogurt or fresh and dried fruits to give an extra flavor.
3. Barbara's Cinnamon Puffins: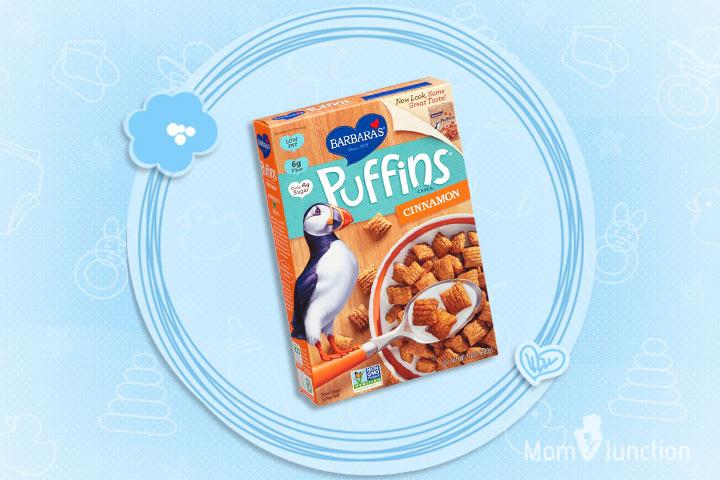 These corn pillows are tad sweeter than the original, making it an excellent option for kids with a sweet tooth. They contain 6 grams of fiber per serving so it will keep you little one full until his recess. It is a high fiber cereal for kids.


[ Read: On The Go Breakfast Recipes For Kids ]
4. Cascadian Farms Hearty Morning: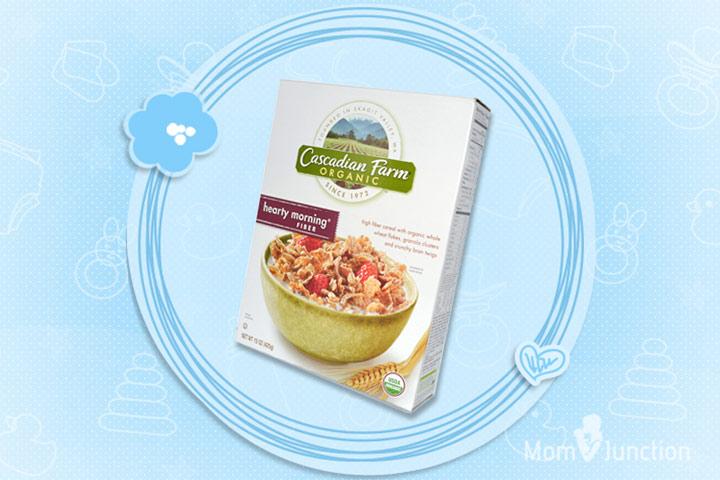 Containing whole grains, bran, and granola, this healthiest cereal for kids will give a crisp start to your child's day. Top the cereal with some nuts and fruits to enhance its taste.


5. Cascadian Farm Organic Fruitful O's: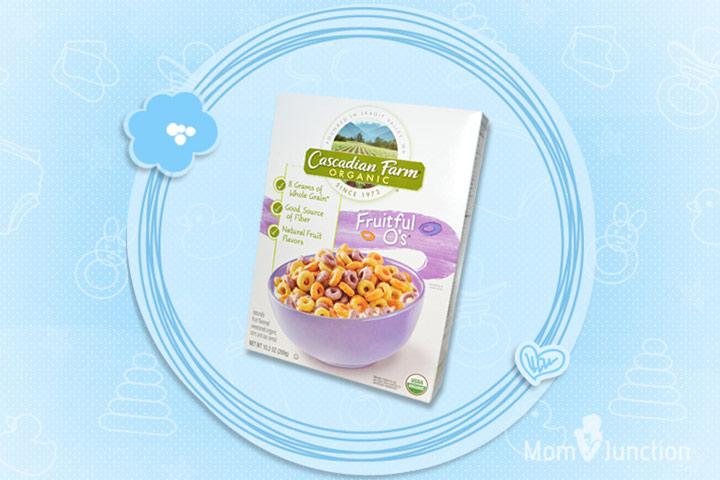 Cascadian Farm Organic Fruitful O's offers some 'fun' colors with containing any artificial color. Plus, your kid will get 3 grams of fiber per serving.


6. Kashi Honey Sunshine Squares: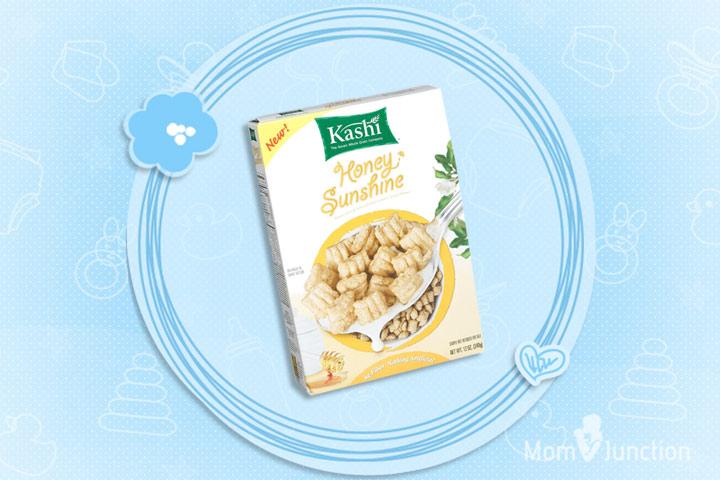 Here's another healthy and tasty cereal containing the goodness of honey. Just a few ingredients in this cereal provide 5 grams of fiber, 20 grams of whole grain and 6 grams of sugar.


7. KIND Cinnamon Oat Clusters With Flax Seeds: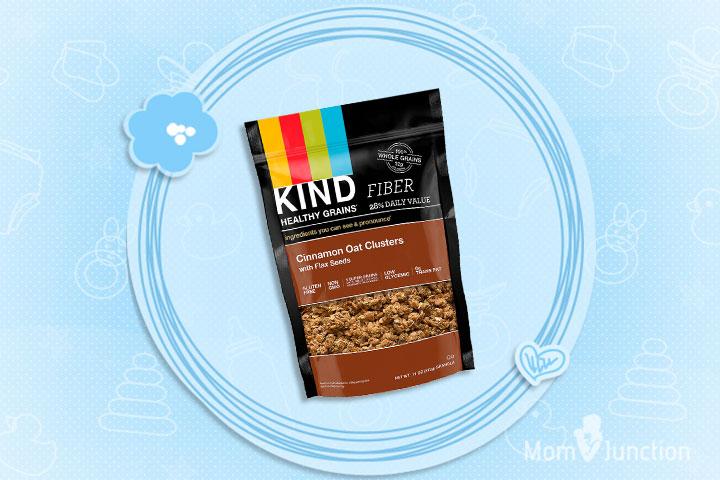 KIND Cinnamon Oat Clusters with Flax Seeds has a wholesome combination of brown rice, oats, millets, buckwheat, oats and quinoa. And with 5 grams protein, it's will make a great topping for high protein Greek yogurt or cottage cheese.


[ Read: High Protein Breakfast For Kids ]
8. Kashi Strawberry Fields: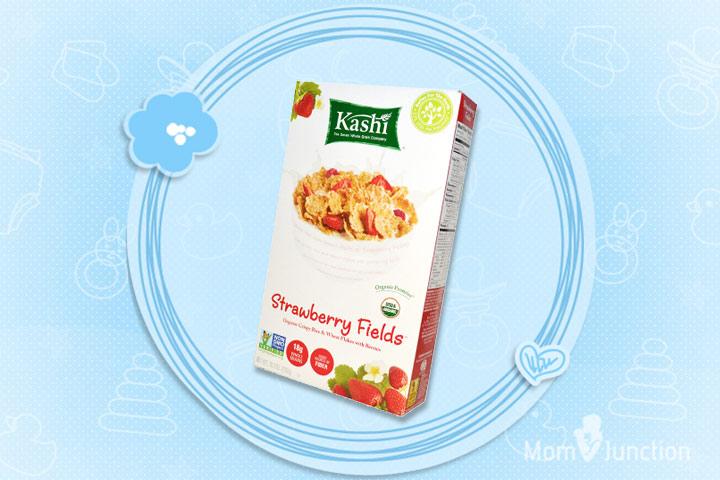 With 3 grams of fiber, 5 grams of protein and real bits of fruit in the form of dried raspberries and strawberries, this cereal is something you must try. It will also leave vibrantly colored milk from the colors in the fruit.


9. Uncle Toby's VitaBrits Weetiees: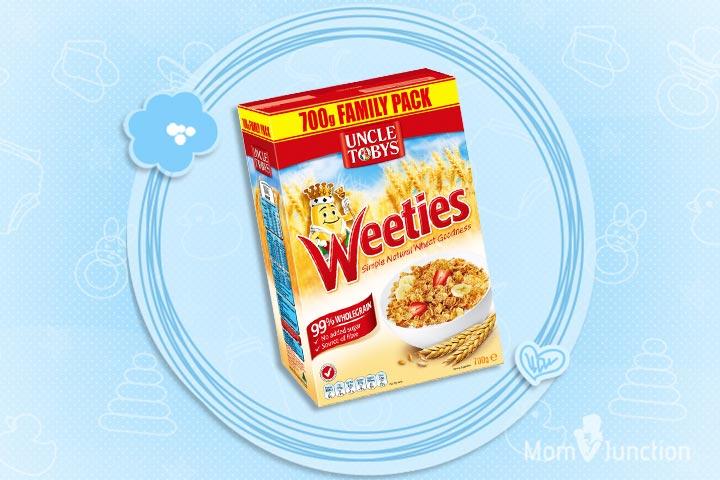 Uncle Toby's VitaBrits Weetiees contains whopping 99% whole grains while having low sugar content. Its sodium content is on the higher side, which gives it a salty taste. Some of the kids may not like its salty taste. In that case, you can go for Uncle Toby's Shredded Wheat.


10. Sanitarium Weet-Bix Bites: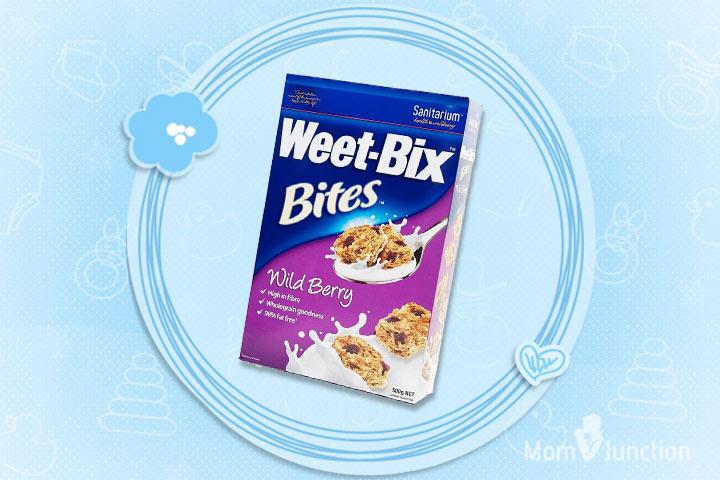 Sanitarium Weet-Bix Bites may be a tad sweeter because of the apricot puree in it, but contains a good amount of dietary fiber and whole grain. And it tastes great too, so you can even place it in your child's lunch box for dry snacking. It is another healthy breakfast cereals for kids.


[ Read: Fiber Rich Foods For Kids ]
Ten Worst Cereals For Kids:
1. Jordans Country Crisp Four Nut Crunch: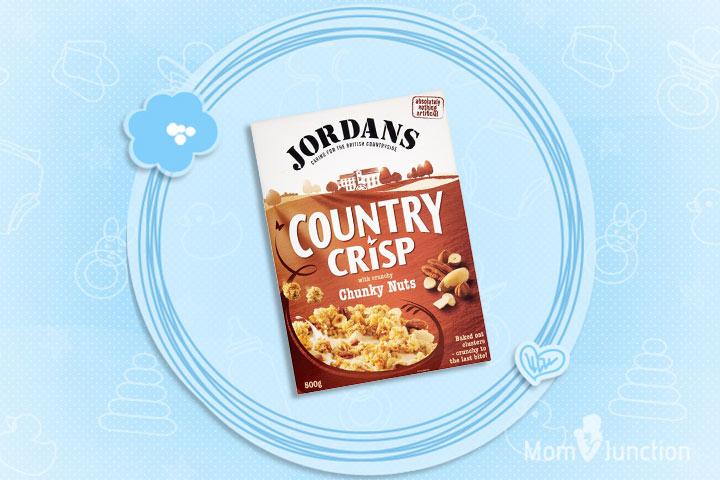 Jordan's Country Crisp Four Nut Crunch cereals might taste great, but it contains high levels of fat and calories. So drop it off your grocery list right away.
2. Tesco Frosted Flakes: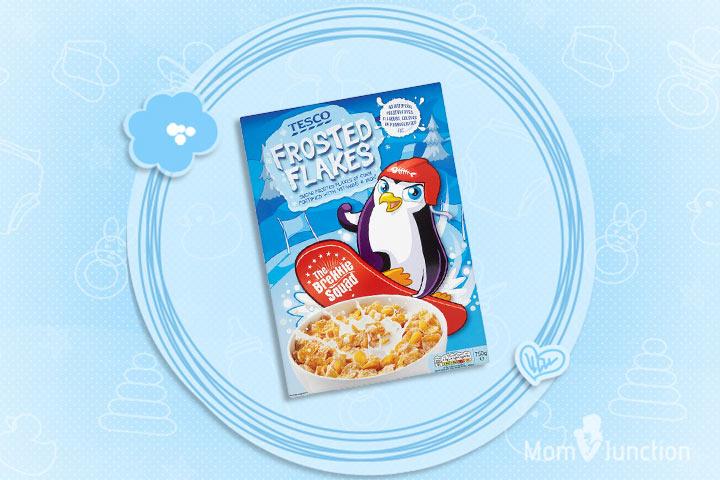 As claimed by the company, Tesco Frosted Flakes does contain the lowest amount of fat, but has a high level of salt and sugar, which negates its benefits. It is the worst breakfast cereals for kids.
3. Golden Crisp: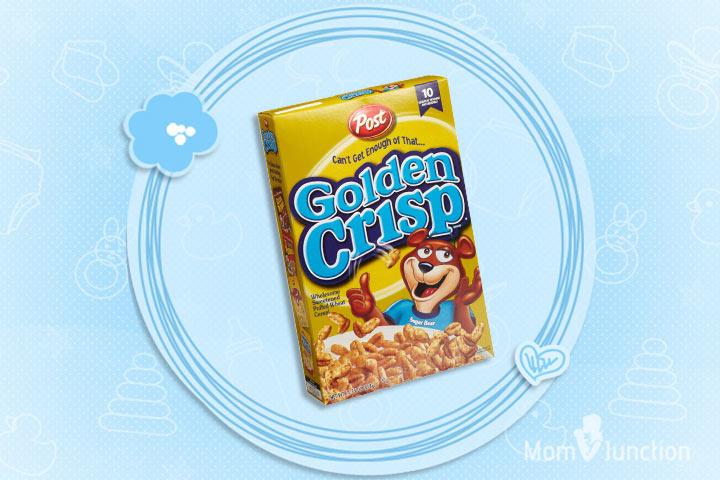 Golden Crisp, advertised to children with the image of jovial "Sugar Bear" contains just six ingredients, yes, just six. Can't believe what you read? Even we couldn't. What's more surprising is that the first ingredient is sugar, followed by wheat, corn syrup, caramel color, honey and salt. All these ingredients add up to 14 grams of sugar and just 1 gram of fiber.
4. Honey Bunches Of Oats Granola: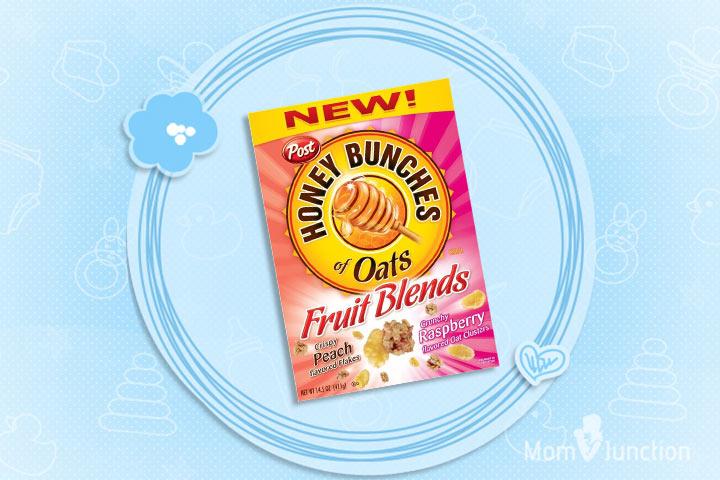 While this cereal catches attention with oats as the essential ingredient, the next few ingredients name oil, sugar, corn syrup and brown sugar are total turn off. Even the oats do not pack much of a wallop, with 2/3rd cup serving providing just 3 grams of fiber. The sugar content is also very high, coming at 14 grams per serving.
5. Froot Loops: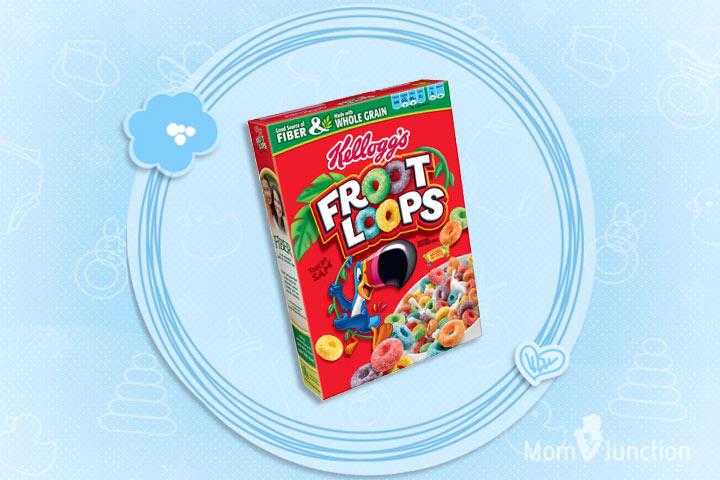 First and foremost, Froot Loops contain a slew of food colorings like blue 2, red 40 and blue 1, which may increase the possibility of hyperactivity and can even the risk of cancer. Secondly, the cereal includes partially hydrogenated oil, which isn't healthy by any means.
6. Trix: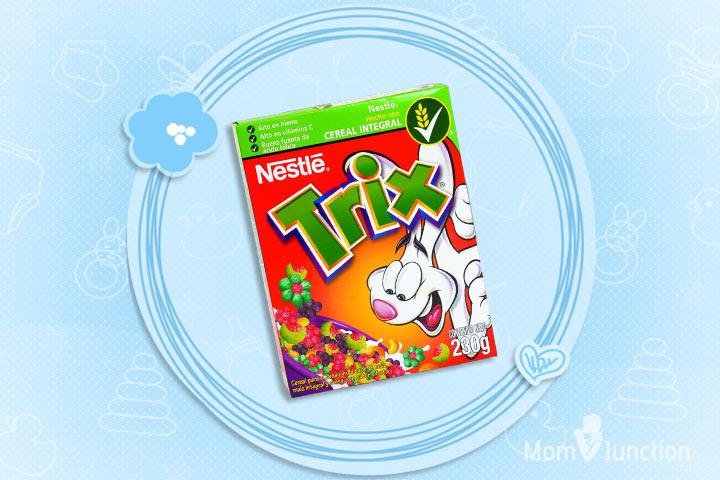 Do not fall for the "whole-grain guarantee" claim of this cereal. Three out of ten ingredients in the cereal are food color. And it lacks fiber.
7. Kellogg's Sustain: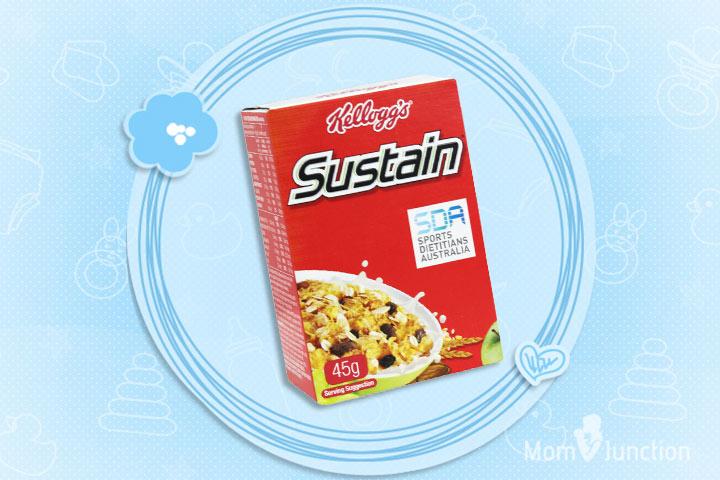 Kellogg's Sustain may have very low sodium content, but its sugar content is on the higher side of the gamut. It's primary because of the dried fruit content in it. And there may be some added sugar too. Even the whole grain and dietary fiber content are low as compared to the other cereals.
8. Good Morenings Waffle Crunch: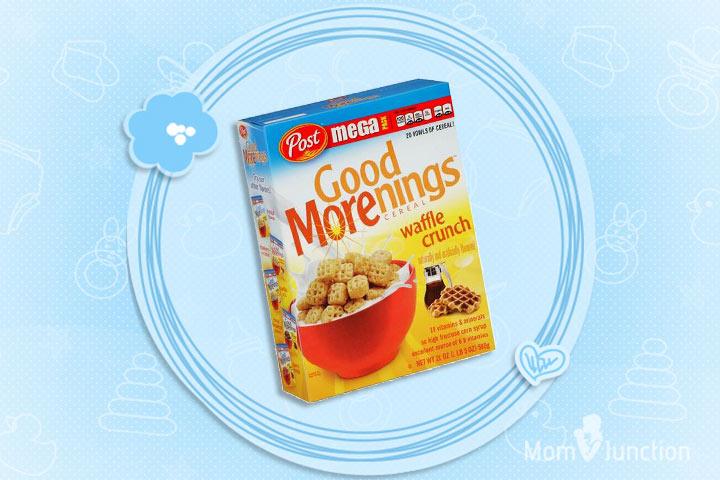 As you read through the ingredient list of the Good Morenings Waffle Crunch, you will come across sugar as the second ingredient. And just a few columns down, you will find hydrogenated soybean, which means trans-fat. This cereal is good just for one thing, and that's fiber. But with just 1 gram per serving, Good Morenings Waffle Crunch is not one of the best cereals to make that claim.
9. Kellogg's Smart Start Strong Heart Antioxidants Cereals: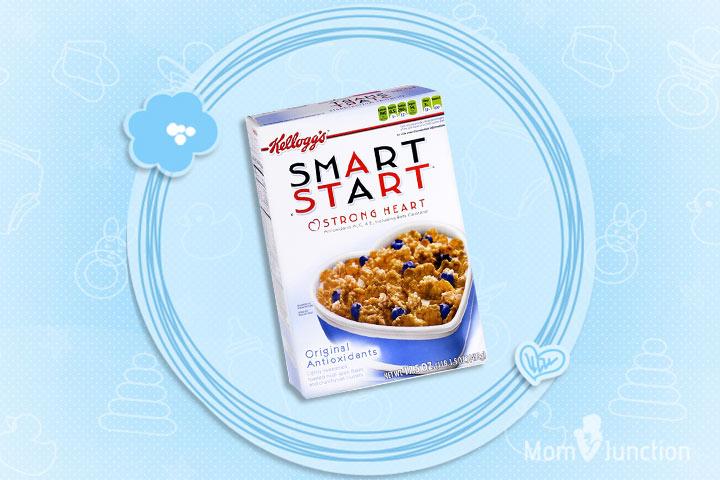 Do not let the tagline 'strong heart antioxidants' trick you. Even though this cereal is fortified with, 100% recommended dietary allowances for most the vitamins and mineral, including Vitamin E, it also one of the highest sugar cereals in the market. It contains just 3 grams of fiber and a hefty 14 grams of sugar per serving.
[ Read: Healthy Drinks For Kids ]
10. Jordan's Country Crisp Cereal: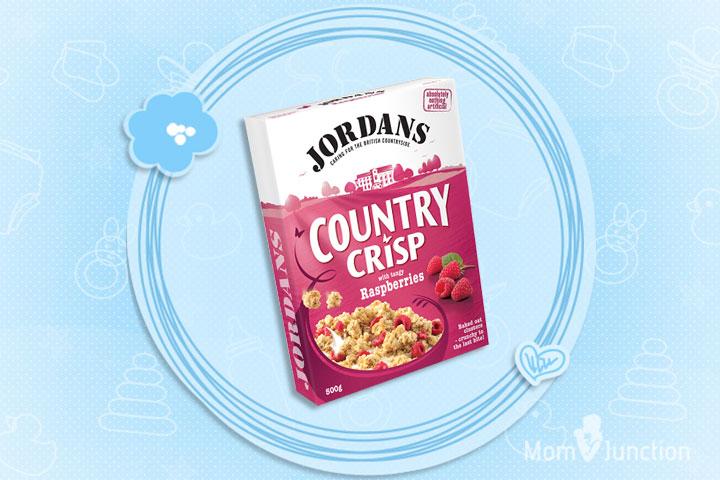 Sainsbury's Yogurt &Raspberry Crisp Cereal is one of those cereals with loads of hidden calories. It also has the 2nd highest fat content, so it's a strict no-no. The only saving grace is that it does not contain any added salt or sugar.
We hope our compilation helps you make the best choice. Did we miss out any healthy cereal for children? If then, then drop your suggestion in the comment section below!
Recommended Articles:
The following two tabs change content below.