The best antiperspirants for women can keep unpleasant body odor away. Although sweating is a natural process and there is nothing wrong with it, body odor can make a bad impression on people around you. This body odor occurs when the sweat mixes with bacteria leading to a foul odor. Surely you, too, may get close to someone who emits this odor, and you may dislike it. Likewise, using a deodorant or antiperspirant to reduce sweating and smell good is always nice.
Unlike men, women's antiperspirants come with a milder, sweeter smell, which helps you stay fresh for hours. However, it might be confusing with so many choices available in the market. So for a better choice, have a look at the most popular antiperspirants for women in this post.
15 Best Antiperspirant Deodorants For Women
Nothing quite gets us down like a sticky and messy residue in our armpits, or even worse, on our clothes. Fortunately, Suave Antiperspirant Deodorant has got you covered with its invisible solid stick that goes on clear and gives you 24 hours of adequate odor and wetness protection. It comes in a variety of refreshing scents such as fresh, powder, wild cherry blossom, sweet pea and violet, along with ocean breeze, tropical paradise, and everlasting sunshine – all of which will make you smell like you just stepped out of the shower or like you have used a luxurious perfume. Here's a video that demonstrates exactly how easy it is to use this product every day.
Pros
Long-lasting dryness
Fresh scent
Heat shrink packaging
Convenient size
Does not interfere with perfume scent
Cons
Some might not like the powdery scent
Looking for an invisible solid stick that glides on smoothly and combats sweat instantly? Consider this antiperspirant and deodorant stick by Secret. The original and fresh powder scent is strong but not overpowering and lasts all day. Every single application offers sweat and odor protection for up to 24 hours, thanks to the 19% aluminum that acts as an active ingredient. Additionally, with pH-balanced protection, this deodorant helps stop odor even before it begins. This is an invisible stick, so you don't have to worry about it leaving streaks or stains on your clothes. Before buying, watch this video to know more about how the antiperspirant works.
Pros
Comes in a pack of six
A little goes a long way
Fresh scent
Does not clog pores
Cons
Might feel a little sticky
Less is more when it comes to these SweatBlock Antiperspirant Wipes, which contain aluminum chloride as an active ingredient along with other elements such as botanical extracts and vitamin E oil. This 10-pack box of single-use wipes is formulated with clinical strength protection designed to stop excessive sweating due to heat and stress. Simply dab a wipe on dry underarms at night and feel clean and fresh for seven days straight. It is a doctor-recommended antiperspirant suitable for both men and women. Here's a brief video you can watch to make the most out of this product.
Pros
Helps reduce sweating
Convenient to use anytime, anywhere
Does not stain clothes–wear your colored clothes with confidence
Keeps one feeling fresh for hours
Cons
Some might find the scent a little intense
May not be suitable for sensitive skin
Pro tip: if you're using this for the first time, apply it two to four nights consecutively until effective and then apply once a week or as needed.
Dove's dry spray is dermatologically tested and dries instantly for a non-wet and non-sticky feel. The delightful scent of cucumber and green tea is light and refreshing and fights odor for 48 hours. In addition to keeping your underarms fresh and dry all day long, it works well on sensitive or post-shaven skin. This 0% alcohol (ethanol) formula, which contains ¼ moisturizers, soothes your delicate and irritated underarm skin and makes your skin as soft as a feather. It is long-lasting and effective and will take you through your entire day without needing to be reapplied.
Whether you are working out in the gym, have plans for an outdoor picnic, or stressing out about an important client meeting, it's essential to smell good and keep your sweat under control. Enter Mitchum Women Invisible Solid Antiperspirant Deodorant! This product comes with a triple odor defense technology that has the ability to fight against odor caused by heat, stress, and motion. This invisible solid stick assures you a 48-hour odor and sweat protection with a fab scent that keeps you feeling fresh all through the day. It does not leave any white residue on your skin. So, now wear your sleeveless dresses and spaghetti tops with confidence.
Pros
Suitable for sensitive skin
Has a clean smell
Helps control sweating
Invisible formula
Quick-drying
Cons
May leave a powdery residue
Might be slightly thick
If you sweat excessively or have hyperhidrosis (1), this antiperspirant deodorant stick by Tom's of Maine could be a good solution. The clinical strength antiperspirant deodorant includes sustainably sourced aluminum as its main ingredient, which means the product is efficiently designed to settle into your pores and block sweat. It also protects from odor for up to 24 hours, and the fresh meadow scent leaves your armpits smelling like a garden in bloom. This product is made of naturally sourced ingredients and is free of artificial colors, fragrances, flavors, and preservatives. Rest assured, it will keep you feeling fresh and dry all day long.
Pros
Does not irritate the skin
Long-lasting
Light scent
Does not cause itching
Sustainably made
Cons
Some may not like the floral scent
May be slightly sticky
If you prefer something that protects against body odor and has a neutral scent, try Maxim Antiperspirant Roll-On that helps keep you dry all day. This doctor-recommended prescription-strength formula is perfect for men or women who soil their clothing due to excessive underarm perspiration or hyperhidrosis. The rollerball makes application easy. For best results, apply this sparingly at night, and it should keep you fresh and dry for at least seven days.
Pros
Helps control profuse sweating
Does not need to be reapplied daily
Nice smell
Keeps one feeling refreshed for hours
Doesn't leave stains
Cons
Some with sensitive skin might experience mild itching
Might leak if not stored well
There is nothing worse than yellow stains ruining your favorite white shirt or white marks staining your LBD. So, if you need an antiperspirant deodorant that protects you from sweat and odor all day without leaving a residue, give this antiperspirant deodorant a try. It features MotionSense technology that responds directly to your body movement and releases extra freshness every time you move. It eliminates bad odor for up to 72 hours straight, and the clinical protection formula helps you tackle excessive sweating.
Pros
Long-lasting
Alcohol-free
Helps boost confidence
Large size
Cons
Scent might be a little more intense than you expect
Try the Certain Dri Antiperspirant Solid that is gentle on sensitive skin. It's one of the best antiperspirants for women with a clinical strength formula that ensures a clean and dry feeling. If you sweat excessively, this product can come in handy. Recommended to be applied at bedtime, this solid stick provides sweat protection for upto 72 hours; yes, three days! Glide it onto clean pits and let it dry; the 25% aluminum sesquichlorohydrate (aluminum salt) antiperspirant will work its magic.
Pros
Does not cause rashes
Doctor-recommended
Works great for anxiety sweat
Doesn't leave one feeling sticky
Cons
May have a baby powder smell
Texture could have been smoother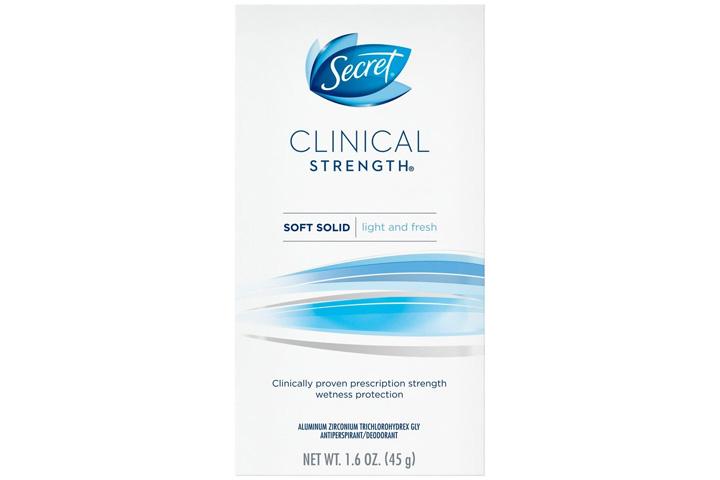 If you are always in a rush and are looking for something that is easy to use and can keep up with your hectic routine, Secret Clinical Strength Antiperspirant Deodorant is the one for you. This product promises to keep you sweat-free and odor-free for upto 48 hours with a scent that is mild and fresh. It is formulated with conditioners that help minimize irritation and soothe dry and sensitive underarms. And if you aren't aware, there is something called a stress sweat, which is considered to be worse than any other sweat; it is produced from a different gland leading to more bacteria and more odor. So, to stop your sweat in its tracks and to absorb odor efficiently, this product comes with prescription-strength wetness protection.
Pros
Has a light and fresh scent
Grease-free
Doesn't leave the skin feeling sticky
Does not leave a powdery residue
Comes in a pack of two
Cons
May be a little difficult to wash off
This antiperspirant deodorant regular roll-on by Arrid smells like a beautiful blend of earthy, fruity, and floral notes, maintaining perfect harmony. It features the classic Arrid scent with a combination of light citrus, spring flowers, and wood. It is designed for those who want to smell good and feel fresh and confident throughout the day without any sweaty arms and funky odor. So, if you're looking for an antiperspirant deodorant that can give you 24-hour non-stop protection and smells like the best of all three worlds, this is the one for you.
Pros
Does not leave a residue on clothes
Helps keep one odor free for hours
Doesn't have an overpowering smell
Dries quickly
Cons
Does not come factory-sealed
Degree Clinical Protection Antiperspirant provides 48 hours of protection against wetness and offers long-lasting fragrance. Besides, this 5-in-1 formula gives you three more benefits–it's clinically proven to control body odor, keep underarm skin moisturized with its unique blend of ingredients, and absorb quickly to give you dry and clean skin. This gel-like stick is made with Degree's proprietary MotionSense technology that tracks your body odor all through the day every time you move and releases a burst of freshness exactly when you need them. It comes in a pack of three.
Pros
Suitable for sensitive skin
Does not lead to over-drying
No itchiness under arms
Safe for teenagers
Cons
Some may find the scent a little overwhelming
Sweat trapped in the underarms can feed bacteria that cause the body to release a bad smell. So, to stop sweating instantly, you need Rexona Antiperspirant/Anti-Transpirant Deodorant. There's a difference between the way the body produces sweat when we feel hot and when we are stressed, and this product is formulated to eliminate all types of sweat. With MotionSense technology, it has the ability to sense when our body is in motion and provide extra protection when needed. It not only does a good job at protecting your underarms from sweat and odor for 48 hours but also has an anti-transpirant technology that prevents moisture from escaping the body.
Pros
Does not have an overwhelming scent
Not too thick
Does not feel sticky
Lasts long
Cons
Dr. Nona International Lady Halo Deodorant Antiperspirant includes a Halo Complex formula that contains archaebacteria harnessed from the Dead Sea. This life force produces a powerful antioxidant and an abundant supply of protein and amino fluids, which slows down aging and protects your skin from environmental aggressors. This product is enriched with the goodness of Dead Sea salt, anti-sweat components, jojoba oil, and rosehip oil – all of which are used as key ingredients. Moreover, the blend of aromatic therapeutic oils and bio-organic mineral complexes releases a pleasant aroma that stays on your skin until the next application.
Pros
Long-lasting bottle
No allergic reaction
Hardly requires reapplication
Keeps skin dry
Cons
Some might not like the scent
Don't judge a product by its name. In terms of its texture, this roll-on deodorant is nothing like actual sugar (grainy)! It's far better–with the consistency of a silky gel. While real sugar fights bacteria that cause odor and provides long-lasting protection, other ingredients such as lemongrass and witch hazel are astringents that reduce moisture and soothe irritated skin. This roll-on applicator sinks quickly into the skin and dries up instantly to prevent sweat. Enjoy the fresh sugar and lemony fragrance that will leave your skin mildly scented all day, every day.
Pros
Subtle and fresh scent
Non-sticky
Lasts long
Does not leave a residue
Cons
A Guide To Choose The Right Antiperspirant Deodorant For Women
There are various factors to consider when choosing a deodorant or an antiperspirant or both. But first thing's first, it's essential to learn the difference between deodorants and antiperspirants. Deodorants quell body odor while antiperspirants block sweat. And if you are looking for a product that does both, then you need to pick up an antiperspirant deodorant. Now that you are aware, let's get started.
Based on sweat level
The kind of product you choose depends on how much you sweat. If you sweat excessively due to a medical condition, antiperspirant deodorants with clinical strength prescription work effectively. But always consult a doctor first. Even aluminum, when used as the main ingredient, will give you long-lasting protection. But if you are someone who doesn't sweat that much, you don't need such potent formulas. A product that at least gives you 24 hours sweat protection or one that contains only natural ingredients would be ideal for you.
Fragrance
Even the best antiperspirant deodorants for women come in both scented and unscented forms. Opt a fragrance based on your requirement – it ranges from floral to chemical to no scent.
Skin sensitivity
Do you have sensitive skin? Do you develop rashes every time you shave your armpit area? Then, a product with skin-soothing moisturizers or one that contains naturally sourced ingredients like shea butter and aloe vera is what you will want.
Ingredients
If you are a vegan or allergic to chemical ingredients or have delicate skin, always go for a product that is made with natural or plant-based ingredients.
Ease of use
All the products that we have mentioned above are easy to use, whether they are sticks, gels, wipes, or sprays. Choose one that you are comfortable using. We recommend wipes and roll-ons because they are easier to apply as compared to gels and sprays.
What is the best antiperspirant deodorant for excessive sweating?
It is clinically proven that antiperspirant deodorants with clinical-strength protection work best to combat excessive sweating.
Why Trust MomJunction?
Poulami Nag is our seasoned writer specializing in makeup and personal care products. She has scoured numerous customer reviews and expert opinions to compile a list of the best antiperspirants for women for this article. The products on the list are easy to use and available in different fragrances that can be picked based on sweat level. Also, she has included a detailed buyer's guide that will help you select the most suitable product based on factors such as skin sensitivity and ingredients.
Reference links: