Apple cider vinegar is made from fresh apples that are crushed and then fermented. It can improve insulin functioning and lowers blood sugar levels (1) after consuming a starchy meal, such as pasta or bread. Apart from that, using vinegar solution onto the scalp helps fight against irritation, itchiness, and flakes. It also helps eliminate the growth of bacteria and alters the scalp pH.
Some studies have stated that apple cider vinegar helps decrease body fat; thus, promoting weight loss (2). This product contains citric, succinic, lactic, and acetic acids that can kill the acne-causing bacteria. It also eases some digestive conditions, including acid reflux, heartburn, diarrhea, and constipation.
If you plan to include it in your diet, consult a doctor to find if you can take it. Here, we give you a list of the best apple cider vinegars you can buy. Consult a doctor to find if you can take it in your diet.
10 Best Apple Cider Vinegars

Made with the finest quality apples and crystal-clear water, this one has a guaranteed 5% acidity. This best apple cider vinegar for weight loss has a mellow, clean flavor and is appropriate for marinades, salads, and other recipes. It is also ideal for pickling and canning. The product is gluten-free and completely natural.

The pack has 2oz bottles of organic apple cider vinegar. They are made by keeping the TSA rules and regulations in mind. It is not easy to use and resealable for later use. The product is completely organic, stewed in wooden tanks, and verified by the non-GMO project.

Crafted in New Zealand, this product is manufactured with raw, unpasteurized, cold-pressed apples, naturally fermented without any chemicals or heat. It also has beechwood and manuka honey, giving it a slightly sweet and tart taste. This unfiltered apple cider vinegar has multiple uses as you can use it in your salad dressings, energizing elixir, daily tonics, and other dishes for a zesty flavor.

The ultimate beverage offers the goodness of raw organic apple cider vinegar. It has a rich flavor and natural sweetener. This product is free of soy, gluten, and caffeine. It is completely organic and verified by non-GMO. It has also received certification from Kosher.

If you cannot take a tonic, try adding these gummy vitamins into your routine. Adding this apple cider vinegar type to everyday life can help digestion, detoxify harmful bacteria, and improve immunity. It is free of gelatin and gluten. The product is vegetarian, organic, and vegan. The pectin in the ACV aids effective digestion and better texture. It has a flavor of apple and apple juice.

Convenient and durable, this form of apple cider vinegar prevents you from experiencing a harsh taste while offering all the benefits. One pouch contains 2000mg of turmeric that provides phytonutrients, anti-inflammatory and antioxidant properties, organic wildflower honey as a natural sweetener, and organic apple cider vinegar. The product is organic and certified by Kosher and non-GMO. These shots can be used in a smoothie, as a marinade on vegetables or meat, in a hot cup of tea, as an ice cream topping, and more.

Organic and raw, this apple cider vinegar is unfiltered, unpasteurized, and completely pure. This is made with USDA-certified, organic apples. It can easily be added to snacks, beverages, veggies, and salads with a delicious and smooth taste. This one is added with filtered water and diluted to 5% acidity without any gluten. It is approved by Kosher and non-GMO.

The USDA organic certified brand offers ACV with non-GMO project verification and organic certificates. This product comprises a mother and comes in unpasteurized, unfiltered, and raw liquid form. It does not contain any preservatives. Manufactured with organically grown apples done following sanitary conditions and federal guidelines for appropriate manufacturing practices, it has a smooth, crisp flavor.

Certified from the USDA, this organic apple cider vinegar drink is unfiltered, raw, unpasteurized, unheated, and comprises the mother. The product is undiluted, and for every bottle, you get 25% more pure ACV. Made with 100% certified organic apples, the processed vinegar does not contain any cores, peels, or concentrates. It is vegan, gluten-free, and verified by non-GMO.

The Bragg apple cider vinegar offers several health benefits from organically grown apples. To incorporate ACV into the diet, you can take daily shots of this liquid. You can also add it to your salad, drink with the elixir, or with a cup of hot tea. The product is unfiltered, raw, and crafted by keeping USDA, non-GMO and Kosher standards. It comprises strands of friendly bacteria, enzymes, and proteins, offering natural detoxification qualities.
How To Choose The Right Apple Cider Vinegar?
Here are a few aspects to consider while buying apple cider vinegar. Also, check with your doctor about including it in your diet.
Process: Crystal clear, shiny vinegar is filtered and contains no required nutrients. Make sure you always buy an unpasteurized product.
Raw materials: Consider ACV made with high-quality apples. There should not be any artificial elements, preservatives, or flavors in the vinegar.
Mother: The mother of vinegar is a fiber-like fluff, brown or white. It is full of micronutrients and live bacteria that offer several health benefits. Make sure the mother is present in the vinegar.
Packaging: Apple cider vinegar comes in gallons or bottles. The packaging can be either plastic or glass. Glass is a good option as it does not react with acidic liquid or dissolve any extra chemical.
The information given in the section has been taken from manufacturers' sources. MomJunction is not responsible for any of the claims made here. We recommend readers' discretion.
Frequently Asked Questions
1. Can I refrigerate vinegar?
There is no need to refrigerate apple cider vinegar. You can consume it at a normal room temperature.
2. Can I drink apple cider vinegar every day?
You may consult a registered dietician or a doctor before taking ACV every day. The standard dosage of this vinegar is one to two tablespoons mixed with water. For better results, you can take it after or before meals. However, consuming too much apple cider vinegar every day may lead to digestive issues, throat burns, and tooth enamel erosion.
Navigating through these details, you may have got convinced to integrate this substance into your daily life. Though you can find various options, mentioned above are some of the best ones. So, before choosing a product, make sure you go through its reviews and then complete the purchase.

References:
MomJunction's articles are written after analyzing the research works of expert authors and institutions. Our references consist of resources established by authorities in their respective fields. You can learn more about the authenticity of the information we present in our
editorial policy
.
Recommended Articles:
Best Light Ash Brown Hair Color
Best Diver Watch Under 500
Best Led Aquarium Light
Best Watch Boxes
The following two tabs change content below.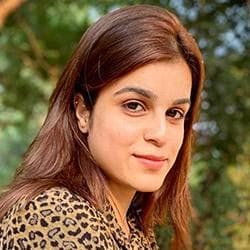 Sakshi John
Sakshi did her graduation in Journalism from the Madras Christian College, Chennai, before starting her career as a freelance writer. She is into blog writing and for MomJunction, she covers various topics, including products to buy for your kitchen, furniture, and other home requirements. Previously, she interned as a content writer in a cyber security firm. As a content writer, Sakshi...
more