Including a fruit salad to your meal not only replenishes your nutrition levels but also gives your taste buds a nice treat. Removing the apple's core may not be an easy task, but an apple corer can make it so. It is a tool used to remove the core and seeds from an apple and similar fruits. Apple corers save your time and are convenient to use too. This post lists some of the best apple corers and the features to consider while buying one.
11 Best Apple Corers
The Spiralizer corer is made of a stainless steel blade that is adjustable, hassle-free, easy to use, and efficient. You can also use it for potatoes, tomatoes, and other fruits. The robust suction cup holds it to different surfaces such as glass cooktops, marble, or granite. Made of ultra-strong die-cast magnesium build, it is sturdy and long-lasting. The winding rod, poly handle, and other parts are chrome-plated and rust-proof.  The corer weighs 22.4oz and measures 5.6×4.5×10.3in.
Pros
Easy to clean
Three-prong extension removes the core efficiently
Lifetime warranty and replacement policy
Live customer support service
Strong suction base makes coring fruits easy 
Cons
The Newness Premium Apple Corer features a sharp serrated stainless steel blade for coring and an openable mouth to dispose of the core easily. The ergonomic handle effortlessly pushes the core through the fruit.  It weighs 0.32oz and measures 7.2×4.49×1.3in.
Pros
Well-built and easy to clean
Easy to use and durable
Handle provides good grip
Does not require pressure
Big hold for easy hanging and storage
Cons
May lose alignment with frequent use
May rust easily
Slide the Oxo apple corer through the apples and pears and shake it a little to extract the core. It is made of a durable stainless steel head and a big non-slip rubber handle. There is a large handle hole for hanging it with ease. The manufacturer offers a guarantee to repair or replace the product. The corer weighs only 3.59oz and measures 8×1.25×0.75in.
 Pros
Works with big apples
Cuts precisely
Easy to clean and dishwasher-safe
Sharp serrated edge 
Cons
Core diameter is small
May not offer a firm grip
The Savorliving Apple Slicer cores through the center of the apple and cuts 12 equal slices. You can use it for fruits and vegetables with       a diameter of fewer than four inches. The slicer is equipped with four welding points on each blade, attached to the central corer ring. The slicer can be cleaned with a brush after use and can be wiped or air-dried for durability. The slicer weighs 10.9oz, and measures 7.28×1.97×4.92in.
Pros
Ultra-sharp blades
Easy to use
Long-lasting build
Heavy-duty construction
Dishwasher-safe 
Cons
The Calphalon Apple Corer gets the work done efficiently in one quick motion. It has oversized, off-set handles that provide you a good grip and control over the corer. The soft-touch control zone allows you to handle it precisely and comfortably.  The weight of the apple divider is 7.2oz, and its dimensions are 4.63×3.13×10.13in.
Pros
Sharp and durable blades
Easy to use
Ideal for dividing pears
Dishwasher-safe
Lifetime warranty 
Cons
May not be strong
Requires a bit of force to push it downwards
Suits smaller apples only
The Orblue corer lets you core apples, other fruits, and vegetables easily. Just push, twist, and pull to de-core the fruit. Made of stainless steel and ultra-sharp serrated tip, it is dishwasher-safe and rust-resistant. The corer weighs 2.46oz and measures 8.07×1.38×1.18in.
Pros
Ergonomic handle offers a comfortable grip
Easy to use
Durable stainless steel
Easy to clean
Versatile
Cons
Core diameter is small
May bend easily
The ergonomic design of this commercial-grade stainless steel blade with a soft rubber handle makes this corer easy to use. Its sharp saw-tooth blade helps you core through apples, pineapples, other fruits, and vegetables with a push-twist-pull mechanism. It weighs only 2.24oz and measures 8.1x1x1.1in. 
Pros
Easy and simple to use
Sturdy and durable
Comfortable and non-slip grip
Dishwasher-safe and easy to clean
Lifetime warranty
Cons
Core diameter is small
May bend easily
The slicer is ideal for all fruits and can be your perfect companion in the kitchen to make pies, tarts, or a quick salad. It features a stainless steel cutting blade that slices the fruit into uniform wedges. Its ergonomic handles provide a comfortable grip and stability while cutting the fruit. It comes with a lifetime limited warranty, weighs only 0.353oz, and measures 10×5.1×1.9in.
Pros
Easy to use
Strong and long-lasting
Dishwasher-safe and easy to clean
One-year hassle-free replacement guarantee
Cons
Blade is not sharp enough
With a punch-twist-pull mechanism, this Mueller Apple Corer can easily remove the core and seeds from apple and other fruits. You can also use it for coring cupcakes to fill delicious fillings.  The ergonomically designed handle with its non-slip design offers a comfortable grip while coring. It weighs only 2.39oz and measures 8.9×2.3×1.8in.
Pros
Sharp surgical stainless steel blades
Versatile kitchen tool
Comfortable to use and clean
Sturdy and durable
Dishwasher-safe 
Cons
It may be hard to pull it out
Handle may not be durable.
It is a set of four stainless steel corers of core diameters 0.25in, 0.39in, 0.5in, and 0.72in, and the core length of approximately 7.87in. These corers can handle a wide range of fruits and vegetables. The serrated blade cuts through the core easily, and the open process slot can conveniently remove the fruit core quickly. The handle has a hanging hole for easy storage. It weighs 5oz and measures 11.7×8.5x1in.
Pros
Sharp serrated edges
Compact and easy to store
Easy to clean
Handy and easy to use
Durable and sturdy
Cons
Corer shaft is short
May bend easily
May not be sturdy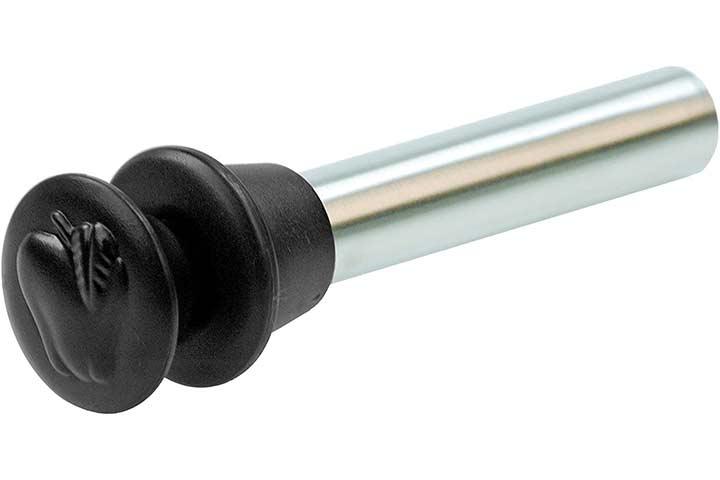 The stainless steel apple corer is equipped with a plastic handle for a firm grip. For coring, place the stainless tube over the stem and press it down firmly. Use the plastic plunger to push and eject the core. The net dimensions are 1.75×1.75×6.25in, and its weight is only 3.2oz.
Pros
Easy to use
Sturdy and durable
Easy to clean
Versatile kitchen tool
Cons
Some users report pusher getting stuck
Mixed reviews on durability
How To Choose The Best Apple Corer?
Here are a few features to look for while buying an apple corer.
The corer's diameter: You must consider this as a significant factor while deciding which corer to buy. A corer with a large diameter can work for large and medium-sized apples. This may not work well for small apples as it can de-core a considerable chunk of the fruit. It can, however, core larger fruits like a pineapple.
Convenience: You would not want to wrestle your way through the core, so choose a corer with an easy core removal mechanism. Also, consider a corer that is easy to clean, compact, and does not take much of your kitchen space.
Construction: A corer made from sturdy and good-quality stainless steel is durable and rust-resistant. Also, prefer corers with ultra-sharp blades and non-slip grip handles.
Number of slices: Investing in a corer that also slices the fruit can save your time and effort.
With the right apple corer, you can core and slice the apple or any other fruit easily. We hope the above list and the buying guide will help you make an informed decision to buy an apple corer that suits your preferences.
Recommended Articles: