A beautiful area rug adds to any room decor while protecting the floor from damage. Therefore, a rug is an essential addition in the kitchen, where you will spend most of your time. The best area rugs for the kitchen help you make the space warmer, cozier, and attractive.
Available in various styles, designs, patterns, and colors, area rugs can genuinely channel the theme of your décor even in a space as busy as the kitchen. Whether you've decided to cover up a part of your floor for aesthetic or practical reasons (or both), you need to pick the right type. Here, we have a wide range of options to choose from, so you can carefully decide on the right product.
15 Best Area Rugs For The Kitchen
This kitchen rug is extra soft, and it helps to make the feet more comfortable with its ergonomic benefits. It keeps the muscles relaxed, supports the ankles and your feet, and reduces the pressure on the spine as you stand on it. It is also stain-resistant, so you need not worry about cooking stains disfiguring the rug. Incredibly durable, once you get it, you can continue using it for an extended period. The beveled edges and foam underside make the design of this rug quite desirable.
This floral kitchen rug from the Maples Rug Store is one of the best rugs owing to its timeless design. Specially made to adorn the kitchen and bring a unique and lush feeling, this rug is one-of-a-kind. Because it is a non-skid rug, you can rest assured that you won't slip or fall while carrying out your work. It is sure to help brighten up your kitchen.
This rug makes it to this list primarily due to its super absorbent qualities, so you might even spill water over a couple of times while working in the kitchen. It also has a high-technology SBE sprayed non-slip backing layer that makes it trustworthy as it won't let you slip while working. Available in a host of different patterns and designs, these area rugs for the kitchen are machine-washable.
This runner hits this list due to its incredible features. It is a kitchen mat that is soft to the touch and eases the feet. It is a non-skid mat that will surely give you the peace of mind of not falling over while working in the kitchen. A fashionable 2-piece mat, it is made of a super-absorbent microfiber material. Worried about messing it up? Don't worry; they are machine-washable too. For a thorough review of the product, have a look at this YouTuber's video.
This mat is 100% machine-washable, so you never have to worry about spilling things on it. As it is water-absorbent, it takes in water well and prevents logged water from spilling everywhere, helping to keep your kitchen clean and tidy. The smooth brown layer on top makes it a durable rug as it prevents the mat from wear and tear. Made with soft memory foam, it acts as a cushion for the feet and provides bouncy comfort. It also features an anti-slip base. Check out this YouTuber's review of the product if you require more details.
This Pregito kitchen rug set is made from polyester chenille fiber and is considered one of the best area rugs for comfort. It is water-absorbent and protects your feet from slipping. Made with chenille fiber, it is incredibly soft. Crafted with quality, this kitchen rug can be washed multiple times, and it won't fade or lose its color. Ideal for various surfaces like marble, wood, or ceramic, these mats dry quickly too.
This 2-piece kitchen rug set serves as a multipurpose rug, and it fits perfectly in the kitchen. Its latex rubber sole ensures that it is anti-slip and lets your feet rest comfortably while you are preparing your favorite dishes or doing the dishes. Designed to absorb water, it will hold water in and keep the floor from becoming messy.
This rug is versatile and brightens any room in the house. Made of high-quality polypropylene, this oval-shaped runner is lightweight and adds elegance and sophistication to your kitchen. It is durable and lasts a long time while being stain-resistant. To keep this stylish rug clean, all you have to do is vacuum it regularly and spot clean with a mild soap.
Made from high-quality cotton, this rug adds a rustic yet fresh look to your kitchen and other living spaces. It is also easy to clean as it is machine-washable or you can vacuum it regularly too. The checkered design of the rug also makes it highly desirable, especially because the design is unique and different from other common designs.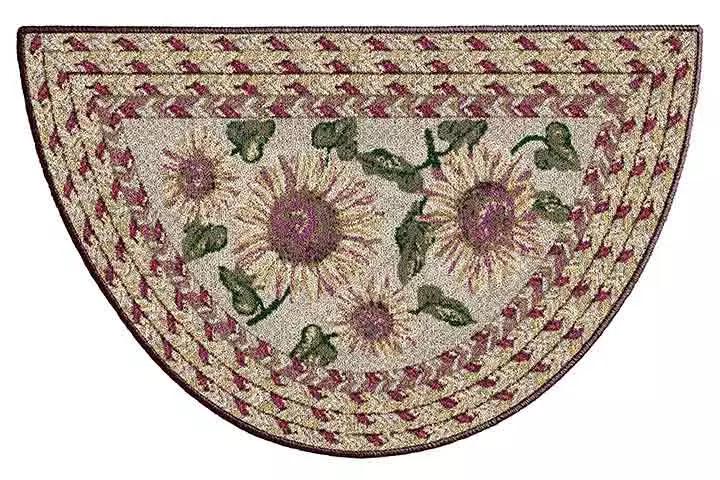 This rug from Brumlow Mills is incredibly light, weighing just a pound. It is unique as it incorporates the most intricate details in the design with pastel colors and elegant patterns. The synthetic nylon with which it is made ensures that it is anti-slip. Available in other shapes, patterns, and designs, you can toss this rug in the washing machine for a quick wash.
This rug's leaf design and shape make it unique and an eye-catching accessory that will add beauty to any room. It is also easily washable, all you need to do is to drop it in the machine for a quick wash and air dry it. The rug is sufficiently padded, and won't make you feel uncomfortable while working in the kitchen. This power-loomed rug is also anti-slip.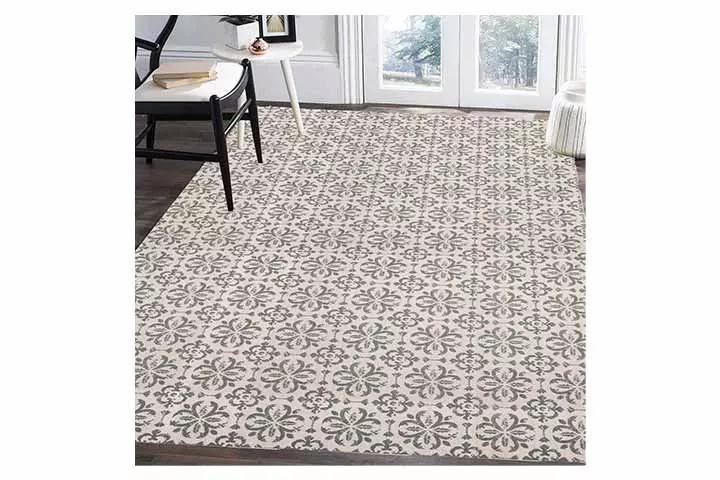 One of the larger rugs on our list, this one doubles up as a rug for the hall, the bedroom, or any other room that needs sprucing up. Made with 50% cotton, and 50% polyester, this rug provides comfort with its lushness. It also serves as an excellent water-absorbing rug that doesn't fade, making your floor clean and dry. Let its large size not make you feel like it may be hard to clean, as it is machine-washable.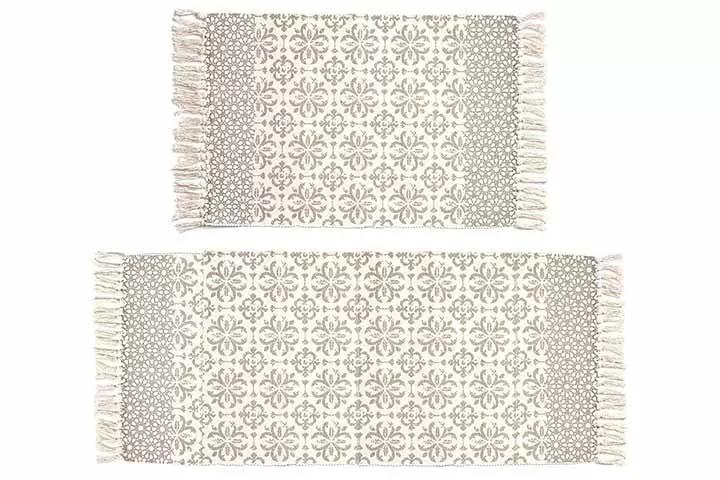 Once you place this cotton rug in the kitchen, you need not worry about your kitchen floor getting wet and slippery. This rug doesn't just absorb water, it absorbs stains too. Because it is made with cotton, it also keeps your feet warm. Washing this rug isn't even difficult. Since it is machine-wash friendly, you only need to place the rug in the machine. This 2-piece set is handwoven.
This kitchen rug set stands out as one of the best ones owing to its quirky and funky design. Made with polyester and nylon, they are comfortable to the feet, and boasts an anti-slip base. They also protect your feet from fatigue. The rugs are extra-padded and feature rounded edges, making them more durable.
This area rug does not just provide comfort; it is also effortless to wash either by hand or in a washing machine. Made of high-quality cotton, Incredibly durable, it is also unique as it is reversible. It is handcrafted to perfection, and comes with an anti-skid base. If you wish to bring an element of the bohemian life into your home, this rug will fit the bill as it comes with tassels on both sides.
Before getting a new area rug, you need to consider a few things. To make your search easier for you, we've compiled a brief buying guide to help you out.
Factors To Consider When Buying A Kitchen Area Rug
Pattern and colors
Area rugs are meant to complement the interior design of your kitchen. When purchasing an area rug, you need to consider the area rug pattern that fits perfectly into the design of your house. The color of the rug too has to match or complement the color of the walls and furniture to further enhance the aesthetics of your home.
Budget
Just like every other commodity, the price of area rugs vary. You have to match the cost of the rug you intend to buy with your budget. There are high-quality area rugs that are budget-friendly, but since these rugs are likely to get dirtier quickly, it is best not to burn a hole in your pocket.
Maintenance
When buying a particular area rug, you must consider how it is to be maintained and cleaned. You will find a range of rugs in our list that are hand and machine-washable. Some rugs simply need to be vacuumed or spot cleaned with a mild soap.
Size
You have to first know whether the size of the area rug will be sufficient to cover a considerable part of your kitchen. If it doesn't, you would have to look for another way to get another rug that fits the size.
Material
You do not just want to get a kitchen rug just for the sake of it, you want one that fits your taste, and that is durable, and one that is anti-slip. If you have your eyes on an area rug and it doesn't have the qualities you want, you might have to ditch it for another.
Kitchen area rugs have been established as a necessary part of the kitchen because they offer a whole lot of things. They help to keep the kitchen clean, and also help to beautify it. With a more favorable interior accessory that decorates the kitchen, cooking is set to be better unconsciously. And although decorating the kitchen might not be the first thing that comes to mind when decorating the home, it deserves enough attention. Luckily, this article spells out the best kitchen area rugs. They are budget-friendly and offer many benefits.
Why Trust MomJunction?
Sakshi John used her writing abilities in home and kitchenware to compile a list of the best area rugs for your kitchen. She investigated various platforms for each product and read customer reviews to generate this list. You can find a variety of rugs here in different designs and styles, so you can pick anything as per your preferences. She also included a purchase guide to assist you in making the best decision possible.
Recommended Articles :