Christmas is one of the most delightful times of the year when you can celebrate with family and friends. As decor is an important aspect of Christmas, we bring you a list of the best artificial Christmas trees to make your job easier this season. Christmas celebrations are incomplete without a beautiful, big Christmas tree. When the star on top of the Christmas tree lights up, it brightens everyone else around, especially children. While most people prefer original fir or spruce trees for their living room decorations, they can be difficult to maintain and bring from the farm. Artificial trees can provide the same vibe without the hassle. They can be easily stored, maintained, and carried. So, welcome Santa with dreamy fairy lights and Christmas-themed ornaments around the tree, and bake some goodies with the children to fully embrace the festive spirit. With various options available, you can choose a tree that fits the available space in your living room. So, browse our list to choose the right tree for your home.
21 Best Artificial Christmas Trees
Want everyone to go gaga over your gorgeous tree? Trust Potalay to do that for you. Made from premium-grade PVC, it is strong and durable and comes with a foldable metal stand. Indeed a classic, the leaves are green and lush, and looks like it has been recently chopped from the woods. It comes with 3 hinged sections that allow for easy assembling, dismantling, and storage. It is available in 4 different sizes of 4 ft, 5 ft, 6 ft, and 7.5 ft. A popular choice for many, it is also rust-resistant and non-allergenic.
The branches of this tree are fashioned after a white pine tree and are decorated with pines and snow-covered leaves. The stand is made from first-rate metal – sturdy enough to hold all your cherished ornaments. This child-friendly, flame-resistant artificial tree has 3 hinged sections, taking only a few minutes to be assembled and dismantled.
Here's a Christmas tree that will reflect your elegant lifestyle. Adorned by 1250 pre-strung white lights, it is a stunning addition to all your festive decorations. It comes with a lush, green foliage, and will fool you into believing that it's a real tree. The pre-attached hinges allow for a quick set up, and its crush-resistant feature ensures durability and convenient storage. Available in 3 convenient sizes of 6.5 ft, 7.5 ft, and 9 ft, it is also fire-resistant and non-allergenic.
If spruce is your choice of tree, look no further. Add a festive glow to your home with its 500, pre-lit clear lights. The lights are connected automatically and come with an on-and-off foot pedal switch attached to an extension power cord. Effortless to set up, the tree comes in 3 sections and is held together by a foldable metal stand. This tree's beauty is unparalleled, and your holiday spirit will be heightened with this magnificent tree at home. Here's a video featuring a detailed review of the product.
Meticulously designed to resemble a real-life cedar tree, this one from the National Tree Company is equipped with realistic branches and tips. The pre-strung lights will grab all the attention this year, even if the lights may burn out. It comes with a 24-inch base and metal stand. What makes this even better is that it is fire-resistant and non-allergenic to suit any environment.
Enjoy a white morning regardless of the weather this Christmas season. With its dense, white branch tips, the tree looks as if it has been thoroughly covered in snow. A stunning show-stealer, it can be placed indoors or outdoors. The dense white branches give a fuller look and are made of high-quality eco-friendly PVC. The metal stand provides stability and as the tree is non-allergenic, it is safe for those with sensitive skin.
Delight your children with this beautiful rainbow-swirled Christmas tree. Fun and beautiful, this tree doesn't need added decorations. 7 feet tall, it is made of 1213 branch tips and looks fuller and denser. This tree's non-allergenic and durable PVC material ensures that it will be part of your celebrations for many years to come. The tree is lightweight, easy to assemble, and comes with a foldable stand, making set up a hassle-free experience.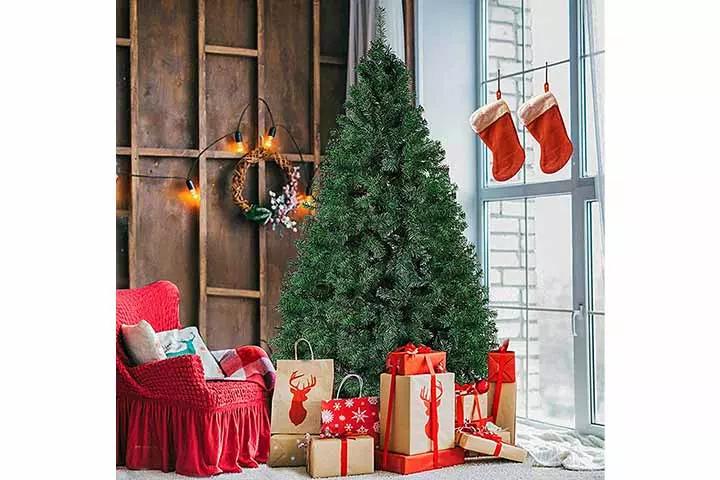 Be spoilt for choice with this Christmas tree that comes in 4 exciting colors and a whooping 8 different sizes. Make your tree come to life with the 17 beautiful ornaments that are provided with this tree. Made from durable PVC material with 1000 branch tips, it also includes a metal stand. Simply attach the different segments, straighten out the branches, and enjoy its magnificence with your loved ones.
There aren't enough words to describe the grandeur of this emerald green Christmas tree. Mimicking a real spruce tree, this delightful gem from MAGGIFT is made of premium PVC and is non-toxic. The base is crafted from a stainless steel material with an iron frame. For easy assembly, it comes in 3 attachable sections. What makes this tree a must-have is a bottom iron pipe with scratch-resistant leather casing.
They say good things come in small packages and this tree is a testament to that. This Christmas tree adds an elegant touch to your festive season. For an effortless set up, it comes pre-lit with 40 color-changing LED lights. Complete with a plastic base stand and a 1-year warranty, it is perfect for decorating your indoor spaces. This artificial tree is available in 4 fun color options, and it is all you'll need this Christmas.
A popular choice for the holiday season, this classic fir tree makes a statement regardless of where you place it. Furnished with 135 branch tips, it's a realistic alternative to a natural tree. It is as easy to assemble as it is to dismantle. One simply has to remove the tree from the box and fluff out its leaves and once you're done, store it away the same way. Made from durable PVC and a sturdy metal stand, this tree will last you a lifetime.
This realistic-looking artificial tree transitions beautifully from an indoor to an outdoor accessory. It is pre-lit with 350 warming yellow lights in flashing modes that can brighten any space with a festive glow. The screw-on metal stand provides balance and ensures stability even during the windiest of days. The branches are made from premium quality PVC material, ensuring it is fire-resistant and suitable for the indoors. This tree is available in 2 sizes and is decorated with pine cones and around 1400 lush and dense branch tips.
Nothing can prepare you for this golden delight of a Christmas tree! No more dull Christmas trees as this 7-foot giant comes with beautiful, golden embellishments that will enhance any living or outdoor space. The golden ornaments include golden poinsettias, pine cones, and exquisite golden balls. This realistic artificial Christmas tree is equipped with 850 PVC branch tips and sturdy horizontal branches, long enough to accommodate several ornaments. It also comes with forest-green needles that are fire-resistant and non-toxic. The tree is also furnished with 2 sets of USB-powered LED lights.
The minimalist in you will jump with glee when you take a look at this artificial Christmas tree from Gift Hunter. This 5.9-foot tree made of premium-quality PVC is presented with a resilient, foldable steel base. Decorate this realistic looking tree with multicolored LED lights and elegant ornaments with your loved ones.
Gather your presents around this snow-flocked artificial tree and await Santa's visit. Constructed using durable, non-flammable, and odorless PVC material, the branches are non-allergenic and safe. It comes with 928 branch tips and snow-flocked leaves that delight everyone's eyes. The iron base and non-slip foot pads provide stability in any environment, and the 3 sectional divisions of the tree make assembling and dismantling effortless. 6 feet tall and covered with snow, we are sure this tree will give you the feeling of entering a winter wonderland, regardless of where you place it.
Another classic, this artificial spruce tree from Senjie is an easy pick. An excellent choice for indoors or outdoors, it comes with a collapsible metal base and a non-removable hinged branch construction. It is made from fire-resistant, non-allergenic, durable material that ensures durability. Available in 3 sizes of 5, 6, and 7 feet, it consists of 3 hinged sections for easy installation and storage.
Do you want to make a big statement with a little tree? If yes, we've got the perfect one for you. This artificial Christmas tree from Amagoing is a fantastic choice for adding some festive flair to your kitchen table, countertop, bedroom, or even your office space or cubicle. 24 inches tall, it is made of good-quality plastic with a strong, well-built wooden base. Show off this small yet grand tree that comes complete with 28 ornaments and LED string lights.
Here's a tree that will seamlessly blend into the background of a snow-filled Christmas. Say hello to this white artificial Christmas tree from Sunnglade that is available in 3 sizes. It looks natural and snow-covered with its 1400 tips that are made of high-quality PVC. The tree also comes with a sturdy metal base that ensures it stands firm and tall all season long. This tree takes only minutes to put together and take down, and is divided into 4 attachable sections.
This artificial tree is moulded after a real pine tree and trust us when we say it looks as real. The 1000 branch tips made from high-quality PVC gives a realistic impression. The tree is also complete with a metal base and 3 hinged sections so you can use it for many seasons. Available in 3 standard sizes, this lush green tree is a safe one to place your bets on.
It doesn't matter if you're naughty or nice, with this tree you'll be in for a great surprise. Enjoy the holidays with this 6-ft high, snow-kissed Christmas tree. It features 800 branch tips that look like they have been covered in snow and come with 3 pre-assembled sections and a foldable metal stand. The metal branches with PVC leaves give a fuller appearance and ensure durability.
Oh what fun it is to have a tiny little Christmas tree at home! Last but definitely not the least, is the 24-inch, pre-lit artificial tree from Juegoal. Beautifully and realistically crafted, it mimics a pine tree and comes with a burlap bag base that ensures stability. Equipped with 50 pre-lit LED lights, it can match any holiday spirit with its 8 different lightning modes. Made from superior quality PVC, this tree is a tiny yet significant artificial tree that is a must-have this holiday season.
Why Trust MomJunction?
It is not always possible to get a real Christmas tree. However, that should not bring down the excitement when Christmas is around. Our experienced product writers and reviewers have listed the best artificial Christmas trees by exploring different forums and websites and checking user reviews and ratings. We have also provided detailed reviews, stating all the necessary features, so that you can decide on the right tree to bring home.
Recommended Articles: