Our nails deserve just as much attention and pampering as does our face. However, nail art and manicure are a lavish treat that not many of us would want to splurge on frequently. What if we bring you a solution that lets you style your nails as you please without having to break your bank? Yes, we're talking at-home gel nail kits. At-home gel nail kits come equipped with all the essential nail art tools and exciting gel nail colors that you might need for those perfectly manicured nails. And when you invest in the right one, it would last you for months and you can take all the liberty to experiment with different colors and finishes.
With so many options available, laying your hands on the best at-home gel nail kit would take much research and weighing options. Let us save your time with our carefully curated list of the 11 best at-home gel nail kits that make practicing and mastering nail art and manicure a lot easier.

Top Products From Our List
11 Best At-Home Gel Nail Kits
Get ready to wow everyone with this all-inclusive gel nail kit that features 6 nude shades and a UV LED nail dryer light. What we love about these gel nail colors is that they're toxin-free. The set also comes with 3 coats— a base gel foundation, a matte-finish top gel, and a top-coating gel to give your nails that flawless finish. The UV nail lamp makes application a cinch, and the set also features a bristle brush, brush duster, cuticle fork, nail clipper and separators, nail file and buffer, and an oil to keep your nails in good health. Not only are the colors vibrant and pigmented but also stay put for around 21 days when applied properly. Just follow the instructions from the brand and you'll be amazed with the results.
Next up on our list is the Modelones gel nail kit that comes with 6 gel colors that include pure white, clear, deep nude, light apricot nude, light pink, and soft pink. The pack features a nail map, top coat set, brush, spatula, and other nail care essentials to make it easier for you to apply the colors while caring for your nails. The kit comes with extensions— 24 pieces of curved dual forms and straight dual forms each, respectively. If you like your nail colors glittery, fret not as this pack includes nail glitter and gems to get you party-ready in a matter of minutes. And if you're bored of the nail art, you can simply remove the nail extension gel with the filer, buffer it, and redo.
If you like to keep your nail art game strong at all times, you need a gel nail polish kit that offers you multiple color options like this one from Candy Lover. Say yes to 12 beautiful colors for popping nails along with a base and top coat set, matte top coat, 36W LED lamp, hand masks, and starter nail art tools. As a plus, this set comes with a storage box that allows you to take your nail art set just about anywhere when you're out and about. The nail dryer features a big LED display and automatic timing to make the drying process a lot more convenient. These gel nail polish colors are environment-friendly, non-toxic, and low-smell formulas, ensuring no toxic ingredient ruins your nail coloring experience.
This all-in-one gel nail color kit is an ideal gift that you can pick for anyone who loves nail art. This kit has 6 light shades, including white, clear, and 4 variants of pink and peach color. These gel nail colors have a super glossy finish and are long-lasting. The nail lamp included in the kit dries off the gel in about 30 to 60 seconds. This kit packs nail extensions that feel light on the nails. What's more is that the kit includes all the essential tools such as a dual-headed nail brush and a spatula for easy application. If you're a beginner and are looking for some basic colors to practice at-home nail art, this nail art kit is worth the try.
If you're on the lookout for a professional gel nail kit that offers you many options in gel colors and different finishes, set your hands on this amazing gel manicure kit. It features a UV nail lamp with an auto sensor and touch LCD display. With classic nude 12 gel nail polish colors that are opaque and pigmented, you're sure to have the perfect shade for every occasion. Besides the gel colors and a gel nail light, this gel nail starter kit consists of nail manicure tools such as nail brush, nail buffer, glitter, nail art rhinestones, base and top coat, and much more.
This all-in-one gel polish set has you covered for most occasions with its dark pink, natural pink, skintone, bean red, clear, and white shades. The pack offers you 48 pieces of nail molds in 12 sizes, a dual forms pen, a gel base and top coat, and a 36-watt mini LED lamp to let you do your nails at the comfort of your home. You can also apply flakes and glitter and wait for the lamp to cure your nails for about 30 seconds to 60 seconds. When you follow all the instructions for application, the colors are sure to last you around 30 days.
This Spring Edition salon-quality gel nail polish set consists of 8 peppy colors to match all your spring-season outfits. The pack also features both glossy and matte top coat, so you can opt for the finish that you desire with each color. The nail lamp has 41 bulbs, a built-in smart sensor, and 3 timer settings. Made from prime and natural resins, these colors are toxin-free and low smell formulas. This gel manicure kit comes with all the essential nail tools that you will require to prepare your nails for extensions and nail art.
The Jiasheng Poly Nail Gel Kit is the ideal choice for you if you like your nail extensions loaded with glitter and shimmer. The kit features 6 colors— clear, skin color, and pink, and glitter silver, glitter pink, and glitter purple. These colors take no time to build and are quite long-lasting. What's impressive about these gel nail colors is that they're stronger yet more flexible than most hard gels. The set also includes nail extension mold, top and base coat, nail file, buffer, and stripping tape among other nail care essentials to prep your nails for curing the poly gel nail color.
This gel nail color starter kit is all you need if you're looking for an all-in-one kit for at-home mani. This is an ideal set for those who love grey tones; however, that's not all. This pack features some of the prettiest fall shades in brown and nude that suit almost every skin color. What's more is that the pack includes 2 glitter shades in pink and silver if you'd want a change. These colors are highly pigmented and take only 2 coats for that flawless, opaque finish. The gel kit includes a nail lamp to speed up the drying process, and packed with it are all the manicure tools that help you prep your nails to place the extensions.
Packed with all the essential tools, this Midsummer Series from YaoShun makes at-home manicure a breeze. The kit also features a 24W UV LED nail lamp along with 33 nail art tools, all wrapped up in an appealing gift box. The pack comes with 6 gels in mirror shine finish. What we love about the nail lamp included in this kit is that the light on the lamp turns on and off when the hands are in and out, respectively. With all the nail art-friendly tools and beautiful colors that this nail color starter pack features, it is an ideal pick for a girl's night when you can paint each other's nails and have some fun time.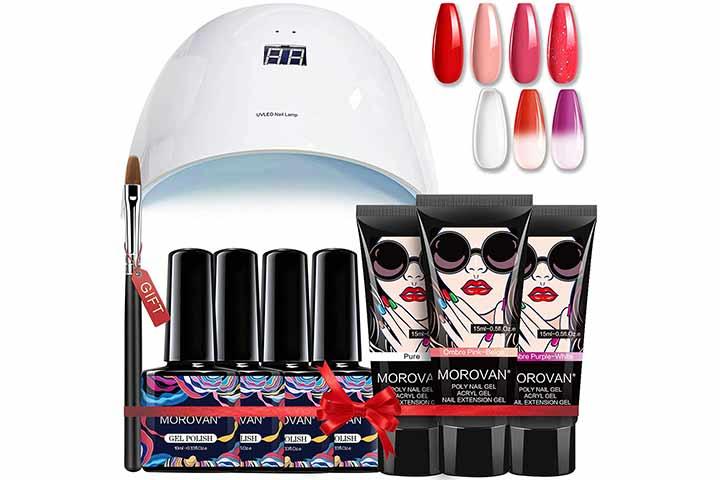 Last but definitely not the least is this gel nail kit from Morovan that consists of 7 colors packed in attractive tubes. What differentiates this set from other gel nail kits is that it features 2 poly nail gel in ombre finish— an ombre pink-beige and an ombre purple-white. Say goodbye to smudges and chips with this kit as, when applied as per the instructions, these extensions and colors stay put for almost 3 weeks. These nail gel colors dry faster, are made from a low-odor formula, and don't peel off easily.
Now that you have so many options to choose out of, what will help you make the right decision is a comprehensive buying guide that walks you through the points to keep in mind when buying the best at-home gel nail kit. Let us help you out!
How To Choose The Best Home Gel Nail Kit At Home?
The first thing that you should determine is if the gel nail kit that you intend to buy has all the colors that you love. If the kit does not offer the colors of your preference, you would not want to use it. Therefore, opt for a gel polish set that comes with your favorite colors.
If you're looking for perfection, ensure that the gel nail color formula is such that it dries quickly, is opaque, and highly-pigmented. Ideally, your gel nail color should give you a perfect finish in 2 applications and should not take more than a minute to dry off when you use a nail lamp. Most gel nail color kits have the details regarding the formula on their label. So, it is recommended that you read the label carefully to determine if the formula of the gel nail colors is worth investing in.
Most gel nail color kits offer 2 types of finish— matte and glossy. What you pick depends on your preference. Many brands also offer glitter, shimmer powder, and chunky jewels as a part of the kit. You can opt for the kit that comes with all the nail art products that you would want to use.
Before you start applying the gel nail color, you need to prep your nails for it. This would need various tools such as filer, buffer, base coat, and other tools for application such as a brush, separator, nail molds, and a nail lamp. Ensure that the at-home gel nail kit you intend to buy features all the essential nail art tools so that you don't have to invest separately in these tools.
Frequently Asked Questions
1. How to remove gel nails at home?
The best way to remove gel nails at home is by placing cotton balls soaked in acetone on your nails. To hold the balls in place, you can wrap the tip of your fingers in foil. After 15 to 20 minutes, you can remove the cotton balls and see if the gel polish slides off easily. If not, you can let your nail soak for a bit longer until the polish easily slides off.
2. How do you use an at-home gel nail kit?
While every brand includes instructions on how to use their at-home gel nail kit, the steps are common for any gel nail kit that you purchase. Start off by cleaning and preparing your nails, then apply the base coat and cure it under an LED UV lamp. Apply the first layer of the color of your choice and again cure it for 1 to 2 minutes and repeat this step with another coat. Once you apply 2 coats of the gel color, apply the top coat and again cure it under the lamp for about 60 seconds.
Now that you know about the 11 best at-home gel nail kits and how to use them, we hope that you buy the right one kit for yourself. If you love nail art and have been splurging on professional manicure, it is about time that you give DIY manicure a try. As at-home gel nail kits come with easy-to-understand instructions, it'll take you only a few minutes for the entire process and cost you significantly less when compared to getting it done at a nail art studio each time. So, pick the right gel nail colors and get ready to flaunt beautifully done nails!
The following two tabs change content below.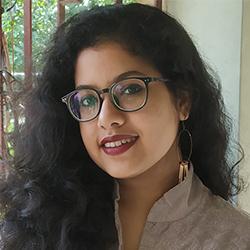 Poulami Nag
Poulami Nag is a writer and associate editor at MomJunction. She did her MA in English from Miranda House, University of Delhi and has qualified UGC-NET. Her journey as a content writer began in 2017 and since then she has garnered diverse interests along the way. Her knowledge of literature and language has given her an eye for detail and...
more