The majority of people believe that speaker stands are primarily used to improve the aesthetic value of a room. However, they might not be aware that the best audio speaker stands can enhance the sound quality and your listening experience. They allow you to direct the sound to where you want it to go and ensure optimal sound distribution. Therefore, they provide you with a fantastic theatrical experience that you wouldn't get from your speakers.
Here, we have compiled a list of some finest audio speaker stands that enhance the aesthetics of your space and promote excellent sound quality.
17 Sound Enhancing Audio Speaker Stands
Designed to support various universal speaker brands, the Sanus Adjustable Speaker Stand optimizes your listening experience and has a built-in cable management system to keep the wires out of your way. This speaker set includes 3 different mounting methods: top plate, keyhole slot adapters, and L-shaped brackets to maximize compatibility with other speakers. This speaker stand is built from steel to ensure the delivery of high-quality sound. Here's a video to help you learn more about this product.
Pros:
Highly functional and durable
Easy-to-use collar to adjust the height
Includes a 5-year warranty
Iron base for maximum stability
Cons:
Instructions to set it up might not be clear.
The Atlantic Speaker Stands were designed keeping in mind the aesthetics of your home. The wires do not show as they are hidden into the pole and base. Perfectly position your speaker for the most optimum home theatre experience and enjoy a high-quality investment. These speaker stands can be adjusted easily with the collar provided. This video gives you more information about the product.
Pros:
Sleek design
3 sided base
Cast-iron construction
Cons:
The hole in the base might be a little loose.
One of the best audio speaker stands that gives you a great sound experience, the VideoSecu Heavy Duty Satellite Speaker Stand accommodates most universal speakers. It is stylish and has a black steel finish. This surround sound speaker stand's height can be adjusted according to your convenience.
Pros:
Wires are concealed
Adjustable, side-clamping top plate
Screw-in rubber feet can be adjusted
Cons:
With an effective base response, the Monoprice Capacity Speaker Stands has ports at the back of the head. For best results, mount these speakers about 1-2 feet away from the wall to ensure that the ports work properly.
Pros:
Adjustable height up to ear level
Hollow stand tubes to conceal wire
Well-weighted base
Cons:
Speakers cannot be mounted completely upright.
With a sturdy triangular base and adjustable height feature, the Perlesmith Speaker Stand makes a great satellite speaker stand. It is perfect for most home theatre sets and includes a top plate, L-shaped brackets and keyhole mount adapters to fit small speakers. For a more detailed review of this product, here's a video.
Pros:
Easy assembling process
Integrated wire channel
Heavy-gauge steel pillar
Includes a 10-year warranty
Cons:
Might not completely conceal speaker wires
Designed to optimize listening, these slender metal stands are elegant and stylish. They carefully hide the wires of your speaker and can be used for most home entertainment systems. The Bose Universal Floor Stands are best suited for Bose cube speakers and other similar compatible products. The stand includes a mounting kit that is easy to use.
Pros:
Easy to assemble
Kit includes clear instructions
High-quality stands
Sturdy and long-lasting
Cons:
The Ultimate Support Studio Monitor Stands have a sleek and sturdy design that is best suited for budding producers or newbies. These speaker stands are the go-to choice for musicians, engineers, producers, and listeners who want a wholesome listening experience. It is designed to fit into tight spaces with its sleek triangular base and is highly portable. The height of this stand can be adjusted to suit your preference and it also has a locking mechanism to hold it in place.
Pros:
Floor spikes included
Base includes rubber feet
Wide metallic base
Cons:
The central fastener is made of plastic.
If you're looking for a stylish design and a quality speaker, the Atlantic Adjustable Speaker Stand is the one for you. It contains 2 speaker stands that can be adjusted as per your convenience. With 4 adhesive strips and 4 spike studs, the speaker stands have 2 options of being mounted. It includes a wire management system which keeps the wires of your speakers out of sight.
Pros:
Includes non-marring feet
Can be easily assembled
Holds speakers that weigh up to 20 lbs
45 degree rotation to position speaker
Cons:
Includes spikes that might not fit
With a design that is suitable to make it one of the best floor stand speakers, the Mounting Dream Speaker Stand has a strong triangle base. It includes 4 attachments that are suitable for different speakers and includes adjustable height attachments for vertical hole and key hole. It also includes an adapter bar for horizontal holes and a round holder for wooden speakers without holes.
Pros:
Built-in cable management to hide wires
Triangle base has extendable tubes
Heavy gauge steel finish
Made with cast iron for stability and durability
Cons:
The height adjustment knob is made of plastic.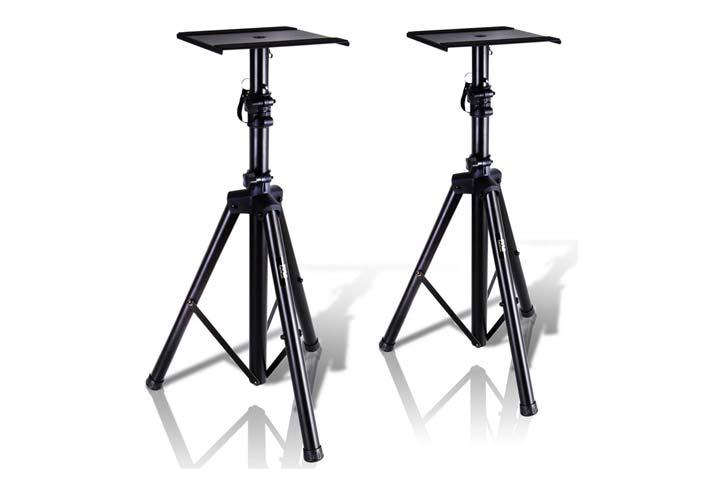 With a tripod design that holds speakers up to 90 lbs, the Pyle Dual Monitor Studio Speaker Stand can easily be folded and carried for transportation. It includes anti-slip grip pads that provide stability and balance to avoid the stand from collapsing. It also contains a unique metal base that easily mounts the speaker and produces better sound effects.
Pros:
Arc-welded metal construction
Long-lasting and highly-durable
Adjustable height feature
Sturdy and tough design
Cons:
The base tray might not be wide enough.
If you're looking for a set of speaker stands that will transform your bookshelf speakers into floor speakers, the Bose Bookshelf Speaker Floor Stands is just what you need. It's sturdy and has a wide base to support your speakers and optimize their performance. It also adds to the decor of your room with its neat design.
Pros:
Brand credibility
High-quality stand
Highly durable
Cons:
Might be difficult to assemble
These floor speaker stands are constructed with solid cold-rolled steel and are compatible with satellite speakers and bookshelf speakers. The high gauge speaker stands are sleek and have a black matte finish to suit any decor. The set includes spikes that are easily attachable for carpet placement. The stands are supported by dual pillars and can support weights up to 22 lbs.
Pros:
Includes detachable, padded feet to secure the stand on the floor
Attractive for any home theatre system
Includes spikes that are anti-vibrational
Cons:
These stands might have a slight wobble.
With this incredible pair of speaker stands, it is easy to grab everyone's attention to turn jam sessions into concerts and presentations into speeches. The Hola! Music Speaker Stands are one of the best audio speaker stands that give you a sturdy tripod base for your professional speakers. It has an adjustable height feature that can be set anywhere between 4-6 feet.
Pros:
Made with robust metal tubing
Contains pins to secure stand at any height
High-quality and affordable
Easy to assemble
Cons:
Does not come with a carry bag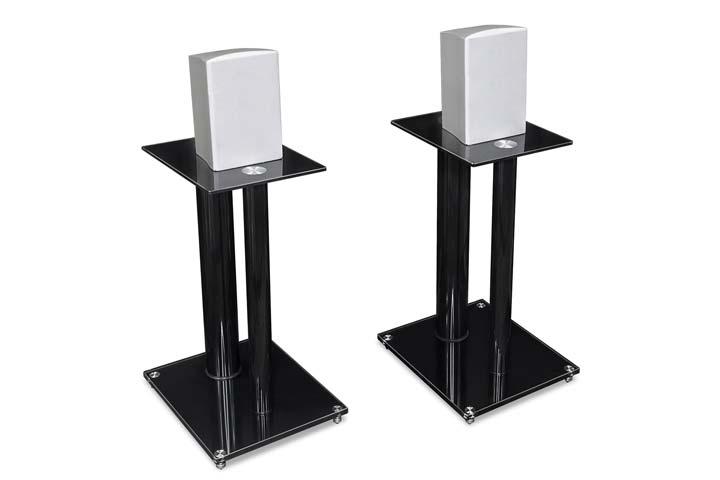 A speaker that complements your living space and gives you a great listening experience, the Mount-It! Speaker Stands produce an immersive surround sound experience for satellite and bookshelf speakers. It is designed with style and has a glass and aluminum silky glossy black coating to bring out a contemporary look and feel.
Pros:
Compatible with most universal speakers
The wires run through the poles for neat look
Includes a detailed instruction manual
Comes with the tools needed for installation
Cons:
Does not have height adjustment feature
Speaker stands that are designed with elegance and beauty, the GT Studio Sonos Speaker Stands are of high quality and are compatible with most universal speakers. They come with rubber feet to protect the floor from scratches and for extra stability.
Pros:
Wires are concealed at the back
Unique sloping contour design
Has a rear speaker attachment
Easy to assemble
Cons:
Stand height cannot be adjusted.
With the Echogear Adjustable Speaker Stands you don't have to worry about it being compatible with your speaker. It's designed as a "one size fits all" and gives you a wholesome listening experience. It has 3 mounting options: top plate, L-shaped bracket and keyhole adapter attachment. The built-in cable system hides your speaker wires for a clean and aesthetic appearance.
Pros:
Simple 3 step installation
Sturdy and heavy base
Includes an instruction manual
Cons:
Screws might become loose after use
This high-performance wooden speaker stand is designed to be the best in quality and appearance. They are compatible with surround sound speakers, bookshelf speakers, and even studio monitors. This wooden stand has a premium coating that prevents the paint from chipping, or peeling off. The set includes brass and rubber spikes as well as isolation pads to keep the stands sturdy on the ground no matter what the floor material is.
Pros:
Made with premium furniture grade paint
Made with high-quality, medium-density fiber core
Empty body design to keep the stand light
Cons:
Does not include screws to assemble
This list of audio speaker stands can transform your bookshelf speaker into a home entertainment system without any hassle. Now, let's look at what factors to consider before choosing an audio speaker stand.
How to Choose The Best Speaker Stands?
There are different types of audio speakers that cater to different needs. So, based on your requirement, here are some of the factors to consider when selecting a speaker stand for your home.
Weight – This is the most crucial part of selecting the right speaker stand. Depending on the type of speakers you possess, its weight and its width, the speaker stand must be able to support it. Most stands come with clear instructions of how much weight capacity it can hold. While making the choice, ensure that the speaker stand has the capacity to handle the weight of your speakers.
Top Plate – One of the most common ways that a speaker is mounted on to the stand is using the top plates. These plates come with holes for screws and rubber pads or studs to ensure stability. Speaker stands with rubber pads also reduce the vibrations of speakers making the sound quality crisp and clear.
Design – Speaker stands are great to give you an enhanced listening experience in the comfort of your homes. Most of the time, these speaker stands work very well for your home entertainment systems and add to its functionality and efficiency. It is important to keep in the mind the kind of speakers you own to know which stands will be most compatible with them.
Height – Another important feature to look out for is the height adjustment of the stands. Most speaker stands have the option of adjusting the height depending on your need. However, there are some that do not.
Build – Your audio speakers rely on these speaker stands. Therefore, it is essential to ensure it is sturdy and made with strong materials that can withstand the weight of your speakers. Wooden speaker stands might be more expensive but they are highly durable. On the other hand, steel stands are cheaper and offer better stability. Some of them are hollow and can be filled with sand to improve sound quality.
Cable – Most speaker stands that are available in the market have a built-in feature to conceal the cable wires of your speakers. Therefore, look out for the size of the wires to ensure that they will fit in the channel.
Base – There are different types of bases like a tripod base, broad base, or even a sleek base. But the best kinds are the ones that are wider and heavier. These stands provide more stability and keep your speakers safe and secure. Most stands for speakers have 2 types of feet options: rubber pads or spikes. Spikes are compatible with carpeted surfaces while rubber pads work best for flat surfaces.
Why Trust MomJunction?
Whether you're planning a house party or an evening with friends or family, a good-quality audio speaker is a must-have for a good time. Our product writer, Wedetso Chirhah, has channeled his interest in electronics into picking the best audio speaker stands. These products were chosen based on user reviews and features such as build, weight, and design. These audio speaker stands will enhance the look of your space and improve the listening experience.
Recommended Articles: