Are you experiencing dry and dull hair issues? Your hair needs some serious pampering, like your skin. A dry scalp needs a good hydrating conditioner to bring back the smoothness and shine to your hair while minimizing dry flakes and dandruff. The even better bet is an ayurvedic conditioner free of chemicals and synthetic additives. Read through our list of the best ayurvedic conditioners for dry hair and heal your hair with herbs and natural extracts.
11 Best Ayurvedic Conditioners For Dry Hair In India

The Khadi Mauri herbal conditioner is sourced from gramodyog. It provides nourishment to the hair through Brahmi, almond, henna, and aloe vera. The antioxidant serum protects the hair from humidity, heat, and styling tools. It reduces frizz, dryness, split ends, and breakage. Rich in vitamins and minerals, the conditioner nourishes the roots and moisturizes the hair. It regenerates damaged shafts, improving texture, manageability, and hair strength. It makes the hair smooth and silky soft with a natural shine and added volume.
Pros
Chemical-free
Paraben-free
SLS-free
Mineral oil-free
Natural
Cons

 Khadi Natural conditioner is an herbal formula that helps to strengthen the hair and hydrate the scalp. It is formulated with amla and bhringraj rich in vitamins, minerals, and phytonutrients. Vitamin C in amla stimulates collagen production. It replaces dead cells with new ones and promotes hair growth. The formula also contains haritaki, neem, and henna, which are natural moisturizers and conditioners. It is an anti-greying blend that reduces frizz and has antibacterial and anti-inflammatory properties. The product leaves the hair stronger and healthier while the scalp dandruff-free.
Pros
SLS-free
Paraben-free
Herbal
Increases manageability
Cons

 Just Herbs brings you a gentle conditioner that nourishes and smoothens damaged and dull hair. The ayurvedic formula is rich in vibhitaka, amla, bhringraj, and hibiscus that moisturize the scalp, reduce dryness, and promote healthy hair growth. Methi curbs hair fall while white lily or kumuda increases elasticity and volume of hair and reduces irritation. Gotukola minimizes early greying. The conditioner fortifies the cuticles, reduces frizz, and gives the hair a thick, soft, and healthy texture.
 Pros
Silicone-free
Paraben-free
Petrochemicals-free
SLS/SLES PEG/PPG-free
GMO-free
No synthetic ingredients
 Cons

 The Organo Gold hair conditioner is an 18-in-1 formula infused with the goodness of red onion, hibiscus, amla, aloe vera, and vitamin E. It provides intense moisturization to the scalp and reduces dryness, dandruff, split ends, and breakage. The botanicals provide nourishment to the follicles and repair damages. It tames frizz and flyaways, making the hair manageable. The lightweight formula makes the hair silky soft and adds volume.
Pros
Organic
SLS-free
Paraben-free
Chemical-free
Cons

 The Forest Essentials conditioner is a scalp reparative formula. It is enriched with Bhringraj, coconut milk, shikakai, and licorice extracts that provide deep nourishment to the hair and scalp. It also contains kalonji seed oil that repairs damaged hair and stimulates the roots, improving overall hair texture. It detangles and makes hair manageable. Bhringraj promotes hair growth and strength and reduces dandruff. Shikakai maintains the pH level of the scalp and cleanses the hair without stripping its natural oils. The conditioner keeps the scalp moisturized and makes the hair healthy and lustrous.
Pros
Chemical-free
Parabens-free
Petrochemical-free
Eco-friendly packaging
Cons

 Soul Tree hair conditioner is a 100% vegetarian and natural product with the ayurvedic formulation. It moisturizes the dry scalp and hair, making the hair shiny. Hibiscus in this formula reduces frizz and makes the hair soft, while coconut oil and shikakai lock in moisture and nourish the scalp. The conditioner leaves the hair smooth and voluminous. It is a chemical-free product and is suitable for all hair types.
 Pros
Paraben-free
Silicone-free
Lead-free
SLS/SLES-free
Phthalate-free
Mineral oil-free
Petrolatum-free
No synthetic fragrance
Cruelty-free
 Cons
May leave your hair frizzy 

 The Blue Nectar scalp conditioner is suitable for damaged, dry, and color-treated hair. It is infused with ayurvedic herbs, such as bhringraj and shikakai rich in antioxidants and vitamins A, C, D, and K. It protects the hair from further damage. The formula reduces scalp dryness and itchiness by restoring its natural moisture content. It soothes the scalp with cooling effects and provides nourishment for health and strength. The detangling serum keeps the hair frizz-free and smooth and promotes healthy hair growth.
Pros
Paraben-free
Sulphate-free
Color-safe
Maintains pH level
 Cons

Himalaya Organics conditioner includes the goodness of tea tree oil. It also contains bhringraj extract that controls hair fall and adds volume to the hair. The formula nourishes, repairs, moisturizes and protects the hair and scalp with its botanical ingredients and antioxidant properties. The anti-dandruff conditioner relieves itching and irritating scalp. It increases hair strength and improves texture from the roots. The conditioner stimulates follicles and makes the hair shiny and soft.
Pros
Paraben-free
Silicone-free
Dye-free
Mineral oil-free
Cruelty-free
Phthalate-free
Color-safe
 Cons
May be sticky for oily hair

 The EnQ hair nourisher is an ayurvedic formulation of pure aloe vera extracts that contains 75 beneficial nutrients for the hair. It forms a layer on the hair strands that keeps them hydrated and relieves scalp dryness. The anti-itching formula has antipruritic properties that minimize irritations. This conditioner adds strength to the hair roots and follicles, reducing breakage, hair loss, and split ends. It also promotes healthy hair growth.
Pros
Paraben-free
Sulfate-free
Dye-free
Silicone-free
Cons

 Khadi Essentials brings you a conditioner infused with moringa oil, almond oil, wheat germ, shea butter, neem, and amla. These ingredients offer hydration to the hair and minimize dry scalp, dandruff, and split ends. The potent blend nourishes the hair and strengthens the roots. Its anti-inflammatory and antibacterial properties protect the hair and reduce breakage. With the right amount of moisture, the conditioner makes the hair shiny and voluminous. It has a lingering pleasant fragrance and promotes healthy hair growth.
Pros
Paraben-free
SLS-free
Dye-free
Petrochemical-free
No synthetic fragrance
Cruelty-free
Cons

 The Anveya conditioner is a hydrating formula for dry, damaged, and frizzy hair. It has moisturizing properties that reduce split ends and protect the hair from heat damage. The formula is a unique blend of naturally hydrating hyaluronic acid with exotic essential oils, including almond, argan, and green tea seed oil. It locks in moisture and creates a shield that strengthens the follicles, minimizing breakage and hair fall. The conditioner controls frizz and makes the hair soft, shiny, and voluminous.
Pros
Paraben-free
Sulphate-free
Ammonia-free
Alcohol-free
Clinically tested
Cons
May offer unpleasant fragrance
Things To Consider While An Ayurvedic Conditioner For Dry Hair
Here are some points to consider to choose the best ayurvedic conditioner for dry hair. 
Hair type: Know your hair type before picking any hair product. Most conditioners are labeled 'for dry hair' or 'for oily hair' etc. For example, a conditioner for curly hair will not suit straight hair.
Ingredients: Check if you are allergic to any ingredient present in the conditioner. For example, if you have dry, frizzy hair, check for ingredients, such as coconut milk, almond oil, and other hydrating and moisturizing ingredients.
Chemicals: Most conditioners contain silicones, sulfates, and parabens for added softness or antibacterial properties or even increase shelf life. Though these chemicals uplift the hair and scalp condition instantly and effectively, they are harmful when used longer. Pick a conditioner devoid of chemical ingredients and synthetic additives.
Brand:

Most ayurvedic products are well-known and trusted ayurvedic brands. Review the feedback and reputation of the brand when you buy their product.

Price:

Ayurvedic conditioners are unique and maybe a little expensive. But, a high price does not mean good quality. So, look for good quality and do not compromise on the price.
An ayurvedic conditioner is a safe way to take care of the dry scalp. It conditions the hair with organic botanicals that cause no harm to the hair and roots. This product protects the hair from damages, repairs follicles and roots, and stimulates regeneration, giving you better quality, lustrous and soft hair. Pick from our recommended list of the best ayurvedic conditioners for dry hair and provide a protected makeover.

Recommended Articles:
The following two tabs change content below.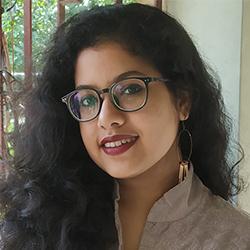 Poulami Nag
Poulami Nag is a writer and associate editor at MomJunction. She did her MA in English from Miranda House, University of Delhi and has qualified UGC-NET. Her journey as a content writer began in 2017 and since then she has garnered diverse interests along the way. Her knowledge of literature and language has given her an eye for detail and...
more