Make your child's bath time fun and refreshing with our list of the best baby bathtubs. You might have the best shampoos, toys, and body washes for your little one, but having a high-quality, spacious bathtub is equally important. In the initial months, the child's body tends to be fragile and underdeveloped. The baby cannot sit up for several months, and parents have to support their heads to prevent injuries or damage. Bathtubs provide your child with adequate back and neck support for comfortable positioning and keep you hands-free for convenience. You can draw a nice, warm bath for your child and add exciting bath toys and rubber ducks to help your child relax and enjoy without any fuss or hassle.
Bathtubs can range from simple designs to fancy, elaborate ones. It is important to consider your bathroom's available space and your baby's age to find a bathtub of the right size. With various available options, choosing the right bathtub can be challenging. So, explore our list of products, features, tips, and suggestions to make an informed decision. Read on to know more.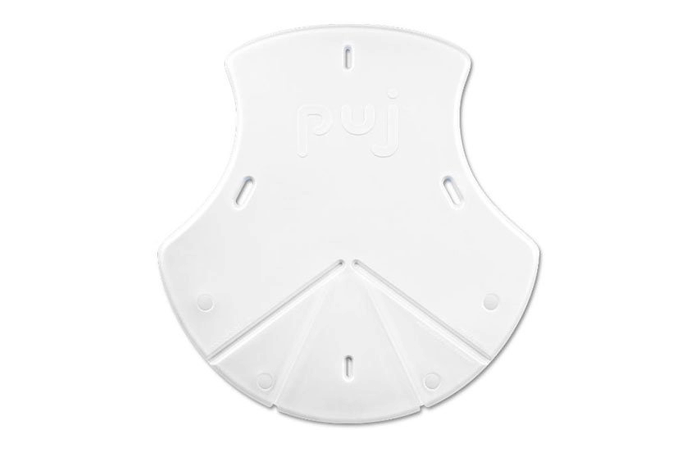 The Puj Tub is a perfect gift for mommies just back from the hospital with their bundle of joy. Made from soft foam, the bathtub folds and conforms to almost any sink. The soft foam will protect your baby from the hard sink. The bathtub cradles and protects the baby well. So you can wash your baby with both hands without worrying about the support. This bathtub is also a boon for C-sections mothers. You don't need to bend, sit, lean or squat to bathe your child. When finished, store it or hang it up on the wall.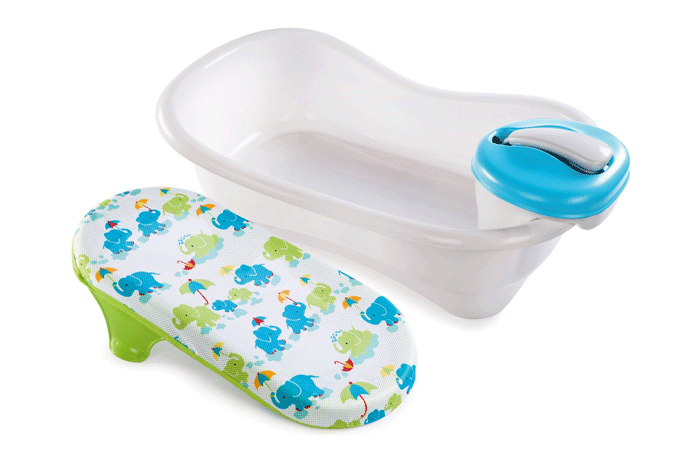 Here's a bathtub that grows! Surprised? Don't be! Summer Infant Newborn-To-Toddler Bath Center is a tub that will grow with your baby from infancy to toddlerhood. You can use the sling included in the baby tub or the sink. As your baby grows, remove the sling and let her enjoy her private tub. The product includes a shower spray that you can use to give your baby a quick rinse. And the foam pad will keep your baby comfortable. Summer Infant Newborn-To-Toddler Bath Center & Shower will make a nice purchase.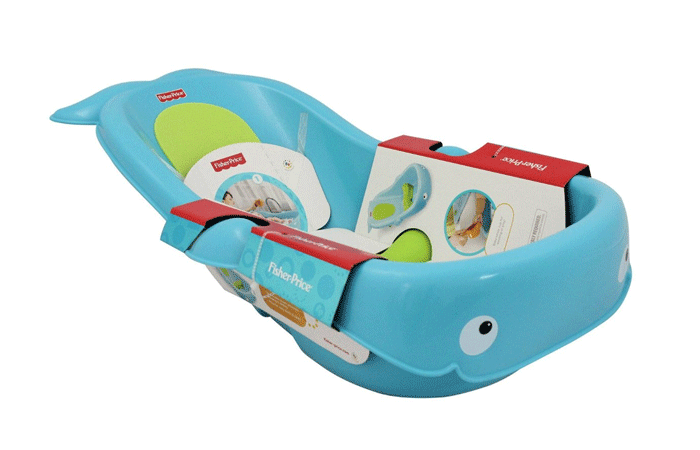 Let your baby have a whale of a good time with the Fisher-Price Precious Planet Whale OF A Tub. The bathtub will suit your child's needs from infancy to toddlerhood. It comes with a baby stopper that will prevent her from slipping until she can sit. As your child grows, remove the stopper and use it as a basin to bathe her. There is also soft-grip foam to provide added safety and a soft cushion to keep her comfortable. It has a plug for easy draining. It also includes a whale toy to give your baby fun in the bath.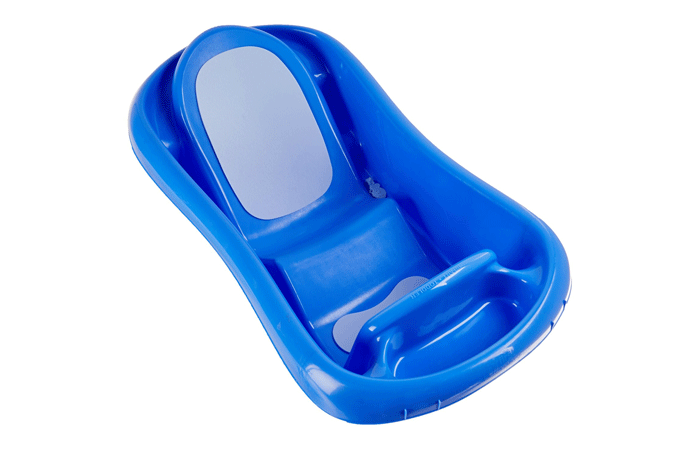 There's nothing fancy about the First Years Sure Comfort Deluxe Newborn to Toddler Tub, but it covers the entire basic bathtub requirement. The sling in the bathtub clips on and off easily and is washable. The backrest provides stability to babies who have past the newborn, but cannot sit up. The upright backrest allows older babies to sit up straight. It also has a built-in compartment where you can store all your baby's back products. And it's dirt-cheap too! The only issue we had with this bathtub is that the flush is at the bottom of the tub, which makes it difficult to lower the water level with tipping the tub or taking it out by hand.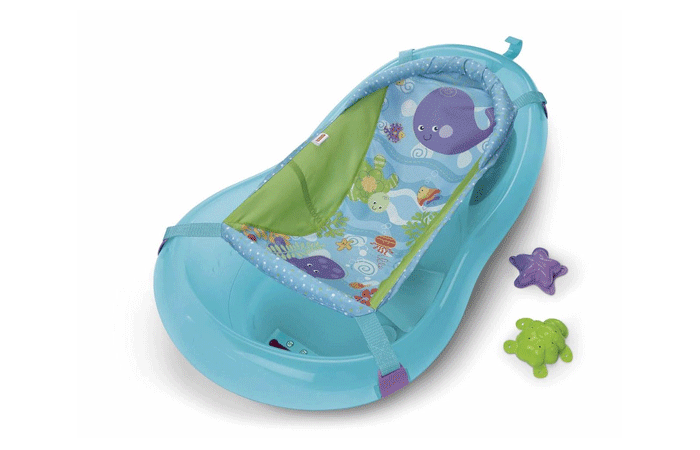 Here's another bathtub that expands to fit babies from infant to toddler. The sling that comes with the bathtub cradles and supports your baby safely and comfortably. As your tot grows, you can adjust the sling to hang from the narrow end of the bathtub to give your baby a reclining support. If your baby needs more room make him sit at the wider end of the tub. Another great feature of this bathtub is its temperature indicator, so you can make sure that the water is just right. The bathtub also comes with loads of bathing accessories.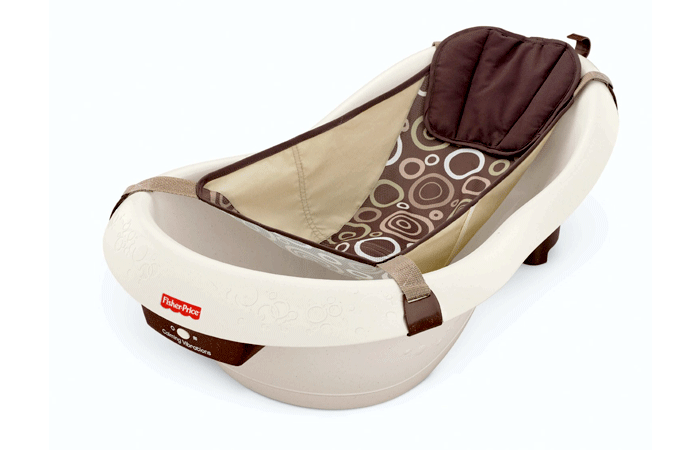 This one's a sure shot winner. The tub has all the basic features like a drain plug, hand-dry system, and a single, and double sinks fit. But it is the extra features that make the bathtub special. It has a removable padded headrest and an adjustable sling. The Vibration feature calms the baby and gives her a spa-like experience. The hook makes it easy to hang on the wall or door. Even the price is reasonable. In fact, it costs less than most of the functional bathing tubs.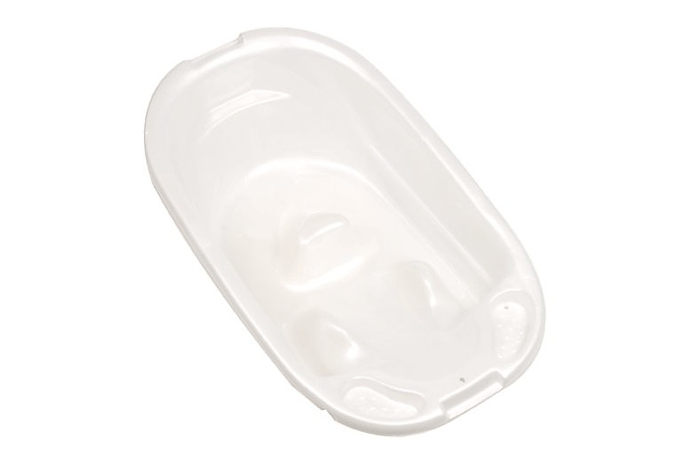 The Primo Euro Bath makes bath time safe and convenient for both mommy and baby. As you can fathom from the image, the bathtub has a design that will hold the baby safely. There are two areas for soap, sponge, and shampoo. The inbuilt drain made with non-toxic plastic will give extra safety to your baby. The bathtub is quite large, so your child won't grow out of it anytime soon. Prima Euro Bath comes in two colors- white and blue. Even the price is on the friendly side. The only thing this bathtub lacks is a fabric sling. Otherwise, it is one of the best bathtubs in the market.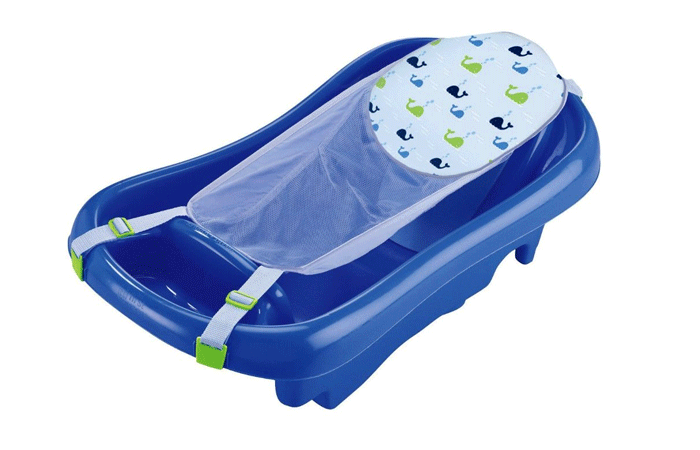 Imagine lying down in a hammock while warm water showers you. It feels great, right. Even your baby will experience the same with the bathtub here. The bathtub has a comfortable and mildew resistant hammock. And the ergonomic design makes bathing comfortable for babies. It also has a system that will alert you if the water is too hot. And it is ridiculously inexpensive. The First Years Infant To Toddler is available in two colors- blue and pink.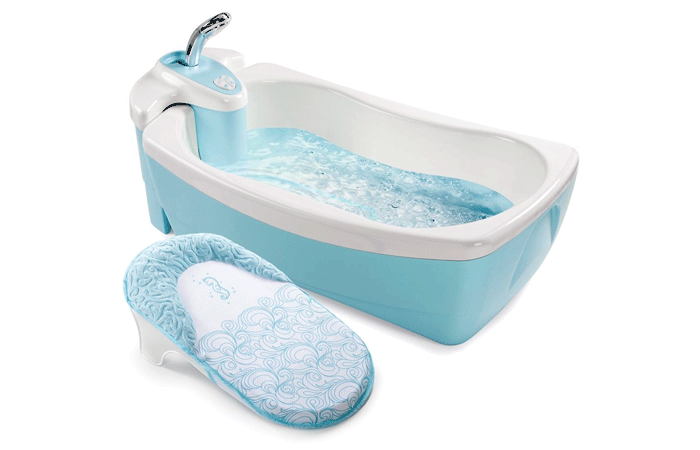 If you want to give your newborn a luxurious bathing experience, then Summer Infant Lil Luxuries Whirlpool Spa & Shower is the one for you. It has a newborn sling to position the baby in the bathroom tub. And if you have a toddler, then switch on the jet to turn the tub into a whirlpool. The motorized jet in the bathtub creates vibrations and bubbles to give your baby a soothing spa effect. And when your baby outgrows the tub, detach the shower unit to use it in your tub. Now that's some great value for money. The bathtub is ideal for babies from birth to 2 years.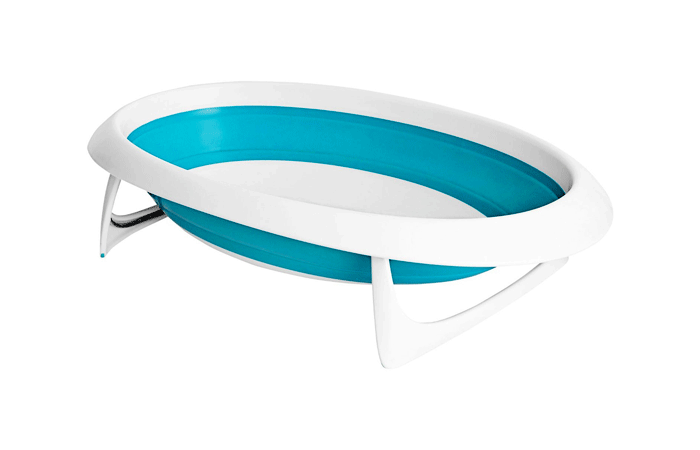 The trendy tub expands to accommodate both newborns and tiny tots. When your baby has finished bathing, folds it and store in your cabinet or drawer. Or just hang it behind the door. Even cleaning the bathtub is very easy as it doesn't have any grooves or textured surface. You can count on this bathtub from newborn to toddler stage. My one complaint with the bathtub is that it becomes quite slippery because of its bowl-shaped design. You can solve the issue by inserting a sponge on the base of the tub.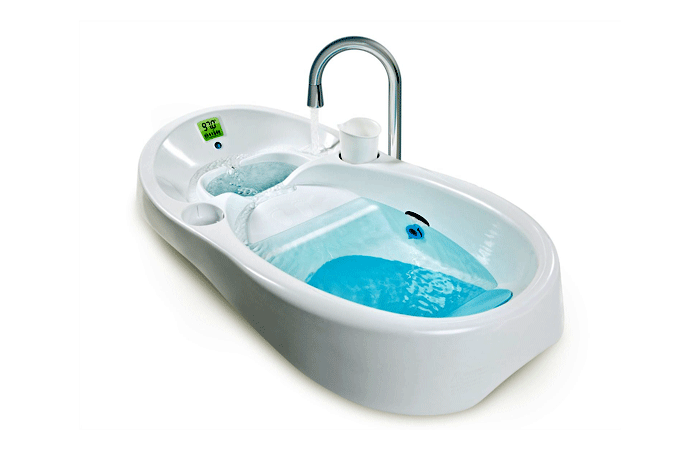 The 4Moms Infant Tub is one gorgeous bathtub. You can almost call it the iPhone of baby bathtubs. It has some luxury features that set it apart from other baby bath tubs. One feature unique to the bathtub is that you can fresh water flowing into the bathtub continuously. And to filter dirty water out, open the side drain and turn on the faucet. The thermometer is also color-coded. It turns blue when the temperature is too cold, green when the temperature is perfect and red when the water is too hot.
Most mommies are not great fans of inflatable bathtubs. They think they are expensive, hard to clean, time-consuming and not very durable. If you are one of those mothers, then the Munchkin White Hot Inflatable Bath Tub will surely change your opinion towards inflatable bathtubs. It is one of the most cost-effective inflatable bathtubs. You just have to place the inflated bathtub into your regular tub, add water to it, and you're good to go. The temperature disc at the base changes color to indicate if the water is too hot for your baby. You can also use this cute ducky as a playpen.
Disney Minnie Mouse Inflatable Safety Bathtub is designed to provide comfortable bathing space to your little one. The bathtub features a non-slip ribbed base and thick padded bumpers for the safety of your baby. It has cushion back support to make your baby sit comfortably. The large storage pockets at the front allow easy access to shampoo and body wash. It is free from BPA, PVC, and phthalate.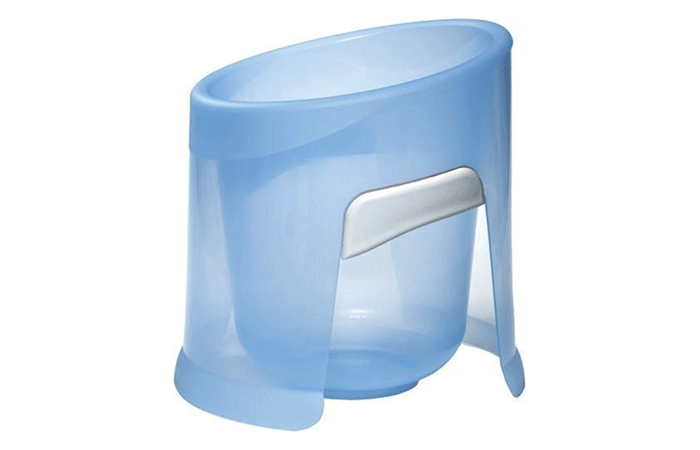 The bucket-shaped bathtub may look weird at first, but it will be a calming solution if your baby hates taking baths. The design of the bathtub emulates a womb. The compact space will make your baby feel secure. Position your baby upright on a cushion, while you wash her around. The cushion floats up easily as you lift your baby out of the water. The Wash Pod is easy to clean as well, making maintenance an extremely simple task. It also doubles as a place to keep your baby's bath supplies. Your baby will quickly outgrow the Prince Lionheart Wash Pod. So if you are looking for a product that will last you a little longer, then you can select other bathtubs from our list.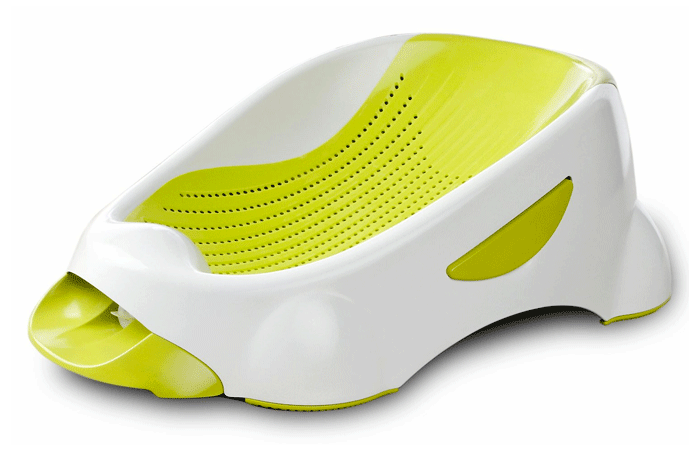 Make bath time more safe and comfortable for your baby with ComforTemp Infant Bather. The ComforTemp Infant Bather is not an ordinary bathtub. It is like a warm water reservoir, which provides the option of keeping your little one warm with direct water contact and radiant heat. The non-slippery and reclining design will keep your baby cradled in comfort and the high sidewalls will him in place. Its ergonomic design ensures that water stays out of your baby's ears. But ComforTemp Infant Bather is quite small. So this is an ideal and the best baby bathtub for newborns only.
No matter which bathtub you use for your baby, you must stay with her all the time so that she does not slip under the water. Forgot the towel? Can't find the baby shower gel? Just pick your darling up and get what you need. But never leave your child alone in the tub. Also, never pick the tub with your baby inside it.
Each and every child will love his bath time with these cool and innovative bathtubs. So grab the best bathtub for baby, bath toys and have a splashing good time.
Which bathtub did you like the most from our list? And which one did you buy for your munchkin? Tell us in the comment section below. Leave a comment for our fellow mommies.

Recommended Articles: