If you're searching for the best baby bottles to feed expressed breast milk or even formula to your munchkin, you're at the right place. Baby bottles help you store milk conveniently and feed your baby anytime, anywhere.
These baby feeding bottles are available in various nipple choices and sizes, depending on your needs. If you are overwhelmed by the sheer variety in the market, we've tried to make your search easier. Here is a compilation of baby bottles you could consider investing in.
21 Best Baby Bottles
This bottle by Philips Avent has a specialized nipple valve that directs air towards the bottle instead of the baby's tummy, thus making it the best baby feeding bottle for infants with gas and colic problems. The bottle comes in volume capacities of 2, 4, 9, and 11oz (60, 118, 266, and 32 ml). This video will provide you with added insights about the product.
Pros
Silicone nipple is soft and easy to latch on to for babies
Wider nipple resembles the breast nipple
Specialized "petal" design prevents nipple collapse
Made of BPA-free polypropylene
Includes a slow flow nipple for babies older than a month
Cons
Might leak
May not be easy to clean
[ Read : Philips Avent Anti Colic Bottle Reviews ]
You can boil this bottle or place it in a microwave to sterilize it. The bottle's body is entirely made of silicone, which makes it flexible and unbreakable. It has only four parts: the main bottle, a stopper ring, the nipple, and the cap. Here's a video to help you know more about this product's features and benefits.
Pros
No BPA, PVC, and phthalates
Dishwasher-safe and easy to clean
Dual vents on the nipple allow air passage
Can sustain a maximum temperature of 120°C (248°F)
Available in various sizes
Includes a medium-flow nipple suitable for three- to six-month-old babies
Cons
Might cause leakage
Lid might come off occasionally
The bottle comes in a pack of six. It is made with tempered glass, which makes it one of the strongest and best baby glass bottles. The tempered glass material makes it naturally free of any plastic-based chemicals and other chemicals such as BPA, phthalate, and PVC. The bottle holds 8oz (236ml) of liquid and has a slow flow nipple. It is available in 4oz (118ml) capacity too.
Pros
Soft silicone nipple is easy to disassemble
Contains micro vents to prevent nipple collapse
Bottle mouth rings are designed to fit into most breast pumps
Ergonomic grip
Cons
Might leak
May not be easy to clean
Here's a bottle with a patented liquid vent system that reduces the flow of air from outside into the formula/milk. Less aeration may help retain the best nutritional value of the milk. If your baby tends to slurp and gulp excessive air, this bottle can help prevent liquid aeration and excessive air gulping. For a more detailed review of this product, here's a video.
Pros
Rings on the mouth are designed to fit the most popular breast pumps
Slow flow nipple
BPA-free plastic
Ridged to prevent nipple collapse
Cons
Bottom may not be flat
Might be difficult to clean
This bottle's nipple is shaped like a breast nipple and accepted by babies almost immediately. The bottle is suitable for mothers who want to switch between nursing and bottle feeding on the go. The bottle capacity is 9oz (266ml).
Pros
Air valve helps equalize the air pressure
BPA-free plastic
Contoured for easy grip
Easy to clean
Cons
Measurements might fade
Flow might be a little slow
Lifefactory's glass bottle features a high-grip, silicone sleeve that covers the exterior. The removable silicone sleeve with non-slippery surface offers optimum grip for both the baby and the parents. If you prefer glass bottles, then this baby feeding bottle is a good choice. The 4oz bottle comes in various color options.
Pros
Free of BPA, PVC, phthalate, and other plastic-based compounds
Dishwasher-safe
All raw materials are US FDA-approved
Mouth rings are designed to fit into most breast pumps
Nipple is made of soft silicone and enables a slow flow of milk
Cons
Might be a bit heavy
May not be suitable for powder formula
Here's a set of four bottles with separate bottles for slow flow and medium flow. The bottles are ideal for long-term usage.
Pros
Dishwasher-safe
Made of BPA-free materials
Mouth rings are designed to fit into most breast pumps
Flexible silicone nipple for easy latching
Helps maintain adequate suction to prevent air ingestion
Cons
Nipple might get inverted
May not sit flat
The 4oz bottle is intended for younger infants who need smaller servings. It is made of high-quality borosilicate glass, which is heat and shock resistant.
Pros
Flexible, spiral nipple is wide for easy latching
Air vents allow the air to flow within the bottle
Has a slow flow nipple, but can be upgraded to other Philips Avent nipples
BPA-free
Cons
Might overtighten
Might leak
[ Read : Avent Electric Steam Sterilizer Reviews ]
Madela breastmilk bottle attaches to nearly all popular Medela breast pumps, thus removing the need to have a separate storage bottle for expressed milk. Furthermore, this bottle comes with nipples and a cap, letting you convert it from a feeding bottle to a storage bottle. The five oz bottle is available in a pack of three, two, or six.
Pros
Made of BPA-free plastic
Dishwasher- and microwave-safe
Easy to latch
Wide, slow-flow nipple
Cons
Nipple may collapse while feeding
Might leak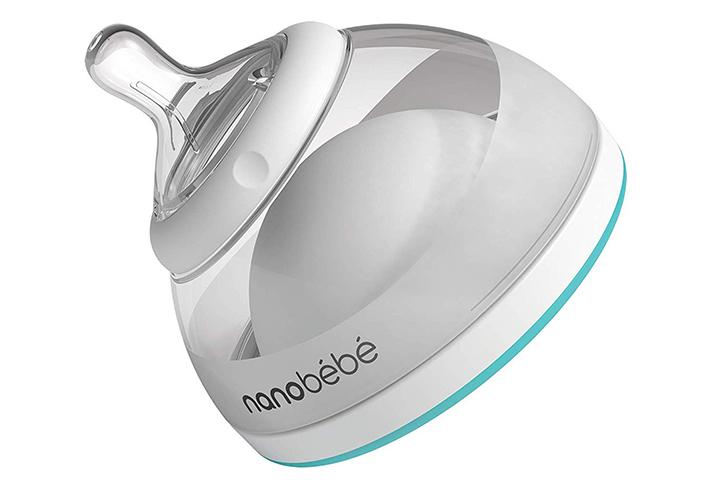 Nanobébé's baby feeding bottle almost entirely resembles the shape of a breast. The concave base prevents the milk from losing much heat when stored, and the design of the bottle and its purpose make it the best bottle to store and feed expressed breast milk. The 5oz bottle comes with a slow flow nipple and an adapter to attach to a breast pump directly.
Pros
Base concaves to the inside
Nipple valve prevents the baby from ingesting air
Easy to clean and store
Free of BPA and phthalates
Cons
Might leak
Might have to be held vertically for proper flow
PomYum's feeding bottle is specially designed for preparing formulas. The lower compartment of the bottle holds water while the middle section contains the formula powder. Two buttons by the side of the middle section release the formula into the water when needed. All you have to do is shake the bottle to mix the formula well.
Pros
Suitable for busy parents to mix formula on-the-go
Air vent prevents baby from ingesting air while feeding
Free of BPA, latex, PET, phthalates, and PVC
Slow-flow nipple
Cons
Might be slightly bulky
Might take a long time to dry
The bottle has Dr. Brown's patented vent system to reduce ingestion of air and prevent aeration of the milk. You can remove the vent tube and use the bottle the conventional way if you like. It allows you to use the bottle even when the baby is older and their feeding is better established. The 5oz bottle comes in a pack of three or more.
Pros
Free of PVC, BPA, and other harmful compounds
Spiral-shaped, slow-flow nipple provides a natural latch
Helps preserve bottle milk nutrients
Easy to clean
Cons
Might get chipped
Cap might be difficult to remove
Get your hands on this simple and easy-to-clean bottle. The clear plastic almost looks like glass, and the multiple holes offer a natural feel.
Pros
Flexible nipple to accommodate the baby's movements during the feed
Contours on the bottle make holding it easy
Anti-colic valve regulates air flow
Slow-flow nipple
Cons
Might warp when boiled
May not be dishwasher-safe
Say yes to this compact silicone bottle that is easy to carry anywhere. From the body of the bottle to the nipple, nearly everything is made of silicone. The 8oz bottle comes with a medium flow nipple.
Pros
Nipple is flexible and resembles the breast nipple
Non-toxic and dishwasher-safe
Dual vents on the nipple help prevent ingestion of excessive air
Nipple is slightly off-center to prevent residue
Free of BPA, PVC, and phthalates
Cons
Might be difficult to screw close
Might leak
With the MAM baby bottle, you can stack all parts on top of one another, pour water inside the bottle, and sterilize the bottle in the microwave. Heat for three minutes on the maximum heat setting, and let the bottle cool for ten minutes to complete the sterilization process. The 5oz bottle comes in a pack of two and has a slow-flow nipple.
Pros
Removable base of the bottle contains several holes to allow air flow
Nipple is textured to fit into the baby's mouth easily
Bottle opens from both ends and is easy to clean
Air valve on the nipple prevents the nipple from collapsing
Cons
Bottle may squeak sometimes
Bottom might be opaque
The disposable, single-use baby bottle is made of recyclable plastic and makes an excellent choice when you are traveling or during moments when you do not have access to a sterilized bottle. The 9oz bottle comes in a pack of ten and is ideal for babies older than six months.
Pros
Bottle and nipple are factory-sterilized
Does not contain BPA and phthalates
Each bottle has measuring lines
Vented nipple
Cons
Nipple flow might be a bit fast
Nipple might be hard
Playtex VentAire baby bottle is angled such that the milk does not flow with high intensity into the baby's mouth. The bottle is thus suitable for babies with reflux and colic. The 9oz bottle comes in a pack of three with a medium flow nipple that is ideal for babies aged three to six months.
Pros
Vented bottom prevents vacuum and allows for a smooth airflow
Free of BPA, PVC, and phthalates
Helps promote easy latching
Easy to clean and reassemble
Cons
Nipple might collapse
Might leak
The easy to clean silicone baby bottle by Flipsi comes with a removable plastic sleeve. Push the silicone out to separate it from the plastic sleeve to clean the main bottle component separately. The bottle is made of food-grade silicone and the outer plastic sleeve is made of polypropylene. The 8oz bottle comes with a stage-one nipple, which is a slow-flow nipple. You can also purchase extra nipples suitable for older babies.
Pros
Does not contain BPA, PVC, latex, and phthalates
Promotes easy latching
Safe to sterilize in boiling water and microwave
Freezer-safe
Cons
Lid may be difficult to open
Nipple might be slightly hard
This bottle by Joovy is made of polyphenylsulfone. The material is durable, does not absorb color or develop an odor, and can be sterilized several times without degenerating.
Pros
Free of BPA, phthalates, and lead
Vented nipple helps prevent air ingestion
Large diameter of the nipple allows for a secure latch
Helps switch between breast and bottle easily
Cons
May not seal properly
Flow might be a little slow
Thinkbaby brings you this feeding bottle cum sipper. You can continue using the bottle even when the baby has transitioned into toddlerhood. It comes with a nipple, a spout to convert it into a sippy cup, and a straw to convert it into a bottle sipper. The 9oz bottle comes in a pack of two and includes a slow-flow nipple, medium-flow nipple, sippy spout, and straw.
Pros
Removable double-sided handle
Free of BPA, phthalates, and lead
Travel-friendly design
Easy to clean
Cons
Vents might get clogged
Nipple might collapse occasionally
Lansinoh feeding bottle comes with NatureWave nipples that are designed to prevent nipple confusion when the baby is transitioning. The 5oz bottle comes in a pack of three.
Pros
Made of BPA-free plastic
Dishwasher-safe
Air ventilation system helps curtail intake of gas
Slow-flow nipples
Cons
May leak
May not be durable
What Are The Different Types Of Baby Bottles?
Baby bottles can be categorized based on the material they are made of. Typically, four types of materials are used to make baby feeding bottles:
Plastic: It is by far the most common material used for making bottles for babies. Bottle manufacturers use high-quality polyethylene or polypropylene plastic to make these bottles. The raw materials do not contain bisphenol A (BPA), which makes modern plastic feeding bottles safe. Since plastic does not shatter, it is often the first choice for parents. On the flip side, plastic may not last longer when compared to glass or stainless steel.
Glass: Glass was the default material for baby bottles before the advent of plastic. Glass bottles are safe and are long-lasting. However, glass can be prone to shattering and chipping, which can be hazardous to a baby. Most manufacturers give silicone sleeves to go over the bottle and provide optimum grip to the holder.
[ Read : Avent Natural Polypropylene Baby Bottle Review ]
Silicone: Bottles made from silicone tend to be soft and flexible in movement. The material is naturally free of BPA and durable. They are also more resilient to heat. Silicone bottles can be prone to cracking when subjected to extreme flexing or rough-handling.
Stainless steel: Stainless steel bottles are unbreakable and will last the longest. They are also multi-purpose. But stainless steel bottles are opaque, which makes it impossible to see the quantity of liquid inside the bottle and harder to clean. It makes them less preferable when compared to other materials.
[ Read : Philips Avent Classic Soft Spout Cup Review ]
Bottles are also classified based on the type of nipple they feature. The following are the standard parameters for differentiating the nipples:
Shape: Here you can choose from orthodontic nipples or traditional nipples. Traditional nipples look like a standard dome-shaped nipple while orthodontic nipples have a sleek shape resembling the breast nipple thus fitting into the baby's mouth better.
Flow: Slow flow nipples allow for a steadier flow of the fluids, making it quite close to the natural flow of the milk from the breast. Medium to high flow nipples are ideal for toddlers who can gulp down higher quantities of liquids.
[ Read : U-Grow Baby Feeding Bottle Review ]
How To Pick The Ideal Baby Bottle?
Choosing the right baby bottle depends on the usage and the needs of the baby. Here are some salient points about picking the right baby feeding bottle:
A glass bottle is ideal when parents feed: If you or a caretaker will feed the baby in their arms, then glass can be a good option. Giving a glass bottle to a baby or toddler to hold can be risky since glass is heavy. Several manufacturers ship glass bottles with silicone or rubber sleeves that go over the glass to insulate from bumps and provide grip.
Slow flow nipples for newborns: Breastfeeding is the best for your baby. However, if for some reason, you need to bottle feed a baby before six months, then only use slow flow nipples, which make bottle feeding similar to breastfeeding.
Medical experts also recommend starting with the slowest flow nipples (1). For infants between three to six months, you can use medium flow nipples. You can use fast flow nipples for a baby older than six months.
[ Read : Chicco Well Being Feeding Bottle Review ]
Tips For Baby Bottle Usage
Here are a couple of tips that can help you use baby feeding bottles safely:
Check bottles periodically: Look out for any signs of wear and tear of the bottle, especially around the nipple. Teething babies can bite the nipple, which can cause the nipple to crack and compromise the flow.
Discard any damaged nipples and get a new one. When using plastic bottles, check for any signs of damage, and in the case of glass bottles, check for any chipping due to impact.
Follow manufacturer's recommendation for sterilization: Stick to the owner's manual or leaflet says for sterilizing the bottle, to avoid irreversible damage.
[ Read : Babyhug Steam Sterilizer Cum Warmer ]
A baby bottle is highly convenient for Moms: it allows formula feeding when you decide to get back to work, stores expressed breast milk, and gives the other family members a chance to feed the baby. When picking a bottle, choose the one that best works for your baby's age and your feeding style. With proper care, you should be able to put the feeding bottle to optimal use.
Why Trust MomJunction?
As a parent, you want to give only the best to your little one, be it clothes or baby bottles. In this article, Vibha Navarathna has curated a list of the best baby bottles available in the market. These products are shortlisted after scouring websites and evaluating numerous customer reviews. She has also included a buying guide with useful tips to help you make an informed decision.
References:
Recommended Articles: