After growing in the tummy for nine months, babies would love the rocking movements calming. You should use the best cradle to rock them to sleep gently to provide the same effect. They tend to develop a liking towards rocking movement after birth. Cradles exist in many models, some manual and some electronic, that you can consider having a look at, but do you know how to buy one? We are here to help. We have a list of some rockers that can help you decide which one to buy. This could be a good investment whether you are a new mom or an expecting mom.
[ Read : Babyhug Kelly Wooden Cot Review ]
Safety Tips To Follow While Using A Baby Cradle
Before looking at various baby cradle models, let's look at a few precautions to take while using it.
Do not use a cradle way past the recommended age.
Make sure the cradle's base is secure.
Do not leave your baby unattended inside the cradle.
Do not stuff the cradle with quilts and pillows.
Make sure the cradle mattress fits in perfectly, without leaving any gaps.
If you are using electronic cradles, do not operate them while connecting to the power source.
[ Read : Babyhug Joy Cradle Review ]
11 Best Baby Cradles
If you are a minimalist and looking for a cradle with a modern design, this baby cradle from BabyBjorn could be the one. The lightweight and compact cradle has a clean and simple design recommended for newborns to babies aged six months. It can bear weights from 8lb to 17lb.
The BabyBjorn cradle consists of a washable mesh fabric mounted on sturdy and wide legs. The base also comes with spring action for gentle rocking movements. The inside of the cradle is fitted with a cozy and soft washable sheet. This product is JPMA-certified and is made of safe and tested materials, making it one of the best baby cradles to consider. This video offers a detailed review of the product.
Pros
Lightweight and compact
Breathable mesh fabric
Wide and stable legs
Washable cradle mattress
Additional canopy to block sunlight
Gentle rocking movements to soothe the baby
Cons
Height may be low for some
Spring action could be strong for some babies
This old-fashioned baby wooden cradle could be a vintage-themed addition to the nursery. It is ergonomically designed with spacious interiors to give your baby a comfortable place to sleep. The raised footboards and an arched headspace keep your baby safe. The cradle's legs are designed to give a smooth rocking motion and have break stabilizers to stop the rocking motion.
The Dream On Me baby cradle is made of non-toxic wood with smooth corners and edges. It is recommended for newborns to babies weighing up to 20lb. You can choose from the five different colors available. You may check this video for more details about this cradle.
Pros
Sturdy construction
Safe materials and a non-toxic finish
Cradle mattress for comfort
Raised and arched headboard for safety
Spacious interiors
Cons
Quality of the cradle mattress may not be up to the mark
Base may not be strong enough
This portable baby cradle is lightweight and has a solid frame construction that holds the bassinet covered with soft protective, washable padding. It also has two mesh windows on either side for proper ventilation.
The base comes with wide legs that can gently rock the cradle back and forth, and the small inbuilt wheels on the legs make it easy to move. You can assemble and dismantle this whole set up with ease and put it in the carry-on bag that comes with it for portability. It is available in six different colors.
Pros
Lightweight and portable
Easy to assemble
Safe padding over the cradle
Side mesh windows for ventilation
Mattress included
Cons
Mattress might be too thin for some
Cradle may be low for some
The DaVinci baby cradle would be perfect for a traditional nursery. The body of this baby's cradle is made of polyurethane and colored using paint that is non-toxic and free of lead and phthalate. It meets the ASTM safety standards and has raised sideboards and arched headboards for safety.
This cradle can swing 10° on each side and is supported by sturdy legs. You can easily move this cradle with the help of the wheels attached to the legs, which can be locked to keep the cradle stable.
Pros
Non-toxic paint and material
Wheels for easy movement
Antique look that adds to the decor
Free replacement parts
Sturdy and wide base
Ten-degree rocking motion
Cons
Mattress included may not be durable
Might tilt when the baby moves around
This spacious baby cradle is made of New Zealand pine wood and measures 38 x 22.5 x 34in. The design is sturdy and comes with a raised side and headboards to keep your baby safe. It also comes with a cradle mattress and a fitted sheet.
The base has wide legs that are sturdy to hold the cradle in position even when it is rocking. The caster wheels help move the cradle from one room to another; you can also lock these wheels to keep the cradle stationary.
Pros
Sturdy construction
Caster wheels for easy mobility
Mattress and sheet included
Locking mechanism for the wheels
Spacious for the baby to sleep comfortably
Cons
Might make squeaking sounds
This remote-operated swinging cradle for babies not only looks cute but also rocks automatically in three speeds. The cradle comes with a sturdy base and a pretty blue bassinet that is padded for safety. You can hang toys for entertainment or play the inbuilt cradle music to soothe the baby.
It comes with additional accessories, including a mosquito net, cradle mattress, headrest pillow, fitted sheet, and hanging toys. The cradle runs on 4 AA batteries or electricity.
Pros
Remote-controlled
Plays music
Three swing speeds and modes
Timer facility to stop the swinging
Easy to install
Folds for easy storage
Includes additional accessories
Seat belt for safety
Cons
Automatic swinging might stop after some time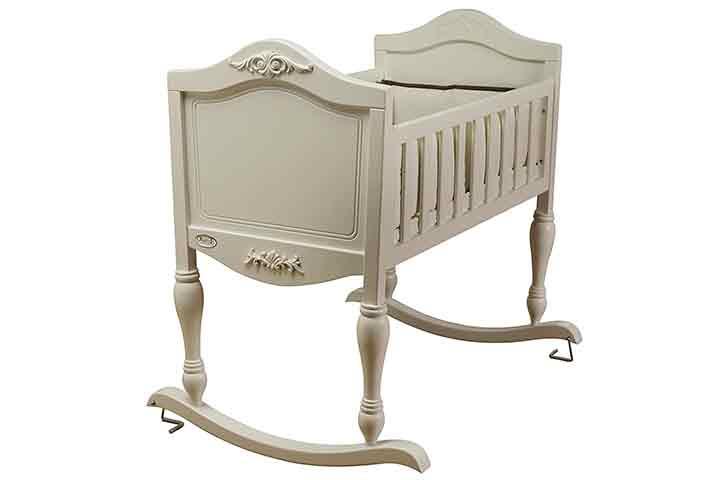 If you are planning a vintage nursery for your baby, this heirloom-quality cradle would fit right in. It is handcrafted from solid wood with beautiful details that add to the aesthetics. The raised head and sideboards help in keeping the baby safe, and the sideboard railing enables air circulation.
The base comes with wide and sturdy legs that can rock back and forth; the legs are also equipped with stoppers to keep the cradle stationary. It is available in cherry wood, espresso, and French white colors and comes with all assembly tools.
Pros
Vintage design
Sturdy base that rocks back and forth
Locking mechanism
Raised side and headboards for safety
Mattress included
Cons
Mattress might be thin
Base might crack easily
With both manual and remote control options, this modern swing cradle has many features to soothe the baby to sleep. The Uenjoy baby swing cradle comes with a sturdy base and a soft clothed bassinet. This swing can be set to five speeds and three time settings and has a lock to prevent it from swinging. The control panel also contains a USB slot and Bluetooth, so you can play the built-in music or your own songs.
This cradle's bassinet has a washable fabric with canopy and a mosquito net, a detachable hanging toy, and a headrest pillow.
Pros
Manual and remote controls
Five speed settings
USB and Bluetooth facility
Soft and washable fabric
Lock mechanism for swinging
Mosquito net
Anti-slip mats near the base
Battery or electricity-powered
Cons
Mattress and pillow might be too thin
Basket may be too low
The Regalo My Crib Portable Infant Bassinet comes with a flat sleep surface and a removable design pad insert, ensuring your little one is comfortable. It can be placed beside all beds and hold weights up to 18lb. With a sturdy metal frame and lock clamp legs for added security, this bassinet meets all safety standards set by the Juvenile Products Manufacturers Association and the American Society For Testing And Materials. Further, the bassinet is versatile enough to be used for playtime.
Pros
Travel-friendly
Easy to clean
Easy to set up
Suitable for nap time
Lightweight
Cons
Available in one color only
The Green Frog baby rocking cradle is handcrafted from New Zealand pine wood and is designed to have sturdy legs with gentle rocking action. The legs are equipped with wheels for easy mobility and can also be locked to keep it stationary. It comes in three different colors and has a non-toxic finish.
This cradle is recommended for newborn babies until they learn to push up on their hands and knees. It measures 43 x 20 x 38in and has hidden stabilizing bars to keep your baby safe. Other safety features like raised head and sideboards make this one of the best baby cradles.
Pros
Sturdy construction
Wheels at the base for easy mobility
Raised head and sideboards for safety
Gentle rocking motion
Locking mechanism
Easy to assemble
Cons
Mattress included might be thin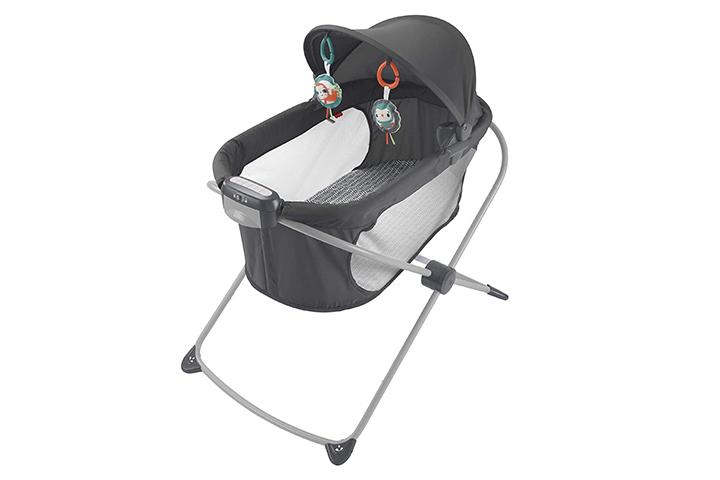 The Fisher Price Soothing View Projection Bassinet Cradle features meshed sides, vibrations, music, and a starlight projection to put your little one to sleep. The bassinet also has a canopy that can be used to create a calming cocoon, and you can turn this bassinet from a stationary mode to a rocking mode. This bassinet is perfect for babies weighing less than 20lb.
Pros
Machine-washable
Soft padding
Easy to set up
Folds flat for easy storage
Cons
Bassinet may be a tad low
How To Choose The Right Baby Cradle?
A cradle is where your baby sleeps and must be safe for them. Here are a few points to consider while buying a baby's cradle.
Base: The base of the cradle has to be sturdy and strong. The cradle should not tilt when you rock the baby or when the baby sleeps but should be strong and stable enough to stay in position.
Breathability: Pick a baby cradle made of soft, breathable fabric with mesh windows or railings that are wide apart to allow air circulation.
[ Read : Mee Mee Baby Cradle Review ]
Portability: If you tend to move the baby's cradle from one room to another, it is best to buy one with wheels.
Rocking: Check the rocking movement of the cradle—it should not be too much to make the baby dizzy. A cradle should also have a locking mechanism to keep it stationary.
[ Read : Babyhug Ionia Wooden Cradle Review ]
Why Trust MomJunction?
Vibha Navarathna is a content and creative writer covering products that enrich the lives of children, helping them with their mental and physical development. Her impeccable writing skills make all her articles an interesting and informative read. This article on the best cradles for babies has been curated after meticulous research. You will also find a buying guide section to help you make the right choice.
Recommended Articles