Children often mimic their parents. Loving and caring are a few qualities that they imbibe from you. If your child has a baby doll, you must have noticed how much they love feeding, rocking, and caring for it. Baby dolls are one of those toys that every kid loves to play with. With the addition of the right baby doll accessories, your child will be able to improve their nurturing skills while also promoting early cognitive development.
With a myriad of options to choose from, finding the best baby doll accessories can be complicated. That's why we did the work for you. From car seats and high chairs to diaper bags and bunk beds, MomJunction's list features the 11 best baby doll accessories that offer many pretend play options for your child.

Top Products From Our List
11 Best Baby Doll Accessories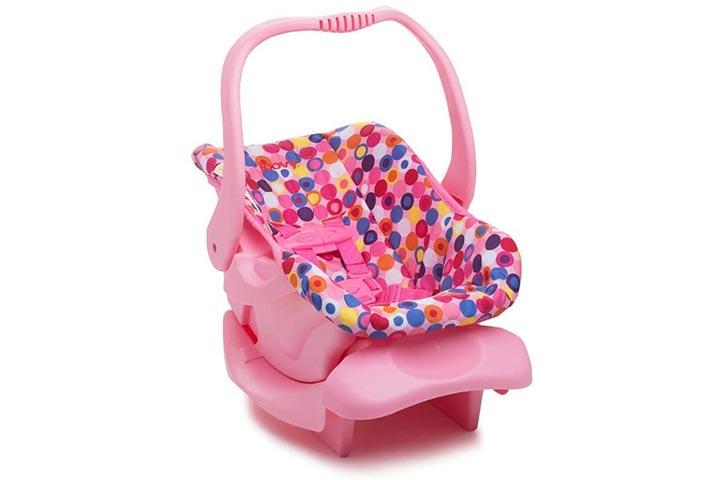 Teach your child the importance of passenger safety with Joovy Doll Toy Car Seat. Most children don't like the idea of being confined to a car seat. But if they see and understand that their doll is safely secured in the toy car seat, your child might be more cooperative about using their own. It works like a real car seat, featuring a latch attachment for easy and secure mounting in the car. Ideal for babies 1 year and older, it comes in 2 pretty colors – pink and blue – and can fit dolls sized 12 to 22 inches.
My First Doll Stroller will allow your child to enjoy hours of role-playing. Your toddler (1 to 4 years old) can prop their favorite doll in the stroller and go for a walk in the park or use it to put down their baby doll for a nap. This pink stroller with heart prints is made of soft fabric and provides safety with the addition of a seat belt and foldable hood. It includes wheels for easy maneuverability and a large basket for carrying other doll accessories. It is made to fit dolls up to 18 inches and can be folded down for convenient storage.
Mealtime is more enjoyable for kids when their doll accompanies them. If your child already has a high chair, very soon, they are going to ask one for their doll, too. Thus, we present to you KidKraft Lil' Doll High Chair suitable for kids between 3 to 12 years. It comes in white color with pink butterfly upholstery and includes a rattle bar and a footrest. Designed for dolls about 18 inches, this wooden chair features scalloped edges, classic filigree cutout details, reversible pad, an adjustable tray, and rubber stops that prevent little fingers from getting pinched.
There is nothing aww-worthy than seeing your toddler bottle-feeding their doll, and these magic baby bottles are a perfect addition for the pretend playing session. Each pack comes with 2 bottles – one filled with milk and the other filled with juice. When the bottles are tilted, the liquid magically vanishes, giving the impression that the doll drank up the milk or juice. The bottles are made of high-quality and safe materials with each bottle standing 6 inches tall. Plus, they come with covers and feature a tip that fits the mouth of most dolls. It is recommended for children 3 years and above.
This is one of the best baby doll accessories sets and makes for a great addition to your child's nursery. This is an all-in-one nursery set that includes a baby doll high chair, a built-in sink with a faucet, a twirling mobile crib (also used as a changing station), a hanging closet, a storage space, and more. With all these features within your child's reach, they can practice doing various chores such as washing dishes, doing laundry, feeding their baby doll, and changing diapers and clothes. This set, ideal for kids between 1 and 15 years, helps boost creativity and improve motor and social skills.
This 30-piece baby doll care set includes everything your child needs to look after their doll. It consists of a plate, fork, spoon, bib, milk bottle, and a sippy cup for mealtime. It also comes with a potty chair, diaper, powder, wipes, and lotion for potty training play, while the mirror, brush, mittens, booties, soap, hard plastic duck, and squeaky bear are great for bath time/getting dressed pretend play. And when it's playtime for your child's doll, they can use the pacifier, teething rings, and blocks. Suitable for kids 3 years and older, this set offers hours of imaginative play!
It is a joyous moment to watch your child learn to walk. Now let your little one watch their baby doll take the first steps. This walker playset is made of sturdy plastic and meets all the safety requirements. Also, it works well with every JC Toys all-vinyl doll. Suitable for dolls sized 17 inches, this walker includes cute butterfly and floral features. It is ideal for children 2 years and above. Designed for role-playing games, this playset promotes your child's social and communication skills.
When it is time for your tiny tot's baby doll to go to sleep, Manhattan Toy Wee Baby Stella Sweet Dreams Bassinet is the only thing they will need. This bassinet is made from soft fabric with stripes on the outside and floral-decorated handles and trim. It conveniently fits any 12-inch baby doll. One of the best baby doll accessories for children 1 year and older, it helps boost imagination and develops a nurturing instinct. As recommended, this bassinet should only be surface-washed.
A well-loved piece of furniture among parents, this Time To Eat Hook-On-Table Chair by Manhattan Toy is excellent for comfortable and enjoyable mealtimes. Designed to fit 12-inch Wee Baby Stella and 15-inch Baby Stella dolls, this baby doll accessory is made using nylon material, which is durable. This is an excellent alternative to a high chair and can be fitted to most tables. Ideal for kids 12 months old and above, role-playing with this furniture encourages creativity and care-taking skills.
This Mine To Love Toy Time Playset is one of the best baby doll accessories sets to include in the doll's nursery. Suitable for kids 3 years and above, this playset is compatible with any standard size baby doll. It contains 16 pieces of accessories such as a reversible play mat, a textured ball, a 2-part activity gym with self-stick tabs, and 3 removable hanging toys. When it is time for the doll's playtime session, your child can make use of the wooden 3-ring stacker, 3 wood blocks with 123 and ABC printed on them, a storybook, and a bunny hand puppet. It also comes with a double-sided activity card.
Your toddler may be too young to have a sleepover with her friends, but you can't stop them from having one with their favorite doll every day. Therefore, we have the right accessory for that – doll bunk beds! The set includes bunk beds, trundle, and a desk, which are made of sturdy and durable wood. Compatible with any 14 to 18-inch dolls, it also comes with an alarm clock, 3 books, 2 teddy bears, 2 storage boxes, 2 mattresses, and more. It has all the right accessories to make playtime interactive and enjoyable for kids older than 3 years.
Here are a few points to keep in mind while looking for baby doll accessories.
How To Choose The Right Baby Doll Accessories
Preference: First and foremost, buy an accessory that your child prefers. No two children are alike. That's why there are a varied number of baby doll accessories to choose from. Children like to play with toys or accessories that are fun and keeps them engaged for long.
Type: If you have gone through our list of the best baby doll accessories, you must have realized there are so many different products available. Accessories such as car seats and strollers teach your child the importance of safety. Other products like clothing and feeding accessories are fun to play with but are also a great way of developing your child's nurturing skills. Choose something based on your child's interests.
Compatibility: Always check whether the baby doll accessories are compatible with the doll that your child already has. This information is generally provided on the package of the product.
Material: Always look for baby doll accessories made of high-quality materials, which are BPA-free, durable, and do not contain harmful chemicals.
Age: Ensure the baby doll accessories you use are age-appropriate. While most accessories are suitable for children 3 years and above, some toys can also be used by infants.
[ Read : Babyhug Western Potty Chair ]
Creative role-playing with dolls and baby doll accessories will not only develop your child's cognitive and fine motor skills but also improve their nurturing aptitude. Plus, isn't it fun to watch them imitate you? That's why baby doll accessories should be a must-have playtoy for every toddler. We have compiled a list of the 11 best baby doll accessories to help you pick the right accessories that your little one will like the most and best suits their doll. Which of these baby doll accessories is your child's favorite, and why? Please do share your experience with us by leaving a comment below!
Recommended Articles: