Once the baby starts having solid meals, you may want to prepare a variety of nutritious foods at home. At times, you may also consider ready-to-serve baby foods on the recommendation of a pediatrician to ensure complete nutrition for the baby. Ready-to-serve foods also ensure that the baby gets healthy food when traveling. With so many wholesome foods available in the market, it is not easy to pick the best natural or healthy baby food for your little one.
In this post, we list some best baby foods in India. Note that this list is meant for informational purposes only. Always check with the pediatrician before deciding to buy any type of baby food.
11 Best Baby Foods In India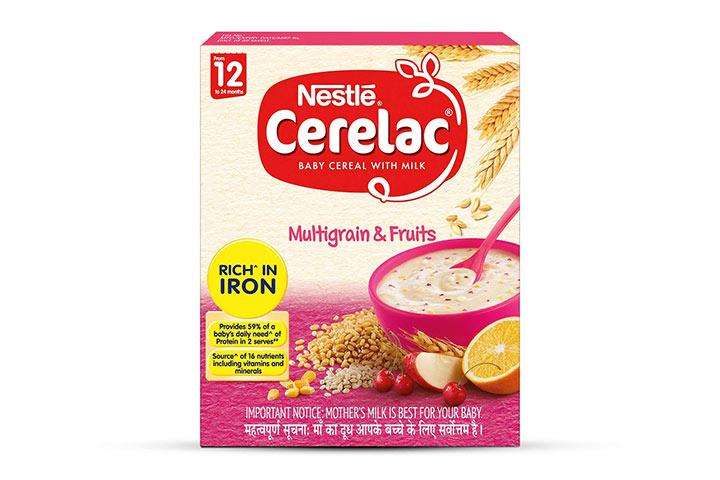 Nestle Cerelac fortified baby cereal is among the most popularly used complimentary food products for babies aged 12 months to 24 months. The vegetarian product has 17 suitable ingredients, including vitamins and minerals, for the baby. It provides 55% of the baby's daily iron requirement in two serves.
The cereal is free of added colors, preservatives, and sugars. It comes in a variety of flavors and compositions ideal for babies of different age groups. Prepare the cereal as directed on the box and feed it to the baby within 30 minutes.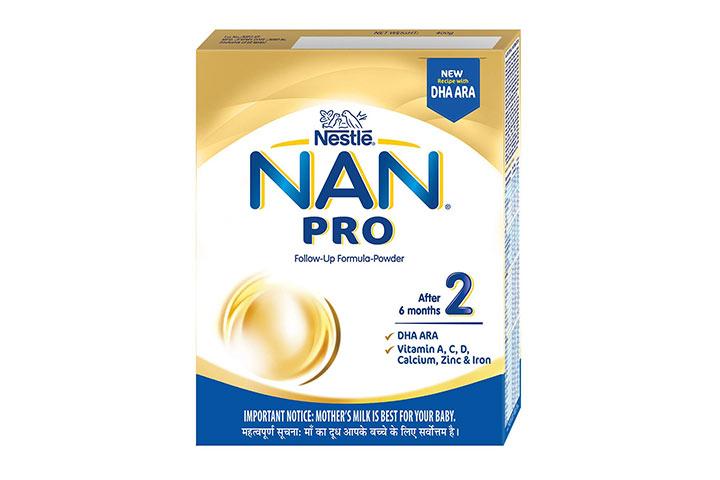 This spray-dried follow-up formula from Nestle is suitable for infants above six months. It contains DHA (docosahexaenoic acid) and ARA (arachidonic acid) that support your baby's brain development. Vitamins A and C help strengthen the immune system, which protects the baby from infections and other diseases. Calcium and vitamin D present in the formula support bone development, while iron and zinc aid the healthy development of your baby. It comes in a 400-gram bag with a maximum shelf life of 13 months.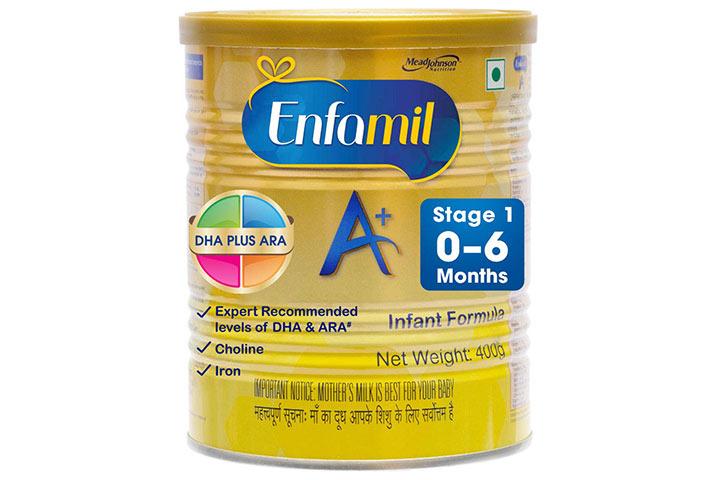 Enfamil A+ Stage 1 is ideal for babies up to six months of age, although it can be used for up to two years too. It is usually recommended when your baby doesn't get the right nutrition from breast milk. Besides complementing breast milk, it also helps the baby transition to solid and textured foods. The expert-recommended levels of DHA and ARA in this support the baby's brain development.
It also contains essential nutrients such as choline and iron, along with a wide range of vitamins and other ingredients that play a role in supporting the baby's overall growth and development. It has no preservatives or artificial additives and is easily digestible. The powdered formula is easy to prepare and serve.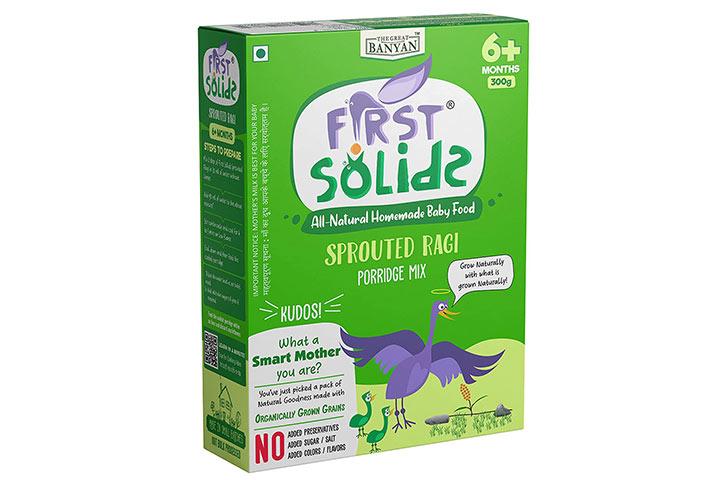 The First Solids sprouted ragi porridge mix comes with a unique flavor of cardamom. The nutritious ingredients with calcium, fiber, and vitamin D help in the baby's growth and development. It is made from organically grown healthy grains and contains no pesticides, preservatives, flavors, salts, sugars, and artificial colors. Available as a 300g pack, it is ideal for babies aged six months to two years. It is easy to prepare and should be fed immediately after preparation.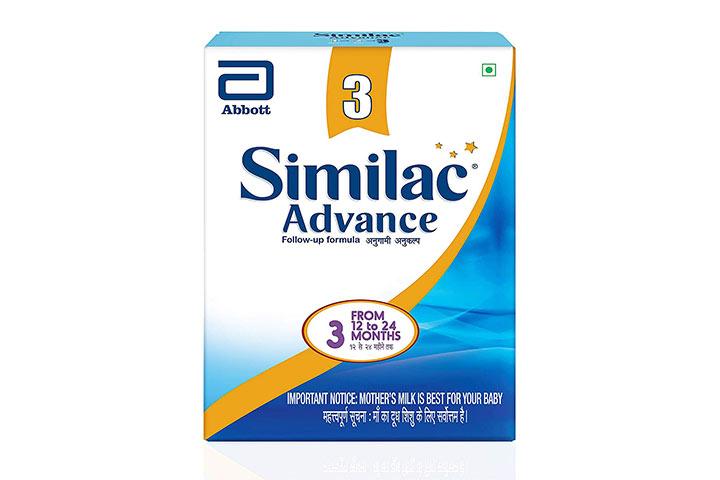 Similac Advance Stage 3 follow-up formula is designed for older babies aged between 12 and 24 months. The formula can be added as a part of a healthy diet during and after weaning. It contains omega-3 and omega-6 fatty acids, folic acid, iodine, zinc, and taurine, which improves the baby's brain development. The fat blend eases digestion, and calcium and iron promote the baby's development. There are no added preservatives, artificial flavors, or additives in the formula.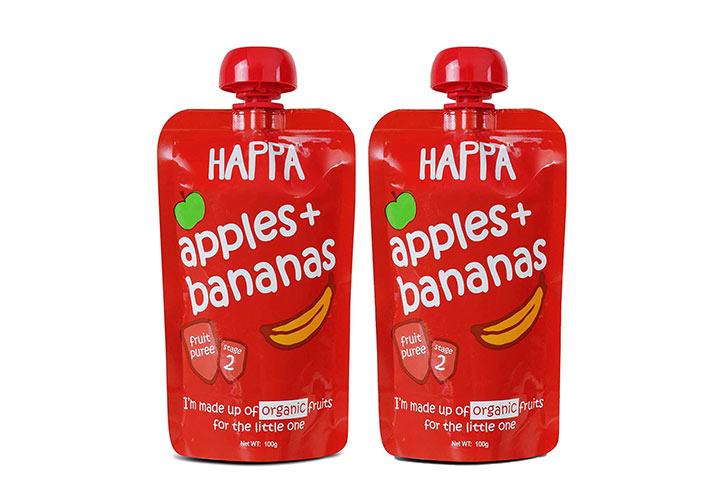 Happa organic baby food is a specially formulated vitamin-rich puree made from whole fruits, veggies, and grains. It is available in a BPA-free pouch, designed with a choke-free cap, and is easy to squeeze and slurp. This stage-two apple and banana fruit puree is so creamy, smooth, and sweet that your baby would love it. You can choose from a variety of puree combinations made for babies of different ages. It has no added starch, artificial flavors, colors, salts, or sugars.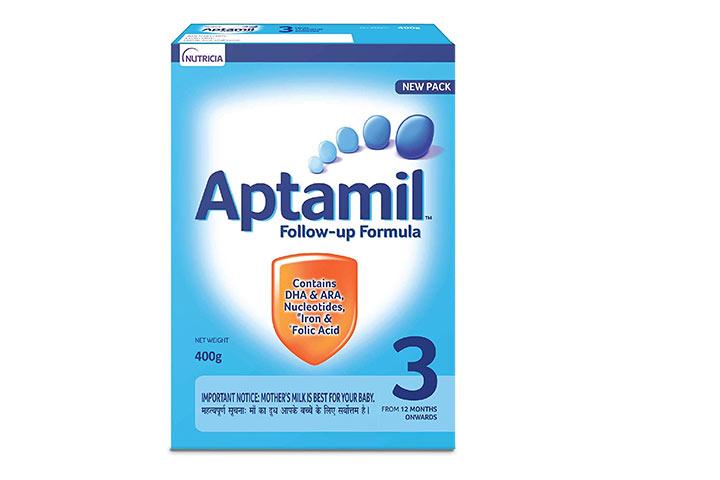 Aptamil stage-3 follow-up formula is available in a 400g pack and is suitable for babies aged 12 months and above. It contains age-appropriate nutrients including DHA, ARA, folic acid, choline, iodine, iron, taurine, calcium, phosphorus, proteins, and vitamins A, C, D, and E. All these nutrients provide enough nutrition to the baby and aid in healthy growth and development. The formula also has lactose and maltodextrin, which aids easy digestion and is delicious. It can be given along with breast milk too.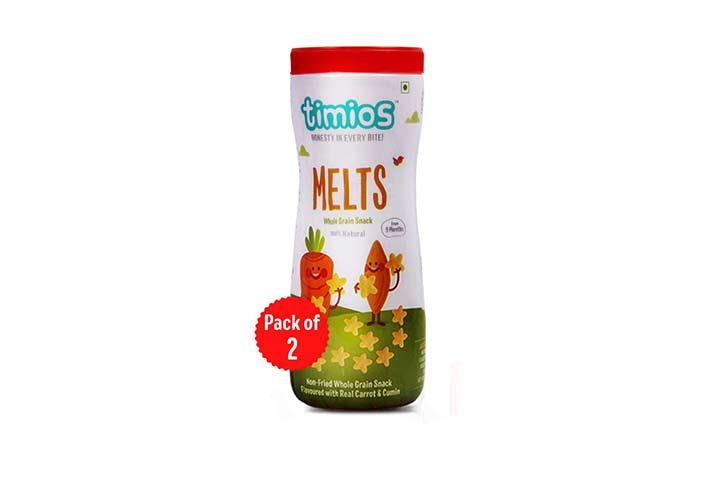 This whole-grain carrot and cumin snack from Timios can help a baby stay energetic between meals. The nutritious melts are made of quality ingredients, such as whole grain, fruit extract, vegetable extract, and mild spice powders. The snack is rich in protein, iron, and fiber, and contains no artificial preservatives. The non-fried snack is available in different tastes and textures and has very little salt and sugar.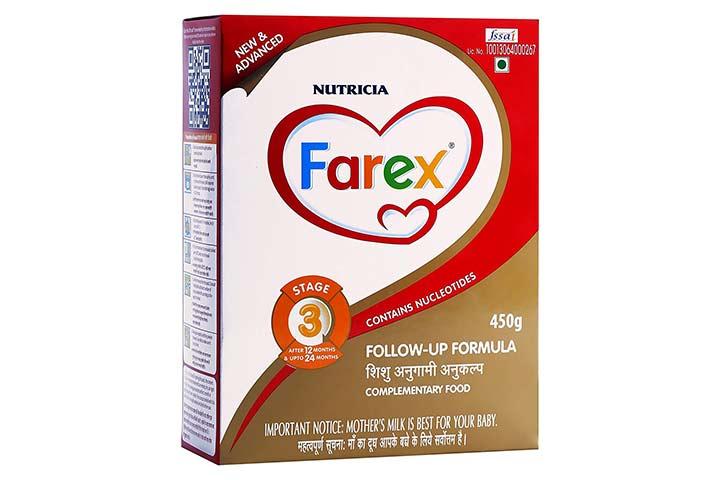 The Farex stage-three formula is recommended for babies aged 12 months and above. The vegetarian baby food offers tailored nutrition that supports immunity, growth, and development of the baby at all stages. It contains water, partially skimmed milk, demineralized whey and whey solids, lactose, edible vegetable oils, minerals, vitamins, soy lecithin, and L-carnitine. Whey supports easy digestion, nucleotides and zinc support immune function, and omega-3 and 6 fatty acids aid visual function and brain development.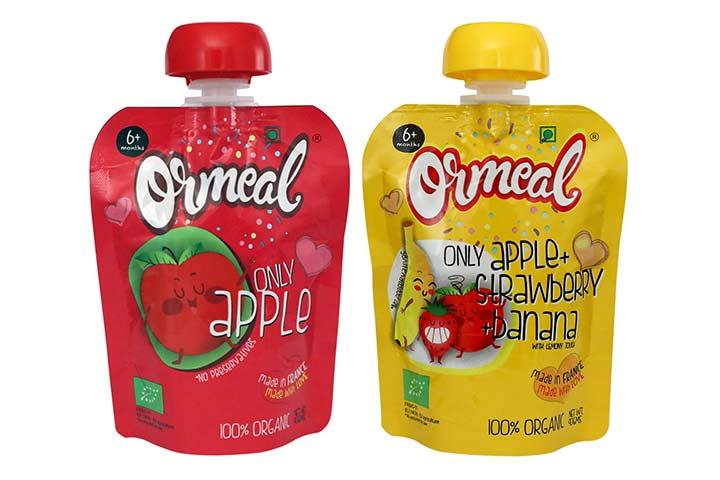 The Ormeal fruit pouches are a travel-friendly snack option for babies above six months. The EU-certified and FSSAI approved food comes in two different flavors—apple puree, and a mix of apple, strawberry, and banana puree. The purees are made of organic fruits and contain no sugars, salts, water, preservatives, pesticides, artificial flavors, or colors. They are rich in vitamins, minerals, antioxidants, fiber, and flavonoids, all of which are essential for a baby's health. The pureed foods are prepared in a protective atmosphere and available in parented doy-packaging.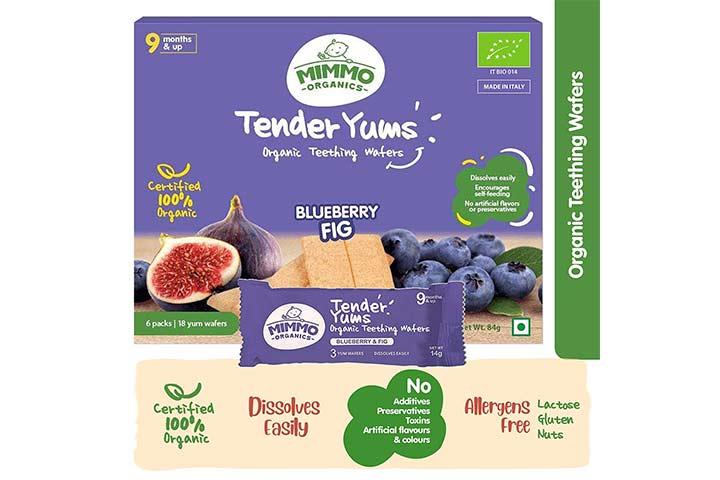 These organic wafers contain buckwheat, blueberry, and fig. One box includes six-packs, and each pack has three wafers. These Mimmo Organics Tender Yums are recommended for babies aged over 12 months. They are ideal for babies who are teething and developing gums. The wafers are mess-free, easy to hold and dissolve quickly in the mouth. They are free of preservatives, colors, additives, toxins, and artificial flavors.
How To Choose The Right Baby Food? 
Keep the following factors in mind when shopping for packaged baby food.
Nutritional value: The most important aspect is the balanced nutritional value the food provides to the baby. It should contain essential vitamins and minerals to support the baby's growth and development. Manufacturers label the ingredients and nutritional percentages, which makes it easy to compare and buy the right product.
Organic over regular baby food: Organic foods always seem to offer more benefits over conventional baby food. Organic foods are not exposed to chemicals and pesticides, contain high nutrition, and are produced employing eco-friendly production methods.
Allergy-free: If you already know that some ingredients may trigger allergies in your baby, avoid buying them. Also, one of the reasons to gradually introduce baby foods is to discover and prevent the products that cause adverse reactions. You should also talk to the pediatrician before including potential allergens.
Baby's age: Baby foods are prepared keeping in mind a baby's age, which determines their eating capacity and ability. So, pick one that matches your baby's age.
Ready-to-eat and need-to-cook type: Another factor that will influence your choice is the state of the product. It also depends on whether you are feeding the baby indoors or outdoors.
As a parent, there is a lot to consider when you plan to buy the best baby food products. Understand what factors matter while choosing the baby food, read the reviews of the top-rated products, and do a bit of research. We hope this list would help you in getting healthy food for your baby.