Babies are tiny, with an extremely sensitive and delicate head. To prevent them from catching a cold, parents should stock up on baby hats while shopping for their little ones during pregnancy. Without baby hats, your newborn may get ill as they have sensitive heads. Plus, they take time to adapt to a new environment after 9 months in their mother's womb. Apart from protecting their little head in any climate, baby hats add some style, too. Hence, we present to you the best baby hats that will keep your baby's tiny head well-protected while also making them look extra cute.
With a variety of baby hats to choose from, it might be difficult to pick the right one. But do not worry! We have compiled a list of the 11 best baby hats available in the market.
11 Best Baby Hats In 2021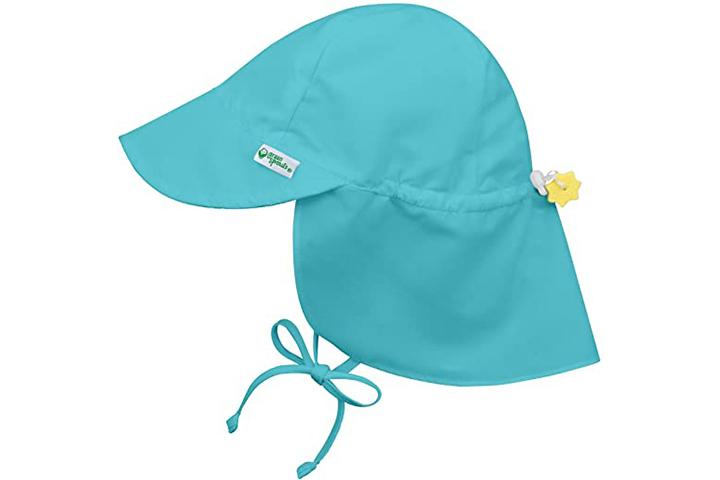 Your baby's head, neck, and eyes need to be protected when out in the sun. This Flap Sun Protection Hat provides protection with comfort when you and your baby are out visiting beaches or sunny picnic spots. If the baby hat gets wet, do not worry, as UPF 50+ covering dries quickly. The fabric is breathable and free from harmful chemicals. It has an adjustable toggle that offers a custom-fit as the baby grows. This hat is made of 100% polyester and is lightweight. Parents will be thrilled to have this pretty hat, which is easy to pack and carry.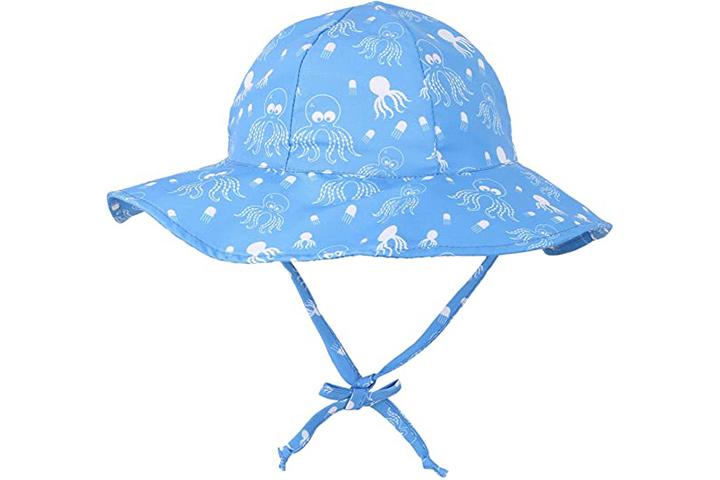 This Brim Sun Hat by SimpliKids is meant to protect your infant's face when it is sunny outdoors. Its breathable design dries quickly so that your little one's head stays cool at all times. Keep your infant's skin protected with this UPF 50+ wide brim sun hat, which aids in deterring UV rays that could be harmful to your little one's delicate skin. This cute baby hat is made of 100% polyester and has a soft adjustable drawstring that helps keep the hat secure on the head. Besides providing protection, this hat makes your baby look super adorable.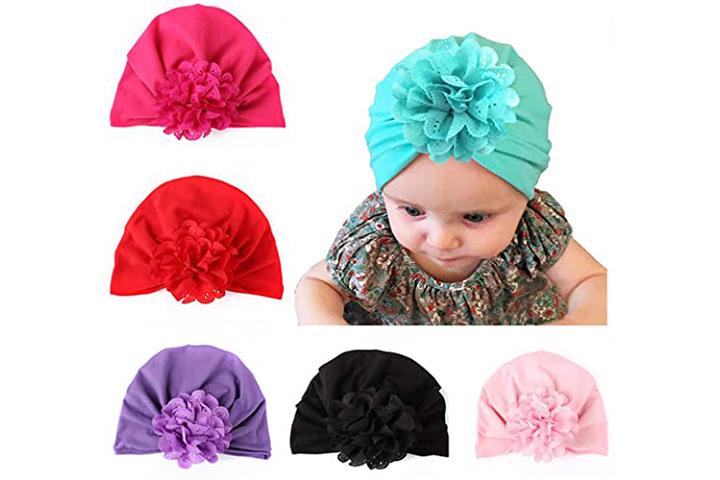 This pack includes 6 adorable baby girl hats that make for the perfect hair accessory for your newborn's photoshoot. These baby hats keep your infant comfortable and warm. These cotton baby hats are like a beanie with a bow, and they fit your baby perfectly thanks to their soft and stretchy fabric. These baby turban head wraps can be worn all year round irrespective of the weather. Suitable for babies from 0 to 12 months, these hats are not machine-washable, but can be hand-washed.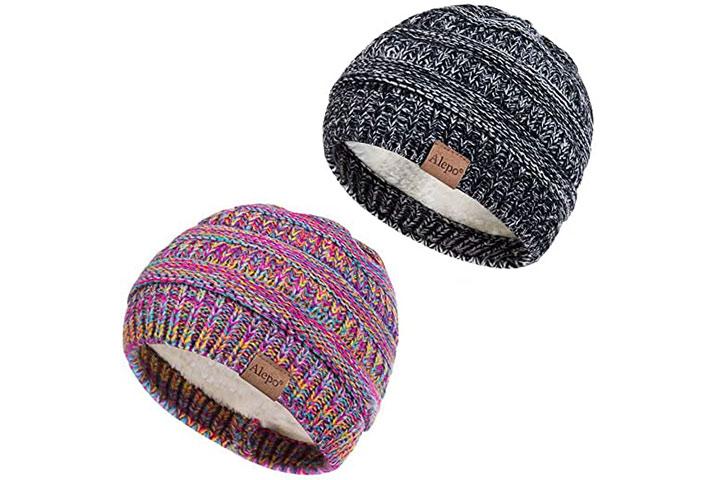 These baby beanie hats that come in a set of 2 are fashionable and will keep your little one's head warm. The exquisite tailoring and sewing with horizontal striped knit give these baby hats a stylish look. Suitable for babies between 6 and 36 months, these hats have high elasticity, thus, they fit your baby's head perfectly. The warm knit cap is the best present for any parent for Christmas or Thanksgiving. Made of eco-friendly acrylic yarn and featuring a soft thermal fleece lining, these beanie baby hats protect your baby even in the coldest winter.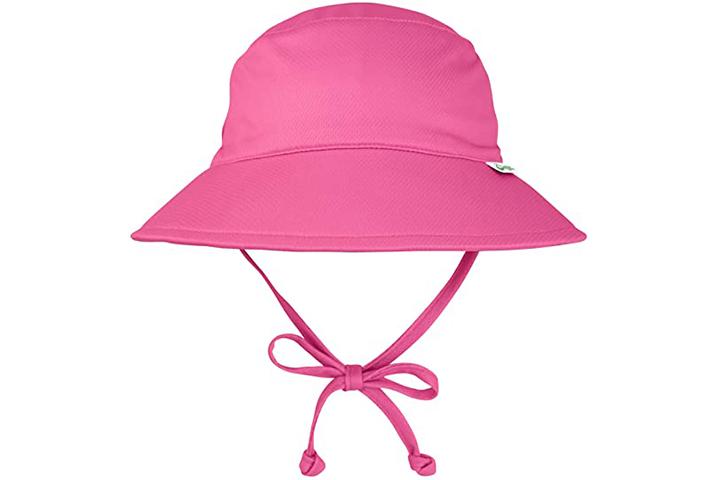 This i play. by green sprouts Swim & Sun Hat is perfect for babies who often visit beaches, swimming pools, or a sunny picnic spot with family. Made of 100% polyester, it is breathable, comfortable, offers protection, and doesn't get wet. Its elasticized back adjusts for a custom fit, while the tie strap keeps the hat in place. The lightweight and compact features of this hat make it convenient for parents to carry it anywhere.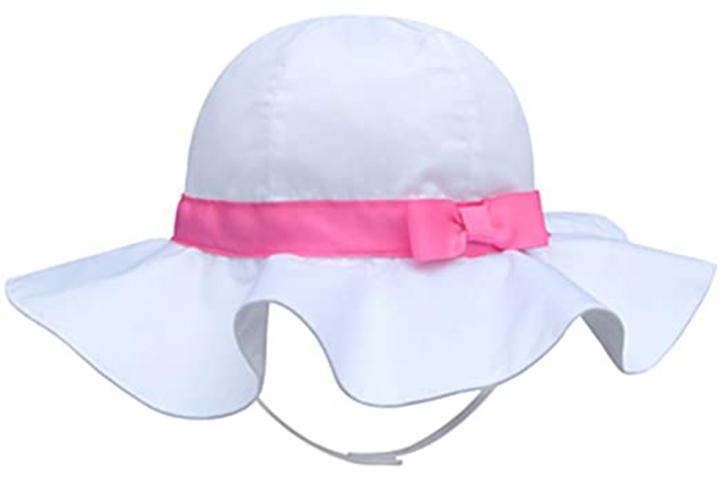 This baby hat keeps your infant's head and face protected from the sun while outdoors. It keeps the sun out of the baby's face completely, and thanks to its wide brim, the back of the neck is protected too. The brim of the hat is sturdy, which doesn't crumple even after washing. The size can be adjusted in this soft cotton hat, which is suitable for girls between 3 and 6 months. You can take your kid to the beach, fishing, hiking, and many more adventures.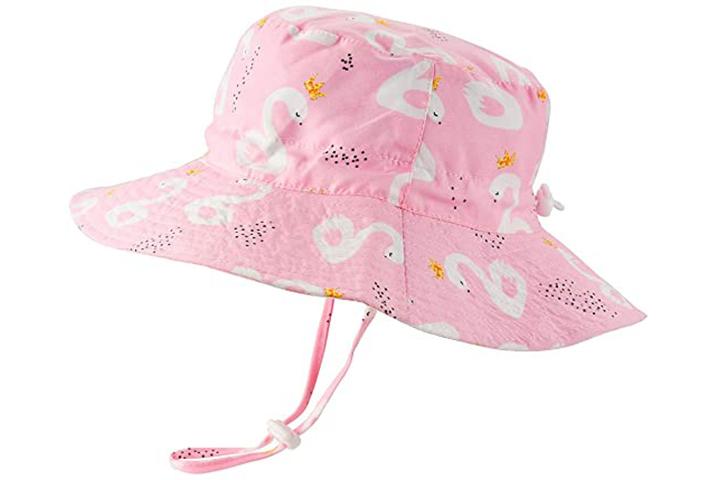 With UPF 50+ rating for protection against UV rays, this baby hat is perfect for your child while going out for summer playdates. The chin strap with a buckle makes it easy to wear and remove. All while the mesh fabric surrounding the top of this summer hat ensures adequate ventilation to keep the baby's head cool. This lightweight and breathable hat provides maximum comfort and protection to your baby.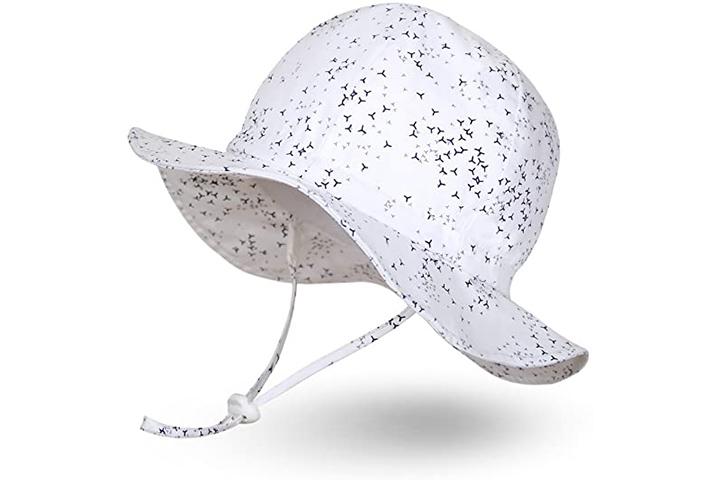 Ami&Li tots Wide Brim Sun Hat is made of cotton, which makes it skin-friendly. It offers a UV rating of UPF 50+ that blocks harsh UV rays. Unlike a few other hats that use chemical covering, the UPF layer in this baby hat is created using a special weave technique. This ultra-thin hat has adjustable chin straps with a buckle for a secure fit. This wide brim baby hat is super lightweight, which makes it easy to carry anywhere. Ideal for 0 to 9 month old babies, this hat comes with a safety buckle that automatically extends when pressure is applied, to prevent any choking hazards.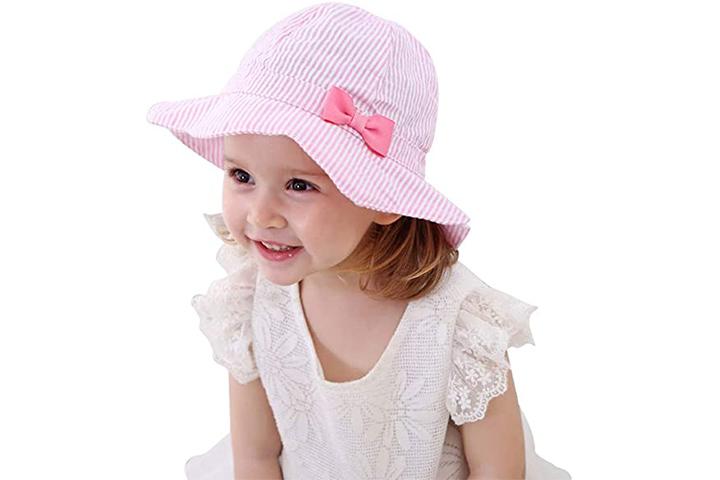 This adorable baby hat for girls is perfect for baby photoshoots. It is ultra-soft and lightweight, thus easy to carry anywhere. It can also be easily folded and will fit in any handbag. Made of cotton, this summer hat comes with a bow that adds a touch of cuteness. This breathable hat is perfect for summer because of its wide brim feature and UPF 50+ sun protection outer covering.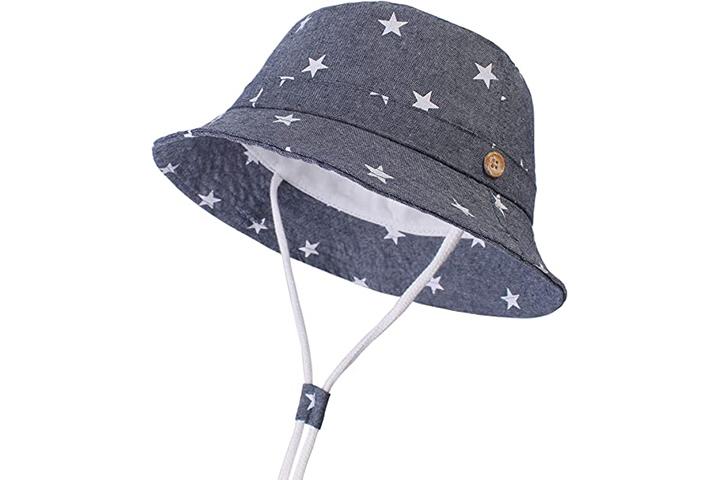 This baby bucket hat is perfect for fishing and traveling. It is lightweight and easily foldable, making it convenient to store and carry. Its wide brim protects face, neck, and ears from the sun or wind, while the adjustable chin strap keeps the hat in place in windy conditions or when your kid tries to take it off. Also, the brim could be flipped up when desired. The hat should be hand-washed and dried flat. The brim will not crumple or crease, thus, there is no need of ironing it.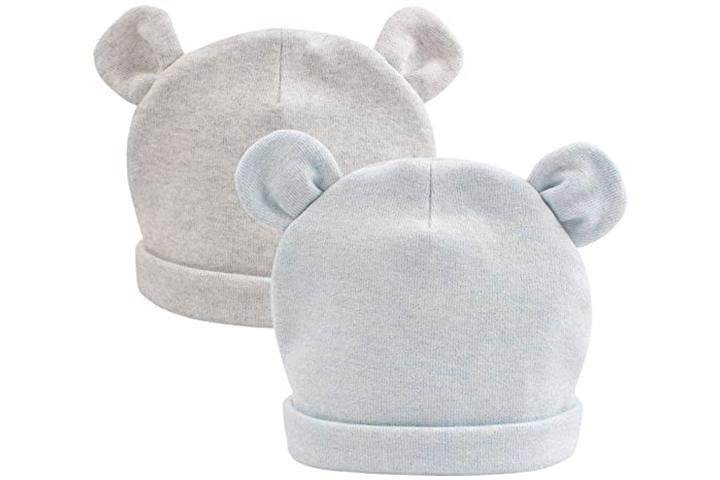 Protect your infant's sensitive head and ears with these adorable beanie hats. This pack includes 2 baby hats made of 100% cotton, which feels ultra-soft and comfortable on the baby's scalp. These beanie hats have a double layer, which means they are super thick and will keep the baby's head warm in cold weather. Plus, these tiny hats will make your baby look super cute.
Given below are a few benefits of baby hats you need to consider before buying one for your child.
Benefits Of Baby Hats
Sun protection: Baby hats should protect your child against UV rays. These hats help prevent heat loss from the head and safeguard the baby from the sun.
Protects from cold: A baby is in the mother's womb for 9 months and, thus, they take time to adapt to the outer environment, which can be chilly for them. So, a baby hat protects their tiny head to prevent them from catching a cold or falling ill.
Moisture control: Most baby hats come with moisture control that helps keep sweat at bay. This feature benefits in providing ventilation to the baby, making it perfect for summers.
Adorable photo shoot: Infants look cute in these adorable hats. Their charming appearance makes for great pictures, which means beautiful memories.
Here is a guide that could help you choose the right baby hat for your little one.
How To Choose The Right Baby Hat
UV protection: While choosing the right baby hat, check if the product description reads UPF 50+ sun protection or not. This feature helps to protect your child against UV rays. Check this feature especially if you are planning to buy summer baby hats.
Wide brim: Choose hats with a wide brim as they can provide full covering and protection against sunlight or wind. It provides sufficient coverage, including your baby's head, face, and neck.
Soft fabric: The right baby hat should be made of soft fabric. As your baby's skin is sensitive, the fabric needs to be ultra-soft so that they do not get any rashes. Summer hats made of cotton are perfect because they are soft, comfortable, and easy to wash.
Chin strap: Chin strap plays an important role in baby hats. Babies tend to pull their hats off or windy weather may blow it away. Thus, chin straps secure the hat in place. Some hats feature chin straps with buckles that can be adjusted for a custom fit.
Baby hats work great in any occasion or season – be it a visit to the beach or a play date. These soft head wraps not only protect your baby's tiny head and face but also make them look so much more cuter. There are varieties of baby hats available, so choosing the right fabric and color is essential if you want your baby to look adorable and feel comfortable at the same time. We hope our list of the 11 best baby hats will help you pick the right one.
 Recommended Articles: