Are your little ones in the crawling phase of their development? Though it's an exciting period for you as a parent, crawling on the floor can cause cuts and scrapes on your baby's knee. Whether you have a carpeted, hardwood, or tile flooring, most parents are unaware of how uncomfortable crawling can be for little ones. We understand no parent wants to restrict their child's development. Luckily, there's a solution for this— knee pads!
Knee pads help protect the soft and sensitive skin on your baby's knees. This way your child will have something protecting them from the rough ground so they don't have to deal with bruised knees ever again. In this article, we bring you the best baby knee pads that are comfortable and won't restrict their movements.
11 Best Baby Knee Pads
These baby knee pads come in a set of 5 different colors. They are perfect for both genders and feature a unique design. One of the best baby knee pads available in the market, these are machine-washable and dryer-safe.
Features
Made using cotton and silicon
Features a round cushion in the middle for knee protection
Breathable fabric that absorbs sweat with adjustable elasticity
The set includes 5 colors — light gray, dark gray, black, teal, and blue.
When it comes to baby products, comfort and functionality are key. These baby knee pads are not only super comfy but they are available in unisex colors and will fit your baby like a glove.
Features
Includes 3 pairs of gender-neutral knee pads in blue, green, and orange colors
Protective pads with non-slip technology for knee protection
Made using 100% cotton
Breathable and flexible material avoids any sort of discomfort
Includes a bonus pacifier clip
Can be machine washed and safe to use in the dryer
Next on our list of the best baby knee pads are the knee pads from Bosoner. This knee pad features an elastic sock mouth. Made using breathable fabric that is comfortable to wear, your baby can now enjoy his/her crawl time.
Features
Made using breathable high-quality cotton mesh fabric
The soft fabric makes it ideal for any season.
It is recommended to wash them by hand.
The adjustable knee pad offers the perfect fit.
The set includes 5 pairs of different colors — gray, coffee, green, pink, and blue.
It features anti-slip protective pads.
Finding the best baby knee pads can be a lot more challenging than you expected since they all look the same. But thanks to this pair of knee pads from 1 One Enjoy, you will finally have a product you are confident about. The knee pads are designed with highly-elastic cushion and soft padded sponge to avoid friction.
Features
Features a breathable mesh design with anti-slip pads for knee protection
The adjustable knee pads provide the correct fit for varying sizes.
Features an adjustable tape with magic stickers
Includes 3 pairs of blue, gray, and green stylish knee pads
Next on our list of the best baby knee pads are the baby knee pads from MaberryTech Direct. These knee pads ensure that your little one's knees don't get irritated after crawling for a long time. They are made from 80% cotton, 18% dacron, and 2% spandex.
Features
Includes 5 pairs of different colors
They are machine washable and dryer safe.
Made using premium cotton that is deodorization-durable, breathable, and soft
Feature a highly elastic sponge that can protect baby's elbows and knees
Provides good elasticity that's easy to put on and take off
Featuring a unique anatomical design, these baby knee pads have been tested and certified by numerous international organizations. The baby knee pads are crafted with thick and soft cushions for a comfortable crawling experience. They are one of the best baby knee pads for walking and the knee pad can be adjusted to 5 levels.
Features
Adjustable size knee pads with plastic hooks on the sides
Available in 3 colors — blue, dark gray, and pink
The hooks are durable and BPA-free.
Designed using super soft jersey fabric with ergonomic cushion for knee protection
Features curved knee shape design and anti-slip silicon prints
Bella Tunno brings you one of the most diverse ranges of knee pads for babies. The brand is partnered with a hunger relief organization and for every purchase you make, one child in America gets fed.
Features
Available in 17 different colors and patterns
Designed with extra cushion and non-slip grip for protection
Can be used on hardwood floors, carpet, and outdoors
Made using 90% cotton, 9% polyester, and 1% Spandex for higher stretchability
Can be machine washed with like-colored garments
With these baby knee pads, you are looking at one of the most affordable options for knee pads for babies. These gender-neutral knee pads are the best gift you can get your little ones to boost their confidence while crawling. And the built-in fluff reduces damage caused by friction.
Features
Includes 3 pair of star-style simple knee pads
Crafted using high-stretch cotton material
The silica gel design protects against slipping.
Adjustable knee pads offer a comfortable fit
Next on our list of the best baby knee pads is the anti-slip knee protectors from Satinior. The stretchy knee pads are cozy to wear and protect your baby from bruising their knees while crawling.
Features
Designed with anti-skid grips and ribbed cuffs
Includes 6 pairs of knee pads in black, green, gray, dark gray, blue, and dark blue colors.
Made using cotton, they are breathable and absorbs sweat
Ideal for wearing on elbows and knees
It is recommended to wash them by hands.
One of the best baby knee pads available in the market today, they are the perfect solution for your baby's bruised knees from crawling. They are available in 2 color options— navy blue and gray. And each set includes 2 pairs of similar-colored baby knee caps.
Features
Features concave-convex anti-slip particles for knee protection
Designed with adjustable magic sticker and elastic bands on upper and lower sides for the best fit
Made using hollow soft fabric which is a mix of cotton and polyester to leave zero marks on the baby's skin
Offers good buffering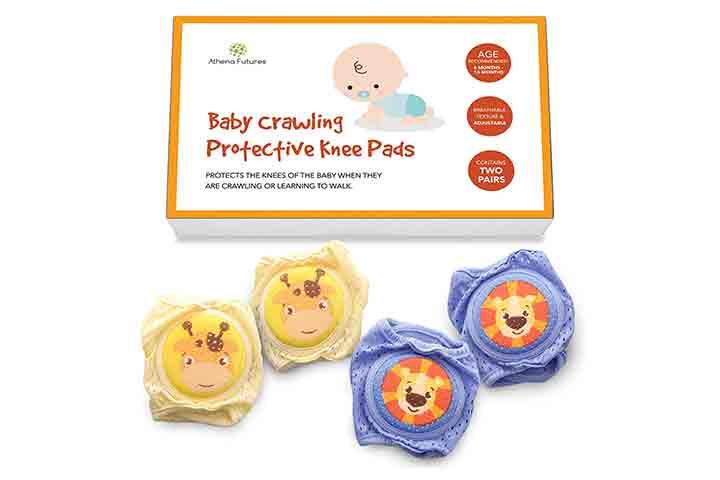 These baby knee pads are the perfect companion for when your baby is on the move. With one of the best baby knee pads by your side, you will no longer have to worry about your precious one's sensitive knees getting scraped.
Features
Features soft magic sticker that can be adjusted for a snug fit
Made using polyester with an elastic sponge and silicone beads
Available in 3 different sizes of small, medium, and large.
Each set includes 2 pairs in different colors with fun animal print.
They are soft, breathable, lightweight, and absorb sweat.
Now, let's take a look at some of the aspects that you need to consider while purchasing baby knee pads.
How To Choose The Right Baby Knee Pads?
Whether you are buying a pair of knee pads for your baby or considering gifting them to someone, here are a few things to take into account before purchasing:
Size: Do they come with adjustable straps? If not, are they stretchable? Check for a stretchable design or adjustable straps so that the knee pads don't end up being too tight on your baby. You can also check if your baby falls into the age recommendation of that particular product.
Material: Though you want a product with proper functionality, comfort is key when looking for the best baby knee pads. They should be made of breathable and soft fabric to avoid any discomfort. If you are living in an area with hot and humid climate, opt for baby knee pads that can absorb sweat and are preferably made of cotton.
Design: You can go for something basic with a solid color or choose one with varied patterns and bright colors. Certain baby knee pads also feature cute animal prints and designs on them.
Crawling is an exciting phase for parents and toddlers alike. While it is adorable to watch your baby crawl on the floor, nothing hurts us more than seeing them get injured. If you want to spare your precious one from the pain of bruised knees, then grab a pair of the best knee pads from our list today!
Frequently Asked Questions
1. Do knee pads protect against outdoor crawling?
Yes, most knee pads for babies are designed in such a way that they can be worn indoors and outdoors.
2. Why do babies need knee pads?
Babies tend to cut and bruise their knees when they are in their crawling phase of development. Hence, knee pads can be worn on their knees to protect their delicate skin from getting scraped.
3. How to wash baby knee pads?
Almost all knee pads are machine washable. However, just to be sure, it is best to read the instructions label on the product. Some baby knee pads are also dryer-safe.
Recommended Articles:  
The following two tabs change content below.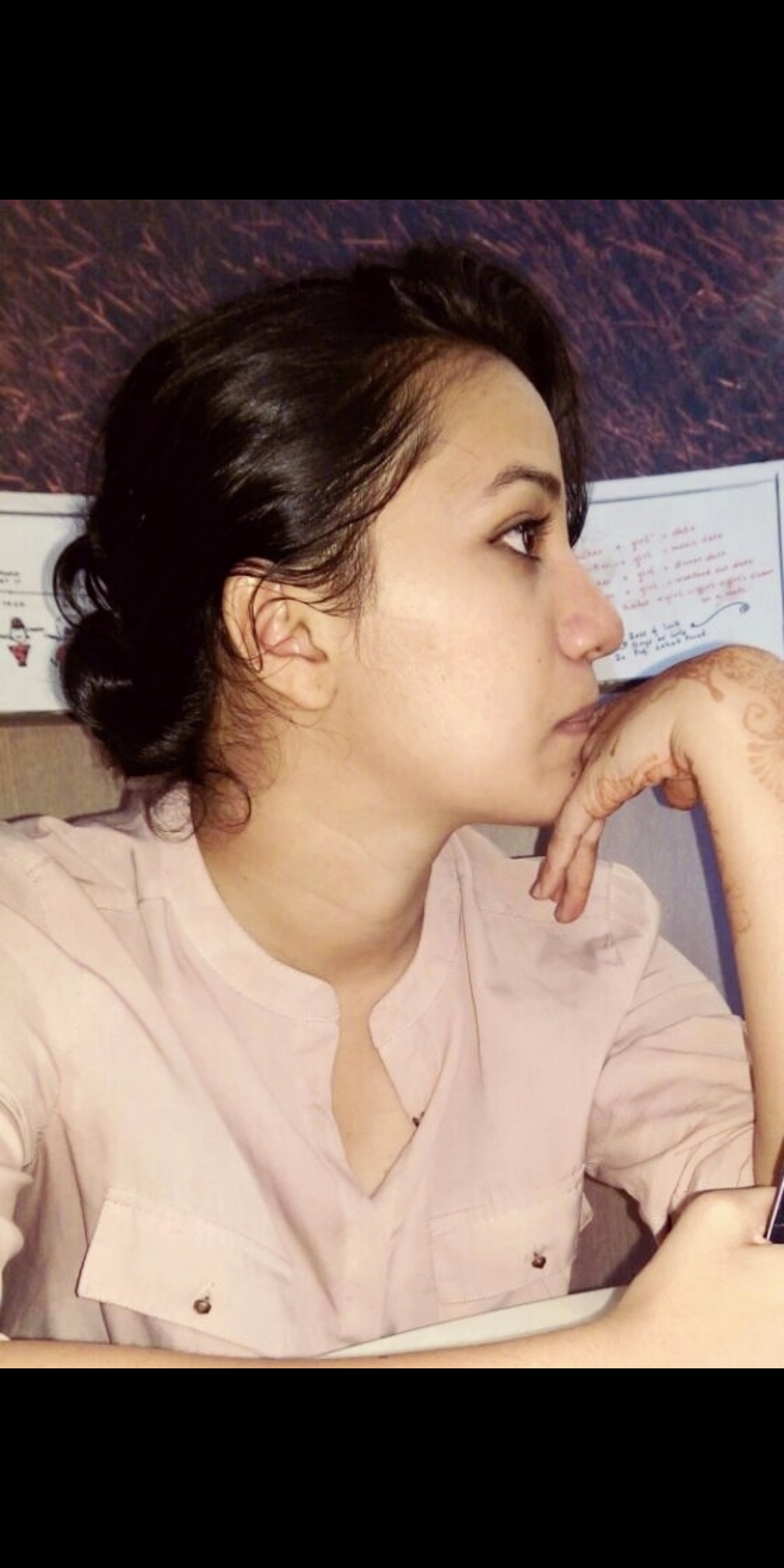 Mitha Shameer
Mitha is passionate about writing on topics related to women and children. She loves to present the brighter side of life to her readers in the form of her articles. She writes on games, stories, arts & craft, celebrations and more for MomJunction. When she isn't glued to online shopping websites, she loves reading books and watching F.R.I.E.N.D.S.