Dry scalp is increasingly becoming a common issue among babies, specifically newborns and toddlers. Whether your child is dealing with dandruff or dry scalp, treating these problems as soon as possible is necessary to avoid worse conditions, such as a cradle cap.
Considering that your baby's skin is extremely delicate, you cannot afford to go with the wrong product. Hence, finding the right baby shampoo for dry scalp is crucial to eradicating these issues for good. Here, this post lists the best baby shampoos for dry scalp.
Top Products From Our List
Why Do Babies Have A Dry Scalp?
One of the most common reasons that causes dry scalp among babies is cradle cap. It is also known as infantile seborrheic dermatitis. Although the precise reason is unknown, cradle cap is attributed to a combination of environmental and genetic factors. Sometimes, it is also caused by the overgrowth of Malassezia fungi in sebum under the skin.
7 Best Baby Shampoos For Dry Scalp
Two-in-one formula, this tear-free shampoo blends into a rich lather that helps gently cleanse the delicate hair and skin of your baby, leaving them clean and soft. The shampoo doesn't dry the scalp and helps retain moisture. It is made of calendula from the marigold flower that helps soothe, moisturize, and soften the skin.
Pros
Dermatologically tested
Hypoallergenic
Free from mineral oils, colorants, and parabens
Contains vitamin E and B5 along with aloe vera
Cons
May not be completely tear-free
May cause rashes

Paraben-free and hypoallergenic, this baby shampoo comes with a light, fresh scent. It is made of natural ingredients, such as organic shea butter, vitamin E, aloe vera, organic flower extracts, and oatmeal to safeguard your baby's sensitive skin. Also, the shampoo contains pharmaceutical-grade tea tree oil that helps heal dry scalps.
Pros
Soothes itchy, flaky scalp
Infused with antioxidant properties
No artificial preservatives
Comes with a cradle cap brush
Cons
Might make the scalp dry
May not be tear-free

The shampoo is meant to fight flaking, irritation, redness, scaling, and itching on both skin and scalp and is made for children of all ages. The shampoo contains various active ingredients, such as pyrithione zinc, safe and effective in curing dandruff and seborrheic dermatitis. The shampoo also contains natural ingredients, including licorice root extract, to help soothe redness.
Pros
Doesn't have an artificial fragrance
Dermatologically tested
Free of alcohol, paraben, sulfate, and BPA
Helps eliminate flaking and keeps hair smooth
Cons
May cause white flakes in the hair
May cause mild irritation

Wild Naturals shampoo contains cehami extract, aloe vera, and other natural ingredients to offer natural relief from itching. They penetrate deep into the skin and help decrease redness. The shampoo is steroid-free and non-medicated; hence, you can use it daily. It is also devoid of fragrances, parabens, SLS, and other harsh chemicals.
Pros
Hypoallergenic product
No animal testing
Sulfate-free shampoo
Coconut oil as light, natural foaming agent
Cons
May not come with enough quantity
Doesn't lather a lot

With a brisk blend of lavender and tea tree essential oils, this baby shampoo helps soothe sensitive scalps. This two-in-one shampoo cleanses hair, body, face, and sensitive areas. It gently washes out chlorine and salt while rebalancing the natural pH level of your hair. It contains certified organic, sustainably harvested soap bark along with plant-based glucosides.
Pros
Skin-friendly shampoo
Tested for allergies
Can be used as a body wash too
Enriched with organic, pure calendula extract and aloe vera
Cons
May cause some rashes
May not work for extremely sensitive skin

With gently lifting and rinsing flakes, this shampoo is scientifically formulated with a natural exfoliant and salicylic acid. It helps prevent and reduce cradle cap to a great extent. The presence of organic calendula helps soothing irritation linked to the scalp and skin conditions.
Pros
Foaming pump dispenser for easy application
Helps prevent irritation
Formulated with natural and USDA certified organic ingredients
No harmful chemicals
Cons
May have a strong smell
May not wash adequately

With organic and natural ingredients, this shampoo helps calming and soothing sensitive skin. It also nourishes, protects, and soothes irritated skin. The tear-free shampoo works wonders on dry scalp, cradle cap, and eczema.
Pros
Pump dispenser for ease of use
Includes 32 vitamins and minerals
Comes with 75 nutrients and hundreds of active enzymes
Moisturizes the skin
Cons
May have some irritants
Fragrance could be too strong

How To Choose The Right Baby Shampoo For Dry Scalp?
While choosing the right baby shampoo for dry scalp, keep these factors in mind.
Ingredients: Ensure the shampoo doesn't contain any harmful or harsh chemicals and ingredients. It should be enriched with naturally sourced extracts to make it safe for the baby.
Hypoallergenic: You should go with a hypoallergenic shampoo to ensure that your baby doesn't face any reactions or allergies.
Artificial fragrances or dyes: You should make this a thumb rule to read the label and check everything the shampoo contains. The product should not have any artificial fragrance or dyes as they can cause allergies to sensitive skin.
Tear-free: Choosing a shampoo that features a tear-free formula is recommended. This will allow you to wash the baby's scalp thoroughly without any fear of itchy and irritating eyes.
Apart from ensuring that the product is safe, it is also important to look into its usefulness. Thus, make sure you consider the above points to find the best baby shampoo for dry scalp to make the right decision.

Recommended Articles:
The following two tabs change content below.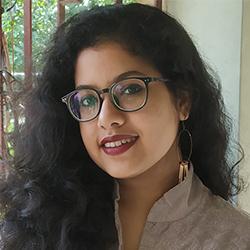 Poulami Nag
Poulami Nag is a writer and associate editor at MomJunction. She did her MA in English from Miranda House, University of Delhi and has qualified UGC-NET. Her journey as a content writer began in 2017 and since then she has garnered diverse interests along the way. Her knowledge of literature and language has given her an eye for detail and...
more