A bagel slicer is quite a handy kitchen tool with an integrated blade to slice a crusty bagel into two smooth halves. The best bagel slicers will help you avoid injury while perfectly slicing through the bagel. They have a stainless steel blade and an ergonomic handle with a protective transparent cover to keep your hands safe during operation.
Here is a list of some of the best bagel slicers that are durable, easy to maintain, and can help you slice the bagel without squishing it.
Types Of Bagel Slicers
Before choosing a bagel slicer, you need to know about the types of slicers available in the market. This can help you find the best bagel slicer that suits your needs.
Special bagel knives: These are multipurpose tools designed to cut bagels, muffins, bread rolls, and pastries. The blade is secured between two plastic holders and is safe to use.
Special bagel slicer: These slicers have guillotine blades that are pointed and cut the bagel in half. This slicer's distinguishing feature is aprotective transparent cover around the blade to prevent potential injuries. It also has a bagel holder designed to hold your bagel firmly and prevent the blade from slipping and injuring your fingers.
Top 15 Best Bagel Slicers
Price at the time of publication: $19.99
Hoan's bagel slicer effortlessly cuts the bagels into half by holding it in the safely guarded triangular shelf underneath a cradle. With the two acrylic protective transparent cover shields on either side, this slicing tool ensures the safety of your fingers. An in-built serrated Xylan non-stick stainless steel-coated blade is provided for a durable and efficient cutting. You can also check this video out for a brief review of the product.
Pros
Can be used for slicingbread rolls and pastries
Has a sturdy frame and a comfortable grip
Brass rivets help you hold the blade firmly
Easy bagel removal through an access slot
Wider base for stability
Dishwasher-safe
Limited lifetime warranty 
Cons
The blade may lose its sharpness quickly
Price at the time of publication: $15.99
Eon's slicer is a delicate yet sturdy multi-faceted toolthat slices bagels, flour-based pastry, ham, cheese, and vegetables. You can divide the bagels into equal parts by sliding the tool without injuring your fingers. The slicer comes with rubber padding that prevents it from sliding.
The slicer is made of eco-friendly ABS resin material, which is easy to clean, odorless, and non-toxic.
Pros
Suitable for large and small bagels
Heat-resistant material ideal for hot and fresh bagels
Foldable design for compact storage
Provides thickness options 
Cons
The base may not be stable
Price at the time of publication: $30.95
A usefulslicing tool made with a sustainable red alder hardwood, this slicer has a16-inch ultra-thin non-stick stainless steel blade that can slice the bagel or bread with ease. The corrosion-resistant blade is durable and can be used at home or for industrial purposes.
Pros
Can cut bagels into a varying thickness
Ergonomic handle for a firm grip
Serrated bald edges for sharpness 
Cons
May not be safe for shaky hands
The Sweet Home Bee Bagel slicer helps you save time during busy hours as its serrated cutting edges can slice a bagel quickly and smoothly. It cuts bagels, English muffins, and bread rollsplaced in the cradle when you lower the guillotine Xylan-coated blade.
Pros
Compact and space-efficient design
Dishwasher-safe
Functional and anti-skid design 
Cons
The slot may be narrow
May not be efficient on hot bagels
Price at the time of publication: $17.17
Homeries sliceroffers a firm grip when you place the bread into the cradles and drop the guillotine blade for a smooth and efficient cut. With its non-stick stainless steel blade, the slicer cuts the bagels smoothly and safely and works as a bread cutter.
Pros
Protective transparent cover to prevent fingers from cuts
Robust body to ensure precision slicing
Enables mess-free slicing of any flour-based product
Dishwasher-safe 
Cons
May not be able to slice bagels of all sizes
Price at the time of publication: $9.49
LilGift bagel holder is ideal for people with shaky hands, as it prevents the knife from slipping and cutting your fingers. This product's unique feature is its transparent plastic body, which holds the bagel firmly while you slice it to the desired thickness.
Pros
Prevents bagel from slipping when using
Simple yet effective design
Easy to clean 
Cons
Price at the time of publication: $9.52
Apart from bagels, the MSC International slicer can be used for burger buns and bread rolls .All one needs to do is place the bagel in the slot provided to slice it evenly. The slicer's side rims give you a firm grip on the bagel and help you protect your fingers from any potential harm.
Pros
Easy to clean
Sturdy bottom gives a firm grip
Compact design 
Cons
May not be suitable for larger bagels
Price at the time of publication: $10.95
Tablecraft bagel and bread cutter comes with an ergonomic handle for a soft and firm grip. You can run this cutter through the desired length of a bagel or bread and get slices of the required thickness. Its stainless steel blade can hold firm on its handle to enable smooth and effortless slicing. 
Pros
Non-slip grip for comfort and safety
Dishwasher-safe
Easy to use
Compact design for easy storage 
Cons
May have a protective cover over the blade
Price at the time of publication: $8.22
Amyhome is a high-quality bagel and bread cuttermade from ABS material.  The slicer'scompact design and adjustable divider can help you cut the bread or bagel into varying thicknesses. Itsstrong base stands well on your countertop surfaces to provide a safe anti-skid surface while slicing the bagels.
Pros
Foldable and space-saving design
Easy to clean
Dishwasher-safe 
Cons
The base may not be sturdy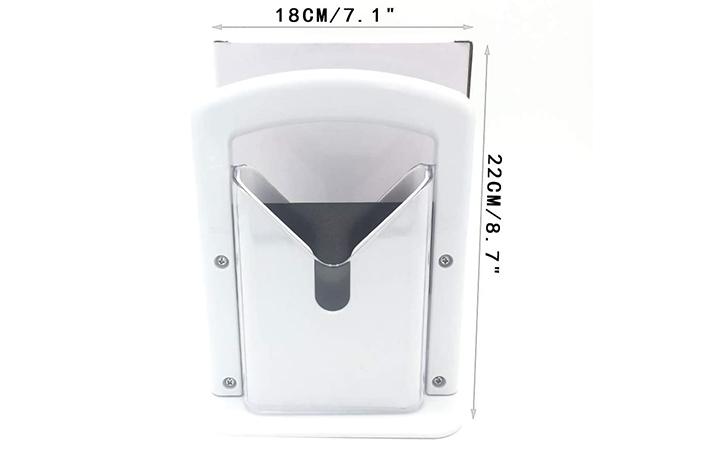 Cut bagels in half without worrying about hurting your fingers with the Oukeyi bagel slicer. You can also use this slicer for cutting muffins, loaves of bread, rolls, buns, and more. The blade is designed with cutting-edge technology and comes with a non-stick Xylan coated blade for hassle-free slicing. Further, it has a built-in safety shield, and the cradle holds the bread or bagel securely. In addition, the acrylic shields are fixed to either side of the blade to prevent unwanted harm.
Pros
Sturdy base
Easy to clean
Durable
Enables smooth slicing
Compact design
Cons
May not be suitable for large bagels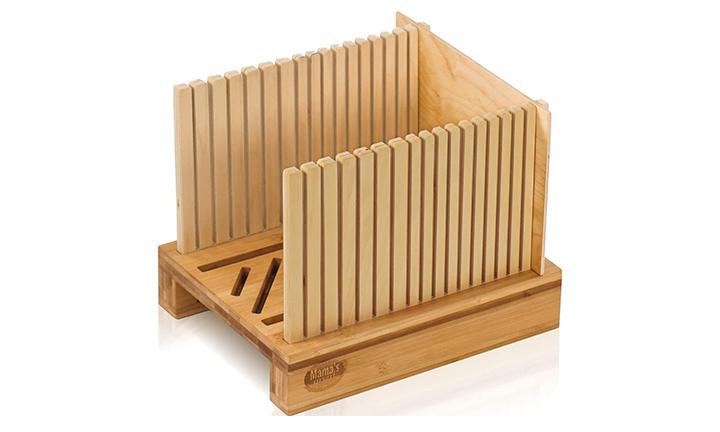 Price at the time of publication: $33.99
The bagel and bread slicer by Mama's Great is sturdily constructed with thick bamboo, with its slicing guides crafted from birch plywood for convenient and smooth slicing. These guides have rounded edges for smooth knife insertion, and the non-slip rubber pads prevent unnecessary slides. This bread slicer also offers a custom fit wherein you can arrange the guides as per the loaf size. Furthermore, you can also easily disassemble the guides and turn the slicer flat for compact storage.
Pros
Has a sturdy build
High slicing guides and adjustable width
Includes two stop boards
Offers two thickness settings
Cons
Knife openings could have been a tad thinner
Brooklyn's slicer is ideal for cutting bagels and rolls into equal halves without the fear of exposed blades. The slicer has an ergonomic one-piece design and can be used on hot and fresh bagels too. The highly sharp serrated knife improves the efficacy while providing a smooth cut. This slicer is ideal for both home and bakery purposes. 
Pros
Has a centered blade for equal cut
Stainless steel blade for durability
Easy to maintain and clean
Dishwasher-safe 
Cons
It doesn't have a bagel holder
The multipurpose slicer can be used for cutting English muffins, bread rolls, and Croissants. The slicer contains a protective slot around the bread that enables the knife to pass through safe slicing. Built with durable and versatile material, this slicer can serve both household and bakery purposes.
Pros
Can hold large and small bagels
Has a 30-day money-back policy
Safe to use on fresh and cold bagels 
Cons
It may not hold large bagels firmly
Price at the time of publication: $16.24
Bagelpod's multipurpose bagel slicer can be used for cutting buns with its simple yet functional design. The slicer's two blade guards envelop the bagel and protect your fingers from injuries. Place the bagel in the center ring, close it and push down the blade to slice it into half. With a five-inch slice thickness, the slicer is ideal for mini bagels. 
Pros
Easy to clean
Top-rack dishwasher-safe
Budget-friendly 
Cons
May not have a locking mechanism
Price at the time of publication: $19.99
Gavanto's slicer can cut bagels with one swift stroke. The mess-free bagel slicer comes with an in-built safety shield and ergonomic handle for a firm grip. The slicer's protective transparent cover keeps your fingers safe when you slice bagels, bread rolls, and English muffins. With its sharp blade, you can use this slicer for precise and crumb-free cuts at your home or bakery. 
Pros
Comes with a butter spreader
Xylan-coated non-stick stainless steel blade for durability
Contains a cradle to place the bagel firmly
Top-rack dishwasher-safe 
Cons
The blade may lose its sharpness over time
How To Choose The Best Bagel Slicer?
Here are a fewessential features that you should review before you buy a bagel slicer.
Material: A bagel slicer can be made of metal or plastic. The blades are usually stainless steel regardless of the outer cover. Plastic bagel slicers are lightweight and are not suitable for long-term use. On the other hand, metal slicers are stable and offer durability.
Safety: Bagel slicers are usually preferred over regular knives due to the protective safety cover they offer. Most of the slicers use transparent acrylic shields around the blades to protect your hands from injuries.
Size and design: Bagels are available in multiple sizes. A bagel slicer must fit them all. Most of the slicers are multifunctional and can be used for slicing bread rolls, English muffins, and croissants. Most slicers come with ergonomic, non-slip safety handles that are convenient and easy to use. Among them, guillotine blade slicers are precise and safe to use.
Adjustability: Some bagel slicers have an option to slice a bagel into varying thicknesses. Such slicers can be used as bread cutters too.
Cleaning: Some bagel slicers can be hand washed or machine-washed. As bagel slicers have in-built blades, they can be harmful while cleaning. Manual cleaning is not safe with highly-serrated and sharp blades. Most of the bagel slicers are top-rack dishwasher-safe.
Blades: Most blades are made of stainless steel and might have serrated edges tosmoothly slice a bagel. As blades tend to lose their sharpness over time, you can consider purchasing a slicer with a replaceable blade option.
Why Trust MomJunction?
Sakshi John is a trusted reviewer of handy kitchen tools that make cooking super convenient and make your food look extra delicious and presentable. After browsing several reliable forums, the writer has put together this helpful list of the best bagel slicers, complete with special bagel knives and slicers, for you to choose from as per your budget and preference.
Recommended Articles: