Snowboarding or skiing down slopes, riding a motorcycle, hiking in the snow or taking an arctic cruise all have one thing in common. You need to be in protective gear at all times. Not only do you need the right shoes and jacket, you also need appropriate protection for your face and neck in extreme or temperate climatic conditions. The easiest way to protect your face from harsh weather conditions is by wearing a balaclava.
If you are into adventure sports, there is a high chance you already know what a balaclava is. The best balaclavas are those that provide ultimate protection to your face and neck at the same time. Apart from your eyes pretty much everything gets covered, making the balaclava an essential item for winter sports. We have made your selection process a little easier and present to you the best 13 balaclavas in the market right now!
13 Best Balaclavas Of 2021
The Ergodyne N-Ferno 6823 Balaclava Ski Mask is a versatile accessory that provides ultimate protection. This balaclava face mask includes a longer neck length that can be easily worn under a jacket, so that you are warm even around your collar bones. The hinged design of the balaclava gives the wearer multiple style options to choose from. It can be a full face protection balaclava, or a ski mask, or even a neck gaiter depending on your use and need. It also features a mesh panel for the mouth which results in uninterrupted air flow that is optimum even in higher altitudes with lower levels of oxygen.
Features:
Breathable material
Resistant against high speed wind
Reflective accents that let the wearer be seen in the dark
Made using thermal fleece to give warmth in mild as well as extreme conditions.
The Self Pro Summer Face Mask Balaclava is the ultimate summer balaclava that protects from sun's UV rays, aerosols, dust, and other natural elements. Hi-tech CoolMax premium fibers are used to craft this face mask balaclava that keeps your face and neck comfortable and cool even in warm temperatures. This summer balaclava does not fade with multiple use, and can be folded and very conveniently carried in your pocket. Outdoor activities can now be enjoyed even with a blazing sun at noon with this face mask which can also be used as a bandana, a sweatband, neck gaiter or a cap.
Features:
Wrinkle-free
Breathable fabric
Made using 100% polyester
Can be worn by women, men, as well as children.
This heavyweight winter balaclava is suitable for multiple outdoor activities like snowboarding, skiing, hiking, cycling, camping in the hills and much more. The long neck of this sports balaclava can easily fit under your jacket, ensuring that it doesn't come off even when skiing down steep slopes or during other extreme sports. The balaclava offers advanced cold weather protection, and when it is not too cold it is versatile enough to be worn in different ways. Use it as a snood, hat, scarf or just a face mask and make the most of this multipurpose balaclava.
Features:
Free-size that can fit all
Wind proof and dust proof
Made using fleece composite fabric
Heavyweight balaclava means more protection from cold
The NEXTOUR headwear sets are a multifunctional accessory and are an absolute delight to own and wear. Imagine owning a neck gaiter, bandana, sweatband, headwrap, balaclava, face mask, beanie, hairband all in one. This value for money product is dust-proof and also provides protection from the harmful effects of the sun. It also has the ability to get rid of moisture quickly so that your face and neck remain dry, mouth nose, head, and ears are warm and you are in good health no matter where you are or what outdoor activity you are involved in. The material is highly breathable and stretchable so that you do not feel suffocated or claustrophobic when using it as a full face mask.
Features:
Durable and easy to wash
Made using microfiber and soft polyester
Comes in a group set of 6 pieces, 9 pieces or 12 pieces in different prints
Ideal for outdoor activities like fishing, skiing, hiking, camping, cycling, running and hunting in snow or sun.
This GearTop full face mask is suitable for all seasons. The soft protective fabric of the balaclava absorbs heat and sweat. Since it is an all-season balaclava it keeps you warm in winter and cool in summer. When worn with your motorcycle helmet, it lets the helmet slide on and off easily and does not let you feel weighed down. This motorcycle balaclava also protects you from germs, sunburn and allergies that can often creep up on your face, head, and neck. This face mask is designed in such a way that it dips over the nose so that it is covered and protected. The sports balaclava is made using 4-way stretch material that grips your skin comfortably without being too tight or causing any fogging if you wear glasses.
Features:
Changeable styles
Lightweight, can easily fit in a pocket
Made using soft Super Roubaix Fabric
Anti-odor and breathable material
Snug enough to hold down ear buds under helmet
If you love to participate in multiple outdoor activities throughout the year, the NewNow Candy Color Ultra Thin Ski Face Mask is ideal for you. Crafted using soft and breathable material, this balaclava face mask is quick-drying and absorbent. The flexibility of the face mask makes it easy to wear and remove, without being too tight on the skull, and yet smooth enough for comfort. The balaclava mask also provides neck protection and keeps hair out of your way when playing any sport.
Features:
Easy to clean as it is washable by hand
Suitable for paintball, fishing, hiking, war games, skiing, riding, hunting, etc.
Can be worn under a helmet
Winter balaclavas need to have certain features to make them the best balaclava for the season. The fabric should be warm, yet soft and comfortable. It should be able to stay on your head and neck in such a way that activities that involve speed and jerks do not let your face cover fall off. And lastly, it should help you breathe easily at the same time covering your mouth and nose from the cold winter air. The PurJoy Warm Fleece Balaclava possesses all these features and much more. This winter protection gear also includes an adjustment rope and an elastic brim at the neck, making sure the balaclava stays put and comfortable while you enjoy sports activities to the fullest.
Features:
Unisex winter balaclava
Made using 100% polyester fleece
Full neck and face coverage design
Children need more protection in the cold than adults, which makes it obvious that their winter balaclavas will be special and different. The HZTG Kids Winter Windproof Balaclava also includes a warm face and mouth mask and a ski hat that is adjustable. This balaclava is suitable for sports and outdoor activities in winter so that your child does not have to spend all the cold months trapped indoors. The design of this windproof balaclava gives double protection and double warmth and is soft so it doesn't irritate the skin. This children's balaclava can easily fit heads with a circumference of 20.5 to 21.3 inches.
Features:
Made using 100% polyester
Unisex and free size that fits most kids
Can be used in washing machines and dryers on a low setting.
This hooded face and neck mask from Nova Sport Wear is in the chic-est shade of blue. This fleece balaclava includes drawstring closure so that you feel absolutely comfortable when participating in outdoor activities. It covers your entire face except for the eyes and also provides ultimate protection from cold and wind. This versatile accessory is ideal for use while indulging in winter sports activity, motorcycle rides, hiking and can be worn in multiple ways depending on the need of the activity. Wear it during skiing with your goggles without any discomfort or a helmet liner without feeling weighed down.
Features:
Machine washable
Made up of durable and warm fleece
Fits head circumference between 19 and 24 inches.
The Tahbilk Balaclava is a heavyweight winter balaclava that provides full face protection except for the eyes. This neck and face cover makes skiing, snowboarding and other winter sports really easy and possible even in very low temperatures. This means you can spend hours playing and hiking in the snow and still feel toasty and warm. This sports balaclava not only protects you from wind, cold, UV sun rays, dust and burn but also protects you from moisture forming, and is anti-static. We all know how important that is in the winter months!
Features:
Long neck for more coverage
Made using warm polar fleece
Free size and can fit most men and women
Machine-washable
The Minus33 Merino Wool 720 Midweight Balaclava is ideal for 3 seasons namely spring, autumn, and winter. Designed in such a way that it is easy to wear and take off, this balaclava face mask lets you uncover your nose and mouth very easily with a single pull from the finger. Versatility is key for all outdoor gear and this sports balaclava can be worn as a neck gaiter or as a skull cap depending on your need. Merino wool is also highly absorbent and can control the sweat and moisture on your face, giving you a comfortable day out in the wild.
Features:
Machine-washable and dryable
Made using Merino Wool
Interlock knit construction makes it durable and breathable.
Breathable and with multiple purpose, the CAILEK Balaclava Ski Mask is a must have in your outdoor wardrobe. The windshield fabric of the balaclava face mask doesn't let airflow through it, and maintains core temperature while reducing heat loss and wind chill at the same time. The fabric of the ski mask is stretchable and durable and can suffer well through wear and tear. This sports balaclava comes in a free size and can fit most heads without any difficulty or discomfort. This balaclava mask makes outdoor activities hassle-free and doesn't make the wearer feel weighed down at all.
Features:
Pack contains 2 balaclavas, great value for money
Does not cause irritation to the skin
Made using microfiber and high quality polyester
Offers lifetime guarantee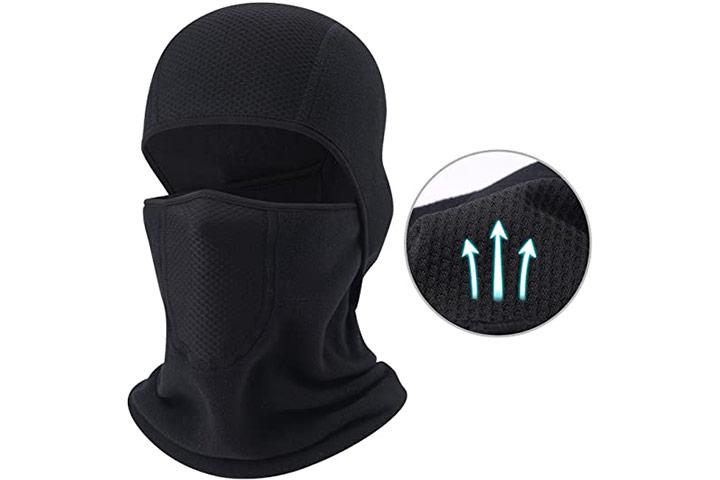 The INGLONGLIN Balaclava Windproof Mask is a very soft and abrasion-resistant windproof balaclava. This winter balaclava is wrinkle-free, can easily fit into your jacket pocket and is absolutely lightweight. Winter clothes and accessories often tend to pull one down by their weight, but this balaclava mask lets you feel free and light when partaking in winter games and activities. This means the balaclava can also be worn under a helmet with ease, and is light enough to be worn in sunny climes too! This balaclava also lets you show your creativity as it can be worn in 6 different ways. One mask with multiple looks is an absolute treat!
Features:
Made using BLCOOl polyester
Free size and unisex
This balaclava can be worn as a scarf, hat or neck warmer
Here are a few important points to consider when choosing balaclavas.
How To Choose The Right Balaclavas?
Material: The material of the balaclava is and should be the main deciding factor when you are about to buy one. Balaclavas are protective face masks, but the composition of the protective fabric depends on the activity the balaclava mask is meant for. There are many options available, and you should have a rough idea about the properties of the fabric and the needs your activity is going to entail. For e.g., if you intend to wear a balaclava mask while skiing, it needs to be made of merino wool but if you need it for simple winter morning walks, then even a winter balaclava made of fleece will suffice.
Brand: While balaclavas are manufactured by most of the popular sportswear brands, there are some newer names in the market that are slowly launching their products as well as credibility. Do not be blinded by big and well known names, and let your decision be based on the quality and features of the product even if it is manufactured by a smaller company.
Maintenance: Before you buy a balaclava face mask, read about its wash and care instructions. If your activities are going to result in your balaclava getting very dirty, a machine-washable option will be the best for you.
Size: Snuggly fitted balaclavas are the only ones that fulfil the purpose of wearing a balaclava mask completely. The size of the balaclava should be such that it doesn't feel too tight and suffocating on you, but it shouldn't allow cold air to pass into your head, ear and neck. Longer necked balaclavas are even better if you need to wear it over your jacket because the fabric under the neck can be easily tucked inside your jacket.
Reviews: Just before purchasing a balaclava mask, go through the features of the product, and at the same time also go through reviews written by customers who actually bought and used the balaclava face mask. It is easy to relate to someone who used the balaclava for the same activity that you intend to, and this way you can make the right decision just before buying the best balaclava for you.
Frequently Asked Questions
1. How should a balaclava fit?
Balaclavas should be snugly fit on your head, face and neck so that you can wear a helmet over it comfortably and even without a helmet it should be tight enough to stop icy wind from hitting your face.
2. What are balaclavas made of?
Traditionally balaclavas were meant for winter and were made using warm materials like wool or fleece, but today even summer balaclavas are available and are made of lighter breathable materials like acrylic, neoprene and cotton based on the purpose of the balaclava.
Balaclavas used to be used mainly for sporting activities and winter, but today they have become a strong fashion statement all year around. While it is very important to protect your health in extremely cold temperatures, it is also a good idea to keep up with trends about this versatile accessory. Used today as neck warmers, head wraps and face covers in all seasons, it is a good idea to have a summer balaclava, sports balaclava and a winter balaclava as part of your wardrobe!
Recommended Articles: