Childhood is all about running around, full of energy and fun. The best basketball hoops for kids will help kindle their energy and encourage their sporting spirit. Basketball is not only a fun sport but helps children remain active, both physically and mentally. Playing basketball in a court can be challenging as the hoops may be too high for the kids. Your children will need hoops specially designed for them. They also help in developing their social and motor skills.
To understand the different options and features that help buy the hoops, read through our post below. Then, pick the suitable one depending on your children's age and requirements.
11 Best Basketball Hoops For Kids
For those unaware, playing basketball can help your child improve their hand-eye coordination besides keeping them fit. Little Tikes Easy Score Basketball Set includes a blue basketball hoop and 3 orange junior size basketballs. This plastic hoop features an adjustable height system, making it suitable for toddlers and preschoolers. Before your child begins to play, remember to add sand to the base for stability. Check out this YouTuber's review of the product if you require more details.
Pros
Ideal for indoor and outdoor use
Suitable for kids between 18 months and 5 years of age
Height can be adjusted to 6 settings from 2.5 to 4 ft
It features an oversized rim that makes it easier for kids to score baskets.
Cons
The hoop may not be tight enough.
Whether you want to make your toddler's bath time more fun or looking for a game to keep your child and their friends entertained during a playdate, this basketball hoop is sure to come handy. One of the best hoops for children, it can be attached to any flat and smooth surface with the help of the suction pads fitted at the back of the backboard. Also, the suction pads come with holes that allow you to hang the basketball hoop up if you don't prefer to stick it.
Pros
Easy to set up and remove
Comes with a pump and 2 balls
The hoop can be folded in for secure storage
Can be used indoors and outdoors
Cons
The suction pads may not stick firmly when using it for the first time.
Suitable for kids between 2 and 5 years of age, this basketball hoop is a great addition to your home and can be used in indoor and outdoor spaces. It comes with a backboard, a net, a rim, a pump, a ball, a stand, a base, and other accessories required for the easy set up of the hoop. For stability, always fill the base with sand or water before play.
Pros
Made of durable plastic
Detachable and washable net
BPA and lead-free
The stand can be adjusted from 2.5 to 5.1 ft
Cons
The backboard material might be flimsy.
Happytime Portable Basketball Hoop Set will help budding players practice their basketball skills just about anywhere, be it the bedroom, backyard, or basement. This stand-up basketball hoop has a height-adjustable feature where the stand can be adjusted 26 to 67 inches based on the child's height and skill level. This set features a sturdy plastic base, a metal stand, a tier-like base, a backboard, a hoop, a net, and a mini basketball.
Pros
Suitable for kids 3 years and above
Recommended for indoor and outdoor use
Detachable backboard
It can be mounted on the wall or door with the help of the included screw kit.
Cons
Might be a little difficult to assemble
Encourage independent play while your child works on their balance and coordination with this mini basketball hoop. Ideal for indoor use, this space-saving basketball hoop is recommended to be mounted on a door (tools included). This hoop set consists of a clear shatter-resistant polycarbonate backboard that features a foam padding and brackets that ensure minimum impact on your door. Meanwhile, with the help of the steel rim, your kids can practice his dunks without worrying about it falling off, thanks to the spring-loaded design that makes the rim bounce back into place after every shot.
Pros
Sturdy 8-loop net
Includes 2 balls and 1 inflator
ASTM and CPC-tested
Quick and easy to assemble
Suitable for children 3 years and older
Cons
The balls may be too small.
Bath time should be enjoyable for you and your child, but sometimes your kid might resist a bath, giving you a hard time. If you want your child to get excited about bath time, why not take some fun bath toys, such as a basketball hoop? You can fit this hoop either on a bathtub faucet with the help of the straps included or stick it to any flat surface using the 4 suction cups. This is a perfect hoop for kids between 1 and 8 years of age as it helps them develop an interest in sports at an early age and improves motor skills. This set also comes with 5 basketballs and an air pump.
Pros
Includes a mesh bag
Safe to use for kids
Waterproof and mold-free balls
Also suitable for outdoor use
Cons
The hoop may not fit some bathtub faucets.
Made of high-quality, eco-friendly material, this basketball hoop is robust, durable, and safe to use for small children. This is a great hoop to give your kids if you want them to have a headstart in basketball at a young age. It is easy to set up – all you have to do is attach the rim to the backboard and the net to the rim, after which you can hang this entire set at the back of your door.
Pros
Compact and portable
Suitable for indoor and outdoor use
The rim can rebound after a shot
Includes 2 mini balls made of PU foam
The hoop is foldable for convenient storage
Cons
The basket tends to fold up sometimes when bumped with the ball.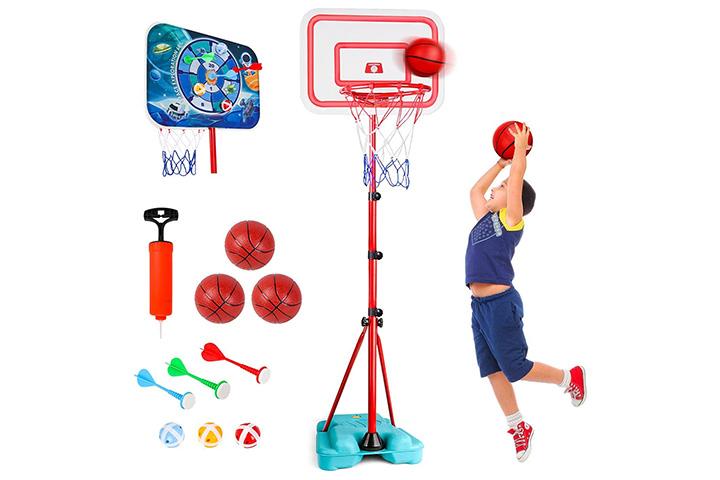 Here's a basketball hoop stand with adjustable height and a stable base. This two-in-one stand by Meland also features a dart board on the back and comes with three darts and three sticky balls for endless hours of fun. The stand grows with your child and has a thick tripod structure and base that can be filled with water or sand for stability.
Pros
Durable hoop
Thick backboard
Tripod structure and solid metal rods
Can be used indoors and outdoors
Cons
Accessories may look flimsy
Whether you want to use it indoors or outside the house, this basketball hoop by Sweet Time is a great option for toddlers and older kids, thanks to its height-adjustable stand that can be adjusted anywhere from 48 to 60 inches. It is made of non-toxic material and is powder-coated for added durability.
Pros
Suitable for kids 3 years and above
Oversized rim makes it easy to score baskets
Can also be fixed to the wall using screws
Comes with a mini inflatable basketball and a pump
Water or sand has to be added to the base for stability
Cons
The hoop might not be steady enough.
Want to get your kid off the couch and away from the TV, but still want them to stay at home? Then give them this basketball hoop that will surely keep them engaged for hours together. This fantastic hoop is perfect for children between 3 and 8 years. It features a stand that can be adjusted from 35.4 to 64.5 inches based on your child's height and age. While its tripod structure design provides amazing stability, this hoop also comes equipped with a bag that can hold 25 to 50 bs sand and a base that can be filled with 1.3 gallons of water to help weigh the stand down. Rest assured, it will not topple over or shake when your child dunks.
Pros
Adjustable top rod
Rainproof and sunproof
Can also be attached on the wall
Comes with a thick rubber ball and pump
The rim features a stiffener design that prevents deformation.
Cons
The hoop and backboard might be small.
You don't need a spacious driveway or basement for you and your child to play basketball. With the SEISSO Mini Basketball Hoop, you can play anywhere as long as you find a flat, smooth surface to fit it. This hoop comes with strong plastic suction cups that stick to certain surfaces such as ceramic, glass, marble, metal, varnish, and PVC. It also makes for a great bath toy— just attach the hoop on the bathtub or wall and allow your little one to shoot balls.
Pros
BPA-free and non-toxic plastic
Comes with 3 plastic balls
Ideal for indoor and outdoor use
Suitable for kids between 3 months and 3 years of age
Cons
The hoop might be fragile.
Given below are a few essential points you need to consider when choosing a basketball hoop for your child.
Safety Tips
Make sure the basketball hoop is sturdy and durable.
Choose activities that are suitable for the age and skill level.
Do not swing or hang on the basketball ring.
Ensure the base of the hoop is weighed down with sand or water.
Should know the rules and how to play safely.
Unless playing indoors, wear the right shoe (basketball sneakers) to prevent leg injuries.
How To Choose The Right Basketball Hoops For Kids
Material: While choosing a basketball hoop, look for high-quality, sturdy, and durable hoops. It would be best if you considered your child's age and strength while picking a hoop. Always make sure the rim and stand are made of premium steel, which is strong enough not to bend or break easily. Likewise, the blackboard should be made of polycarbonate, which is virtually unbreakable compared to acrylic and tempered glass. Although it may not have a bouncing effect, it is safe to use for kids.
Design: Basketball hoops come in different types and sizes, and the design you choose depends on where you want to place it. While some can be attached to a wall or hung on the back of a door, others can be positioned on the ground. That said, the design may also vary depending on how old your child is. If you want to avoid purchasing a basketball hoop now and then, it's wise to opt for the one that features a height-adjustable system. This allows you to adjust the height of the hoop as your child grows bigger and taller. It will last for many years or until your kid is too tall to use it.
However, if your child is below 3 years old and you are looking to buy a basketball hoop to keep them entertained during playtime or bathtime, go for a mini hoop that can be stuck to the wall, bathtub, or faucet.
Safety: Make sure the product is made of BPA-free, lead-free, and non-toxic materials and is robust enough to withstand constant use. When it comes to safety, the base of the basketball hoop also plays an important role. A base that can be filled with sand or water is sturdy and much more stable than the one made of plastic, which is light and has high chances of toppling over.
Letting your child play basketball at an early age is not only a great way of harnessing their extra energy and enthusiasm, but it is also fun, and they get to learn a new sport. You don't even need a range of gear to play or practice. All you require is the right basketball hoop, a ball, and you're good to go. Whether they play solo or in a team, your child will be able to improve their basketball skills with a home basketball hoop. We hope you find something that suits your requirements in our list of the 11 best basketball hoops for kids.
Why Trust MomJunction?
We have compiled this list of the best basketball loops for kids after considering the quality, features, and safety parameters. We have scoured through online reviews and product descriptions before shortlisting the best options available in the market. Each product also includes the pros and cons and the post has a buying guide so that you can make the right choice based on your requirement and preference.
Recommended Articles: