You may not like scrubbing and cleaning the dirt in the bathroom. However, with a power scrubber, bathroom cleaning is no longer a difficult task. Bathroom scrubbers minimize your workload and shorten the cleaning time by eliminating stubborn stains in a few minutes.
They are designed to remove bacteria, soap scum, stains, mildew, and watermarks on bathroom accessories and shower surfaces. The power scrubber comes in various sizes and has a range of uses. To help you find the right cleaner, we have listed the 13 best bathroom scrubbers to meet your cleaning needs and make this tedious job more comfortable.

Top Products From Our List
13 Best Bathroom Scrubbers
The kit includes three brushes of different shapes and sizes for cleaning bathroom surfaces. These power brushes are made of medium-hard nylon bristles that can be connected to any cordless drill. Use these power scrubber brushes to clean sinks, bathtubs, shower doors, fiberglass enclosures, baseboards, and porcelain.
Pros:
Convenient to change heads
Have corrosion-resistant plating
A round brush is useful in cleaning corners
Affordable
Durable
Cons:
A set of three different brushes, Holikme can effectively clean tiles, floor, bathroom surface, bathtubs, grout, etc. This power scrubber comes with an extended reach attachment, which makes it easier to clean hard-to-reach spaces. The scrubber is made of durable stainless steel.
Pros:
Nylon bristles may not clean surfaces
Attachments fit most of the cordless drills
Magnet and slip joint promises better control
Can be used for different cleaning purposes
Saves time and energy
Cons:
May not be useful in cleaning corners
Homitt offers a pack of ultra-wide brushes, a small flat brush for cleaning smaller areas, a round stiff brush for cleaning bathtubs, sinks, toilets, and a corner scrubber for cleaning grout, edges, and corners. The high-quality cordless bathroom scrubber is powered by rechargeable batteries, which can run for 1.5 hours on a complete charge of 3.5 hours, depending on the cleaning area's size. It has a rotation speed of 300 RPM.
Pros:
Allows adjusting and tilting the heads
Comes with a 21-inch extendable handle made of stainless steel
Useful in cleaning hard-to-reach areas
Includes brush heads for different cleaning needs
Has waterproof brush heads
Cons:
Amazer offers a pack of two manual scrubbers with ergonomically designed handles to make cleaning the bathroom comfortable and fast. These bathroom brushes have super tough fibers and can effectively clean difficult-to-clean dirt. The brush set is designed to clean toilets and tiles, walls, floors, carpets, and different surfaces.
Pros:
Made of durable and stiff bristles
Quick to dry
Designed for heavy-duty cleaning
Dishwasher safe
Ideal for cleaning large areas
Cons:
May not be suitable for circular scrubbing
You can use Tilswall electric bathroom scrubber to switch from manual to automatic cleaning. Rechargeable batteries power the rotating scrubber, so you save energy, time, and effort. The electric scrubber is made of metal and has a patented poly-ring structure. Four multifunctional brushes with thick and long PC bristles allow you to clean the bathroom effectively.
Pros:
Durable and strong design
Comes with a corner as well as point brush
Designed to withstand high resistance
Comes with over-discharge and overcharge protection
Allows handle adjustments
Cons:
Brush heads may be difficult to change
Mengku scrubber has a long plastic handle and a flexible head for removing dust. You can also conveniently bend it to fit different spaces and clean hard-to-reach corners. The bathroom scrubber is made of plastic and alloy.
Pros:
Triangle head design scrubber makes cleaning easier
Comes with a detachable duster
Can be used for cleaning ceilings
Has sturdy bristles
Lightweight design
Cons:
A battery-powered bathroom scrubber, Meco is equipped with three replaceable brush heads. Its latest handheld design makes cleaning more comfortable and faster. You can effectively clean the bathroom with the cordless electric scrubber that can rotate 360 ​​degrees and provide a rotation speed of 350 RPM. The electric spin scrubber can work continuously for up to 60 minutes when charged for four to five hours.
Pros:
Lightweight and compact design
Has ergonomically designed handle
Different brushes meet different cleaning needs
Waterproof construction
Comes with an LED battery indicator
Cons:
Bristles may not last long
Matcc's telescopic handle extends from 30.3 inches to 42 inches to achieve better cleaning results. The brush head is made of high-quality PP material, which can clean the touch areas. The 180-degree rotation angle makes cleaning more convenient.
Pros:
Has a non-slip ergonomic handle
Lightweight and sturdy pole
Comes with a hook for easy hanging
Useful in cleaning grout lines
The triangular design promises better reach
Cons:
Movement of the head may be difficult to control
Two pieces of the rod may be difficult to stick together
Broteen's cordless bathroom scrubber is equipped with three replacement brushes and runs on batteries. The electric spin scrubber can run up to 30 minutes, and takes about three hours to charge fully. The 360-degree rotation and high spin speed meet different cleaning needs. The long adjustable extension handle allows you to clean the bathroom comfortably.
Pros:
Has waterproof brush heads
Comes with durable bristles
Different brushes take care of extra cleaning needs
Heads can be tilted to an angle of 45 degrees
Has a light indicator for the battery
Cons:
The length of the extension may be on the lower side
Fruiteam's spin scrubber is equipped with three different brush heads and an extension rod to make cleaning easier and more comfortable. It is made of upgraded ABS+PC, which can extend the life of the scrubber. The electric scrubber has a generous power storage capacity, which can run continuously for more than 60 minutes.
Pros:
Waterproof design
Can be charged by turning off the switch for safety
Ergonomic design
Offers convenient corner cleaning
Cons:
May require applying a lot of pressure to clean surfaces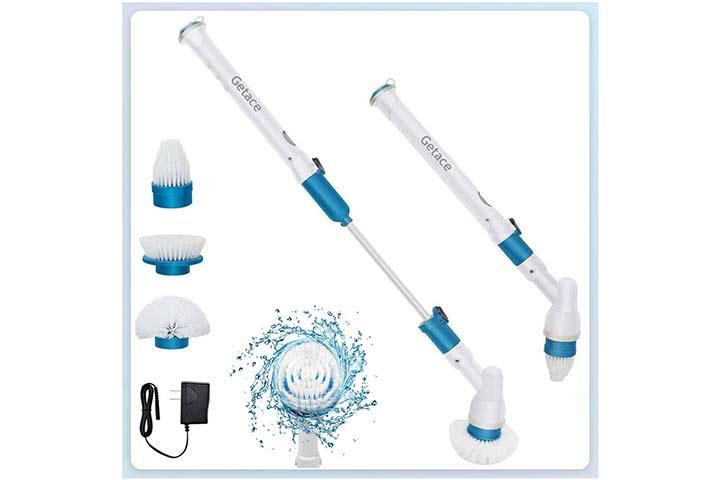 Getace offers a cordless design with a 21-inch stainless steel extendable handle, which can easily clean corners and high areas. The powerful electric scrubber can run for more than 60 minutes under a continuous power supply to clean your bathroom. Three different brush heads make it convenient to use.
Pros:
Designed for long-lasting performance
Has resistance against splashing water
Labor-saving and efficient design
Easy to install and use
Cons:
Whether it is a shower area or the toilet, you can use Acrimax upgraded scrubber can keep your bathroom sparkling clean. The high-spin scrubber, equipped with a 2000mAh battery, can remove stubborn stains. It has five replaceable brush heads that allow you to clean different surfaces effectively.
Pros:
Noiseless and flexible design
Comes with an extended pole for better reach
Cordless scrubber
Waterproof design
Offers use time of over 60 minutes
Cons: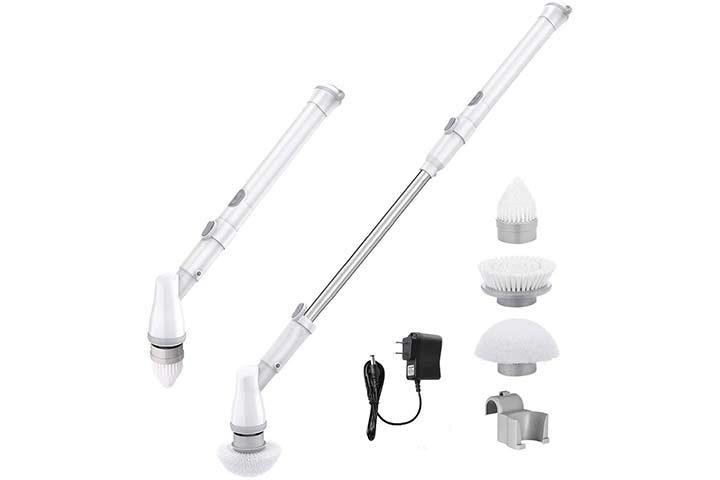 GaoXin electric scrubber has high rotating power to scrub any dirt in the bathroom or house. Equipped with a 2000mAh battery, it can last for more than 60 minutes after 3.5 hours of charging. The 360-degree rotation ensures quick cleaning without interruption. Its three different brush heads make it a multifunctional scrubber.
Pros:
Portable design
Offers noiseless performance
Comes with durable and flexible bristles
Water-resistant design
Has an anti-overcharge feature
Cons:
May take longer to charge
Important Features To Consider Before Buying A Bathroom Scrubber
Selecting a good bathroom scrubber is much easier when you know what to consider while buying one. We have come up with a list of features one must look into:
Brush heads: The effectiveness of cleaning depends on the brush heads. Brush heads vary in shape, size, and performance, so they are an essential feature of high-quality bathroom scrubbers.
Extension handle: A scrubber with an extended handle is ideal for cleaning hard-to-reach corners and high areas.
Bristles: Choose a scrubber with flexible and durable bristles. You can choose hard, medium, and soft bristles to ensure that the surface is not damaged.
Additional use: But a scrubber that can be used for various other cleaning tasks in the house.
Frequently Asked Questions
1. Can I use an electric scrubber with any cleaner?
You can use an electric scrubber with any cleaning agent because cleaner choice depends upon the cleaning surface.
2. Does the bathroom scrubber need maintenance?
After using the scrubber, it needs to be dried to evaporate any chemicals absorbed during the cleaning process. Therefore, make sure to wash the scrubber's bristles with water and soap after cleaning, to improve durability.
If you want the bathroom to shine, you need to use a high-quality scrubber. With the right scrubber, cleaning the bathroom is not necessarily a tedious task. Choose one of the 11 best bathtub scrubbers to eliminate stubborn water stains and dirt in the bathroom.
Recommended Articles: 
The following two tabs change content below.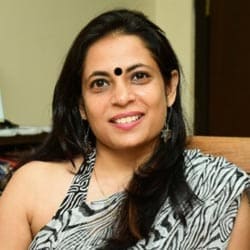 Priti Bose
Priti Bose is a poet, songwriter and blog writer. She did her masters in English, Public Relations and Advertising. Her creative skills and hunger for details make her do in-depth research on the topics she covers. For MomJunction, she writes on product analysis and reviews, especially for kids' products, toys and gifts. Before her association with MomJunction, Priti worked in the...
more