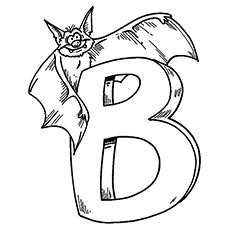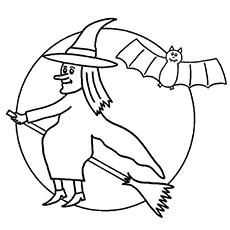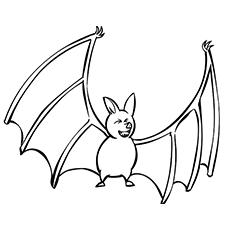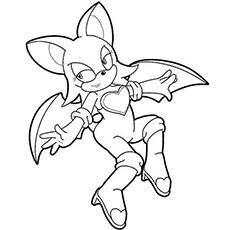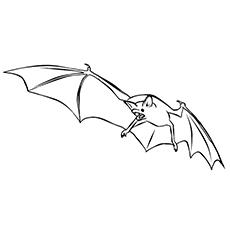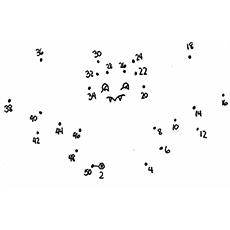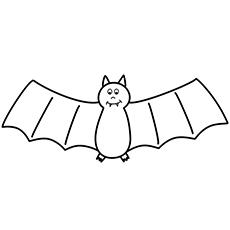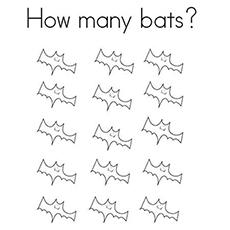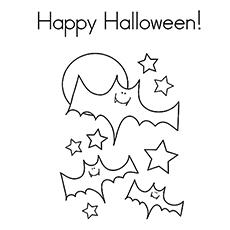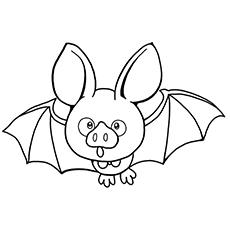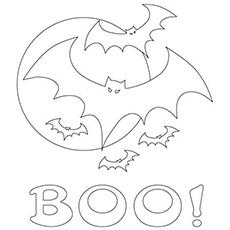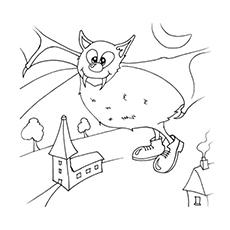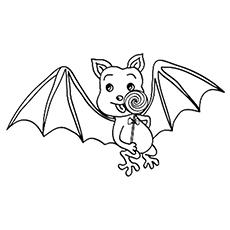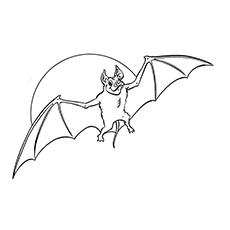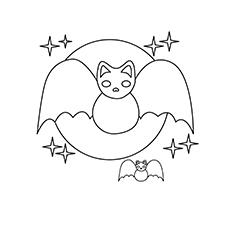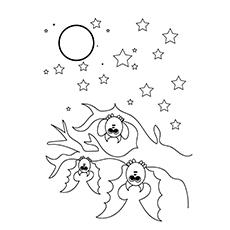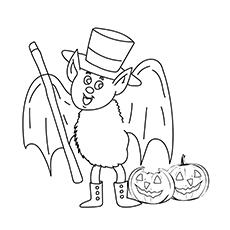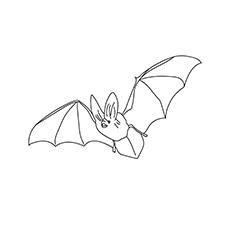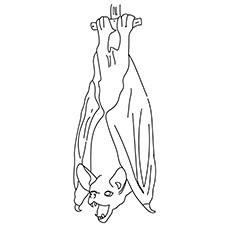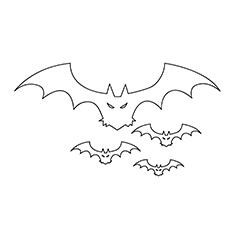 Recommended Articles:
Kids of all ages love to color. It is one such activity that intrigues and interests every youngster. So why not capitalize on this love for coloring that your kid harbors? How about using it to make learning fun for your kid?
We have one such interesting coloring page activity for your kid that will surely keep him busy. These bat coloring pages will make sure that your little bundle of activity remains engaged for some time!
20Â Best Bats Coloring Pages
Kids hold deep fascinations for all mysterious things. Bats are counted amongst the many mysterious animals and therefore, your kid is bound to find bats very interesting. Engross your kid with these interesting and highly engaging cute bat coloring pages to print.
1. The Posing Bat:
This image has bats in two different poses.
One pose shows the bat sitting normally.
The other pose shows the bat hanging upside down.
With this picture, you can show your kid how bats usually hang from the trees while resting.
[ Read: Halloween Cat Coloring Pages ]
2. The Simple Bat Outline:

Here is a bat coloring picture that is very simple.
This image is appropriate for kids who are just learning how to use colors.
The design shows only the outline of a flying bat.
You can get your kid to fill in the outline in one solid color, urging him or her to keep the color from going out of the outlined shape.
3. Join The Dots And Color:
This image also doubles up as a learning activity page for your kid.
This is a great way to help your kid recall numbers from 1 to 50.
The dots are placed in a manner that after joining them, the picture of a bat is formed
These activities will double your kid's fun to fill in the color, as he or she has made an effort to join the dots.
[ Read: Three Little Pigs Coloring Pages ]
4. The Cute Bat:

This is another very interesting bat picture.
The image features a flying bat.
The bat has babyish features that will look cuter after coloring.
After coloring this cute bat, tell your kid to stick it in his room.
[ Read: Panda Bear Coloring Pages ]
5. The Halloween Bat Poster:

This bat image can also be used as a Halloween poster.
It features a number of bats flying around.
There is also a moon in the background.
Bats are symbolic of Halloween due to their mysteriousness, and your kid will love coloring this page!
6. Hang On Bat:

This bat is sure to give your kid some coloring fun.
The page features a bat hanging upside down.
The bat has lost its grip and is trying to maintain its balance while holding on with one claw!
This one will definitely tickle your kid's funny bone.
[ Read: Ant Coloring Pages ]
7. The Moon And The Bat:
This is another intriguing bat coloring image.
Here you have a bat flying with the moon in the background.
The moon is flanked by some stars as well.
It is a very interesting coloring page that could easily double up as an interesting poster for your kid's room once colored!
8. 'B' Is For Bat:

This bat picture also helps your kid recall the alphabets.
The image shows a big bold letter B and a bat accompanies the letter.
Not only is this page interesting, it also helps your kid learn the usage of the letter B.
[ Read: Leopard Coloring Pages ]
9. The Scary Looking Halloween Bat:
This image features a flying bat.
The bat is seen flying against the backdrop of the moon.
This page is symbolic of the Halloween celebrations.
The bat in this picture has an eerie feeling to it that your kid will love.
[ Read: Big Bird Coloring Pages ]
10. I Am A Bat:
This coloring image is simple yet fun!
It features a bat with its wings spread out.
It is a simple design and is a perfect way to help your kid learn more about this flying mammal!
11. The Witch and the Bat:
Do you read bedtime stories to your child? Which story is his favorite? If your child loves to hear the story of wizards and witches then he will love coloring this picture. The witch on the broom is a very common picture in all fantasy tales. Those children who love watching Harry Potter will definitely love coloring this picture of a witch on a broom and the flying bat.
Guide your child to use the right colors to create the light and shadow effect. Make the moon on the background pale yellow to add the touch of enigma to this picture.
12. Big Eared Bat:
Townsend's big-eared bat (or Corynorhinus townsendii) is a species of vesper bat. Townsend's big eared bat is a medium-sized bat with extremely long and flexible ears, thus the name. These bats can be easily identified for their nearly uniform colored bodies. The total length of the body is 10 cm or 4 inches, its tail being 5cm or 2 inches and wingspan is 28cm or 11 inches. Many North American bats are affected by white nose syndrome but bats of the Townsend species are not affected.
The background shows a jungle. So guide your child to color the background appropriately and make the picture look larger than life. Give your child interesting trivia regarding the big eared bats, and also help your child to find out more about different type of bats.
13. Rouge Bat:
Rouge the Bat is a videogame character in the Sonic the Hedgehog Series released by Sega. She is a treasure hunter and a part time government agent who wants to own all the gems and treasures in the world. This Rouge Bat loves to own the Master Emerald and Chaos Emeralds. She made her first appearance in Sonic Adventure 2.
Rouge is an 18 year old bat with white hair; she wears a black body stocking and a pink heart-shaped breastplate. Her arm length gauntlet and thigh high boots complete the look. The boots have pink heart shapes on the toes which she uses to dig treasures. In Sonic Heroes and Sonic Riders she is seen wearing different outfits but the heart shape remains a constant feature.
If your child is addicted to video games then he or she must be aware of Rouge Bat. This playful character is every child's favorite!
14. Happy Looking Bat:
This is a happy looking bat with a smiling face. The bat is wearing a hat and is looking like a magician. He is showing a magic trick with a stick. The round eyes and long ears make him look funny. Kids will love coloring this magician bat.
Children usually love watching magic shows and they will connect with this picture immediately. He will color the bat just like the magician he has seen performing on the stage. But make sure he uses bright colors rather than just sticking to black. You can encourage him to add some confetti or balloons on the background to make the picture brighter. This picture gives ample scope to your little angel to use his or her imagination to the maximum extent.
15. Angry Bat:
Can you guess why this bat is looking angry?  There is a sense of mystery in this picture that will make your child curious. He would want to know whether bats are really scary or angry in nature.
In animated movies bats are mostly represented as a spooky creature. Mainly they are found in haunted houses or in abandoned buildings. If you hear their flapping wings in the dark, it will surely make your blood curdle!
You can watch the film Hotel Transylvania as a treat with your child. Your tot will get a fair idea about how a bat exactly looks like.
16. Bat With Boots:
Your child will enjoy coloring this wide-eyed smiling vampire bat. Vampire bats have sharper fangs which help them to suck blood. These bats are named vampires because they suck blood just like the fictional character vampire.
Don't let the sharp fangs scare you! This one is a cute bat wearing boots. The bat is flying high and we can see houses below. The moon is also shining bright, suggesting it is night. Bats are nocturnal creatures and they can only see at night, during the day they can't see anything.
This picture has a descriptive background that your child will enjoy coloring. This picture gives ample scope to use imagination and experiment with colors.
17. Red Fruit Bat:
The red fruit bat or red fig-eating bat (Stenoderma rufum) is a species of bat in the family Phyllostomidae. This type of bat is usually found in Puerto Rico and the U.S. Virgin Islands. Its natural habitat is sub-tropical or tropical dry forests.This type of bat has 34 teeth which are elongated and flat for chewing fruit.
You can show pictures of the red fruit bat to your child and guide him to research more about bats. This coloring page will make your child inquisitive and he would want to know more about bats. Give your child the scope to research and find out the answers to the questions that come to his mind. This will make the coloring session an enriching learning experience for your little one.
18. Boo Says the Bat:
It is actually difficult to hear a bat's vocalization because their chirps have a higher pitch than humans can hear. It is greater than 20,000Hz. All you can hear are their wings flapping.
The 'boo' sound is actually a sound of discouragement but it can also be used to refer to your dear one. Maybe, the bat is referring to his best friend as boo. Your little one must be calling his best friend with a special name, so does this little bat!
There are many details in the picture that will keep your child busy for hours. Also the background is kept plain so that your child can use his imagination and fill it in. You can also guide him to color this picture correctly and make it look realistic.
19. How Many Bats:
This coloring page will test your child's number skills. If you have taught your child numbers already, then you can check how much he actually remembers. So this page can be used as an effective learning tool.
This page will give your child enough scope to experiment with colors. Don't be surprised if your child colors each bat with his favorite shades. So the end result will be a page full of multi-colored bats.  Children love bright colors very much so they use such colors on almost every picture. You can either let him use his imagination or guide him to use the black color for these bats.
20. Bat Eating a Lollipop:
This is a very cute looking bat eating a lollipop. Your kid will instantly connect with this pint-sized bat licking the lollipop. Children love eating candies and ice cream, which are sweet and looks colorful. So coloring this page will be easy and fun!
Bats may not be that dangerous as it looks. There are many animated films on bats that your child can watch at home to become familiar with this creature of the night. Finding out more about bats will help your child to develop interest towards this mysterious animal. Give him enough scope to make his own decisions and use his imagination while coloring these pages.
Give your kid scope for some awesome coloring fun by gifting these free printable bat coloring pages for them! Don't forget to share your views with us!
We hope you liked our collection of bat coloring sheets. Do share your kid's bat coloring pictures after he has colored these. Till then, happy coloring!
DISCLAIMER: All images found here are believed to be in the "public domain". We do not intend to infringe any legitimate intellectual right, artistic rights or copyright. All of the images displayed are of unknown origin. If you are the rightful owner of any of the pictures/wallpapers posted here, and you do not want it to be displayed or if you require a suitable credit, then please contact us and we will immediately do whatever is needed either for the image to be removed or provide credit where it is due. All the content of this site are free of charge and therefore we do not gain any financial benefit from the display or downloads of any images/wallpaper.
The following two tabs change content below.