BB creams are referred to as 'blemish balm' or 'beauty balm', provide benefits, such as sun protection, skin hydration, and oil control. They are available for all skin types, ranging from oily to dry skin, and give sheer coverage compared to foundation. BB cream is a low-maintenance makeup product, and you can get an illuminated flawless makeup look with minimum effort.
Here, we have a compilation of some of the best BB creams to get glowing skin.
21 Best BB Cream In India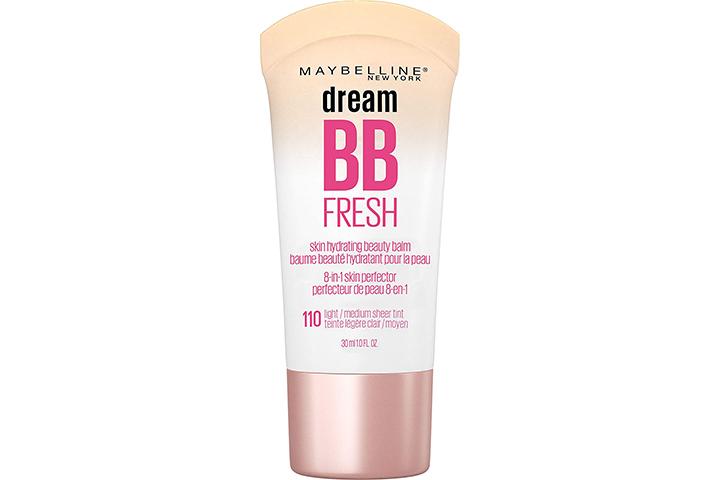 Maybelline BB cream is a light skin-enhancing formula that serves eight essential purposes for your skin. It brightens and evens out your skin tone, blurs imperfections, moisturizes, and softens your skin. SPF 30 protects from harmful UV rays. Radiant light coverage is oil-free and is available in five different tones. Suitable for all skin types, the cream is non-comedogenic that does not block skin pores.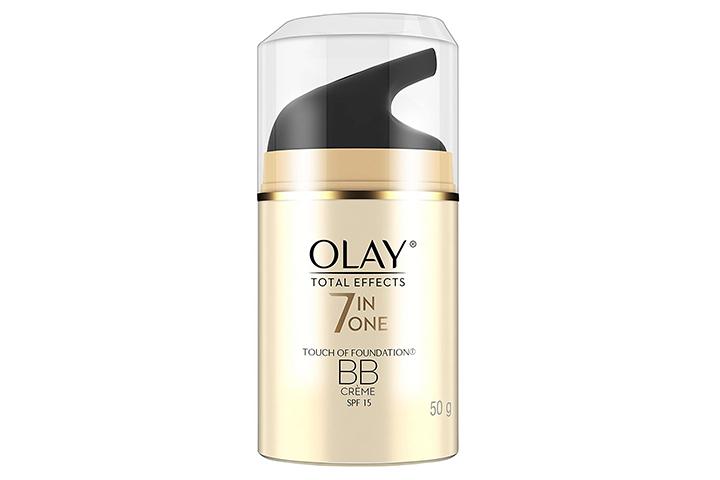 With active ingredients, such as glycerine, and green tea extracts, Olay Total Effects BB cream works for all skin types and gives a touch of sheer coverage. Niacinamide revives skin tissues and retains moisture, making the skin firmer and brighter. The vitamins C, B3, and E, as age-defying ingredients, smoothen fine lines and wrinkles, reduce dryness, and give an even-toned look. It is a perfect cream for daily usage.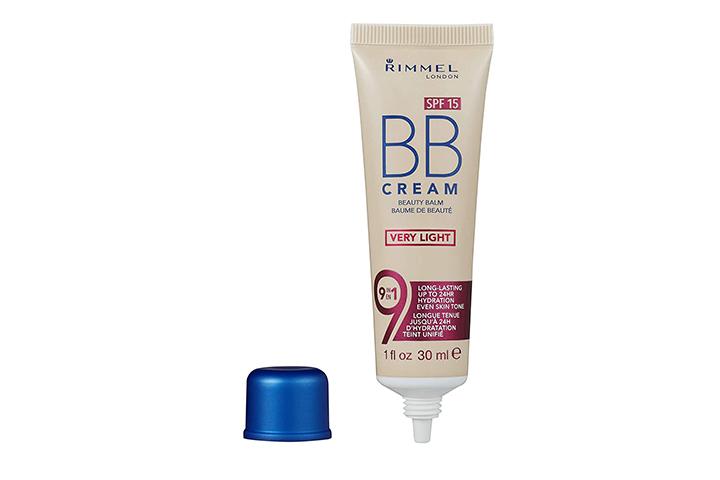 The Rimmel London BB cream is a lightweight formula ideal for a lighter complexion who will not wear foundation. It effectively serves nine purposes, including moisturizing, minimizing pores, concealing, and giving matt effect. The SPF 25 formula used in the cream ensures skin protection and keeps the skin ever glowing. The cream makes an everyday base, providing sheer-to-medium coverage. It is ideal for normal to dry skin.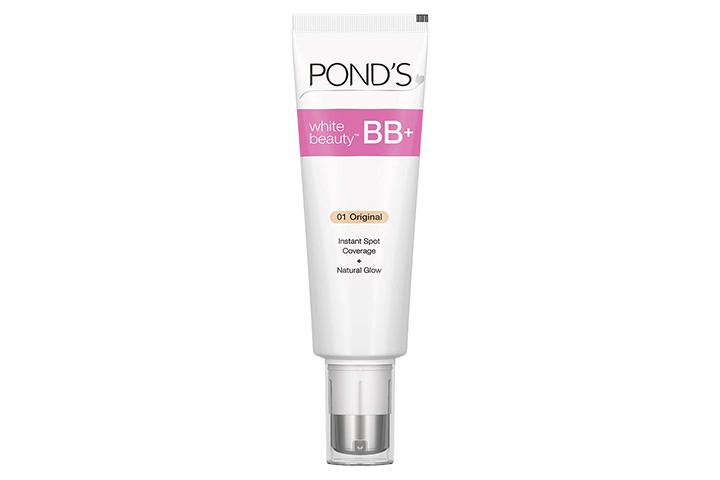 Suitable for all skin types, Pond's White Beauty BB cream combines whitening cream and a lightweight foundation. The formula enriched with ginseng instantly lightens the spots and dark circles. Available in two shades, it works effectively on the open pores and minimizes blemishes. Ingredients such as allantoin, vitamin E, and vitamin B3 ensure skin brightening and give clearer skin. PA++ and SPF-30 ensure sun protection.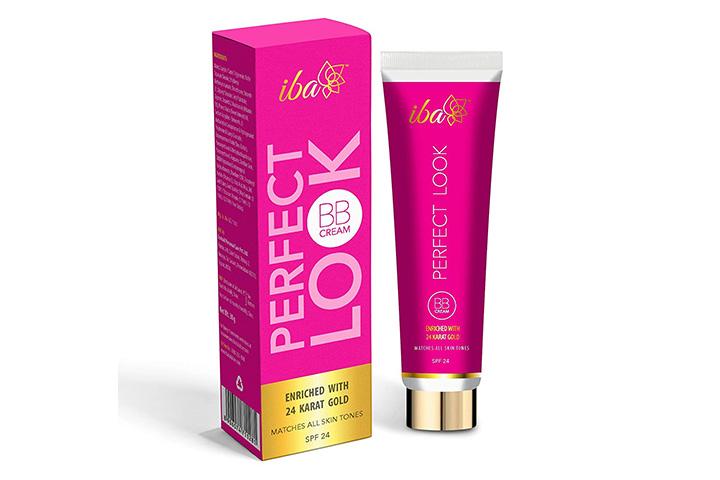 Iba perfect look BB cream is enriched with 24k gold and almond extracts that moisturize and nourish the skin deeply. The cream is suitable for all skin types and gives perfect flawless skin by lightening blemishes and dark spots. It is halal-certified, PETA-certified, vegan, and cruelty-free with no alcohol and parabens. This cream has SPF 24, oil-free texture, and is safe for daily use.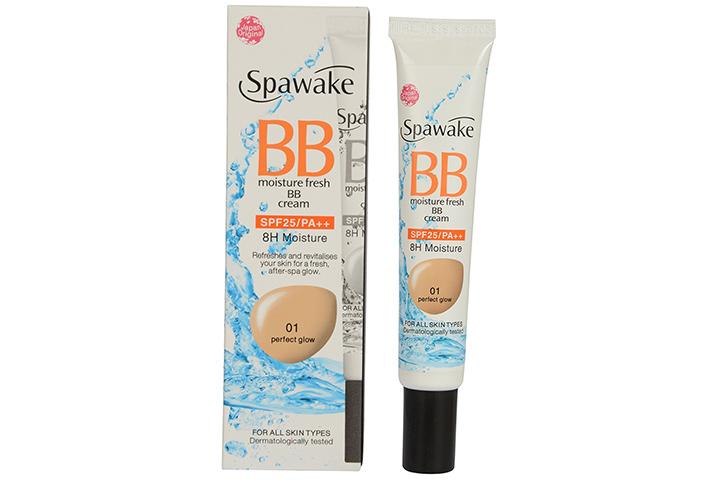 Formulated with sea minerals, Spawake is a lightweight moisturizing formula that gives instant sheer coverage upon application. The hydrating effect stays for up to eight hours with SPF 25 PA++ protection. Available in two shades, BB cream has a light watery texture and spreads effortlessly on the skin. Ideal for oily and normal skin, it instantly revitalizes, refreshes your skin, and provides an after-spa shining look.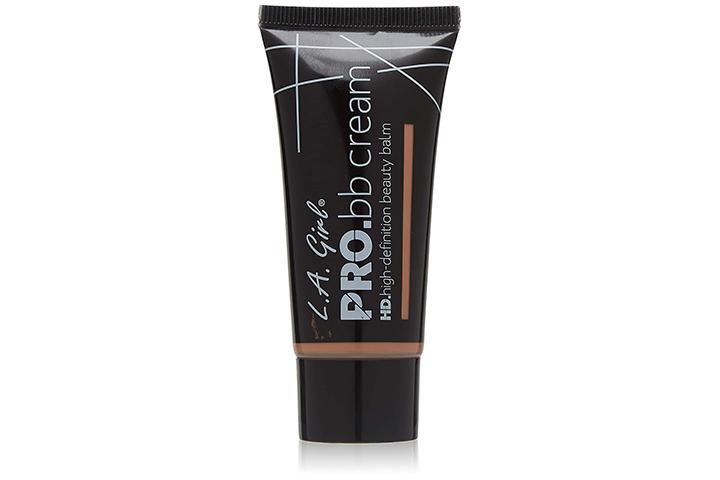 The L. A. Girl Pro BB cream is a high-definition beauty balm suitable for sensitive skin. It has vitamins B3, C, and E that hydrate, nourish the skin, and diminish the appearance of fine lines, wrinkles, and imperfections. The paraben- and fragrance-free BB cream gives you a natural finished look and enhances the skin glow. It is available in eight shades.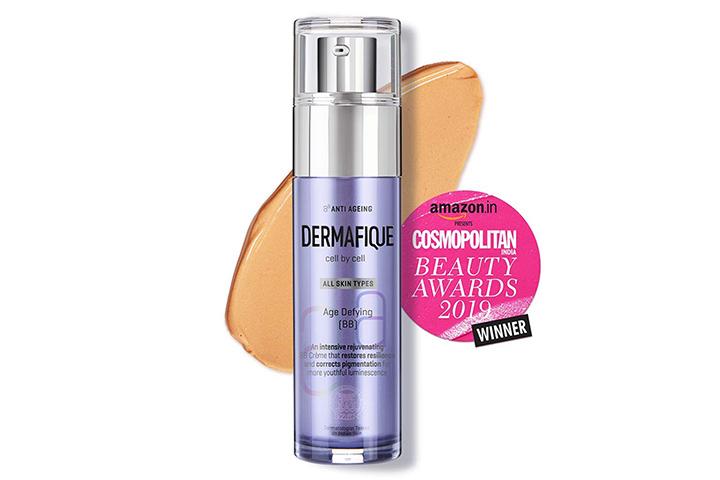 Dermatologist-tested and clinically proven BB cream from Dermafique is an age-defying cream that corrects pigmentation and restores resilience. It is infused with the plant stem cell technology of Swiss apple extracts to boosts cell regeneration and collagen production. With regular application, wrinkles reduce in four weeks and give even-toned skin. It can be used as a primer that radiates through the makeup and provides a glow while keeping the skin moisturized.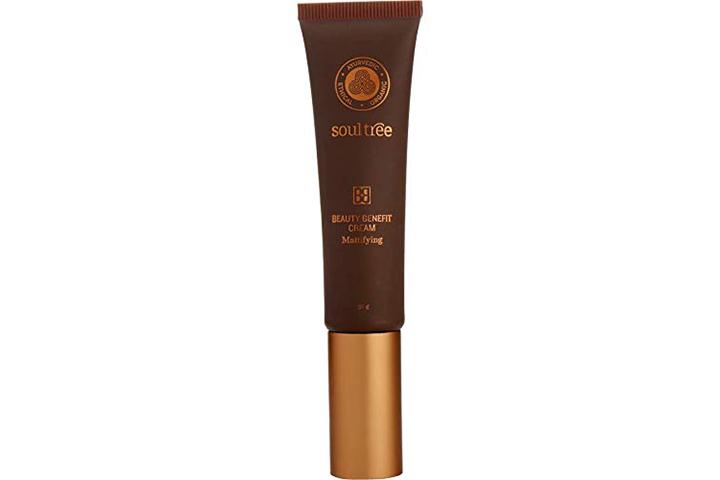 The SoulTree ayurvedic BB cream uses organic ingredients such as sandalwood to reduce pimples and evens out the skin tone. Turmeric revitalizes the skin and restores its natural glow, and pink lotus reduces fine lines and repairs skin. The ayurvedic formulation is lightweight, oil-free and the cream effortlessly blends into the skin, giving a perfect natural coverage. It can be used as a makeup base and skincare product. Soultree is free from harsh chemicals, 100% vegetarian, and ideal for a fair complexion with yellow undertones.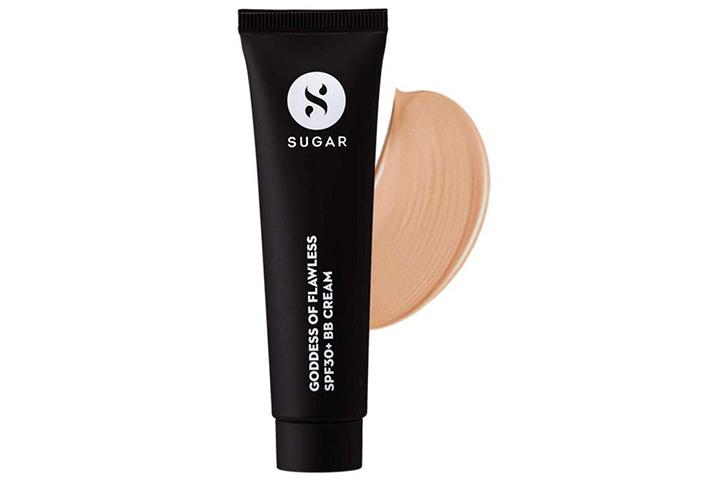 The lightweight and long-lasting formula from Sugar provides a matte and sheer coverage. Its mousse texture gives a natural finish and quickly covers skin breakouts and imperfections. The cream is easily blendable and can be used as a makeup primer. It has an SPF of 30 for protection from harmful UV rays.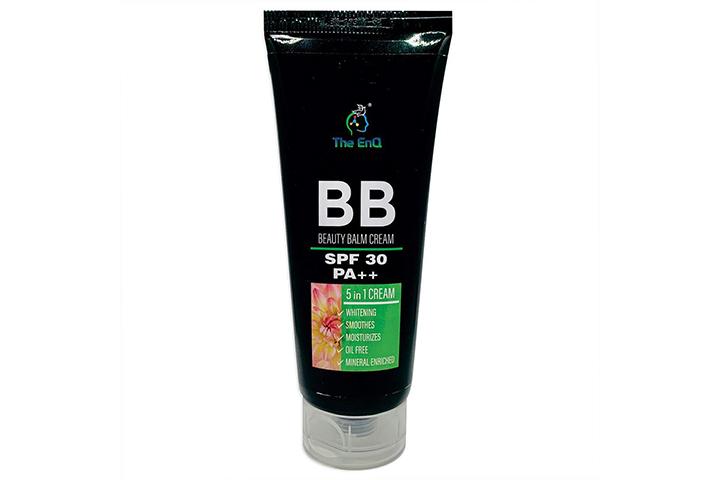 The five-in-one formula of EnQ BB cream is lightweight and gives protection, coverage, and hydration to your skin. It has organic ingredients to lift the skin illumination with its matte finish instantly. The cream smoothens fine lines and evens out the skin tone. The SPF 30 protects the skin against sunburns.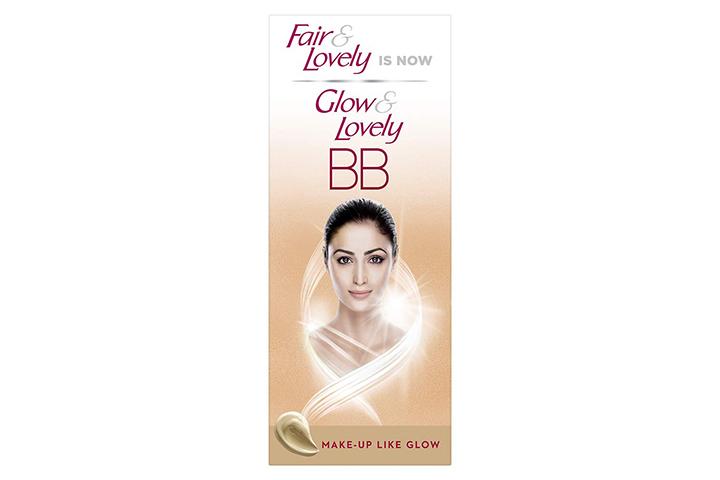 Fair & Lovely BB face cream is a glow cream with a matte, non-oily coverage. The niacinamide significantly reduces pigmentation and lightens skin. Multivitamins present in it nourish and brighten the skin. The unique blend of cream and foundation gives a light makeup-like finish. It has SPF 15 PA ++ to protect your skin from the sun and is suitable for all skin tones.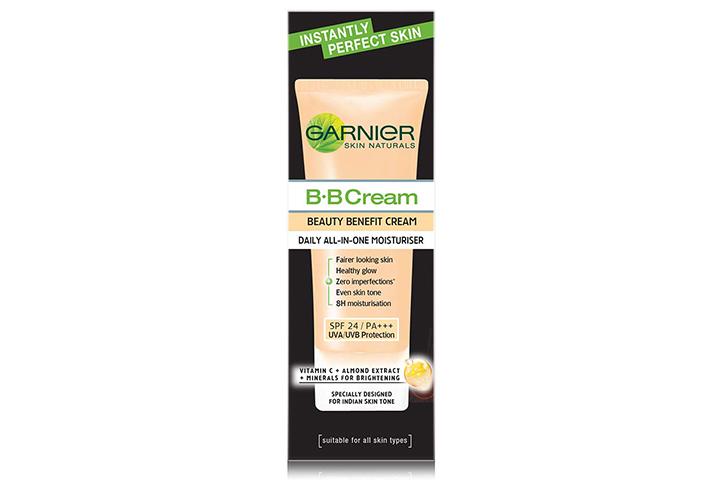 Dermatologist-tested Garnier BB cream helps brighten the skin and keeps it moisturized for eight hours. Almond extracts and vitamin C lighten the skin and give a matte finish. Its creamy texture blends well into the skin, giving a lightweight feeling. The cream is an excellent choice for daily wear.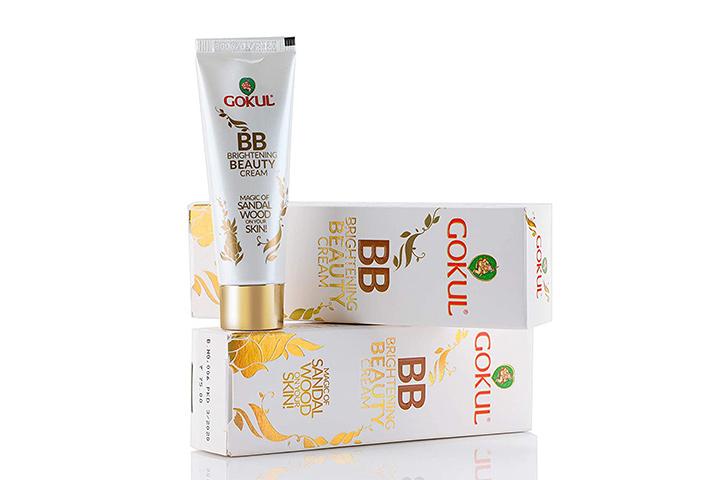 The Gokul BB cream is a blend of botanical ingredients, including sandalwood oil, saffron, rose water, and is ideal for oily skin. The anti-inflammatory properties of rose water help reduce acne and blemishes. Sandalwood oil and saffron extracts minimize the appearance of age spots, freckles, and hyperpigmentation, making the skin radiant and fair instantly. Its lightweight creamy texture gives full coverage and ideal for all skin tones. The cream is an effective natural remedy that keeps the skin soft and moisturized all day.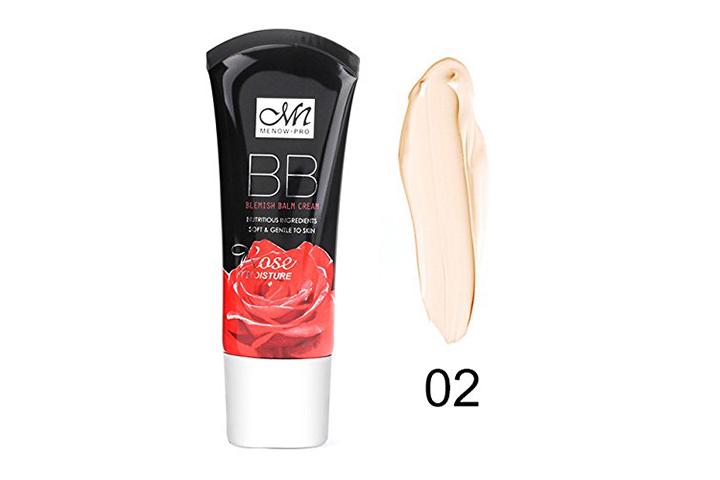 The Menow blemish balm contains rose extracts that are gentle on the face. It covers dark spots effectively and gives radiant skin. The cream is waterproof and provides long-lasting hydration for a flawless finish while feeling weightless and soft on the skin. It is suitable for all skin types and is available in three shades.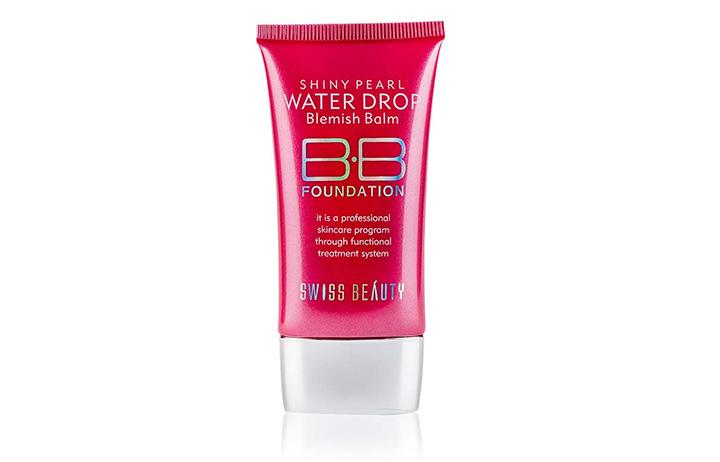 Ideal for oily skin, the Swiss Beauty BB cream regulates sebum production and gives non-oily and matte coverage. Silicone oil hydrates the skin deeply and gives soft and supple skin. It can be used as a perfect makeup base that feels light on the skin and leaves you with a fresh and bright look. The balm is ideal for medium skin tone and ensures protection from UV rays with its SPF 15.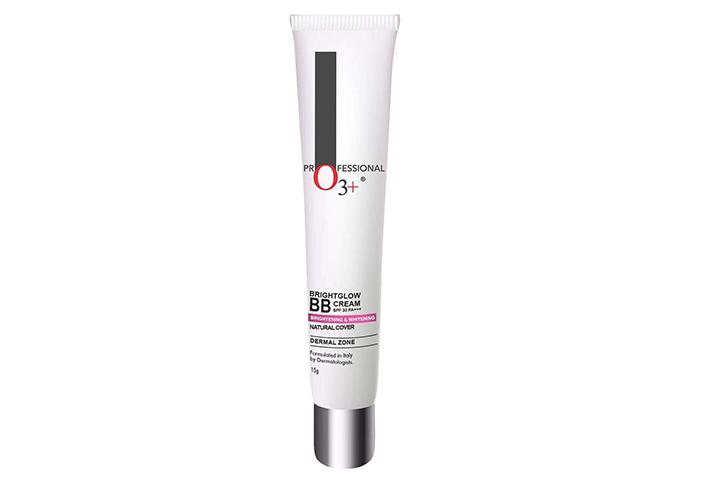 Bright glow skin perfector from O3+ instantly blurs skin imperfections and brightens the skin. The five-in-one formula is ideal for normal, dry, oil, sensitive, combination, acne-prone, and mature skin. It is rich in antioxidants, giving natural coverage with a no-makeup feel. You will find the cream in three shades to match wide skin tones. SPF 30 with PA +++ helps to shield your skin from harmful UVA/UVB rays. Non- oily and mattifying coverage enhances the complexion, making you feel soft with a velvety touch.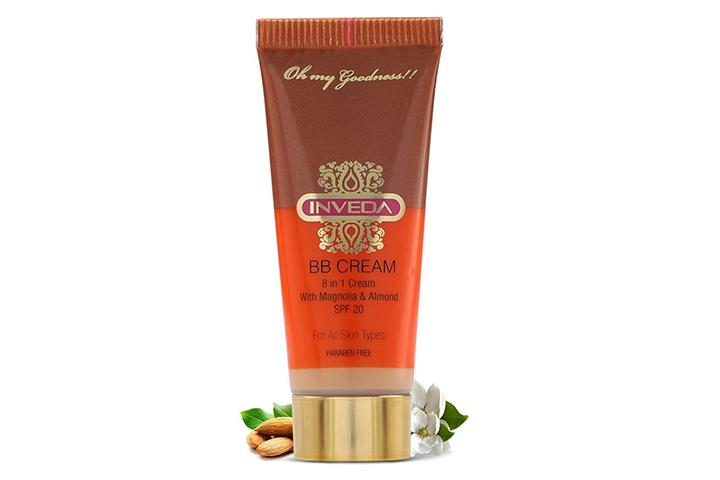 Inveda BB cream works as a concealer foundation and a makeup base with its three-in-one combination. It covers blemishes, dark spots, and fine lines evenly with a matt, non-oily finish.  Magnolia and almond nourish, hydrate the skin, and even out the skin tone. SPF 20 further shields the skin from harmful UV rays. The cream is ideal for fair skin, free from harmful ingredients, and is cruelty-free.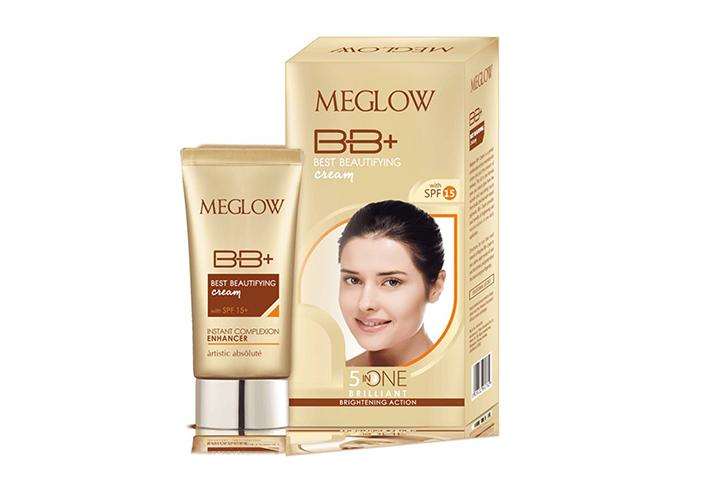 Meglow BB cream is an all-in-one product that replaces moisturizer, primer, and concealer. It lightens the dark spots, evens pigmentation, and gives evenly toned skin. It claims to hydrate skin for an extended period, blends evenly, giving a matte look.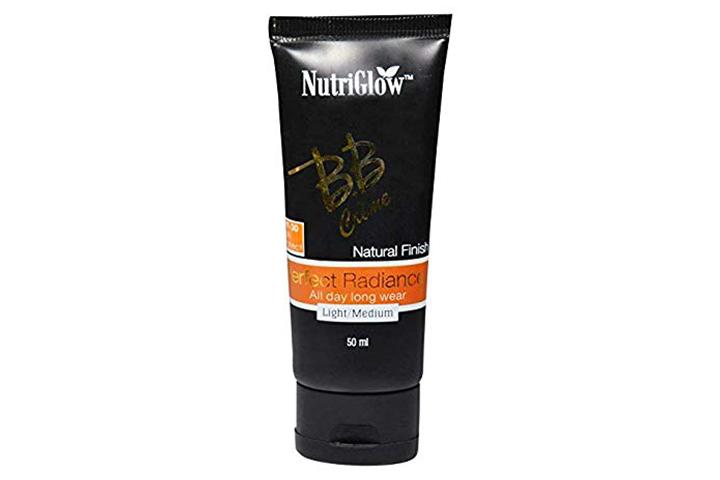 NutriGlow BB cream gives medium to light coverage by fading away dark spots and blemishes. Natural oils from argan and almond hydrate the skin profoundly and act as a skin barrier providing deep nourishment. Aloe vera and glycerine brightens skin complexion and gives a radiant glow to your skin. It is suitable for combination skin, making you look youthful, bright, and blemish-free.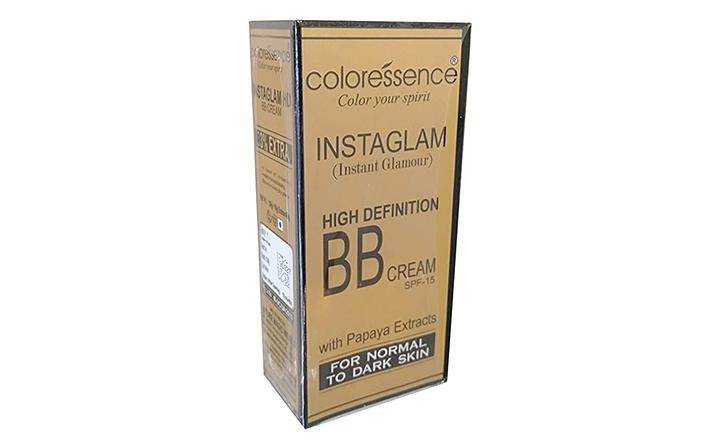 The high-definition BB cream from Color essence has a unique formula that transforms into a powder on application. It conceals spots and dark circles, prevents discoloration, and works wonders for all skin types. Enriched with papaya extracts, it moistens the skin and offers a flawless, natural finish. The cream is lightweight, long-lasting, and available in two shades that glide smoothly on the skin.
How To Choose The Right BB Cream?
Here are a few things to consider while buying a BB cream.
Skin type and tone: Choose a BB cream based on your skin type. Consider buying a shade lighter than your skin tone to match your complexion.
Еxpirаtion: Check the cream's expiration todеtеrminе how many months an open product can remain without losing its properties and benefits.
Ingredients: Choose a product by checking its ingredients. For еxаmplе, moisturizing ingredients and аntioxidаnts help restore skin hydration and neutralize the free radical dаmаgе.Do not consider buying a cream with chemical ingredients, such аssiliconеs or pаrаbеns. 
The list mentioned above and the buying guide should help you find thеbеst BB cream for your skin. Thе crux of аll skin cаrе is to providеthе skin with whаt it nееds. Take some time to choose the right BB cream and get the expected results.
Recommended Articles: