Are oven mitts giving you a hard time while handling hot pans or grilling? Quit suffering, and get yourself the best gloves for BBQ! After all, you wouldn't want to "ahh" and "ouch" in front of your guests while grilling the steaks, right? These ultra-protective gloves are designed to provide a blister-free BBQ experience to all – be it amateur or pitmasters! And that's not it; the gloves are highly multipurpose too. So, whether you are looking for the best gloves for BBQ or just exploring choices to pick your first, we have some great options lined up for you.
But, before we move on to the list, you must know about the four types of grill gloves:
Types of Grill Gloves:
Silicone Gloves – Like a second layer on hand, silicone gloves are lightweight, non-toxic (food-grade material), non-sticky, and easy-to-clean. However, their insulation layer may not offer strong heat resistance.
Fabric Gloves – They are highly resistant to heat, comfortable, and agile. But, when it comes to dealing with water or meat, they may not deliver high performance, because of their sticky outer layer. Fabric gloves are ideal for handling hot logs, hot pots, grilling plates, etc.
Synthetic Gloves – Synthetic gloves are highly dexterous and ideal for handling utensils or hot tongs. They are easy to clean and can be used to grab hot meat too. However, the insulation is not strong enough and may weaken further, if it comes in contact with water.
Leather Gloves – Time-honored and one of the safest options when it comes to heat-resistance, leather gloves are thick and deliver remarkable security. But to point out the downsides, they are not ideal for handling food and may be difficult to clean.
Now, who's ready to be gloved with the best? Check out our list of the 11 best BBQ and grilling gloves of 2021 below. (P.S – All of them are machine washable!)
Caution: Please note that these gloves are heat-resistant, not heat-proof. Their resistant power can last for seconds only. So, precautions should be maintained while dealing with boiling water or open flame.
11 Best BBQ & Grilling Gloves in 2021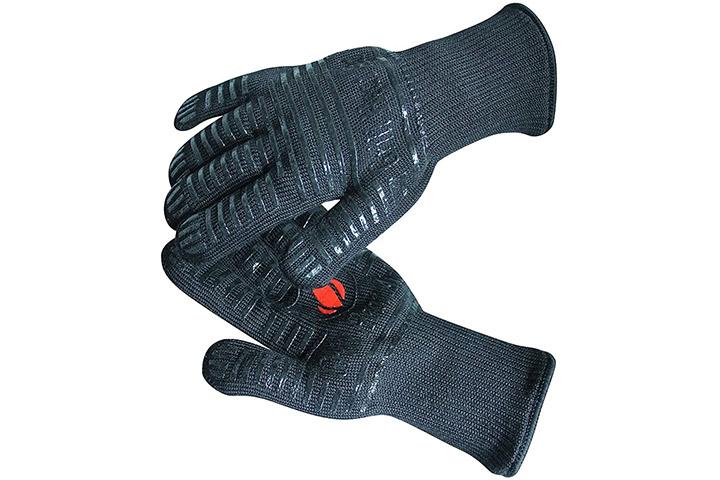 They may look like winter gloves, but these BBQ gloves can sustain through a high temperature up to 932 F! Designed with a textured grip to give the wearer a good hold on objects, its unmatched protection is the result of its heavy-duty construction. Made of 2 layers of premium-grade meta-aramid and para-aramid fibers that are also firefighter-approved materials, it ensures heat resistance for a long time. A great substitute to those flimsy and ancient pot holders, enjoy barbeque time to the fullest with these multipurpose protective gloves.
Pros:
Safe and EN407-certified heat-resistant
Highly-dexterous and protective
Durable and premium-quality gloves
Soft and breathable cotton lining on the inside for comfort
Can be used for handling grill grate, barbeque, hotplate, fireplace, etc.
Protects hands with an extended cuff
Cons:
Size may be an issue
May not work with wet objects or steam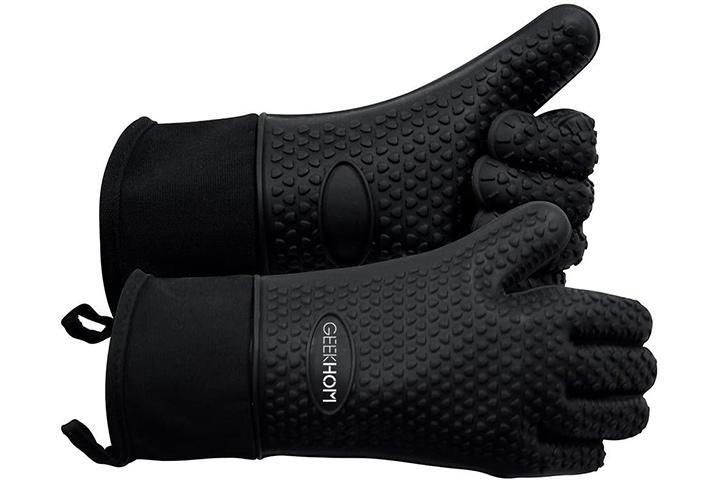 Is the fear of flying embers keeping you from grilling delicious steaks? Try these silicone grilling gloves for maximized and ultimate protection. Shielding from palm-to-arm, the inner layer is made of soft cotton and is moisture-wicking for a comfortable experience. Ideal for indoor and outdoor cooking purposes, it can protect your hands through a temperature up to 446 F. Also, its non-slip textured design cannot be overlooked! One can easily move or pick greasy objects without any fear of dropping it as the grip is remarkably strong and agile.
Pros:
Flame and heat resistant grilling gloves
100% waterproof and BPA-free
Durable, with double-layered heat-proof design
Space-efficient and environment-friendly
Washable and dishwasher-safe
It has hanging loops for convenient storage.
Cons:
Size may be too big for some
It may resist heat for less time than expected.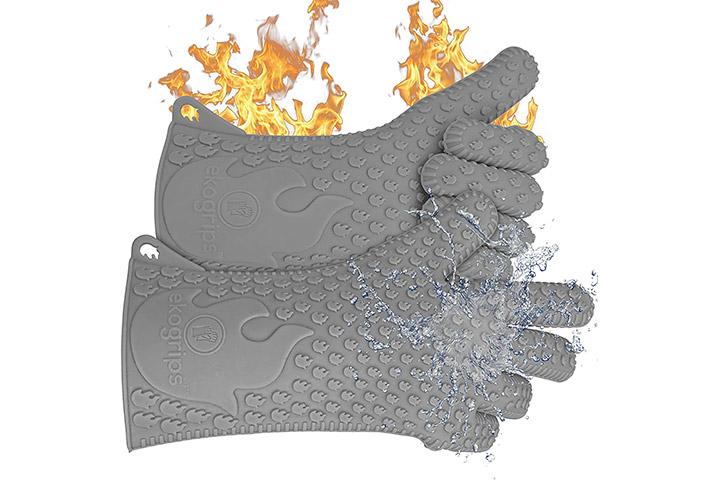 Nobody likes their turkey served cold. But, using those oven mitts may give you blisters all over! Hence, why you need Jolly Green Products Ekogrips Gloves in your kitchen. From dealing with hot water to picking up piping-hot meat from the grill, the gloves are heat-resistant up to 425 degrees! User-friendly, with insulated silicone, they are tear-free and waterproof too. A great option for chefs or home cooks who fancy grilling for their families, these gloves promise to keep your grilling experience, blister-free.
Pros:
Non-slip and highly-dexterous
Versatile gloves that can be used for other household purposes
No-stain and no-smell mitts
Comfortable and soft
Protects from palm to extended forearm
Durable, with good insulation
BPA-free and travel-friendly
Dishwasher-safe
 Cons:
Resists heat for a few seconds only
Sweat or dampness may turn them sticky inside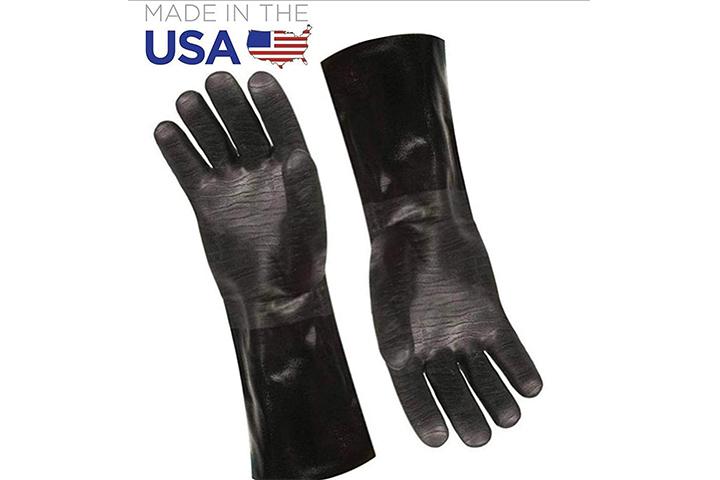 With a non-slip design that'll make you pro at grilling, these insulated BBQ pit gloves also promise an outstanding grip! Reach out to piping-hot meals without worrying about burns or blisters. Just like a second layer on your hand, these gloves look classy and deliver high dexterity too. Its outer layer is made of neoprene coating, which is FDA-compliant and ensures ultimate shielding. The inner layer, on the contrary, is made of soft cotton, thus letting the user slip on and take off easily. One of the best gloves for grilling, and handling cast iron pans, they are indeed a great add-on to the cooking arsenal.
Pros:
Resists heat, flame, steam, and oil
Tire-creased texture offers a good grip
Waterproof and flexible
Provides forearm protection
Melt-free and stain-free
Easy-to-clean
Ideal for camping, indoor and outdoor grilling purposes
Cons:
Not ideal for handling heat for a prolonged time
Color may wear off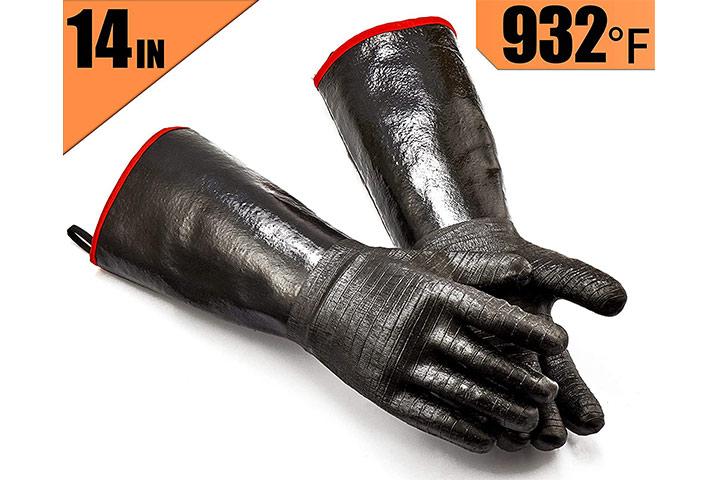 Since low-quality gloves can be toxic for food, try Rapicca BBQ gloves, for they are made of high-quality food-grade rubber material. Also, these rubber grill gloves have a neoprene coating, which makes them ultra-resistant to water and flame. Yep, an ideal combination for all pitmasters out there! With these gloves on (which fit up to your forearms btw!), all you have to care about is grilling a delicious meal for your family. And lest we forget, the inner lining is made of cotton, so you can wear it for long hours with ease. Want more? They are incredibly versatile and can be used for dying yarn, brewing beer, and other household purposes too.
Pros:
Resist heat up to 932 F
Insulated non-slip palm texture
Comfortable and safe
Double-layered protection
Melt-resistant, stain-free, and flexible
Easy to wash and clean
Shields against steam and hot water
Travel-friendly
Cons:
Bulky
May not resist heat for a long time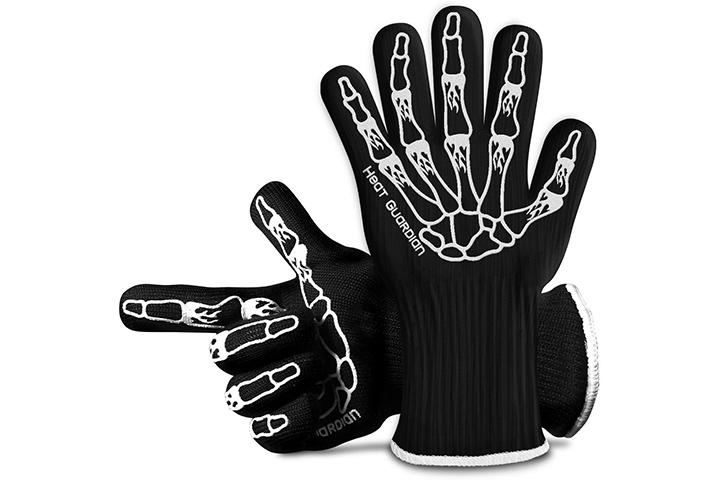 These gloves may look fancy, but they are sure-fire heat resistors! Defying extreme heat up to 932 F, they can handle anything and everything hot like a pro. Use it to flip steaks, remove hot pans, or to rearrange burning logs in the fireplace; they are ultra-comforting and flexible too. So, the next time you have a party and want to show off your pitmaster skills, these gloves are a great choice to kickstart your BBQ game. Also, they make great gifts.
Pros:
Heat resistant and non-slip design
Made of high-quality, long-lasting, and durable material
Protects from palm to lower arm
Easy to slip on and take off
Multi-purpose gloves
Easy to wash and clean
Three-month warranty
Cons:
Low resistance to steam and water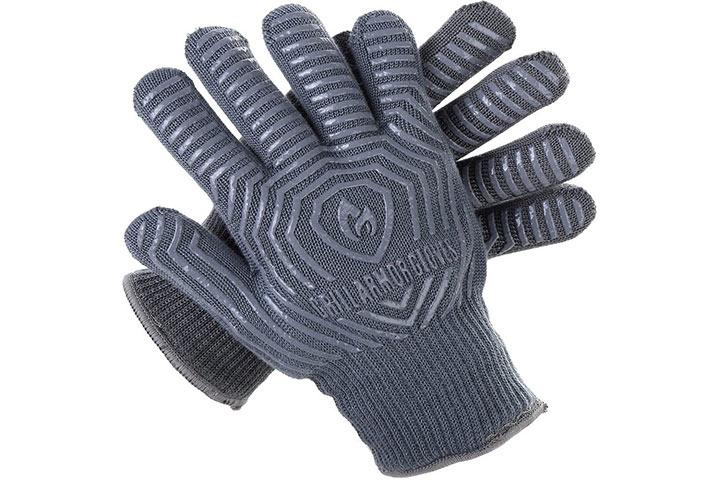 Need gloves that'll cater to all your cooking, grilling, and baking purposes? These webbed-designed gloves claim to be all-rounders for grill and barbeque enthusiasts. How? They have a non-slip design, which means no more slipping pots or ingredients when they turn greasy. Also, the gloves are heat-resistant up to 932 F and are EN407 certified. With P-aramid and M-aramid fabrics insulated, they are high-quality and long-lasting too. Easy to use for all, whether you are a pitmaster or amateur — go sauce up those steaks without worrying about blisters.
Pros:
Made of heavy-duty and durable material
Lightweight and flexible
Convenient hook for hanging
Silicone-based strong grip
Melt-resistant and flame-resistant
Machine and hand wash-friendly
Ideal for barbeque, oven, cast iron pans, instant pots, etc.
Cons:
They are not waterproof.
Heat resistance may reduce after a few uses.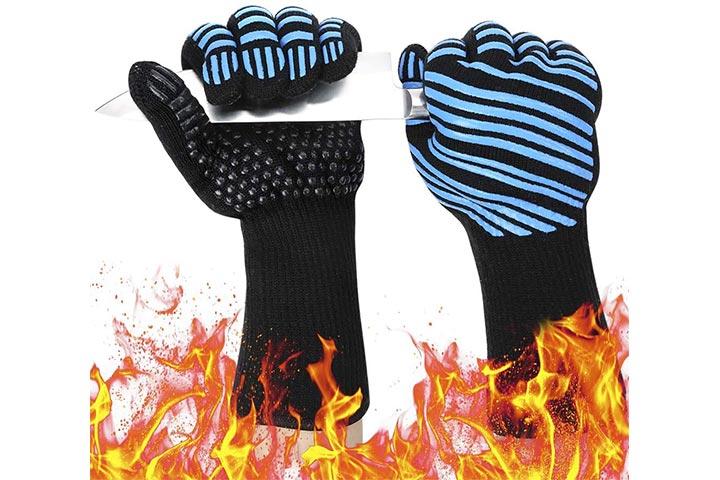 No more cuts, burns or blisters – that's what Semboh's BBQ gloves guarantee! With three layers of insulation, they provide unmatched care, security, and protection. Coated with food-grade silicone on the first layer, they are safe, non-toxic, and non-slip. The second and third layer, on the hand, is made of ultra-strong deyan aramid fiber and polyester cotton for comfort and ultimate protection. One of the best grill gloves with an extra-long and breathable design, make your cooking time safer with these protective gloves!
Pros:
Resists heat up to 932 F
Ultra-strong, comfortable, and flexible
Provides palm to forearm protection
EN388-certified cut resistance
Protects from acid and alkali solution
Sweat-free and moisture-free
Machine-washable and easy-to-clean
It has convenient loops for hanging.
Cons:
It is not waterproof or steam-proof.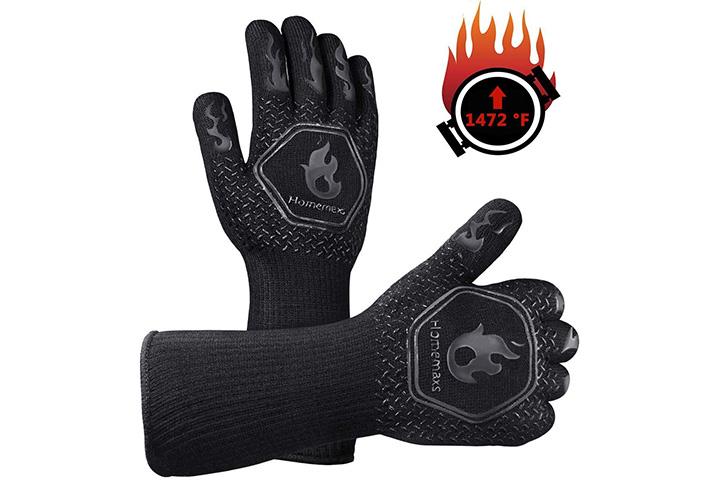 Are you looking for the best gloves for BBQ? Homemaxs BBQ Gloves may surprise you with its key features! Resisting heat up to 1472 F (which is the highest), it is EN388-certified, cut-resistant, and protects against acid and alkaline solutions. Made of 3-layer of insulation that includes food-grade silicone, robust deyan aramid fiber, and polyester cotton, it is breathable and ultra-comforting too. And the best part is—you don't have to use it for grilling only! They can be used for woodwork, baking, and welding too.
Pros:
Non-toxic and anti-skid design
Flame-resistant and highly protective
Durable and flexible
Prevents sweating and moisture accumulation due to heat
Ultra-long design protects from palm to forearm
Easy to wash by hand and machine
It has hanging loops for convenient storage.
Cons: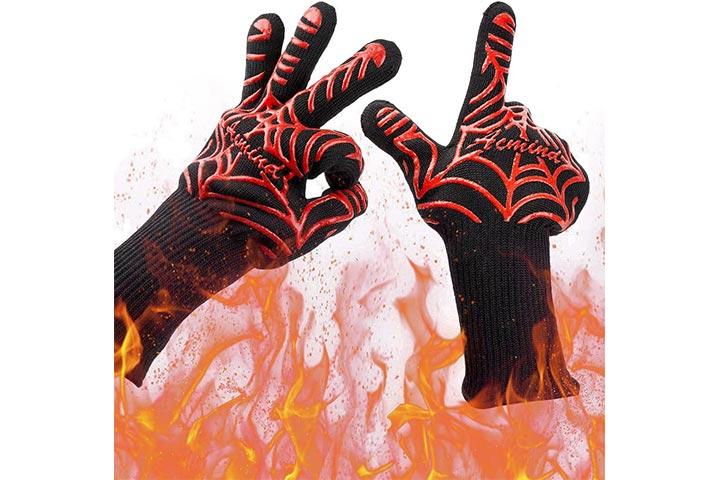 Grill steaks, not hands during those memorable BBQ nights! With these BBQ grilling gloves in your kitchen, you'll never complain about heat burns or breaking cookware again. Lined with heat-resistant polyester-cotton inside, these gloves have a non-slip coating on the outer layer, which is made of food-grade silicone. So, basically, you are not only getting a good grip over objects and hot meals, but your hands stay protected against heat up to 1472 F! And if that wasn't enough, adding a fancy touch to your grilling superpower is the webbed design. We bet it'll remind you of a superhero. Can you guess who?
Pros:
Protects with high-performance and heavy-duty aramid fibers
Non-toxic and comfortable to use
EN420 and EN407-certified
Flexible cuff protects up to the lower arms
Machine washable and easy-to-clean
Cons:
It is not water-resistant or steam-resistant.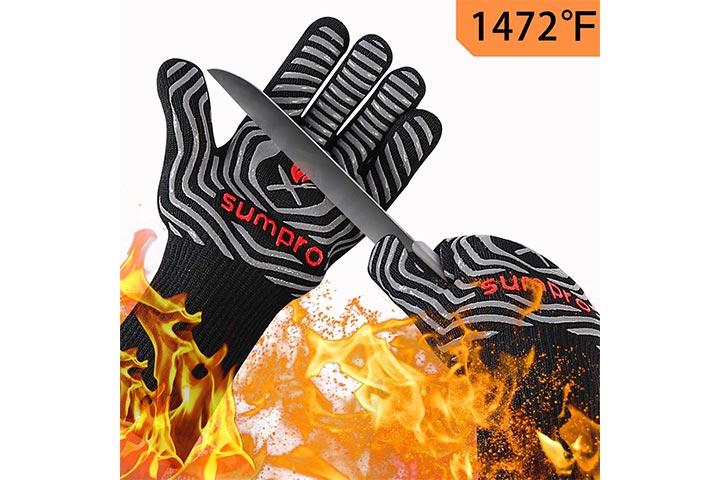 Lastly, these durable gloves that'll last through many, many BBQ nights with you. Don't let the charcoal embers keep you from serving delicious hot meals to your loved ones. Slip-on these Hot BBQ Gloves by Sumpro as it can resist the highest temperature (1427 F) like no big deal. Also, the non-skid and food-grade silicone on the gloves will keep the meat or objects from slipping easily. And as far as the comfort is concerned, the polyester-cotton will keep you at ease throughout.
Pros:
Made of EN407 and EN388-certified aramid fibers
Cut-resistant gloves
Flexible and robust
Ideal for grilling, baking, cooking, welding, fireplaces, etc
Easy-to-clean and machine-washable
It has convenient loops for storage .
Cons:
It is not waterproof or steam-proof.
The heat protection may not last long.
There you go! Those are the 11 best BBQ and grilling gloves of 2021 for you! Still wondering how to choose the best gloves for BBQ? Read our buying guide below.
How To Choose The Right Grill Gloves?
Look out for the following key features:
Heat Resistance – Pick gloves that suit your heat-resistance needs. Each pair is designed to deliver different levels of heat-resistance, which could go up to temperature 1427 F (800 degrees Celsius). And picking the wrong one may not protect you completely, and leave you with burns or blisters.   
Dexterity – High dexterity is a must. The gloves should not be inept or bulky. Fortunately, most of the gloves are designed with a non-skid coating that provide a good grip over objects or while cutting meat. But still, you must look for this feature. 
Material – Every layer of the glove should be insulated with high-quality material to provide unmatched protection. Also, it should be comfort-inducing, and more importantly, waterproof, to shield against hot water and steam. 
Design – Though gloves are available in multiple designs, selecting the ones that protect up to the forearms are the safest option. 
Washable – Choose machine-washable or dishwasher-safe gloves for a hassle-free experience.
That's all folks! It's time we move on from those old and smelly grandma mittens, and grill like an expert with the best gloves online. Now, who's ready for BBQ season? For we can't wait to get that steak on the grill. Go pick your gloves today, and we hope this list of 11 best BBQ and grilling gloves of 2021 has the one you are looking for. Happy Grilling! 
Frequently questioned answers
Do You Need Gloves Specifically Designed For BBQ?
Yes, you do, because using oven mitts or low heat-resistant gloves might lead to hazardous burns and blisters. 
What Are BBQ Gloves Used For?
BBQ gloves offer versatile functions. They can be used for handling hot grill plates, pans, rearrange burning charcoal logs, holding piping-hot meat, etc. It depends on their heat-resisting endurance. 
Do All The Best BBQ Gloves Have The Same Heat Resistance?
No. The heat resistant level may vary for each glove and can go up to temperature 1472 F or more. 
How Are Waterproof Grilling Gloves Beneficial?
Gloves that are waterproof can be used for handling hot water-related utensils and steam. 
How To Clean Grilling Gloves?
Use a toothbrush to eliminate the stains or leftover chunks. Rinse it after washing, and leave it to dry on the rack. 
Can Welding Gloves Be Used For Barbecue And Grilling?
Yes, they can be used for BBQ and grilling because of their high resistance to heat and thick insulation.
Recommended Articles: