Barbeque (BBQ) is a method of cooking food on a grill using charcoal fire. Besides good barbecuing skills, you also need the right tools to cook food to perfection on a grill. These tools come in handy at every step of the barbecue process.
The basic BBQ tools include a spatula, a fork, a knife, a brush, and tongs that help in flipping, slicing, and cutting the foods while they are on the hot grill. There are several variants of barbecue tool sets to choose from.
Here, we list some of the best BBQ tools that make a good addition to your barbeque apparatus.
But before that, here are a few safety tips you should follow when using these tools.
Safety Tips While Using The BBQ Tools
 Barbecuing involves cooking food directly on the fire. So, you must follow certain safety tips to protect yourself from the hot grill and the fire.
Make sure the tools have long handles to protect your hands from burning.
If the tools are made of stainless steel, do not leave them on the grill for long.
Periodically, clean the tools, and check them for rust spots.
Make sure you keep the sharp or hot tools out of children's reach.
Top Products From Our List
13 Best BBQ Tools
Want to prepare chef-quality BBQ food? If yes, this grilling toolset from Cuisiniart might help you. This set contains a spatula, tongs, and a fork, plus a grill glove to protect your hands while grilling. All the tools in this set are 12-inch long and are made of durable stainless steel, making this one of the best BBQ tools set for a boat or an RV.
Pros 
Made of durable stainless steel
Ergonomic handles with rubberized grips
Wide spatula for flipping steaks
Spatula and fork comes with a built-in bottle opener
Spatula has a toothed and serrated edge for cutting steak
Hooks for hanging the tools after use
Cons 
Plastic tips on tongs may make it hard to hold the steak
Oven mitten may not offer good heat resistance
A grill brush is a must-have if you have a BBQ grill at home. This one from Alpha Grillers is safe to use on all grills, including those that are hot and in use. It contains double-helix foils that easily remove all the gunk and grease.
Pros 
Bristle-less design that's safe to use on a hot grill
Built-in extra wide scraper
Safe on all types of grills
Ergonomic, extra-long handle for safety
Easy to clean
Cons 
May not be able to reach the corners and grooves of the grill
Brush coils may be stiff
This stainless steel BBQ grilling set is sturdy and can lift heavy objects like steak or a full chicken. The set contains a fork, a spatula, a brush, and tongs that work on all types of grills. It also comes in an elegant box and can be the perfect gift for your friends and family.
Pros 
Sturdy to lift large portions of meat
Contoured rubber grips for safe handling
Huge hanging loops for convenient storage
Scalloped tongs to handle delicate foods
A built-in bottle opener
Dishwasher-safe
Cons 
Spring of the tongs might be weak and lock while in use
Edges of the spatula and fork might be sharp
If you know someone who loves to barbecue, gift them this 36-piece BBQ tool set to help them create some amazing delicacies. This extensive set contains everything you need to show your magic on the grill. It also includes a recipe book and a storage case.
Pros 
Extensive set of all essential barbecue tools
Spatula, fork, and tongs made of quality stainless steel
Ergonomic handles for easy handling
Basting brush with a silicone brush head
Compact size
Storage case with a handle
Cons 
Quality may not be up to the mark
Grill brush may be too small
The AMZ BBQ tool set contains heat-resistant BBQ gloves, meat claws, and a thermometer. This toolset is a must-have if you like to BBQ meat and vegetables. You can also gift it to a friend or a family member who enjoys working on the grill.
Pros
High-quality, heat-resistant (up to 475℉) silicone gloves
Dishwasher-safe gloves with raised nobs for extra grip
Instant temperature reading (min-58℉- +572℉) with precision
Thermometer automatically goes off within ten minutes
Meat claws made of heat-resistant material
Sharp tips for easy shredding
Cons 
Gloves may be small for some
If you are looking for a simple BBQ tool set, then try this from New Star Foodservices. It contains tongs, spatula, fork, and a cleaning brush made of high-grade stainless steel. Each tool is 17-19in and is made of commercial-grade brazed stainless steel rivets.
Pros 
Made of durable stainless steel
Wooden handles for safety
Leather hoops for hanging
Ergonomically designed handles
Cons
Cleaning brush might lose bristles
Not dishwasher-safe
If you own a large grill or like to throw big BBQ parties, then this BBQ tools set might just be apt for you. The Grillart BBQ grill set contains a fork, a spatula, a brush, and tongs. Each tool is 18-inch long, thick, and made of solid stainless steel, so you can lift a whole chicken or racks with ease.
Pros 
Solid tools with a sturdy construction
Wooden grips for the tongs
Hanging loops
Lockable tongs
Serrated edged spatula
Heat-resistant silicone bristles
Cons 
Tongs may not open and close easily
Edges might not be rounded
Your search for a complete grilling set might stop with the Grilljoy BBQ set, which contains 30 different tools that are useful for grilling and barbeque. Along with the basic BBQ tools, this set also includes a grill cleaning brush, salt and pepper shaker, meat injector, heat-resistant gloves, and more. They come in three different colors to choose from.
Pros 
Complete BBQ set
Rust-resistant, high-quality stainless steel
Portable bag to carry around easily
Hanging loops for convenient storage
Cons
All items may not be of high quality
If you BBQ often, then you might know the hassle of cleaning every nook and corner of the grill. With this BBQ cleaning tool, you no longer need to sweat to keep your precious grill clean.
Pros
All sides of the grill can be cleaned without lifting the grates
Sturdy construction
Made of rust-resistant stainless steel
Easy to use
Grill floss fits all the four sides of the grill grates
Cons 
Grill head may not be sturdy
Makes a jarring noise
A good spatula can make the grilling process effortless. This 5-in-1 grill spatula from FlipFork serves the purpose of a sharp-edged knife, fork, tenderizer, and a bottle opener. It is made of high-quality steel and is rust-free, so you can use it for outdoor BBQ parties as well.
Pros 
Multipurpose tool
Rust-resistant stainless steel
Can withstand heat up to 1000 degrees
Antibacterial acacia wood handle
Cons 
Handle could have been a little longer
The Homeaxs BBQ grill set consists of a spatula, tongs, a knife, and a large fork. All the tools are made of durable stainless steel with a beautiful finish. These tools have a sturdy construction and are lightweight.
Pros 
Long handles for safe usage
Durable and weather-resistant
Bottle openers on all the tools
Works on all grill types
Portable carrying case
Multi-use spatula
Handles for convenient storage
Cons 
May not be weather-resistant
Tongs may not have a good grip
This BBQ tools set is portable and multifunctional and could be your best companion during outdoor BBQ parties and while camping. This 6-in-1 tool is made of durable food-grade stainless steel. It comes in a detachable design and measures 11.2×2.7×1.2in.
Pros 
Portable design
Six-in-one multifunctional tool
Can function as tongs, knife, spatula, fork, and wine and bottle opener
Easy to assemble and disassemble
Cons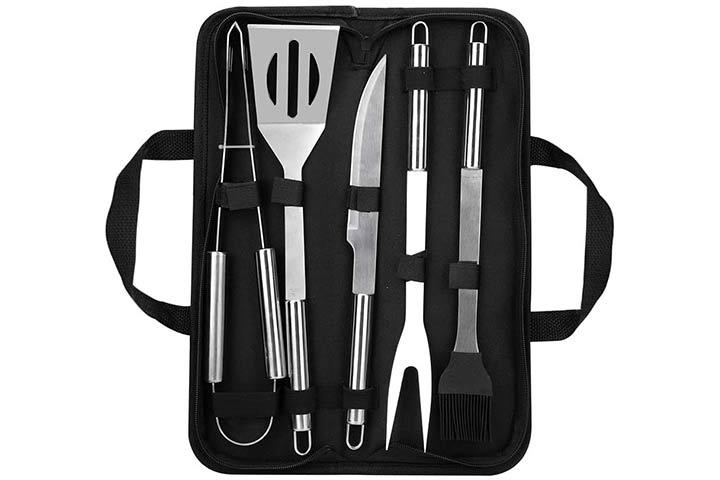 This five-piece BBQ tool set consists of a spatula, a grill fork, a knife, a power tong, and a grill brush. All the tools are made of food-grade stainless steel and are heat-resistant.
Pros 
Made of durable stainless steel
Comes with a carry on pouch
Lightweight
Handles for convenient storage
Cons 
Some may feel the size is too small
How To Choose The Right BBQ Tools? 
The right tools can make grilling smooth and effortless. So, consider these points while picking the best BBQ tool set.
Material: Read the features carefully and buy a BBQ tool set that is made of durable and rust-free materials. Generally, these tools are made of stainless steel. If you are going to use these outdoors, then take extra caution to buy tools made of high-quality, rust-free materials.
Length: Since you will be working directly with fire, BBQ tools need to be designed for safe handling. The ideal length is 16in, but there are models that have tools as long as 18in. Choose one that suits your requirements.
Number of pieces included: This should depend on your barbecuing skills and requirement. The basic essential tools for barbeque are tongs, knives, and spatulas. However, if you want to have additional items like a mitten, salt and pepper shaker, or bottle openers, then choose accordingly.
Other points: Rubber handles, loops for convenient hanging, and storage case are some of the additional aspects you can look for while buying BBQ tools. 
Barbecuing is a good way to gather friends and cook and serve hot and delicious meals straight from the grill. Equip yourself with the right tools to cook palatable meals for your peers while showing off your barbecuing skills.