A day at the beach involves a lot of planning and packing. A big beach bag can accommodate all the gear, snacks, toys, towels, and clothes required for the whole family. Choose a water- and sand-proof bag, easy to clean once the day is done. So, scroll through our list of the best beach bags for moms to make her job easier.
Top Products From Our List
11 Best Beach Bag For Moms
Pursetti multipurpose tote bag has six pleated external pockets, five internal pockets, and two mesh side pockets. The top zip ensures safety, and the bag is easy to wipe clean with a damp cloth. It measures 14.5×6.5×10.75 inches and is made of durable polyester material.
Pros
Spacious
Lightweight
Stands on its own
Flattens when empty
Cons
Black interior may make it difficult to see inside

Combining style with utility, this nautical-themed canvas bag is suitable for beach trips. It is lined with dark fabric inside and has a zip closure to secure your belongings. Measuring 22x13x7 inches, it is large enough to hold blankets, towels, sunscreen, sandals, snacks, and more.
Pros
Anti-stain lining
Durable
Four adjustable knots
One sewed-on pocket
Cons

The foldable, large Scout tote bag has an open-top design and plenty of space inside. It measures 19x15x10 inches with 8.25 inches long shoulder straps. The interwoven polypropylene fabric is strong and suitable for all weathers. It dries fast and softens with regular use. The bag can stand on its own and features an internal key ring to keep your keys handy.
Pros
Water-resistant
Mold-resistant
Odor-proof
Easy to clean
Durable
Burst-proof bottom
Cons
Material may feel like thick plastic

Miyo mesh beach tote bag is suitable for travel, picnics, or groceries. It is made from polyester material and has a zipper closure. The bag measures 20x15x7.5 inches with nine external pockets and one internal, waterproof zippered pocket. The shoulder straps are long and sturdy, with double-secured carabineer hooks for keys.
Pros
Lightweight
Water-resistant base
Durable
Good airflow
Quick-drying
Cons

The family beach bag by Bluboon has a wet compartment and loads of pockets for separation and storage. It measures 17.5×7.87×15.75 inches with an interior pocket for phones, wallets, and keys. The bag doubles up as a gym or sports bag and a shopping bag. The stylish tote has smooth straps and handles and is functional and comfortable to use.
Pros
Zippered back pocket
Lightweight
Waterproof
Foldable
Cons

Beach Breeze mesh bag has nine large pockets for maximum organization and storage, with seven deep pockets and two waterproof zippered pockets. It has a comfortable Velcro shoulder strap and is easy to carry. The bag measures 18x15x9 inches, and the mesh allows the sand to slip out easily and dries quickly.
Pros
Lightweight
Sturdy
Foldable
Breathable
Cons

The reusable canvas tote bag from EcoRight is durable and well-constructed with a canvas cotton lining. It measures 18×14.5 inches with a four-inch bottom gusset. The long handles make it easy to carry, and the bag is machine-washable without fading.
Pros
Vegan
Biodegradable
Recyclable
Spacious
Sturdy
Cons

Suitable for baseball moms, the Gabigaba bag has faux leather double handles with a 12-inch drop. It features four pockets, including a large zippered back pocket and a lined inside pocket. The bag has two open pockets on the sides for small, handy objects, and it measures 17.5×12.5×7 inches.
Pros
Magnetic snap closure
Two color options
Durable
Lined interiors
Cons

With an insulated cooler, the Savvy beach bag has two microfiber towels. It is made of polyester and features zippered external pockets and internal slip pockets. This bag has toggle straps and carry handles for convenience, with ample storage.
Pros
Multipurpose
Lightweight
Durable
Foldable
Cons

The white and gold beach tote bag is made of canvas and jute. It is sturdy with internal zippered pockets and large storage space. The bag measures 21.5x15x6 inches with 26.7-inch reinforced fabric handles. It is suitable for traveling and shopping purposes, along with picnics and outings with children.
Pros
Zip-top closure
Sturdy
High-quality sequins
Eco-friendly
Cons

The extra-large family beach bag from Oscaurt is made of mesh for quick drying and draining. The heavy-duty PVC material is durable and can hold several things. It measures 27.17×14.76×6.89 inches and is designed with nine pockets, including one big pocket with zipper closure, to keep your belongings protected.  The bag also has seven mesh pockets on the outside for quick accessibility.
Pros
Waterproof
Sand-proof
Hand-washable
Lightweight
Cons
May not have boning in the seams

How To Choose The Right Beach Bags For Moms?
Here are some points to consider while buying a beach bag for moms.
Fabric: Beach bags need to be waterproof and sand-proof. They could be made of easy-to-wash canvas or fabric, or easy-to-wipe plastic or polyester. Some bags have mesh sections for quick draining and storing wet clothes.
Space: Choose tote bags with enough space for towels, spare clothes, slippers, valuables, snacks, and beach toys. They must have pockets to keep things organized for quick access. Zippered pockets keep your belongings in place, while open pockets offer quick accessibility.
Portability: Pick a lightweight bag with comfortable, padded shoulder straps to take the stress off the arms and back.
Ventilation: Beach bags must be airy and well-ventilated with breathable material to prevent odor from wet clothes.
For a mom, going to the beach requires major planning. A large beach tote bag, spacious, handy, comfortable, and stylish, can come to your rescue. With several designs available, pick the right one with the required features from our list of the best beach bags for moms.
Recommended Articles:
The following two tabs change content below.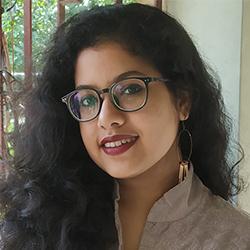 Poulami Nag
Poulami Nag is a writer and associate editor at MomJunction. She did her MA in English from Miranda House, University of Delhi and has qualified UGC-NET. Her journey as a content writer began in 2017 and since then she has garnered diverse interests along the way. Her knowledge of literature and language has given her an eye for detail and...
more