Get ready to have fun on your beach outing with our list of the best beach bags. A big beach bag can accommodate everything you would require for a fun day, including a towel, bathing suit, sunscreen, a book, and more. These beach bags are waterproof, durable, sand-resistant, and come with multiple pockets to organize your stuff conveniently. You can easily access your belongings since the bags are spacious and easy to use.
With various designs, colors, and sizes, you can choose a bag to suit your needs. So, explore our list of options and choose accordingly.
No products Found
21 Best Beach Bags
This is a suitable beach bag to pack everything for a comfortable beach outing. The uniquely shaped bag with a strong base allows you to carry a lot of things without having to worry about space. With the heavy-duty strap, weight is never a concern. You can store it with ease because of the collapsible design.
Features:
Ship-shaped pattern for bigger space.
The open top allows for easy handling.
Lightweight and water-resistant.
Easy to clean and quick to dry.
Sturdy bottom and stable shape.
Interior key ring to keep your keys safe.
This is a stylish beach bag for women, designed around the navy theme with blue stripes on white. The bag is strong with plentiful storage to carry all your beach stuff. The zip on the main compartment prevents the contents in the bag from falling out.
Features:
100% cotton bag.
Lightweight and compact.
Heavy-duty stitching for greater strength.
Zip closure on top to keep your stuff safe.
Small pocket on the outside for smaller things.
Pack all your beach essentials in this beautiful floral, printed shoulder beach bag. Designed with multiple pockets, it is a perfect solution for those who love to keep their things organized. What makes it a steal is its strength and capacity to carry all that you desire for a beach hangout.
Features:
Made with thick quality fabric.
Water-resistant and easy to wash.
Free from creases and wrinkles.
Two mesh pockets on the sides with multiple pockets on the inside.
 Zipper for the main compartment.
Be beach-ready with this set of two beach bags with refreshing prints. The big bag allows you to keep everything you might need for a picnic by the shore, and you can use the smaller one to keep your keys, phones, or wallet, to avoid losing them. Seriously sturdy and spacious, this is a cool beach bag to carry.
Features:
Made of high-quality canvas.
Heavy duty hemp rope handle.
Waterproof lining to keep wet clothing.
Convenient bag with lots of room to carry stuff.
Durable and lightweight.
 Foldable design for easy storage.
One of the best beach bags, this one is roomy enough to carry towels, sunblock, water bottle, slippers, and more. The mesh doesn't allow the sand to stay inside. The keyring holder keeps your keys safe. The waterproofed inner pocket with zip keeps the sand out and allows you to keep your valuables.
Features:
Mesh bag made of highly durable fabric.
Removable strap with cotton padding for comfort.
Lightweight and waterproof.
Beach bag with pockets to keep items organized.
Quick to dry and allows ventilation.
This comes in irresistibly cool prints that make it a stylish beach bag. A fashionable drawstring bag that is perfect to carry all your beach essentials, this makes an awesome pick not just for a day on the shore but also for gym, shopping, or sports.
Features:
Easy drawstring closure.
Made with 100% waterproof polyester.
Convenient size to carry beach essentials.
Easy to store when not in use.
Small zipper pocket inside to keep valuables.
If you are looking for a super spacious beach bag, then this is one you must consider. Strong sewing imparts this mesh bag impressive strength. Clever keychain, splash-proof pocket, and lots of extra pockets help keep your stuff organized all the time.
Features:
Made with an eco-friendly mesh.
Multiple mesh pockets of different sizes.
Waterproof zipper pocket to keep valuables.
Sturdy and spacious.
Comfortable strap.
Easy to wash and dry.
This is one big convenient bag to carry everything in an organized manner. This stylish beach bag for women with mesh keeps it sand-proof. The waterproof inside pocket makes it very easy to keep your mobile phone, wallet, and keys safe while you relax.
Features:
Eight big pockets for easy storage.
Made with premium quality mesh.
Waterproof and tearproof.
Comfortable straps.
Webbing on pockets and edges to prevent scratching.
Available in more than 15 colors
A huge beach bag designed around the marine theme with nautical design, this has knotted rope handles and magnet buttons on the top add more style. With water repellent lining on the inside and capacity to hold a good amount of weight, this is certainly a steal.
Features:
Comfortable and sturdy rope handle.
Professionally sewn for greater strength.
Comes with a big, dustproof, sand-proof case.
Built-in bottle opener and key holder.
Waterproof inside lining.
Washable and durable.
Available in two sizes.
This beach bag is for women who are looking for a multipurpose tote, induced with style and fashion. Minimalistic designing and summer prints make it an outstanding pick. The bag is big enough to carry your beach essentials.
Features:
Made with high-quality polyester cotton.
Lightweight and washable.
Long handles to conveniently carry on shoulders or in hand.
Inside pocket to keep mobiles, money, etc.
 Available in 15 designs and patterns.
This is a large beach bag that allows you to carry everything from towels and sunscreen to snacks and swimsuits in one. Strong and spacious, this bag comes with one zip closure to keep your things safe from falling out and pockets on the inside to keep little things, like your keys or phone, handy.
Features:
High-quality canvas bag.
Zipper closure on top.
Hemp rope makes sturdy handles.
Two side pockets for easy access.
Two inside open pouches and one zipped pocket.
For all the fashionable women, this chic summer beach bag is a true delight. This is a unique handcrafted bag by artisans. If you want to travel light, then this beach bag gives you enough space to carry your beach must-haves without compromising your style quotient.
Features:
100% natural paper bag with straw surface.
Easy drawstring closure.
Polyester lining on the inside.
Has a unique round woody handle.
One small inside pocket is to keep your cards or keys.
Comes in over 15 designs and patterns.
This eco-friendly beach bag is a perfect balance of style, utility, and grace. There is plentiful space to pack towels, slippers, beachwear, sunblock, and whatnot. You can also keep your small little things in the inside pockets to avoid losing them. The stainless-steel zippers are rust-proof and durable.
Features:
Made with knitted paper and high-quality lining.
Zipper on the top to secure the contents.
Two open pockets and one zipper pocket inside for small items.
Strengthen rivet for stable handles.
Double layered hand straps promising comfort.
Available in eight patterns.
Carry your beach must-haves in this beautiful, printed beach bag. This multipurpose bag has a lot of room to carry all the stuff you want to pack. The straps are sturdy, and the base is strong. This bag is also lightweight and comfortable to carry.
Features:
Spacious and easy to carry.
Made of nylon and cotton.
Strong webbing straps.
Inside pocket to keep keys, cards, etc.
Top zipper closure doesn't let anything fall.
A beach bag with great room and awesome strength. It comes with soft rope handles that don't hurt the shoulders, and the magnetic closure on the top gives easy access to take things out. It is a pretty strong and sturdy pick that comes with low maintenance.
Features:
High-quality magnetic clasp closure on top.
Soft rope handles that are pretty comfortable.
Very spacious and stylish.
Promises great durability.
Inner pocket can be used for keeping earphones, keys, etc.
Whether you use it as a beach bag or a stylish handbag, this elegant work of art offers a big room. Not only can you carry all the essentials you might need for a day at the beach, but you can also keep your cash, keys, earphones safe in the inside pocket. This bag makes an incredible gift for your mom, sister, or wife.
Features:
Straw-woven beach bag.
Shoulder straps made of PU.
Polyester lining on the inside.
Top zipper closure for more privacy.
One inner pocket to keep small stuff.
Completely handmade.
This is a dream-come-true beach bag that has a separate section for carrying towels, sunblock, slippers, etc., and an insulated section dedicated for food and drinks. The top zip closure keeps everything secure, and the comfortable straps make it easy to carry.
Features:
Mesh and canvas crafted.
Lightweight and durable.
Two external pockets, one with zipper for valuables.
Insulated cooler bag section to carry food and drinks.
Easy to clean.
With a no-quibble guarantee for 12 months.
Fashionable and functional, that is what this beach bag is. Perfect choice of beach bag with a leather handle. The bag is handmade and an impressive work of art that is durable and also very convenient to carry. Makes a wonderful gift for women in your life.
Features:
Made of 90% straw and 10% polyester.
100% handwoven and highly durable.
Lightweight and very easy to carry.
Oversized bag promising great space.
Magnet closure clasp offering privacy.
One zipper pocket on the inside.
A convenient everyday use beach bag with a delightful print. With no lining and no closure, it is an easy-to-handle bag with plentiful space for towels, slippers, beachwear, and food. You can hand wash or machine wash it with no fear of fading colors.
Features:
Made of strong canvas fabric.
Fantastically spacious to carry beach needs.
No closure for easy access.
Easy to wash.
Reusable multipurpose bag.
Comes in a variety of attractive prints.
Everything that you look for in a good beach bag, you will find it with KEHO. Enough room for storage, multiple pockets to keep things sorted, and durability that doesn't fail to impress. This is indeed a seriously stylish bag to carry on your next beach outing.
Features:
Superbly spacious with hidden compartments.
Made with high-quality, sturdy material.
Interior waterproof lining, perfect for beaches.
Subtle detailing that makes it unique.
Two bottle holders on either side.
Easy to store when not in use.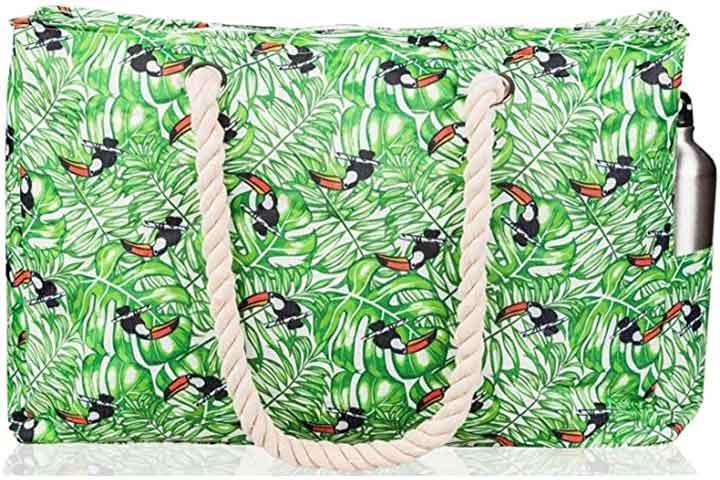 This is one of the best beach bags for comfortable beach outings with the family. The huge space allows you to pack all the beach needs. There is a pocket on the outside for a water bottle and there are enough pockets inside to keep everything organized with perfection.
Features:
Made with canvas-like fabric
Washable, durable, and waterproof.
Three big inner pockets.
Water-repellent inner lining.
Sturdy rope handles.
Comes with water, sand, and dust proof PVC case.
How To Choose The Right Beach Bag For Women?
You may consider the following points while picking up a beach bag.
You need a big enough beach bag in which you can pack all the beach essentials (towel, hat, beachwear, slippers, sunblock, and even a book) with ease.
Don't forget about the fabric
The fabric is another significant point of consideration. Durable and easy to maintain fabrics are the topmost pick. They are easy to wash and quick to dry. Canvas, mesh, and even straw woven are probably the best choices.
With pockets, it is very easy to keep your stuff organized. Therefore, while looking for the best beach bag, you must look for pockets on the outside as well as inside. Don't miss checking for an inside pocket with a zipper that allows you to keep your valuables like cell phones, earphones, cards, keys, etc., safe.
Why Trust MomJunction?
Poulami Nag is a talented writer who understands the importance of having a proper beach bag that can accommodate all your accessories and makes your day at the beach hassle-free. After going through several products on numerous websites, she has put together this list of the best beach bags that you can get for yourself. The bags have been carefully selected after thorough checking of their reviews and quality. They are spacious, waterproof, convenient, and durable for long-lasting use.
When hitting the beach, you need a beach bag that ensures comfort and convenience. Pick the one which fits in your budget and accommodates all your beach needs. Have a bag with pockets if you don't like your bag to be messy. And if you are fashion-lover, then there are stylish straw woven bags to choose from.
Have you liked any of the bags from the list? Do tell us about it in the comments section below.
Recommended Articles: