A beach blanket is specially designed to let you relax or lie down comfortably on the beach without the hassle of sand sticking to your body. These blankets are sand and waterproof and let you lounge at a comfortable spot after surfing or playing in the water. Beach blankets come in various sizes and are also lightweight and compact. They can also be used during hikes, picnics, or camping in the woods.
If your family enjoys spending time in the outdoors, then a beach blanket might come handy. Read on to find some of the best beach blankets you can buy and a few tips to help you pick the right one.

Top Products From Our List
13 Best Beach Blankets
Your search for that perfect beach blanket might end here! This oversized beach blanket can accommodate seven adults and spreads over 9 x 10in. It also collapses to 4 x 8in when folded and weighs 16oz.
Features
Sand does not stick
Oversized, perfect for a large beach picnic
Comes with an easy-to-carry sack
Made of durable parachute material
Dries quickly
Built-in corner anchor pockets or storage pockets
A waterproof case
With five different colors to choose from, this beach blanket could be all you need to lie down on the beach without worrying about the sand sticking to your body. It is made of 100% nylon and measures 63sqft.
Features
Compressed size of 6 x 7in
Comes in a convenient carrying bag
Sand does not stick
Built-in corner anchor pockets/ convenient pockets
Waterproof front pocket
This beach blanket comes in a convenient size and can accommodate seven adults and weights 4oz. It is triple-stitched for better strength and durability and can be used for various purposes, such as for outdoor picnics, hikes, and camping with friends, or just a backyard picnic with the kids. Some of its added features are listed below.
Features
Large size
Sand-resistant
Corner pockets for storage and anchoring
Waterproof
Convenient carry bag included
Metal stakes to nail the corners
If your family often goes to beaches, then this sand-resistant blanket is a must-have beach gear. It is big enough to fit four people and has folded dimensions of 4.5 x 8in to fit perfectly in a pouch. With other added features, this could be one of the best beach outdoor blankets available.
Features
Sand-resistant material
Waterproof
Comes with five integrated anchors
Six ground stakes to keep it in position during high winds
Lightweight and portable
Includes a safety carabiner and a carry bag
Zipper pockets
This large beach blanket is big enough to accommodate five people and folds into a compact size that fits into a small pouch. It is made of lightweight yet strong parachute nylon material and is a durable beach blanket available in three different colors.
Features
Lightweight and portable
Comes with a convenient carry bag
Sand pockets and ground stakes included for better stability
Zippered pockets
Waterproof and sand-resistant material
The Atheletrek beach blanket is one of the top beach blankets available. This durable beach blanket is made of parachute 210T rip-stop nylon material that is strong and rip-proof. It is large enough to comfortably accommodate seven adults. Whether it is a backyard picnic or a beach vacation, this is one of the perfect beach blankets to relax on comfortably.
Features
Lightweight and durable blanket
Rolls up into a compact size
Seven weighted corners for support
Six metal stakes for added stability during strong winds
Integrated stuff sack with compression straps
Made with 210T polyester, this beach blanket is said to be lightweight, crease-resistant, and skin-friendly. It can comfortably accommodate three to five adults and be folded to a compact size. Other added features are mentioned next.
Features
Vibrant colors for easy visibility
Four fixed anchors for stability
Sand-proof and water-resistant
Convenient carrying bag included
Comes with one carabiner and a fixed rope
This beach blanket comes with a three-layered design and is made of high-quality polyester fabric that is smooth and comfortable to sit or lie down. The thick middle layer is padded and provides extra support. It comes in four different patterns and colors and could be one of the best outdoor blankets.
Features
Ultrasonic quilting design
Lightweight and portable
Waterproof
Sand-resistant material
Convenient carry bag with a handle
Shoulder holding rope with adjustable straps
The AlphaBeng beach blanket is versatile and can be used during picnics, beach vacations, or camping with friends and family. It could comfortably accommodate seven adults.
Features
Compact and portable
Water-resistant material
Sand proof
Lightweight
Built-in corner pockets
A waterproof case
Four metal stakes and an anchor loop
Travel pouch with zipper included
With four color options, the Eccosophy sand blanket is the beach gear you need to lie down at a comfortable spot on the beach. It is made of a sand-resistant material that is 100% breathable, heat resistant, soft, and comfortable.
Features
Attractive colors for easy visibility
Corner loops for pegs
Sand-resistant and waterproof
Convenient carrying bag
Compact and lightweight
Built-in corner anchor pockets
The UrbanEco large beach blankets have beachy patterns and cool prints. They are made of breathable material that is meticulously stitched for durability. It also has a few added features mentioned below.
Features
Water and sand-resistant material
Double anchored for better stability
Six plastic stakes to hold it during windy days
Compact and portable
Comes with a convenient carry bag
Waterproof smartphone case
This large beach blanket comes with an eye-catching design and can also be used as a photo backdrop. It is made of silky cool soft fabric that is skin-friendly and sand-resistant.
Features
Compact and lightweight
Sand-proof material
Water-resistant
Built-in corner anchor pockets/ convenient pockets
A convenient travel pouch included
Tear-proof cloth
Made of 100% rip-stop parachute nylon, this beach blanket is said to be durable, lightweight, and breathable. This blanket can easily accommodate four to six adults and can be easily folded to fit in an easy-to-carry bag.
Features
Sand-resistant material
Waterproof and quick to dry
Four anchor stakes to keep the blanket in place
Convenient carry bag
Scratchproof and easy to clean
Convenient pocket to store valuables
How To Choose The Right Beach Blanket?
If you are looking to buy a blanket that can make your beach or outdoor visits cozy and comfortable, consider the following aspects while purchasing one.
Material: The material used to make a beach blanket determines its durability and functionality. Choose a beach blanket that is waterproof, sand-resistant, and scratchproof.
Size: These beach blankets come in various sizes, so pick one that is suitable for the size of your family. However, it is best to buy a large blanket as you can have extra room during family reunions and beach parties.
Thickness: If you are going on a camp or a hike, then buy a thin beach blanket, but if you are planning a backyard party or a picnic in a nearby park, then pick one that has layers for extra comfort.
Additional features: Other included features such as anchor pockets, stakes, a waterproof pouch to store valuables, etc., can also help you have a comfortable and fun beach outing.
Beach blankets create comfortable spots to rest when at the beach, without you fearing the mess of wet clothes and sand. They are especially useful when you have children who love to go to the beach often. Lay the blanket, lie down on it comfortably as you rest on the shore, supervise your children or click photographs of them while they play.
Recommended Articles: 
The following two tabs change content below.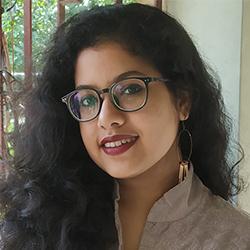 Poulami Nag
Poulami Nag is a writer and associate editor at MomJunction. She did her MA in English from Miranda House, University of Delhi and has qualified UGC-NET. Her journey as a content writer began in 2017 and since then she has garnered diverse interests along the way. Her knowledge of literature and language has given her an eye for detail and...
more