For a beach person, lying on the beach and soaking up the sun is the most blissful experience. And to enjoy this experience to the fullest, you need a good beach towel—one that allows you to laze on the beach without worrying about the sticky sand.
When picking the best beach towel for yourself, do not settle for a dull and boring design. Look for something stylish and cool. In this post, MomJunction lists the best beach towels that you can choose from.
12 Best Beach Towels To Buy In 2021
Cotton is known for its super-absorbent qualities. This set of four striped cotton towels is made with fully ring-spun cotton. It can soak up all the beach water on your body and leave you dry in no time. Its large size makes it ideal for use at the beach or even for a poolside outing. The velvety-soft towel is extremely lightweight. Also, it is washable in a machine and does not lose its softness even after multiple washes.
This set of two fluffy beach towels come in large sizes to give you maximum coverage. Made of pure ring-spun cotton, it is soft on both sides, and the hemmed edges enhance the durability of the towel. It has a Cabana stripe pattern and is available in different colors. The towel is washable in a machine and retains its soft texture even after several washes.
Looking for a beautiful round beach towel? Then have a look at this microfiber towel that is highly absorbent and dries in a jiffy. Its soft and cozy material can keep you comfortable even when completely soaked in water. It comes in colorful designs and can be used by the beach or poolside or even as a yoga mat. It does not require a lot of care and can be easily washed clean in a machine.
If plain stripes do not interest you, then perhaps you are looking for a colorful beach towel like this one. With prints on both sides, this microfiber towel looks not only attractive, but also feels soft and comfortable. It dries quickly and is quite large, making it perfect for use during your yoga or workout sessions as well. And guess what? It is antibacterial and sand-free, so that you can relax on the beach without any worries.
Available in prints inspired by nature, this beach towel could be your companion to your next beach outing and beyond. It is made of a blend of polyester and polyamide, which makes it super absorbent. It also dries faster than cotton. Its antimicrobial material makes it ideal for use on a hot day at the beach or even during your workout or yoga session. Moreover, it has a gender-neutral design and comes in several fun patterns.
Made of polyester and nylon, this beach towel is lightweight and takes up very little space when folded, despite its large size. Its soft fabric absorbs moisture quickly to make you feel warm and comfortable. It's sand-proof, so do not worry about sand sticking to it. Use it at the beach or for any outdoor activity. Its cool design makes it suitable for anyone.
Do not judge this towel by its thinness. It is highly absorbent and dries quickly. It feels soft even on delicate skin. The lightweight body makes it easy to travel with, almost anywhere. Its simple design is for those who do not like too much color. It does not shrink and is easy to wash in the washer.
With this colorful and oversized beach towel, you do not have to worry about its color fading as it is dyed with a special yarn-dye technique that maintains color as fresh as new. Made of pure cotton with a double Jacquard weave, it lasts longer than you might expect. Its thick plush velour pile is soft against your skin.
Available in some extremely stunning prints, this microfiber beach towel can add more color to your beach outing. Made of sand-free microfiber material, it is easy to roll and comes packaged in a portable bag. It is velvety-soft, so your skin feels fresh after every use. It is available in unisex designs.
No matter the large size, this soft towel can be folded compactly to fit into your bag. It is strong and durable, so you can use it for as long as you want. Its ultra-absorbent material dries quickly and is also sand-free, so you do not have to worry about carrying sand or a heavy wet towel back home. It can also make a good companion for your yoga or even Pilates class.
A water baby who loves everything "aqua" might just want to grab this gorgeous blue turtle beach towel. Its unique design makes it easy to spot even in a crowd. Made of velour cotton, this large towel is soft and lightweight. It is easy to fold and carry around comfortably. And not just the beach, it is a great choice for sun lounging on a poolside too.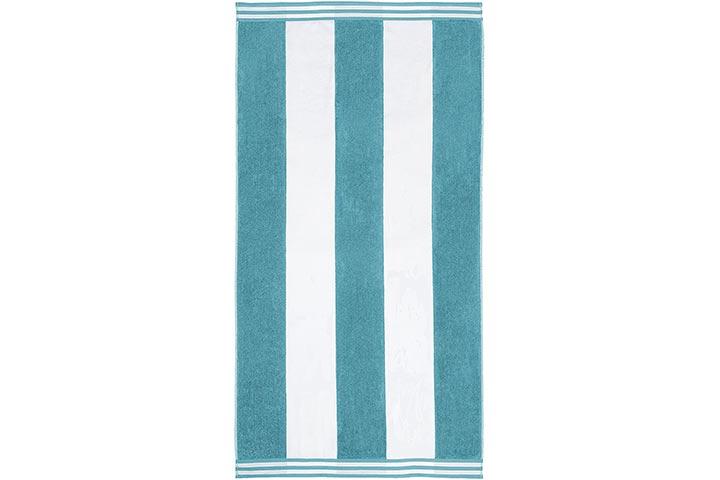 Made of pure premium cotton, this soft beach towel can give you a luxurious feel. It is designed with terry loops on one side and sheared velour on the other. The towel offers good absorbency, which makes it a good pick for drying off the water on your body. It is available in a variety of colored stripes that do not fade with usage or time.
How To Choose The Right Beach Towel
Here are some important features you can look for, so you buy only the best beach towels.
Absorbency: It should be super absorbent as well as quick-drying. You may want to take frequent dips in the pool or the ocean, and each time you make a trip back from the water, your towel should be ready to absorb all that moisture. A towel that dries quickly is suited for frequent uses.
Sand-free: Look for a sand-free towel. A sand-free towel does not hold onto sand and can be dusted off easily. This way, you will not be carrying sand home with you.
Texture: Ensure that the material is soft and comfortable. Towels can be rough, and your damp skin can be sensitive. So, buy a towel that is soft and smooth on your skin.
Thickness: Avoid buying thick towels that you find at spas. Such towels can be very comfortable but can take forever to dry and might never get rid of all that it will be exposed to at the beach.
Size: Your towel should be large enough to cover most of your body. It should also be lightweight, so that it is easy to carry around.
Pattern: When at the beach with a group of friends, it is easy to lose your towel. Look for a towel that has a unique design, so that it becomes easy to identify.
Price: Look for a towel that fits your budget. No matter how durable the fabric may be, you will eventually have to replace it. And if you use it frequently and just about everywhere, then you will most certainly be purchasing it more often. It is wise to keep this recurring expense within a certain limit.
1. Are microfiber beach towels good?
Yes, microfiber fabric is super thin and extremely absorbent. It is also very soft and lasts longer than many other fabrics. It absorbs moisture quickly and dries faster than cotton. It is also easy to wash and maintain.
2. What is the difference between a beach towel and a bath towel?
The following are some of the major differences between a beach towel and your regular bath towel.
Size: Your bath towel is designed to wrap around your body and, so, is relatively shorter in length than a beach towel, which is mostly used to lie on.
Pattern: A bath towel is usually found in simple colors without a lot of pattern or design on it. Beach towels, on the other hand, are mostly colorful with a variety of patterns on them. Also, bath towels may not have prints on both sides, unlike beach towels, which mostly have prints on either side.
Thickness: Bath towels are thicker than beach towels because their primary purpose is to absorb water as compared to beach towels, which are used mostly to lie on.
3. Should you wash a beach towel before use?
Preferably yes. You must have noticed that any towel you buy does not absorb water quickly in the first use. This is because the fabric's fibers are tightly bound. To open up the fibers, you need to wash it. A couple of washes may make it more absorbent.
Beach time is always a fun time. With a good beach towel, your fun time can become safer and more comfortable. We hope this list helps you find your perfect beach towel.