Are you worried about your bed becoming a breeding ground for bugs? Want to enjoy a safe and peaceful sleep by preventing an infestation of bed bugs at home?
You need a bed bug spray that prevents an infestation of bed bugs and mites and prevents damage to your bed, and protects you from various health and hygiene issues in the long term. Eliminating bed bugs requires patience, diligence, and the right formula. A few insecticide companies produce safe and effective household bed bug sprays that save you from opting for the more expensive professional bed bug treatments.
In this post, we list some of the best bed bug sprays that you can buy online.

Top Products From Our List
11 Best Bed Bug Sprays
EcoRaider provides a quick and natural way to kill bed bugs and is convenient if you do not have the time or resources to treat your bed and mattresses chemically. This natural solution is a better choice because your chances of inhaling any harmful substances are almost zero.
EcoRaider, available in a 16-ounce spray, contains non-toxic plant-based ingredients, specifically targeted at insects without harming pets and children. It has a strong ability to kill insects and can extend the residual control time up to two weeks, thereby eliminating all stages of eggs, larvae, adults, and nymphs. 
Harris bed bug killer can eliminate the most resistant bed bugs, such as the "pyrethroid-resistant" variety and their eggs. The non-staining formula allows you to use the spray on your mattresses without any damage or discoloration. You can use the spray in corners and crevices around furniture, dressing tables, and closets, and because of the odorless formula, you don't have to worry about pungent smells. It has a long residual period and will continue to kill bugs even within 16 weeks after spraying.
Mdxconcepts offers an organic and natural spray consisting of refined plant oils, mainly peppermint oil, with natural bed bug killing properties. It is effective against bed bugs common in most households. Packed in a 17-ounce spray bottle, it can be used with just one hand, allowing you to spray on the targeted objects and furniture. The solution does not have a strong chemical smell and has a non-staining application effect. Besides, it is pet-friendly, only used to kill insects specifically.
The Defense Max is a powerful formula that kills bed bugs, fleas, and ticks. Ortho Home's formula can effectively kill even the severe "pyrethroid-resistant" variety and their eggs. The spray handle makes it easy to spot-treat mattresses, closets, bed frames, and other crevices in the home. The spray does not cause any toxicity to you or your pets.
The organic and natural Eco Defense formula uses geranium oil, which has a natural bug killing ability. You can use the non-toxic spray in your house without worrying about the harmful fumes commonly found in synthetic sprays. It targets different stages of bed bugs: eggs, nymphs, and adults. You can use it on your beds, mattresses, and even bedsheets as it is safe for children and pets. It comes in a 16-ounce spray head bottle.
It can eradicate bed bugs with 100% efficiency and stop future infestations for up to 90 days. Bed Bug Patrol spray is a plant-based, non-toxic formula made with natural ingredients, such as essential oils, suitable for families with children and pets. Available in a 24-ounce bottle with a spray head, you can safely use it on linen, bed sheets, mattresses, and furniture. Bed Bug Patrol also provides a free e-book to guide users on using spray right to get the most effective results.
Bedlam Plus is a water-based bed bug repellent that will not cause stains on your sheets and mattresses. It effectively kills all kinds of bed bugs and their eggs and has a two-week residual effect. The 17-ounce spray has a comfortable grip and can easily reach corners and crevices. Besides bed bugs, the spray can also act on dust mites and lice.
Premo Guard is an effective formula used as a laundry additive and household cleaner apart from a bug deterrent. This natural plant-based formula is safe to use without any risks of toxic fumes. You can apply the spray directly on pillows and bed sheets without straining them or having a pungent smell. It has been proven to be effective against various bugs and insects, such as mites, cockroaches, ants, fleas, bed bugs, etc.
The Proof uses the goodness of neem oil, known for its effectiveness against various bugs. It has a 100% kill rate and has a three-week extended effect of preventing further infestation of bed bug eggs. You can use this plant-based, non-toxic solution on mattresses, carpets, furniture, etc. It is packed in a 16-ounce container and has a smooth spray effect.
Rest Easy provides a natural non-pesticide solution that can effectively kill bed bugs and other small insects. The formula exudes a pleasant cinnamon smell. The 16-ounce container with a spray head is easy to hold and use and can also be carried on the go. You can safely use this environmentally friendly spray around children and pets and protect them from insects and mites.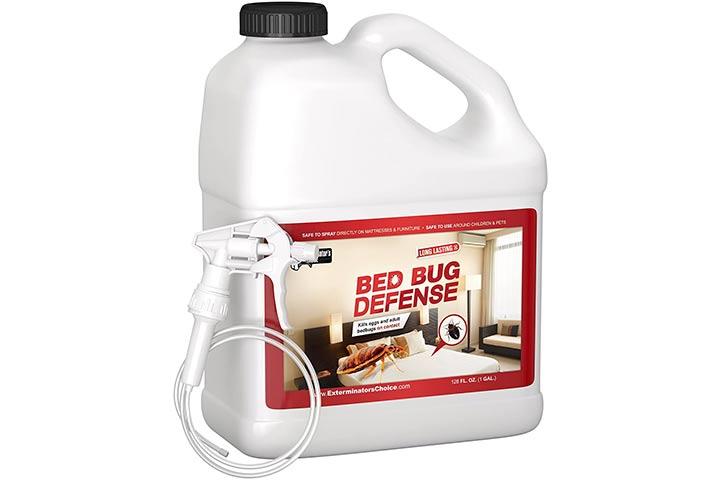 The one-gallon jug from Exterminators Choice provides you with enough firepower to eliminate nasty bugs and mites in the house. This all-natural ingredient has no pungent smell and can kill bed bugs while protecting your family from toxic fumes. A remote hand sprayer extension can be connected to the container so that you can reach the inner corners of closets or furniture easily.
How To Choose The Right Bed Bug Spray? 
While purchasing a bed bug spray, consider the following parameters. 
Composition: Bed bug repellents are either artificially or naturally made. Artificial pesticides are usually synthesized from pesticide varieties, while natural pesticides contain essential oils and plant extracts.
Usage: Bed bug sprays are easy to use. All you need to do is spray the repellant as directed by the manufacturer, preferably on the mattress or bedding. Before usage, ensure that the bedroom doors and windows are open and wait until the spray has dried up entirely before stepping into the room. Avoid using the spray, even if it is free of chemicals when pets or kids are in the room.
Effectiveness: It is essential to know that not all treatments are useful in all situations. Eliminating bed bugs requires patience, especially if you do it yourself without professional help. Most bed bug sprays are multi-purpose. If you have different types of pests and bugs, choose the bug spray to kill all kinds of bugs and pests effectively. 
Safety: You can buy safe and environmentally friendly sprays to eliminate bed bugs while ensuring safety around children and pets. 
Size and quantity: The sprays come in various container sizes. The smaller 17-ounce bottle can be easily used with one hand, while the larger containers come in a gallon jug and have a longer life. 
Bed bugs unhygienic and pose several health risks, and can infect your bedding area sooner than you can imagine. So do not delay getting home the best bed bug sprays and protect yourself and your family from bed bug bites. Choose natural agents to treat minor infestations in your home to control the spread of bed bugs. If the infestation is severe, you may need to invest in stronger chemical-based sprays to eliminate the toughest bugs and stay safe.
Recommended Articles: 
The following two tabs change content below.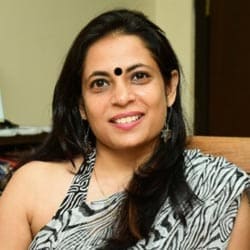 Priti Bose
Priti Bose is a poet, songwriter and blog writer. She did her masters in English, Public Relations and Advertising. Her creative skills and hunger for details make her do in-depth research on the topics she covers. For MomJunction, she writes on product analysis and reviews, especially for kids' products, toys and gifts. Before her association with MomJunction, Priti worked in the...
more