Does your child come home with his lunch box still half-full? A major reason why children don't finish their food is because of its presentation. You may be the best cook in the world, and make all your meals with love. But if you don't know how to present it well, your child may not enjoy it. A colorful bento box can completely change how you pack your child's lunch and how it will contribute positively to your child's eating habits. Finding the best bento box for kids can be a challenge. If you have never bought one before, you may be at a loss of trying to figure out how to buy one and the things you should keep in mind. MomJunction is here to help you out. Here is a list of the 15 best bento boxes for kids and how you can choose the best one.
15 Best Bento Boxes For Kids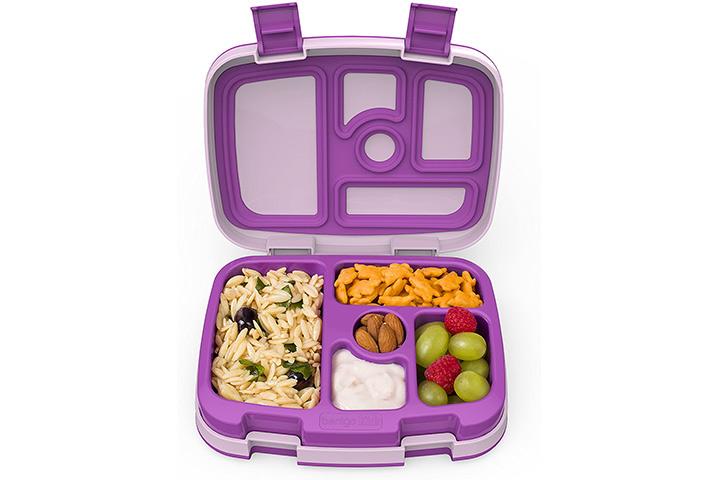 This practical bento box for kids is divided into 5 compartments, making it ideal for your child's lunch hour. It is made with a drop-proof design, and its rubber-coated edges make it sturdy. Even if your child jumps up and down with the bento box in his bag, you don't ever have to worry about leakage or spills. The cover comes with two latches that are easy to open and close. It is both microwave and dishwasher (top rack) safe. It features removable trays for easy reheating of food and is BPA-free too.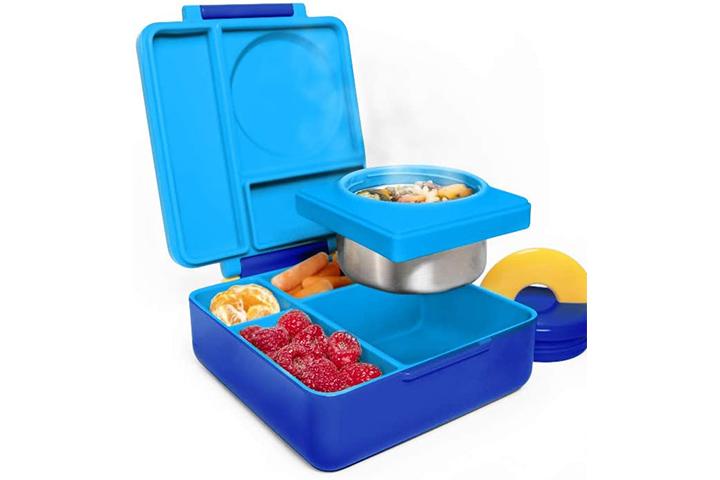 No matter what you have packed for lunch, this bento box for kids will keep the food warm for hours. The insulated container comes with a thermos insert, which allows you to pack both hot and cold food. It is sturdy, durable, and made of 304-grade stainless steel. It comes with 3 sections, which can be further divided into subsections with the dividers included in the box. It also comes with 1 large clip-lock cover, which makes it leak-proof. As the rubber seals are removable, it is quite easy to clean. This multi-functional box is BPA-free too.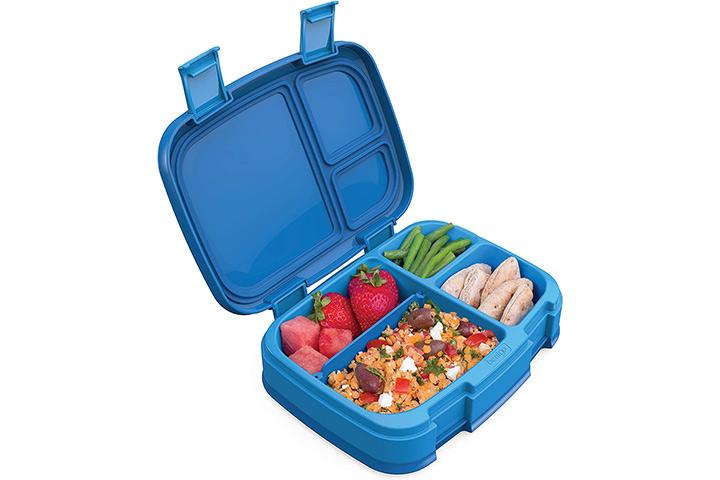 This kid's bento box comes with built-in compartments, which makes it easy for parents to portion out a balanced lunch for their children. It comes with 2 secure locking-clips, ensuring that it stays leak-proof, but also easy enough for a child to open and close on his own. The compartment tray is detachable, which makes it easy to clean and wash the entire box thoroughly. The box also includes removable dividers so that you can add more knick-knacks to your child's lunch. This versatile lunch box is dishwasher safe and BPA-free too.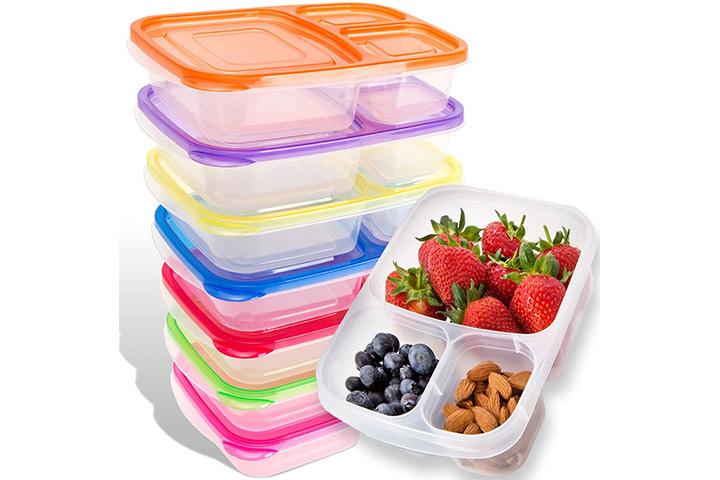 Surprise your child with not only new recipes every day but also new bento boxes too! This 7-pack bento box set comes with different colored lids, one for each day of the week. These boxes are both freezer and microwave safe, and BPA-free too. You can also give it a quick wash in the top-rack of the dishwasher. It comes with 2 small compartments and 1 large compartment, with a capacity of 1150 ml. This makes the box not only ideal for children but adults as well.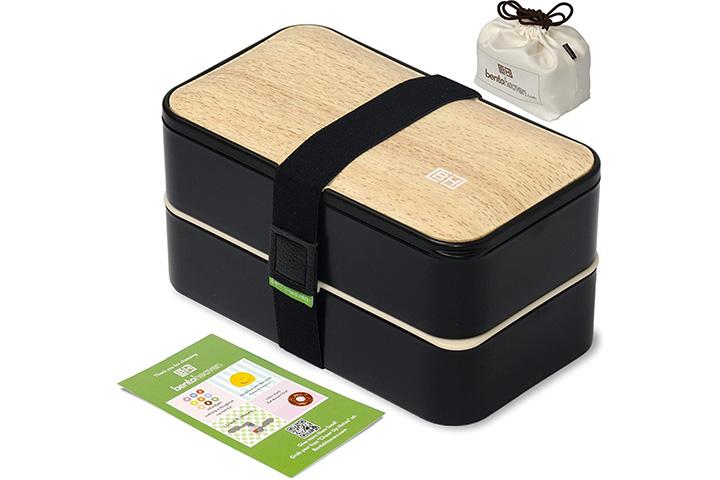 Now here's a bento box that will add some style to your child's lunch hour! This two-tier bento box also comes with its very own cutlery tray that includes a spoon, a fork, a butter knife, and a pair of chopsticks. Made with high-quality, food-grade, and BPA-free materials, this bento box assures no leaks, no spills, and no smells. Safe for the microwave, dishwasher, and freezer, this box also comes with ventilation locks, which help in reducing heating time. You also get a free bag to house the box along with an elastic strap to hold it in place.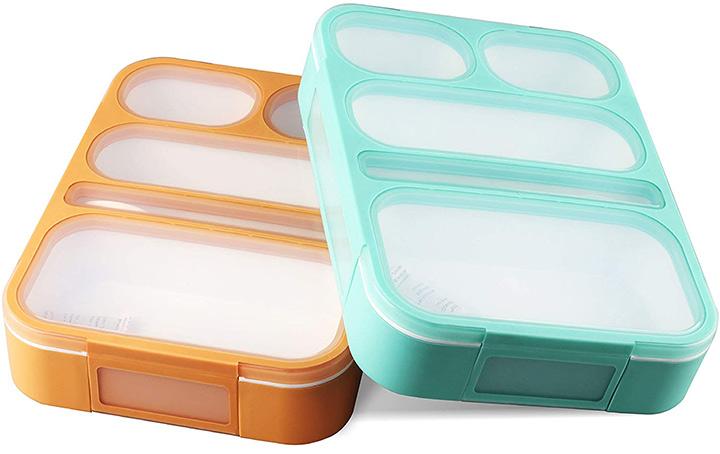 Made from FDA-approved and BPA-free materials, these bento boxes come in a set of 2. When you buy 1 bento box set, you will also receive 5 ebooks for free! So, you can try new recipes, every day. This box can be your child's go-to lunch box as it comes with a full set of cutlery, including a chopstick set. 100% eco-friendly and BPA-free, you can toss this box in the freezer, microwave, and dishwasher without any worries. It comes with 5 practical compartments and 4 secure lock clips.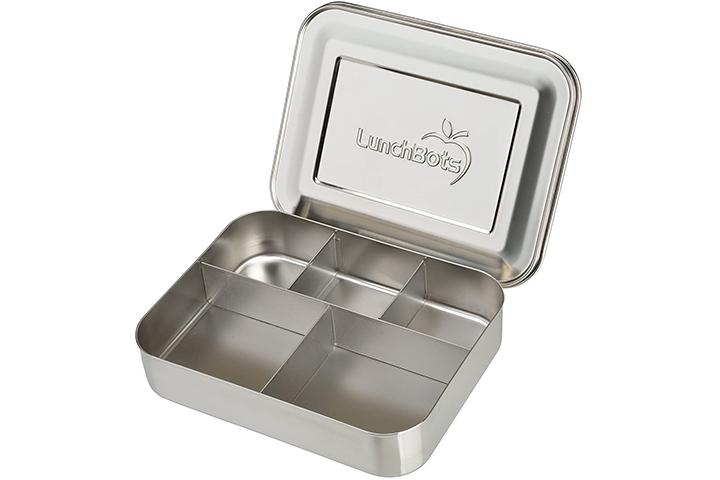 Made from premium-quality 18/8 stainless steel, this container comes with 5 sections and an airtight lid to keep any food from spilling out. So, whether it's fruits, vegetables, or snacks that you are packing, you can rest assured that it will stay fresh for several hours. As it measures in at 20cmx15cm, you can pack a wide variety of foods in large quantities for your child's growing appetite. However, do keep in mind that the cover and dividers aren't watertight, so avoid packing any liquids in the box.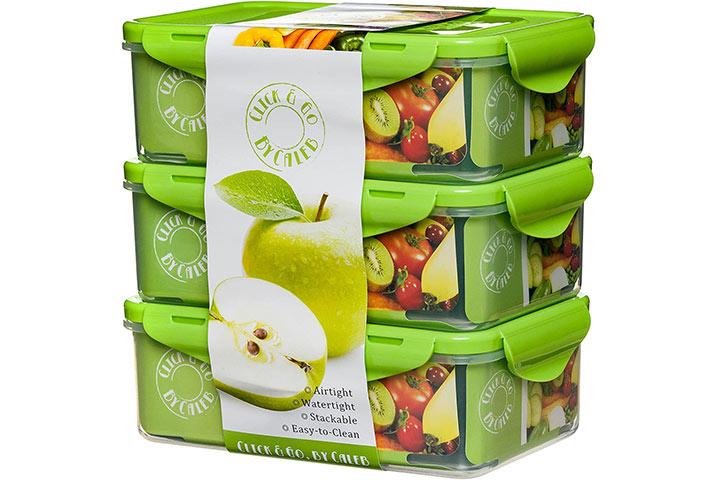 Do you have more than one child you need to pack lunch for? If yes, why don't you give these bento boxes a look? It comes in a set of 3, and each bento box is 39 oz. It features 3 compartments and one all-encompassing lid that has clip-on silicone locks on all 4 sides. Microwave, dishwasher, and freezer safe, these boxes are also FDA-approved and BPA-free. As they are sturdy and made using high-quality materials, they will last a long time and also keep food fresh for several hours.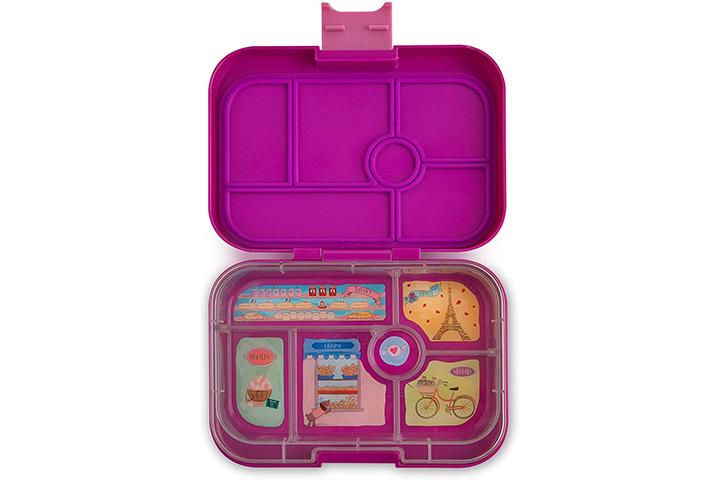 Winner for the "Good Design Award For A Children's Product", this box comes with illustrations to keep a child more engaged. The compartmentalized tray is divided into 5 slots that is removable. The slots are also pre-named with terms such as dairy, proteins, fruit, and grains, making it one step easier for parents to pack the box. The slots are sealed perfectly by one lid that comes with one clip-on lock. It is made of food-safe materials and is BPA and phthalate-free. Parents are advised not to pack any liquids as it may cause leakage.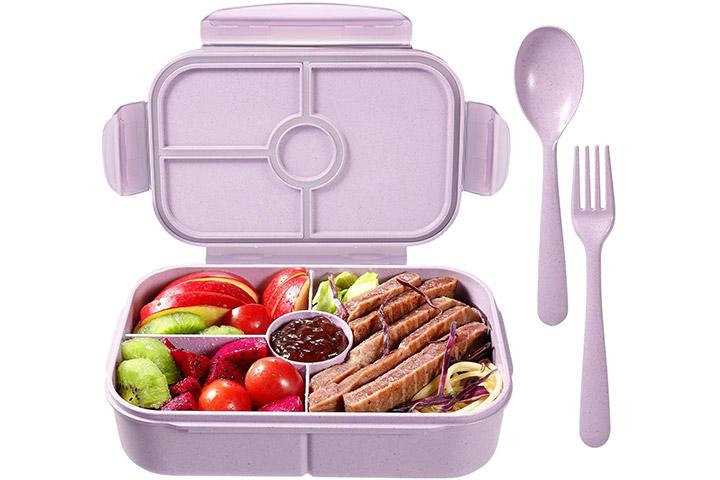 Lightweight and portable, this bento box will add a pop of color and fun to your child's meal-time. It comes with 1 small, 2 medium, and 1 large compartments to house your child's lunch and is well-covered by a snap-lid with elastic sealing. Made of food-grade material, this box is FDA-approved and BPA-free. It gives off no odors and is stain-resistant. It is safe for use in the top rack of a dishwasher and is microwave and freezer-friendly as well. The box also includes a spoon and fork.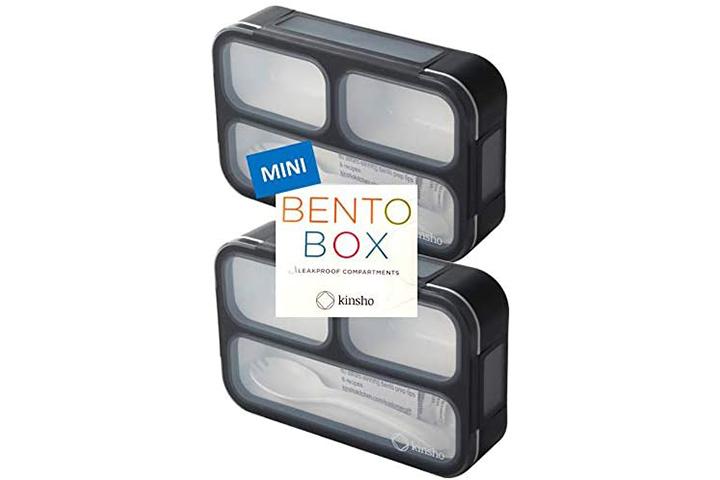 If you are running out of bento box ideas for kids, let this sturdy yet lightweight bento box help you out. As it comes in a set of 2, you can use one for yourself too. Each bento box can hold upto 2.25 cups and includes a spork. It features 1 large section and 2 smaller ones, all of which are securely shut with snap-tight latches with indents on them. The lids also come with silicone overlays that give them extra strength and durability. This box is made of BPA-free plastic.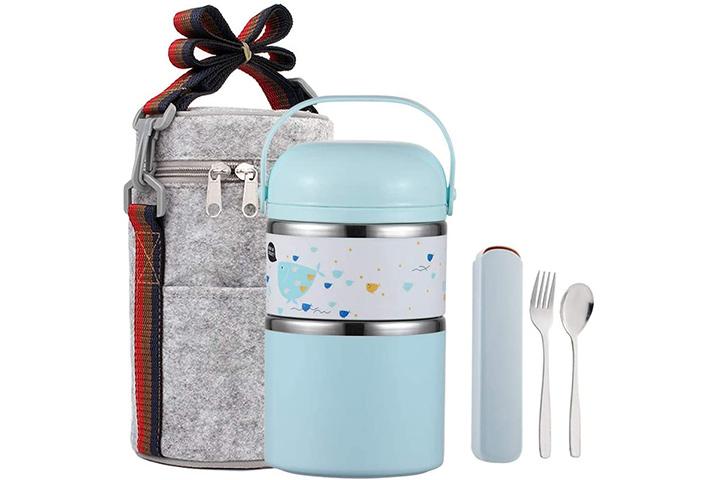 If you are looking for a non-toxic, BPA-free stainless steel bento box for kids, you can opt for this one. It is rust-resistant, and the plastic exterior makes it durable and strong. Its 2-tiered design allows you to stack and keep food separated and helps you portion out food easily too. The containers in each layer come with a sealed silicone ring, which prevents any spillage or leakage of any kind. Yes, this means you can even pack soup for lunch! Are you wondering if the food will stay warm? Yes, this bento box is insulated as well.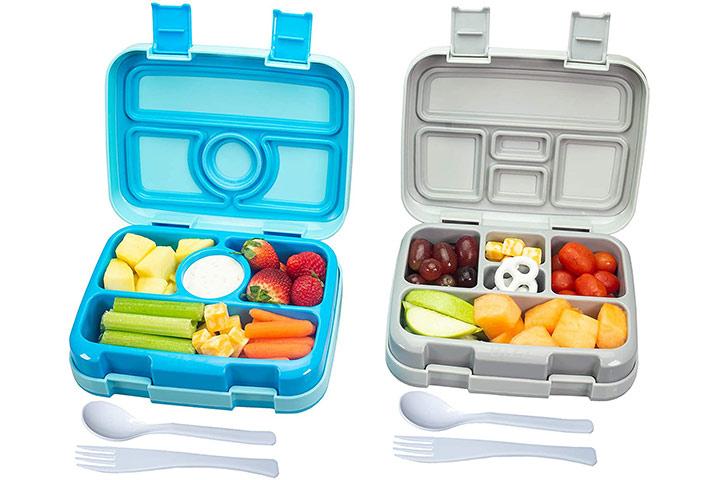 These kids' bento box containers come in a set of two and feature 4 and 5 compartments, respectively. Not only are they microwave and dishwasher safe, but they are also BPA-free. Although they are lightweight, they can accommodate 30 oz, and allows for a snug fit in your child's backpack. If you want to wash it by hand or heat the food, you can simply remove the trays to do so. They are stain-free, odorless, and mildew-resistant, making it one of the best bento boxes for kids. They also come with a spoon and a fork.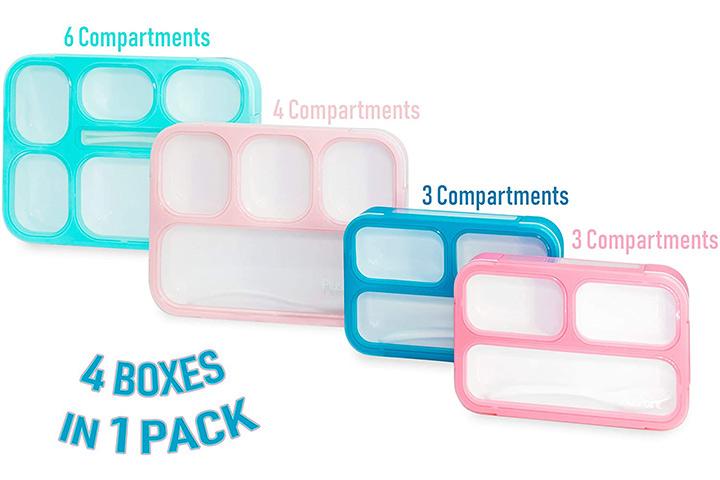 Depending on your child's appetite and what you want to pack for lunch, these 4 boxes can help you figure out which box to use when. The set comes with one box with 6 compartments, one box with 4 compartments, and two smaller boxes with 3 compartments each. Made using high-quality food-grade plastic, these boxes are durable, spill-proof, and BPA-free. They can be popped in the microwave for a quick heating session and can be used in the dishwasher too.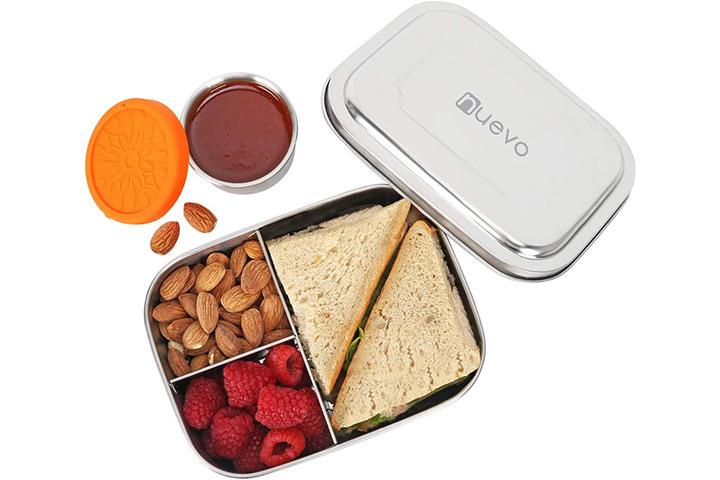 This stainless steel bento box comes with 3 compartments and a separate steel container in which you can pack food items like dips and sauces. The secure lid is easy to open but doesn't come loose, and the smaller container comes with an anti-leak silicone lid, which prevents any spillage. Suitable for both the microwave and the dishwasher, this bento box is durable and BPA-free.
How To Choose The Right Bento Box For Kids?
When selecting a bento box for your child, there are few things you must keep in mind. Let's take a look at them:
For the safety of your child's health, ensure that the bento box is FDA-approved, BPA-free, free of toxins, and odorless.
Look for bento boxes with airtight lids. Not only does it keep things from spilling, but it will also help in keeping food fresh for several hours.
Choose bento boxes that are easy to clean. Most high-quality bento boxes are dishwasher safe. However, to improve the longevity of the box, hand-washing is a better option.
Keep in mind that your child can only carry a small box, as their backpacks themselves are small in size.
Choose bento boxes with at least 3 to 4 compartments. If you can't find one, look for a bento box that comes with dividers. This way, you can portion out your child's meal easily while adding variety to his lunch.
Another thing to keep in mind when buying one is to make sure that the box is microwave-safe.
Children are always excited to eat their food when it is served or packaged attractively. Bento boxes can help you do that, and it is extremely practical as well. Do you pack your child's lunch in bento boxes? If no, are you looking to make the switch? Let us know if any of these bento boxes are soon making their way into your child's backpack.
Recommended Articles: