CrossFit is a high-intensity workout that can be hard on your hands, and if you want to keep them well-protected, you need the right gear. CrossFit gloves give your palms and wrists plenty of support to maximize your grip and minimize fatigue. They protect the hands and keep them dry while doing heavy lifts, pull-ups, rope climbs, and kettlebell swings. The Velcro closures at the wrist are completely adjustable and give the needed support and range of motion.
Here, we have included a list of the best CrossFit gloves made from a range of materials and offering varying coverage levels to suit your preference.

Top Products From Our List
13 Best CrossFit Gloves
The Fit Active Sports weight lifting gloves offer full protection for the palm, including the thumb. They are made of silicone-printed neoprene and have thick padding. Their open-back design lets your hands breathe and cool off between workout sets. They offer extra grip on the pull-up bar, barbell, kettlebells, and muscle up rings. These gloves are excellent for CrossFit training and Olympic lifts, such as squats, lifts, snatches, cleans and jerks that require wrist support. You will find them in sizes ranging from XS to XL.
Pros
Glove material is resistant to water, oils, chemicals, heat, and wear and tear
Proper padding prevents tears and calluses
Velcro bands provide wrist support and make them adjustable for comfort
Provide excellent grip and ventilation
Suitable for both men and women
Prevent bad odor from sweating, and are easy to wash
Cons
Seams and padding may wear when worn during strenuous lifting
May rub inside the palm
RIMSports gym and workout gloves are designed to withstand tough CrossFit routines. They are comfortable, dry, and washable, and designed to suit both men and women. The full leather thick padded palm protects the hands and offers an added grip on the pull-up bar, barbell, kettlebells, dumbbells, and the rower. They are made of spandex palm and premium leather thumb. These gloves work great as weightlifting gloves, gym gloves, and CrossFit gloves.
Pros
100% leather and spandex offer breathability and long-lasting durability
Support wrists when lifting free weights
Protects the hands during the forearm headstand
Comfortably folds the knuckles when delivering the hook punch
Diagonal and wide Velcro latch provides flexibility and movement
Lightweight and odorless
Cons
Possible size discrepancy may run one size small
The Ihuan workout gloves are neither too thick nor too thin, and hence, will not hurt your palm skin or weaken the grip. Constructed with high-quality, silicone-printed neoprene palm and ultralight microfiber back, they are likely to offer the best fitness experience. The built-in wrist wraps provide comfort while performing cross training and Olympic lifts such as snatches, front squats, lifts, and cleans and jerks that require wrist protection. They are available in four sizes, from small (S) to extra-large (XL).
Pros
Offer full protection to the hands
Foam padded palm prevents tears and calluses
Wrist support protects the arms from spraining
Resistant to water, oil, chemicals, heat, and aging
Breathable back mesh provides added comfort during intense workouts
Comes with a lifetime money-back warranty
Cons
Seams may tear with heavy-duty lifting
JerkFit is known for making the best hand grips, specially designed for CrossFitters. They are specifically made to reduce tearing while supporting the wrist during intense workouts. Made from high quality, hypo-allergenic, latex-free neoprene, these gloves offer extra protection and comfort. JerkFit's GripRidge technology absorbs more chalk, allowing you to get a good grip during workouts. They come in seven different colors or patterns for you to pick according to your taste.
Pros
All-round utility gloves for powerlifting, bodybuilding, cross fitness, calisthenics, etc.
Three-finger coverage can be customized to a perfect fit
Adjustable wrist straps support heavy lifts
Provides natural glide to absorb friction away from the hands
Cause no bunching or painful pinching
Durable and absorbs sweat and chalk, keeping hands dry
Hook-and-loop closure lets you adjust the tension easily and quickly
Cons
Does not provide total palm coverage
The Mava Sports workout gloves are designed to cover the full palm and the thumb, leaving the back to breathe. They are made of neoprene, reinforced leather, and a silicone layer, and the three-layered palm protects the hands from calluses and blisters. You can use them during intense gym workouts, WODs, or weightlifting sessions. They also offer good support for snatches, deadlifts, cleans, bench presses, front squats, and other exercises that require wrist protection. Sizes are available for both men and women, ranging from XS to XL.
Pros
Comfortable, and firm on the hand
Wrist straps with adjustable Velcro closure offer good support
Ideal for anyone, from novice to expert level athlete
Anatomically-shaped silicone padding for added grip
Open-hand design provides ventilation and keeps your hand dry
Cons
Sizing may be an issue
May be slippery
The Bear Komplex handgrips are made of genuine leather and are specially designed to prevent the buckle from pressing into your wrist. Triple stitching provides full support and stability for lasting grip through endless workout sessions. They come in various colors, with the motto 'Get Better' printed on each glove. You can find your right fit from the multiple sizes from XS to L. There is also a three-hole version of these CrossFit gloves.
Pros
Adjustable wrist straps provide optimal comfort and support
Durable stitching ensures full support and stability
Superior leather construction protects palms during muscle-ups, pull-ups, chest to bar, kettlebell swings, etc.
Includes a Carabiner grip to store the pair of gloves intact
Well ventilated and offer a full range of motion
Cons
Godzilla grip fitness gloves are suitable for both beginners and advanced weightlifters. They enhance your performance for better and focused workout sessions by protecting the hands and supporting the wrists. The gloves could give you a strong grip when working out with dumbbells, barbells, pull-up bars, kettlebells, and more. They are available in multiple sizes from XS to XL.
Pros
Offer full-coverage to the palm, fingers, and thumb
Silicone and neoprene extra padding gives comfortable and robust grip
Long-lasting gloves will not rip or tear
Wraps around each finger for full hand protection
Open back design for breathability
Adjustable Velcro straps provide comfort
Cons
Cushioning may be too thick for barbell users
A good pair of workout gloves should protect you from calluses, sores, and skin damage when weightlifting, doing push-ups, lifting dumbbells, or barbells. The ProFitness CrossFit gloves are designed to be comfortable, functional, and easy on the hands. They are available with a 30-day full refund warranty. The unisex gloves come in two color schemes and sizes from XS to XL.
Pros
Neoprene and reinforced padded silicone palms improve grip
Adjustable wrist wrap adds comfort and reduces hand tension
Flexible Velcro closure for a secure fit
Ideal cross-training gloves for weightlifting, WODs, and overall fitness
Breathable and lightweight material allows the palm to breathe and reduces sweat
Machine-washable
Cons
Silicone palm grip may bother
May loosen up with usage
This new pair of Ultralite gloves by Anvil Fitness gives a fresh feeling as you slide them on your hands. The unisex gloves are ideal for CrossFit, burpees, push-ups, barbells, kettlebells, or dumbbells workouts. There is a 100% money-back guarantee on this product if you are not satisfied with its fit and comfort. They are available in black and pink color schemes.
Pros
Silicone material on the palm improves grip
Non-padded, thin, and lightweight gloves
Integrated clip feature to prevent losing them
Convenient finger pull tabs
Suitable for men, women, youth, and kids
Cons
Some reviews report they run a size smaller
Viomir offers one of the best gloves for CrossFit, and they are known for their ultra-light and ultra-breathable features. The gloves have an open back with highly-perforated mesh, and a double layer microfiber and foam palm at the front. These all-purpose gloves are suitable for weightlifting, exercise, pull-ups, fitness, and general workouts. Wear them to feel comfortable during powerlifting, cross-training, snatches, etc.
Pros
Blend of microfiber and Lycra offering comfort and durability
Sweat wipe patch on the thumb and pull-off tabs on the fingers
Thick wristband offers additional support when heavy lifting
Easy to wear and take off
Cushioned pad with silica anti-slip offers reliable stability
Adjustable Velcro for secure fit and comfort
Cons
Mixed reviews on durability
The Pseudois CrossFit gloves for women feature patented technology to offer a strong grip and isolate target muscles when performing workouts. They are ideal for free weights, cross-training, CrossFit, powerlifting, gym, golf, cycling, fitness, rope climbing, bicycling, and rowing. You can purchase these gloves in small, medium, or large sizes, after referring to the sizing chart. They come in two color options of red and blue.
Pros
High-elastic nylon fabric is breathable and lightweight
Anatomical relief pads prevent blisters and reduce hand fatigue
Breathable fabric material keeps the palm dry and removes odor
Palm has a flexible and comfortable pattern to enhance grip
Adjustable wrist band makes gloves comfortable
Gloves are easy to wash and maintain
Cons
The tiny gloves by Nano Hertz are versatile and designed to perform heavy-duty weight training. They can be used for pull-ups, weightlifting, powerlifting, chin-ups, cross-training, and WODs. You can wrap them around your palm, leaving your fingers and wrists free for comfort and mobility. They are available in sizes from small to large and give a pleasant workout experience for both men and women.
Pros
Durable and breathable elastic neoprene fabric
Silicone rubber beading provides high traction to grip the iron bar firmly
Small extra padding on the palm prevents blisters and calluses
Anti-slip design to avoid accidental injuries
Minimal sweating, lets your hands breathe
Cons
Mixed reviews on durability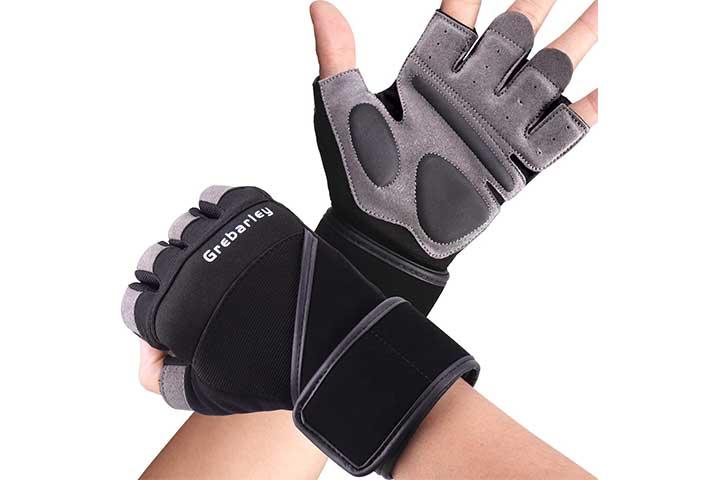 The Grebarley CrossFit gloves for pull-ups are equipped with silicone padding and embossing, giving a cushioning effect. The non-slip material on the fingers and protective padding on the palm gives the ultimate grip to the hands. There is a customizable wrist support for you to either loosen or tighten. They are suitable for weight lifting, fitness, exercise, gym training, rowing, and general workouts. You can choose them from a wide range of sizes from XS to XXL.
Pros
Durable and high-quality microfiber delivers better tractability, tear and crack resistance
Water-absorbing fabric on the thumb keeps dry
Pull tabs on fingers make it easier to pull
Integrated wrist support strap has soft edges
Easy to maintain and easily washable
Cons
Some reviews report they run a size small
How To Choose the Right CrossFit Gloves?
Here are a few key features to consider if you are planning to get the best CrossFit gloves.
Size: All manufacturers have their unique take on sizing. Measure your wrist size. Check the individual sizing chart to pick the appropriately sized gloves for your hands
Durability: Look for a pair of gloves made of premium materials and reinforced stitching for durability.
Comfort: It can be tricky to determine the comfort of a pair of gloves without even trying them. But reading the reviews and specifications can help you buy the right one.
Breathability: You require CrossFit gloves that prevent sweating of the palms. Choose a pair made of breathable material that keeps your hands dry and prevents bad odor.
Design: Modern CrossFit gloves have two or three-finger grips, making them more comfortable to wear. You can choose from half finger gloves and fingerless gloves, which give good wrist support, compared to full-sized gloves.
Wrist support: Consider gloves with adjustable wrist wraps as they offer better support. You can find two types of wrist wraps – Velcro closure and hook-and-loop closure; you can choose based on your preference.
Machine-washable: Even highly breathable gloves may stink eventually. Get the ones that are easy to wash in the machine along with the rest of the gear.
Frequently Asked Questions
1. Are there any disadvantages of using CrossFit gloves?
Gloves are likely to improve your grip by making your hands less slippery. But, in some instances, they may also weaken your grip because they take away the stress from your wrists and forearms. Anecdotal evidence states that athletes who train without gloves develop a firmer grip than those who wear them.
2. How do I clean and take care of my CrossFit gloves? 
Care procedures are based on the glove material. Genuine leather gloves cannot be machine-washed and should be left to air dry. Other synthetic material gloves need machine-wash, and washing procedures depend on the manufacturer's instructions.
3. How to get the right size of CrossFit gloves?
Measure either the width or length of your hand to determine the correct size of your entire hand. You can then use a glove sizing chart to get gloves that fit.
4. Can I use chalk powder instead of gloves?
Chalk is an age-old remedy for sweaty hands to enhance your grip while doing workouts. But it does not protect your hands from calluses and blisters and creates a mess. Gloves, on the other hand, are not messy, and also protect the skin.
Whether you prefer wearing gloves full time or only when doing intense CrossFit training, investing in the right pair is essential. The above list, buying guide, and answers to frequent queries might help you purchase the best CrossFit gloves for your workout needs.