Ever worn a napkin at a fancy restaurant? These napkins protect your clothes from accidental spills at the table. Baby bibs are nothing but napkins for babies, since they are still far from learning table manners and are sure to spill food on their clothes.
Baby bibs are available in different styles, colors, designs, and materials. This MomJunction post brings to you some of the best bibs for babies.
Need For A Baby Bib
Your baby may have learned to sit up and eat solid food but may not have mastered the skill of holding food in their mouth. It will be a while until your baby gets to that point. Until then, they may keep spilling food on their clothes. It means you will have lots of laundry to do after every meal. A baby bib is like a protective shield that keeps your child's clothes safe from food stains and drools. It is easy to wear and wash and is especially helpful while traveling.
11 Best Bibs For Babies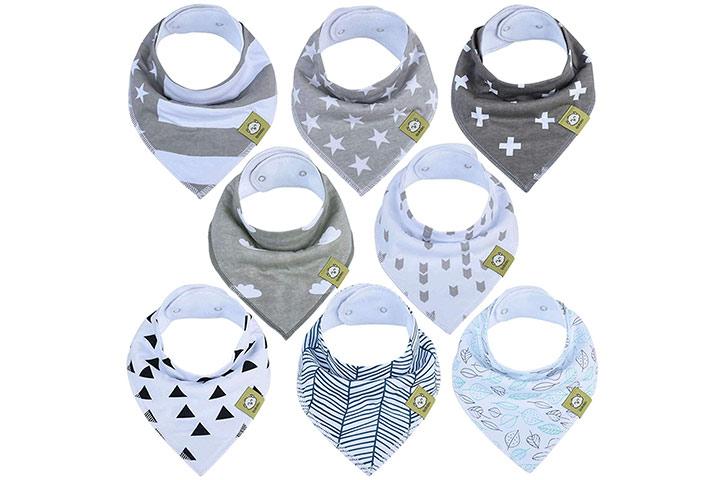 Drool bibs shaped like a bandana around the neck are not only useful but also look cool. This set of eight bandana bibs comes in shades of grey with simple yet elegant designs.
Features:
Made of organic cotton and soft polyester fleece for comfortable wear
Bib neck comes with two adjustable snaps to fit according to the baby's comfort
Breathable, absorbent material can be worn all day
Easy to wash in a machine
When we say that bibs have become a fashion statement, we mean it. Look at these lovely holiday-themed bibs with embroidered holiday wishes written on them. They are super cute and will add some color to your holidays.
Features:
Made of cotton and polyester, the bibs easily absorb drools and spills
Fiber filling ensures clothes are safe from stains
Available in various designs
If your baby has just started drinking from a regular cup or is still learning, this silicone bib might become your savior. Its flexible hard body comes with a front pocket that collects both liquid and food, keeping your baby's clothes completely safe.
Features:
Made from food-grade silicone and free of BPA and phthalates
Neck fasteners come with four adjustments to provide the best fit
Waterproof and stain-resistant body
Easy to wash with regular soap and water
Available in both designed and plain patterns
Looking for a wide and lightweight bib? Have a look at this SuperBib that comes with a wide front. It enables you to feed your baby without worrying about stains.
Features:
Made from polyester, it is soft, lightweight, and free of BPA, PVC, vinyl, phthalates, and lead
Single-layer cloth eliminates the chances of bacteria growth
Comes with an adjustable hook-and-loop fastener
Water, stain, and odor resistant body is easily washable in a machine

When your baby goes through the teething phase, it is natural for them to leave drool marks over their clothes. This pinafore comes with a teether to help relieve sore gums, and the bandana protects your baby's clothes.
Features:
Made of cotton and inner polyester fleece for added protection
Nickel-free snaps around the neck ensure a comfortable fitting
Available in six colorful designs
A mother of five who knows the importance of a good baby bib founded KUDL. No wonder, the front of the bib is broad and large to help catch every spilled food.
Features:
Front of bib is made of cotton, while the back is made of polyester fleece
Three snaps around the neck help adjust the bib to suit the baby's comfort
Easy to wash in a machine and the color does not fade after washing
Available in exciting colors and designs
This bib set comes in a pack of four pieces. The bibs come in simple primary colors and are easy to wash and use.
Features:
Made of organic cotton with knit terry towel for protection from spills
Durable material does not fade even after multiple washes
Stretchable fabric makes it easy to wipe the baby's face after a meal
Comes with a stretchable neckline and does not have any closure for adjustment
If you are looking for a an ultra-soft and comfortable bib, this cotton muslin bib could be just perfect. It has a super soft texture and is available in various colors.
Features:
Features four layers to provide complete protection against spills and drools
Adjustable snaps ensure a snug and comfortable fit
Material gets softer with every wash
These feeder bibs help to keep your child neat and clean. The set includes 18 large and lightweight bibs.
Features:
Made of two-ply knit terry
Ultra-soft and absorbent
Comes with an adjustable hook-and-loop closure
Can be washed in a machine
This baby bib is larger than any of the bibs on this list and is a real savior for traveling moms. It is easy to use and can be disposed of without you having to wash or carry it with you.
Features:
Leak-proof bib comes with three layers to keep the baby comfortable and protect clothes from drool and food spills
Open front pocket catches crumbs and accidental spills
Hook and loop closure makes adjustment of bib easy and convenient
This three-piece teething bib set makes teething and drooling mess-free for you and your baby. It comes with a teether and multiple textured surfaces.
Features:
Made of 100% cotton muslin for comfortable wear
Hook-and-loop closure ensures easy adjustment of bib around the neck
Teether is made of BPA-free material
Easy to wash in a machine
Types Of Baby Bibs
Bibs are available in a variety of shapes and colorful designs. Different bibs serve different purposes. Let's have a look at some of the most commonly used baby bibs.
Drool bibs: Small in size, drool or dribble bibs can be worn by babies anytime even when not feeding. These bibs are meant to protect your baby's clothes from dribbles.
Feeding bibs: These large bibs are meant to be worn by babies when eating, so food does not come in contact with your baby's clothes and instead falls on the bib.
Sleeve or smock bibs: Like a raincoat that protects clothes from the rain, the smock bib protects clothes from food that your baby spills. It covers your baby from neck to knee, so their clothes are stain-free.
Disposable bibs: Created for women who travel with their little ones, these work like a feeding bib and are easy to dispose of without you having to carry them everywhere.
Tips For Buying A Perfect Baby Bib
The following tips might make it a little easy for you to select the right bib.
1. Easily-washable:
Bibs are supposed to take the hit instead of your baby's clothes, which means they are meant to be soiled. So, choose bibs that are easy to clean. Bibs that are washable in a machine or even in a dishwasher help ease laundry work.
2. Comfortable to wear
Bibs are available in different materials. If the material does not suit your child, they may not like wearing it. Ensure that the bib you buy is soft, light, and easily wearable over clothes, so your baby does not feel irritated.
3. Snug fit
Proper fitting of the bib also matters to a large extent. Ill-fitting bibs or big, loose bibs can make babies uncomfortable around their neck. Hence, ensure you use a proper fitting bib for your baby.
4. Attractive design
Check out our list of baby bibs, and you will see the variety in bib designs and shapes. Bibs are even available in different themes such as cartoons and fruits. You can buy one that will attract your baby, so they can be more than happy to wear it.
Frequently Asked Questions
1. Are silicone bibs safe?
A major concern with silicone bibs is their weight. Parents feel that silicone bibs might feel heavy around their baby's neck. This is not true. Silicone bibs are comfortable to wear. These bibs are made from food-grade silicone and are waterproof and stain-proof.  They are easy to wash in a dishwasher and are durable and long-lasting, unlike cloth bibs. However, when silicone bibs come directly in contact with the baby's skin, their texture is likely to irritate the baby. So, it is better to wear the bib over clothes.
2. Which fabric is best for baby bibs?
Here are a few types of fabric used for bibs.
Cotton: Cotton bibs are most useful when traveling. They are easy to fold and store. Besides, they are soft and absorbent and feel like a regular piece of clothing for your baby.
Silicone: Silicone bibs that are BPA- and PVC-free are lightweight and adjustable. Apart from being stain-proof, these bibs are also easy to clean and re-use.
Terrycloth: Also called towel cloth bins, terrycloth bibs are soft on the baby's skin and comfortable to wear. They quickly absorb spills and  keep clothes clean.
PUL: Polyurethane laminate bibs are popular with parents because they are waterproof and easy to wipe clean.
Bamboo: Known for their anti-bacterial and hypoallergenic properties, bamboo bibs are ideal for environmentally conscious parents because they are easy to dispose of.
3. How long should babies wear bibs?
Babies usually stop drooling and learn to eat properly by the age of two years. Your baby can wear a bib while eating or even otherwise for as long as you feel they need it. However, do not make it a habit that it becomes difficult for them to eat without a bib.
The list above includes bibs that we think are most suitable for your little one. Which one did you like the most? Share your choice with us in the comments section below.
   Recommended Articles:  
The following two tabs change content below.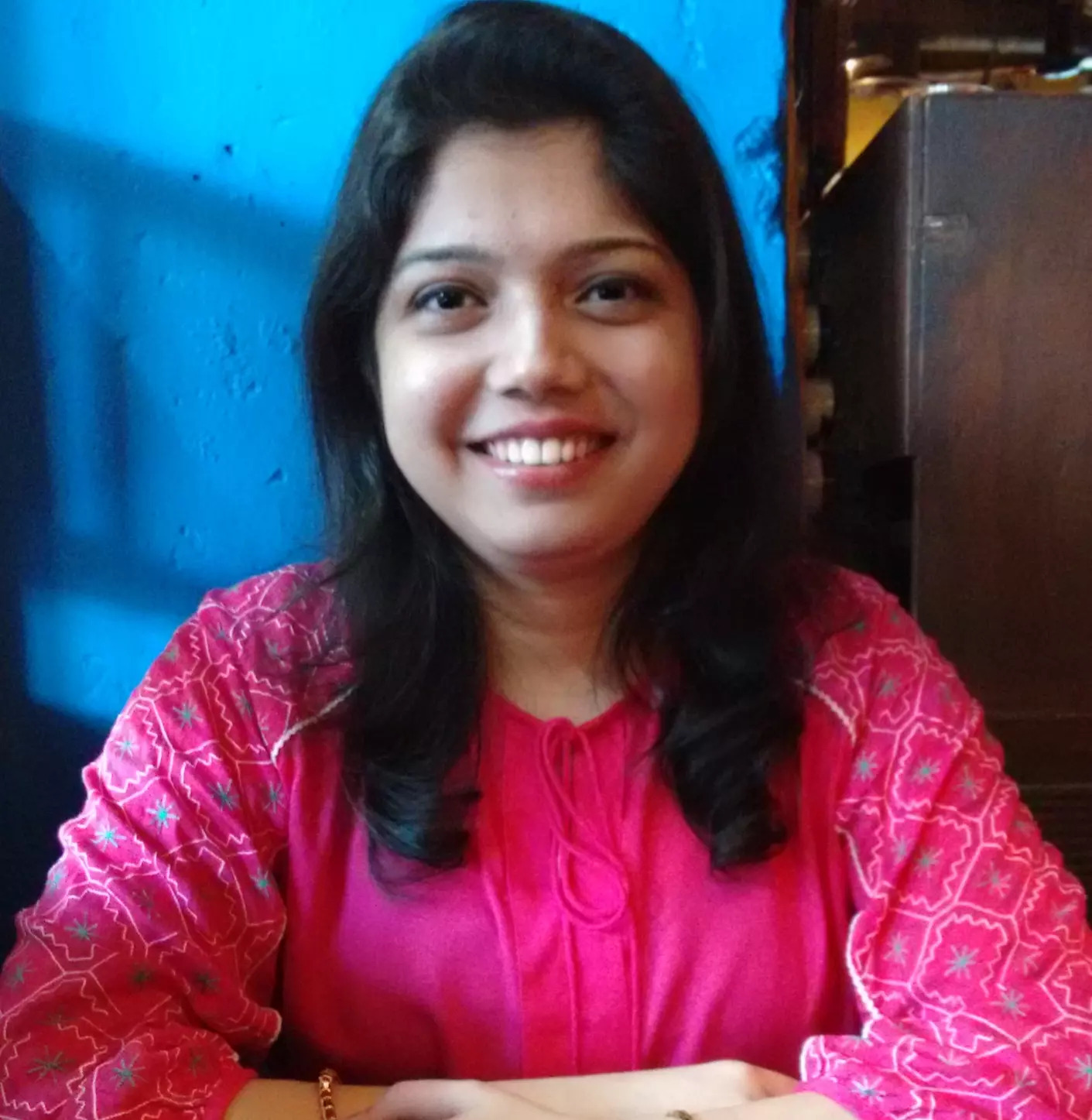 Ratika Pai
Ratika has experience writing in various fields including finance, education, lifestyle, and entertainment. After her masters degree in Commerce, she acquired a PG Diploma in Communication and Journalism from Mumbai University. She is inquisitive about human relationships and likes to study people and how they manage their relationships, during her freetime. At MomJunction, Ratika writes insightful and informative articles on...
more