A birthing ball is known to ease pain, provide comfort, reduce stress, open pelvic muscles, and bring the baby to the right position. The market has a lot of such birthing or pregnancy balls for exercising and stretching. You can get the right birthing ball that suits your requirements, but make sure to use it under a professional's supervision after consulting your doctor.
We bring you a list of the best birthing balls in this MomJunction post, along with their pros and cons. Go through them, compare, and pick the best one for yourself.
Safety Measures To Consider When Using Birthing Ball 
It is always recommended to follow an expert's guidance when exercising during pregnancy. We have some safety tips for you to follow when using a birthing ball.
Use a firm ball that gives a gentle bounce and doesn't slip away frequently.
Choose a ball based on your height. Ideally, short-height women can use a 55cm ball, medium-height women can use a ball of 65cm size, and tall women can have a 75cm ball.
Do not place the birthing ball on the floor, use it on a carpet or rug to avoid a slip.
Take the support of a chair or sofa or wall when stretching or exercising with the birthing ball.
Your exercise and stretching forms should be simple and not strenuous. The movement should be slow and not fast.
Do not exercise alone. Always do it with the help of your husband or family member or a professional.
11 Best Birthing Balls
The thick and reliable birthing ball is made of high-quality PVC material and is free from toxic and BPA substances. It is available in different sizes, including small, large, double extra large, and trips extra large. Get this versatile ball home and help yourself in relieving stress.
Pros 
Durable and safer
Has anti-burst design
Comes with anti-slip feature
Can hold 2200lb weight
Ideal for all exercises
Cons 
May not hold air properly
May not offer stability
The high-quality professional-grade birthing ball comes with a hand pump, valve remover, and two air plugs. It comes in three sizes, including 65cm, 75cm, and 85cm. You can get any birthing ball size as per your requirements and stay healthy during pregnancy.
Pros 
Made of good-quality PVC material
Free from BPA, phthalate, heavy metal, and toxic
Anti-burst and non-slip feature
Supports 2200lb weight
Provides multipurpose benefits
Cons 
May not be long-lasting
May not be round in shape
Helpful in prenatal and birthing exercises, this birthing ball is made of elastic and soft PVC material. It is easy to hold, and you can relax on it whenever you feel stressed. Anyone can use the ball for various purposes, such as for correct posture, labor support, and more.
Pros 
Non-stick and anti-slip feature
Uniform thickness of 0.2cm
Can hold 2000lb weight
Burst resistant and versatile
Comes with a hand pump and exercise guide
Cons 
May have inflating issues
The all-rounder birthing ball comes with a foot pump, measuring tape, plug, and remover. It provides a good chance to perform stretching and simple prenatal exercises to stay de-stressed and fit during the pregnancy period.
Pros 
Slip-resistant and anti-burst feature
Available in five sizes and seven colors
Made of durable and thick material
Can be cleaned easily
Can hold 2000lb weight
Cons 
Keep your body relaxed and fit with the help of this birthing ball during pregnancy. The ball can be used for multiple purposes, such as stretching, sitting on it, and relaxing. It is made of professional-grade material that is safe and durable for use.
Pros 
Supports 600lb weight
Burst-resistant and low-odor material
Free from toxic substances
Available in different sizes
Cons 
Keep your pregnancy stress at bay using this birthing ball for simple stretches. It is made with an eco-friendly, professional-grade rubber material. The ball supports 1000lb weight and has horizontal lines to give a firm grip when holding.
Pros
Free from heavy metals and BPA
Comes with pumping tube
Anti-slip and anti-burst
Easy to clean and inflate
Cons 
May not withstand heavy weight
May not last for long
The premium-quality birthing ball helps you to stay calm and fit during pregnancy. It is made of premium-quality rubber material, which is durable and eco-friendly. It can be used for exercises and as a chair to correct body posture.
Pros 
Available in eight colors and three sizes
Comes with a free pump
Has burst-resistant feature
Durable and versatile
Supports 2000lb weight
Cons 
Size may differ from what's shown
Made of heavy-weight vinyl, this birthing ball is about 1.5 times thicker and durable than other exercise balls. The package includes two resistant bands, inflatable stability ring, foot pump, cleaning pad, and a few accessories. It can be used for prenatal and birthing exercises.
Pros 
Versatile and slip-resistant
Safe and durable
Odor-free and explosion-proof
Can support 2200lb weight
Easy to use and clean
Cons 
Size may not be suitable for all
The professional-quality pregnancy ball could relax your pain, strengthen your core, and open up your muscles. It is made of eco-friendly PVC material and is safe to use. The ball is lightweight and can hold up to 600lb of weight. Practice using it regularly and stay relaxed.
Pros 
Durable matte finish
Explosion-proof material used
Has anti-slip feature
Available in different sizes and colors
Thick and non-toxic
Cons 
May not withstand heavyweight
Available in three different sizes, the birthing ball is made of high-quality material and is ideal for stretching and doing simple exercises during pregnancy. The ball also comes with an optional base and a hand pump to inflate.
Pros 
Available in different colors
Has anti-slip feature
Versatile and anti-burst
Requires less maintenance
Offers stability on any surface
Cons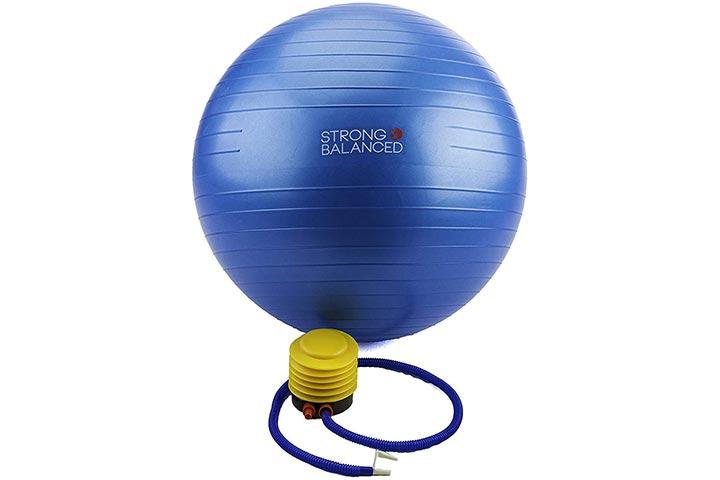 Safe and stable, this birthing ball can be an ideal exercise option during pregnancy. The ball comes with a few accessories such as a hand pump, measuring tape, exercise guide, and ball plugs. It is durable and can be used by anyone and for any workout purpose.
Pros 
Has anti-matte surface
Can withstand 2000lb weight
Versatile and provides stability
Anti-burst feature
Thicker and resistant to puncture
Cons 
Benefits Of A Birthing Ball 
Using a birthing ball during pregnancy and before the delivery time could be helpful in many ways. Some of the common benefits are mentioned below (1) (2) (3).
Corrects body posture, provides relaxation, and improves muscle stretching
Increases flexibility, resistance, and strength
Helps in balancing quadriceps and lower back
Lowers the chances of c-section
Relieves discomfort during labor and before delivery
Reposition the baby
Eases labor pain and tension in the back
Reduces anxiety and stress levels
How To Choose The Right Birthing Ball? 
Some factors are to be considered when selecting an appropriate birthing ball.
Material: The ball should be made of a durable material such as PVC or eco-friendly rubber. These are firm, light, long-lasting, and do not have any inflation problems.
Size: A correct size of birthing ball lets you exercise without any hassle. There are three to four sizes of balls available. If you are 5'5" or shorter, use a 55cm ball. If you are between 5'5" and 5'8", use 65cm ball. And if you are taller than 5'8", use 75cm ball.
Grade: Look for a professional-grade birthing ball that has an anti-slip and burst-free feature. Such a ball can withstand your pregnancy weight so that you don't have to worry and allows you to exercise freely.
You can use the birthing ball during pregnancy, before delivery, and even after. Make sure you are using the ball as guided by an expert and follow the safety tips. Read the pros and cons of each product carefully and pick the one that suits your requirements.
Recommended Articles: