Many parents resort to biscuits for babies as a quick snack option when on the go and even at home. Commercial biscuits are typically prepared with flour (leavened or unleavened), fat, sugar, and salts. They may also contain other ingredients, such as milk, egg, seeds, dried fruits, and nuts.
Biscuits are easily available, affordable, and offer a vast selection range. However, while commercial biscuits look appealing, it should be considered whether they are safe or have any hidden ingredients you should check for.
Read on to know more about commercial biscuits and whether they are safe for babies, reasons to avoid or limit them, and healthy alternatives to try.
Can Babies Eat Biscuits?
According to the NHS, parents should avoid feeding packaged baby snacks, such as biscuits, to their babies as its not a healthy replacement for fresh food (1) (2). Instead, it is advisable to develop a habit of feeding healthy foods, such as fresh fruits and vegetables, to babies.
However, for functional reasons, such as teething, babies older than six months can consume low-sodium, unsweetened teething biscuits (3) (4). Teething biscuits might help reduce teething pain by allowing your baby to chew on to a firm surface (5).
Why Should Babies Avoid Eating Store-Bought Biscuits?
Store-bought, packaged biscuits are considered unhealthy for babies as they usually contain:
Refined flour: Most commercial biscuits contain refined wheat flour (maida), which has little or no fiber and it lacks micronutrients, such as vitamin B and iron (6) (7). Lack of fiber makes digestion of flour tough on an infant's immature digestive system. Besides, its consumption may lead to constipation if the baby does not consume a well-balanced diet (8).
Salt: Babies younger than 12 months require less than one gram (less than 0.4g sodium) of salt a day (11). The baby can get this sodium from breast milk or formula milk and other solids they might be eating. Thus, feeding packaged biscuits could lead to overconsumption of sodium that may affect an infant's long-term health.
Trans fats: Trans fats are a type of dietary fats that form when vegetable oils are hydrogenated (12). They are known to raise the levels of LDL cholesterol (bad cholesterol) and decrease HDL cholesterol (good cholesterol). Over a period, trans fats consumption may trigger health issues, such as heart diseases (13) (14).
Other synthetics: Raising agents, dough conditioners, flavors, artificial colors, and preservatives are some synthetic substances that biscuits may contain and it is something you definitely do not want your baby to eat. These substances could be harsh on your little one's gastrointestinal system.
Hidden allergens: Biscuits may contain hidden allergens, such as milk solids, soy, and peanut, which may trigger an allergic reaction or cause intolerance in susceptible babies. Identifying these allergens by reading the labels may not always be possible since some manufacturers may not mention these ingredients.
Although not all store-bought biscuits contain unhealthy ingredients, it may not always be possible to tell if they are inappropriate for the baby's health. Thus, it is better to avoid commercial, packaged biscuits for babies.  
Which Biscuits Are Suitable For Babies?
Unsweetened homemade biscuits consisting of healthy ingredients, such as whole grains, millets, pulses, fruits, nuts, and seeds, without any preservatives, additives, artificial sugars, salt, or baking powder, are suitable for babies. Homemade biscuits should be fed to the baby in moderation. They should not replace healthy foods, such as breast milk or formula milk, cereals, soups, purees, and porridges.
Homemade Biscuit Recipes For Babies And Toddlers
Here are some tasty and healthy homemade biscuit recipes that you can try for your baby.
1. Whole-wheat biscuits
You will need:
1 cup whole-wheat flour
1tsp baking powder
½ cup ghee (melted)
½ cup jaggery powder
¼ tsp cardamom powder
2tbsp milk
1tbsp dry fruit powder
1tsp cumin seeds
How to:
Preheat the oven to 338°F (170°C). Grease the baking tray with some ghee and set aside.
Sieve wheat flour and baking powder together with a fine-mesh sieve.
Add ghee, cumin seeds, and dry fruit powder to the whole-wheat flour mix. Mix well using a fork until the mixture turns into a crumble.
Add jaggery powder and cardamom powder. Mix well.
Add milk while rolling the wheat flour mix with your fingers. Make a lump-free, smooth dough. Refrigerate the dough for 20 minutes.
Divide the dough into small balls and flatten each ball with your palm to shape them into a biscuit.
Place all the biscuits into the baking tray and bake them for 20 minutes or until biscuits start browning on the edges. Once the outer surface cracks, they will be done soon.
Once done, remove the tray from the oven, and set aside to allow the biscuit to come to room temperature.
Store the biscuits in an airtight container in the refrigerator. Consume within two weeks.
2. Oats biscuit
You will need:
75g whole-wheat flour
75g rolled oats
75g ghee
50g jaggery powder
2tbsp milk
2tbsp almonds, cashew, and walnuts (finely chopped)
1tsp baking powder
How to:
Preheat the oven to 356°F (180°C). Line a baking tray with parchment paper and set aside.
Sift the whole-wheat flour into a bowl and add baking powder, oats, and jaggery
Heat milk and ghee in a saucepan over low heat for five minutes.
Add milk and ghee to the dry ingredients and mix everything thoroughly. Take care not to add more milk as the dough will become runny and can not be used after that.
Spoon the mixture onto the baking tray and shape them using the spoon's back. Leave space between biscuits to provide free space to rise and spread.
Once done, put the tray into the oven and bake for 15 minutes or until the biscuits turn golden brown.
After 15 minutes, take out the tray from the oven and leave aside for the biscuits to cool.
Store the biscuits in an airtight container in the refrigerator. Consume within two weeks.
3. Ragi biscuits
You will need:
4 cups ragi flour
2 cups ghee
1½ cup jaggery powder
2tsp baking soda
2tbsp cardamom powder
2tbsp dry fruit powder
2tbsp sesame seeds (roasted)
How to:
Preheat the oven to 320°F (160°C). Grease the baking tray using a small amount of ghee.
Put a pan on low flame and dry roast ragi flour with constant stirring until you get the aroma of the flour.
Switch off the flame. Add ghee, dry fruit powder, sesame seeds, cardamom powder, jaggery, and baking soda into the pan. Mix well until you get smooth, lump-free dough.
Make small balls by rolling the dough softly between your palms and place them on the baking tray. Flatten the balls by pressing them with the back of a spoon.
Place the baking tray into the oven and bake the biscuits for about 20 minutes.
After 20 minutes, take out the tray from the oven and set aside to cool.
Transfer the biscuits into an airtight container and store in the refrigerator for up to a week.
Frequently Asked Questions
1. Are teething biscuits safe for babies?
Yes. Introducing teething biscuits for babies is recommended once they reach 8-12 months of age. However, be careful about the constituents of the teething biscuits as they may contain sugar, which can increase the risk of cavities in babies (4) (17).
2. Do biscuits cause constipation in babies?
Yes. Biscuits are usually made from wheat, refined sugars, added preservatives, and fats found to be harmful to babies. In particular, wheat contains gluten, which has been shown to cause functional constipation in babies when introduced early in life (18) (19).
3. Are digestive biscuits good for constipation in babies?
No. Even digestive biscuits are made of wheat flour, sugars, and other preservatives that can cause constipation in babies.
4. Do biscuits cause gas in babies?
Yes. Some ingredients in biscuits, including wheat, sugar, and fibers, are known to cause gas (19) (20).
5. Are biscuits good for upset stomach in infants?
No. In contrast, introducing biscuits to infants is associated with various stomach problems, including gas and constipation.
You can prepare biscuits for babies at home using sugar, salt, flour, ginger powder, onion, curry leaves, and eggs. Though commercial biscuits are a popular snack among adults, they are not advisable for babies since they may contain refined flour, refined sugar, trans fats emulsifiers, and other synthetics. Instead, add healthier alternatives, such as homemade whole-wheat biscuits, ragi biscuits, and oat biscuits, to your baby's diet. Further, ensure you store these biscuits safely and hygienically and feed them to your baby in moderation.
Key Pointers
Packaged foods like biscuits are unhealthy for children and should be replaced with fresh fruits and vegetables.
Store-bought biscuits contain refined flour, sugar, salt, and many other ingredients that may adversely affect your baby.
For teething purposes, offer low-sodium, unsweetened biscuits to your babies.
Homemade biscuits with whole grains, nuts, seeds, and pulses are suitable for babies if given in moderation.
References:
MomJunction's articles are written after analyzing the research works of expert authors and institutions. Our references consist of resources established by authorities in their respective fields. You can learn more about the authenticity of the information we present in our
editorial policy
.
The following two tabs change content below.

Swati Patwal is a clinical nutritionist, a Certified Diabetes Educator (CDE) and a toddler mom with over eight years of experience in diverse fields of nutrition. She started her career as a CSR project coordinator for a healthy eating and active lifestyle project catering to school children. Then she worked as a nutrition faculty and clinical nutrition coach in different...
more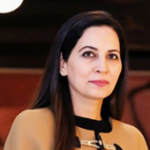 Seeemaa Budhraja
(DDHE & DNHE)
Seeemaa Budhraja is a Delhi-based dietitian and nutritionist. She specializes in weight and lifestyle management. She is a healthy recipe designer, works as a health motivator and wellness coach as well. She has worked as a slimming head with one of the top organizations in India. She excels in therapeutic diets for various lifestyle-related diseases. This renowned nutritionist is a...
more