Blackheads are a common skin problem. They are extremely irritating and painful to remove. Dead skin cells combined with sweat, dirt, unnecessary oils, and makeup can clog your skin pores and cause stubborn blackheads to accumulate. A blackhead remover vacuum uses gentle suction to remove blemishes, dead skin cells, and other harmful substances from the skin and provide you with clear skin.
Here is a list of the best blackhead remover vacuums, which can be used at home and save the trouble of going to the salon regularly. 

Top Products From Our List
13 Best Blackhead Remover Vacuums
The beauty tool can deeply clean the skin, promote elasticity, and improve blood circulation by removing blemishes and blackheads. The multifunctional vacuum has a power button, three adjustable buttons for intensity levels, four suction heads, and suitable for all skin types. The blackhead remover is made of high-quality ABS material and is equipped with a built-in 450mAh battery that you can charge via a USB cable.
Eunon's handheld water-resistant blackhead remover tool is a smart device that can generate gentle and robust suction and can easily remove blackheads from the skin. The LCD allows you to check the device's working time and battery status. The tool has three adjustable suction modes and four replaceable probe heads designed for different skin conditions. The device recharges quickly and allows both cordless and corded operation.
The Hotsch electric blackhead remover, made of high-quality ABS and PC materials, has three suction modes and replaceable probes, which can help remove blackheads, whiteheads, dead skin cells, and unwanted makeup residues. You can choose the mode that best suits your skin texture. The optimum size LED screen can display the battery power and operation modes. The blue light will shrink the pores, clean the skin, and minimize blackhead regeneration. It is equipped with a large-capacity lithium battery, which can be recharged using a USB cable.
The smooth pore cleanser is made of high-quality ABS material, which can efficiently remove blackheads, dead skin cells, wrinkles, and makeup residues. It is equipped with six suction heads to meet the needs of different skins. The advanced LED screen can display the suction level and battery power, making the device easy to use. The robust 900mAh lithium battery lasts longer and makes the device more effective.
Eivotor's skincare products are equipped with five interchangeable beauty probes to help you effectively remove blemishes and blackheads. The blackhead removal tool has a strong absorption capacity so that you can choose three modes according to your skin texture. The device is suitable for even the most sensitive skin types and has long battery life. The package also contains five beauty needles for better usage.
The modern blackhead remover vacuum is made of high-quality ABS material, effectively relieving skin discomfort without any toxins and harmful chemicals. The sturdy air pump provides a gentle and reliable suction to remove acne, dust, oil, and blackheads. The unique design tool has three levels and five replaceable probes. The device is suitable for all skin textures and can be charged using a USB cable. The portable tool is easy to carry around.
Euasoo blackhead remover is made of high-quality and non-toxic ABS material. The reliable skincare product can produce gentle suction for different skin types with its five adjustable modes and four replaceable probe heads to improve the skin and remove blemishes and blackheads. The large-sized LED screen displays the battery power and suction level in a convenient way. The device is equipped with a powerful lithium battery and has long battery life.
Kingwell's powerful blackhead remover is an easy-to-operate device made of environment-friendly and comfortable materials. The blackhead remover tool has four replaceable suction probes, using the advanced vacuum absorption technology to remove blackheads gently. The lightweight device is effortless to carry and can be easily charged using a USB cable. The cleaning speed of the equipment is also fast.
Sihohan is an effective beauty tool equipped with the latest vacuum technology that can generate a robust and deep suction and ensure the removal of stubborn blackheads, dead skin cells, and excess oil. The device has four different suction probes, letting you choose a suitable suction probe for your skin texture.
DermaSuction facial pore vacuum is equipped with four interchangeable suction heads, which can gently remove blackheads and acne. The skincare tool has two power settings, from which you can easily choose the one that suits you best. Four powerful heads, namely small, large, oval, and silicone, can effectively exfoliate dead skin cells and rejuvenate your skin. You can easily clean the blackhead remover after use by rinsing it with water.
Sunrich is formulated with innovative technology, which can generate powerful airflow and centrifugal force to ensure easy and effective blackheads removal. The modern design tool uses its five suction heads and three adjustable levels to remove stubborn blackheads. The device is suitable for all skin types and easy to carry around when traveling. The built-in 1000mAh lithium battery has a long battery life, and you can charge the device with a USB cable.
Venussar's multifunctional skincare uses high stable negative pressure technology to remove blackheads, excess oil, dirt, and other unwanted substances from the skin. The dual device can provide heating and cooling functions to ensure deep cleansing of the skin. The device has five interchangeable suction heads, which you can choose according to your preferences. The device has four intensity levels and is suitable for all skin types. The ergonomic device has a bright and optimum size LED display with a robust battery.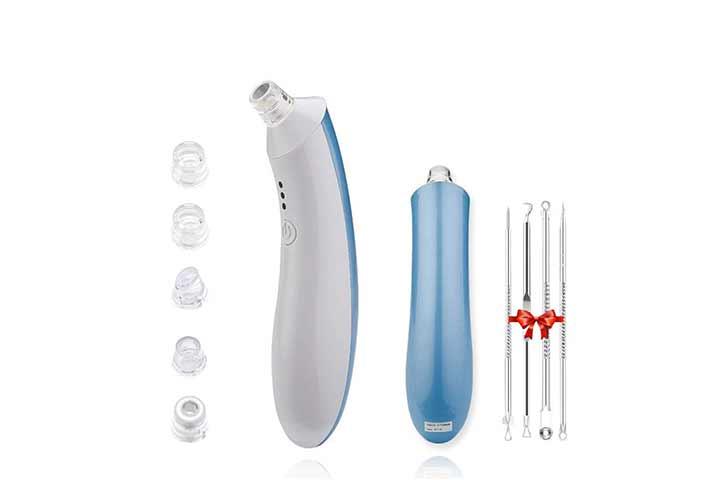 The lightweight and portable blackhead remover tool has a strong motor that can generate powerful suction on three levels and ensure that the skin's elasticity is enhanced. The beauty tool has five different round heads, namely a small round head, two big round heads, an oval head, and a silicone head. These interchangeable heads can relieve various skin discomforts. The safe device is non-toxic, and you can charge the device using a highly efficient USB charger.
How To Choose The Right Blackhead Vacuum?
There are many blackhead removal tools on the market, but choosing the most suitable option for desired results can be difficult. Here's a list of the most critical factors you must pay attention to before making your final choice.
Portable: Choose a light and portable device that makes it easy to carry. A compact blackhead remover tool can be conveniently used even when travelling, or when outdoors.
LCD screen: The LCD screen with optimum size can easily display battery life and modes. Also, choose a model with a robust built made of durable ABS material.
Battery life: Choose a device that can ensure long-lasting battery life. Besides, you must find a model that can be charged with a USB cable and requires the shortest charging time.
Non-toxic: Ensure that the skincare products you choose do not contain harsh chemicals and harmful toxins. Since the blackhead remover is directly applied to the skin, ensure that you buy a safe product.
Interchangeable heads: Choose a beauty device equipped with at least three to four replaceable probe heads, according to your convenience and skin problems. Multiple probe heads ensure that you can quickly and easily remove blackheads of all sizes. 
The blackhead remover vacuum is a convenient device that can ensure the safe application and removal of dead skin cells, grime, excess oil, and makeup residues from the skin. Choose one of these 13 best blackhead remover vacuums to comfortably detox your skin and eliminate dull skin and clogged pores.
Recommended Articles: 
The following two tabs change content below.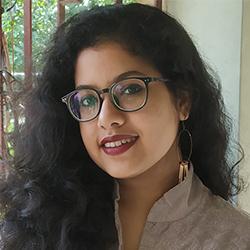 Poulami Nag
Poulami Nag is a writer and associate editor at MomJunction. She did her MA in English from Miranda House, University of Delhi and has qualified UGC-NET. Her journey as a content writer began in 2017 and since then she has garnered diverse interests along the way. Her knowledge of literature and language has given her an eye for detail and...
more