Be it oily skin, dry skin, acne-prone, or sensitive skin, blackheads appear on all types of skin. Exfoliating your skin with scrubs can help remove blackheads. But to see lasting effects, these scrubs must be used for a few weeks and regularly.
Blackhead scrubs help get rid of blackheads and also prevent new ones from popping up. In this MomJunction post, we present you a list of the best blackhead scrubs that you can use at home.
17 Best Blackhead Scrubs
This blackhead-removing scrub contains rice wine and plant oils along with black sugar. This rejuvenates the skin while also making it smooth and clear. The plant oil reduces irritation and the black sugar increases exfoliation. It removes dead skin cells, improves skin complexion, and blood circulation when massaged gently on a regular basis.

This face scrub is laced with green tea leaves and clears blackheads conveniently. It is non-comedogenic and hypoallergenic. It works by unclogging pores and contains 1% salicylic acid, which helps clear blackheads faster. It is also certified as a cruelty-free brand by PETA. Made with 100% natural exfoliants, this scrub cleans pores deeply and calms redness. It is dermatologically tested and is paraben-free.

This face scrub is suitable for all skin types. It is non-comedogenic and is alcohol and oil-free. It is made of fine exfoliating particles that leave your skin glowing. This scrub is cruelty-free and paraben-free. It is one of the best face scrubs for removing blackheads and blemishes. It tackles large pores and reduces fine lines. It is also dermatologically tested.

This powerful scrub helps eliminate blackheads and also prevents the appearance of new ones. It gives a smooth and clear skin. The salicylic acid present in this scrub penetrates the pore deeply and removes grime and dirt. It soothes the skin and does not leave it dry.

This creamy scrub is suitable for all skin types. Made of 2% salicylic acid, this scrub removes oil, impurities, and treats acne, too. It works effectively on preventing breakouts. Natural micro-scrubbers exfoliate the skin and clean the pores deeply. It is gentle and oil-free. It helps eliminate blackheads and acne. This is one of the best blackhead scrubs that can be used at home.

This facial scrub removes blackheads, minimizes pores, reduces acne scars, and removes dead skin. Formulated with glycolic acid derived from sugarcane, it is gentle on the skin. Made of natural ingredients, this scrub is free of parabens, sulfates, and other harsh chemicals. It buffs away fine lines and wrinkles and is cruelty-free.  Use it three times per week for best results.
This scrub exfoliates and cleanses the face deeply. It is known to reduce wrinkles, acne scars, blackheads, and also provides an anti-cellulite treatment. It is specially formulated with salts of the Dead Sea and activated charcoal to remove excess oil and impurities. It can be used as both body and face scrub. It helps lighten the skin, eliminate skin itchiness, and tighten pores with regular use.
This scrub is made of black sugar, which melts away pore-clogging impurities and oil. It removes dead skin cells, effectively leaving the skin soft and supple. It also has special ingredients like shea butter, unsaturated fatty acids, vitamin A and E that softens dry, sensitive skin. It exfoliates dead skin cells and controls blackheads along with moisturizing dry patches.
This scrub reduces the appearance of flaky skin. It gently exfoliates skin, and detoxifies by minimizing pores. It can also combat fine lines, wrinkles, and blackheads. It is made from natural ingredients, namely papaya powder, turmeric, lemongrass powder, kaolin clay, cornstarch, honey powder, lime oil, cinnamon oil, and aloe oil. It is non-comedogenic and does not contain any harmful chemicals, toxins, or preservatives.
This activated charcoal scrub is one of the best scrubs to use at home. It deep cleans skin removing dirt and impurities. It cleanses pores and removes blackheads effectively. It is made of 100% natural ingredients. It can be used on both face and body. It reduces the appearance of pores and is suitable for sensitive skin. It is paraben-free.
This facial gel acts as an exfoliator scrub and effectively removes blackheads. It contains Dead Sea minerals and nutshell powder which gets rid of dirt and impurities, while the gel nourishes the skin. It is free of harmful chemicals. It is more effective than chemical peels and reduces discoloration of the skin. For best results, use it twice a week. It brightens skin tone and reduces dark spots and wrinkles. It is suitable for both men and women.
This face scrub has microcrystals and a smooth, creamy texture to gently scrub and exfoliate the skin. It adds a youthful glow to your skin and improves complexion. It removes blackheads effectively and does not irritate the skin. It is free from artificial coloring, parabens, phthalates, sulfates, or drying alcohols. This is one of the best scrubs that can be used at home.
Get glowing skin in just 60 seconds. This two-in-one mask and exfoliating scrub are made of licorice root extract, mulberry, kojic acid, and vitamins and minerals that include vitamin E and D, and magnesium. It removes blackhead build-up efficiently with its 100% natural ingredients.
This scrub reduces hyperpigmentation. It acts as a dark spot corrector and works on sunspots and age spots. It minimizes visible pores and removes blackheads. It contains antioxidants that work on damaged skin and corrects skin complexion. It is suitable for both men and women. It helps eliminate blackheads, whiteheads, zits, and pimples.
Formulated with charcoal, this blackhead eliminating face scrub draws out impurities and cleanses pores. It contains salicylic acid that clears acne and improves complexion. Visible results in one week with skin attaining a matte look. It helps unclog pores with its oil-free formula.
It contains rice flour, cotton cellulose, papaya, banana, honey, and other natural ingredients that help remove dead skin cells on the face and lips. This is a peeling scrub that moisturizes the skin as well. It brightens skin and soothes without causing irritation. Rich in antioxidants, this scrub removes dead skin cells and makes skin clear.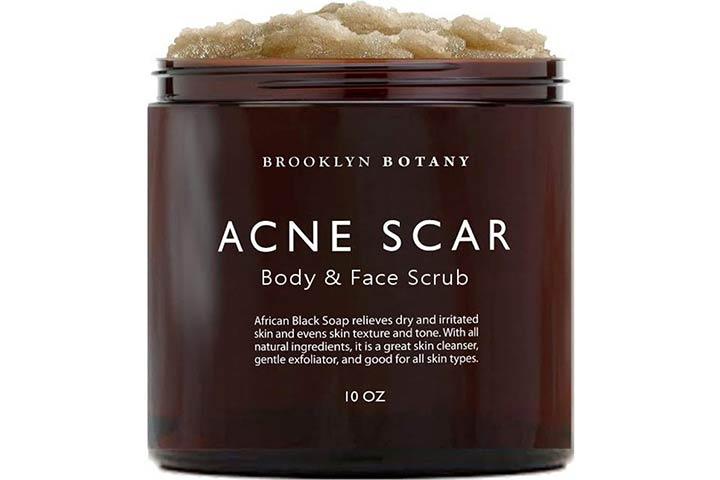 Made with all natural ingredients like African black soap, shea butter, and coconut oil, this product helps remove blackheads and blemishes. It works on removing scars, stretch marks. It is also known to lighten dark marks, unclog pores and moisturize skin. The shea butter and vitamin E help reduce redness and minimize appearance of stretch marks.
How To Apply Blackhead Scrubs On The Face?
Wet your face and put a little amount of scrub onto your palm
Massage the scrub on your face gently
Use a circular motion to rub the scrub on face
Avoid applying scrub around the eyes
Rinse thoroughly with water and pat dry with a towel
Follow instructions on the pack and use it regularly to see visible results
How To Choose The Right Blackhead Scrub?
Choose a scrub that is gentle on the skin and does not cause breakouts. Scrubs with ingredients like salicylic acid helps tackle blackheads by unclogging pores and removing dirt and impurities.
Also, check if it is free from parabens, phthalates, and other harmful chemicals. Consult your dermatologist if you have sensitive or acne-prone skin.
Frequently Asked Questions
1. Do scrubs get rid of blackheads?
Exfoliating regularly can help get rid of blackheads. Scrubs help remove excess dead skin cells and unclog pores, thus reducing the possibility of developing blackheads. But using a gentle scrub is always recommended.
2. How do I permanently get rid of blackheads on my nose?
Use products with salicylic acid. A skin brush can help get rid of blackheads on the nose.  Gently exfoliate using a scrub regularly.
3. Is coffee scrub good for blackheads?
Coffee scrubs have antioxidants that help reduce inflammation and avoid breakouts. It helps reduce redness on the face, and it is also known to tackle acne effectively.
Blackheads can be managed with the right kind of scrub. Using it regularly is the key to attaining good results. It improves skin texture, complexion, and helps manage acne breakouts. Blackheads scrubs can also be effective in removing dirt and impurities, thus giving you radiant and healthy skin.

Recommended Articles
The following two tabs change content below.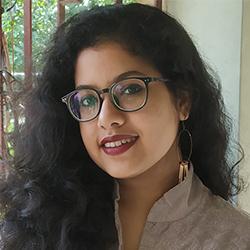 Poulami Nag
Poulami Nag is a writer and associate editor at MomJunction. She did her MA in English from Miranda House, University of Delhi and has qualified UGC-NET. Her journey as a content writer began in 2017 and since then she has garnered diverse interests along the way. Her knowledge of literature and language has given her an eye for detail and...
more