Jump to:
If you are looking for fun games to keep your child engaged, we have compiled a list of the best classic board games for kids to help you choose the right one. Suitable for playing with two to three players or the whole family, these board games allow your child to bond with their friends and family while having fun. Apart from popular games like chess, Cluedo, Monopoly, and more, you can also try new ones to grab your child's attention. These games help improve your child's memory, analytical, and cognitive skills while keeping them away from screens and video games. So, explore our list of entertaining board games to find one that suits your child's preferences.
21 Classic Board Games For Kids Of 8-14 Years
Family Board Games
Playing board games is one of the best ways of spending unhurried quality time with your family. Your children want and need you to spend time and play with them. So why not pick out a family board game for tonight?
1. Best Family Board Game: Carcassonne
Carcassonne is one of the best family board games. It is a tile-placement game where each player places a tile within a piece of Southern French landscape. With no reading involved, this map making strategy game can be played by kids of all ages. A tile may represent a city, road, grassland etc., and it has to be placed adjacent to other tiles such that it extends the existing cities, roads etc. Having placed a tile, the player chooses to be a knight, a robber on the road or a peasant to continue the game. The game continues until the last tile has been placed. This video will help you understand whether this is the right game for your child.
Age: 8+
Players: 2 to 5
Playing time: 30-90 minutes
Type: Simple, intelligent tile game
Exploding Kittens is a card game where you play by putting a deck of cards face down. Players keep drawing cards, and when someone draws an exploding kitten, they explode and go out of the game, unless, they have a defuse card. The objective is to stay in the game using the mitigate, defuse and move cards to avoid the exploding kittens. The game is unique and a fresh breath of air from the traditional board games. Check out this review of the game to know more about it.
Age: 10+
Players: 2-5 players (up to 9 players can play with combined decks)
Playing time: 15 minutes
Type: A family-friendly party card game
3. Best Roleplaying Game: Dominion
Dominion is a role play game, where you are the monarch of a peasant kingdom with beautiful rivers and forests. The objective of the game is to expand your territory and build a Dominion. But, the challenge is to beat the other monarchs with the same plans! This is a very addictive and captivating card game that the entire family can play. This simple video will help you understand the game and make an informed choice.
Age: 13+
Players: 2-4 players
Playing time: 30 minutes
Type: Card game
4. Best Guessing Game:  Hedbanz
Hedbanz is one of the best, fun board games for kids. It is a goofy guessing game of "Who am I?" The game begins when the players put a headband and pick a card and put it in the headband, facing the other players. Players then ask 'yes or no' questions to figure out what they are- an animal, an object, or a fruit or vegetable. Be the first one to guess what you are, and you win!
Age: 8+
Players: 3-10
Playing time: 45 minutes
Type: Brain teaser card & chips game
5. Best For Teenagers: Codename
Codename has two rival spymasters who know the secret identities and code names of 25 secret agents. The two teams compete against each other to contact their agents first through the clues that their masters give. The teammates have to guess the right names based on the clues, while trying to avoid the assassin.
Win or lose, your kids will enjoy playing this social word game.
Age: 14+
Players: 2-8 players
Playing time: 15 minutes
Type: Mystery solving
War Board Games
War games can be a little intimidating for first-timers, but blowing up enemy squads, at least on the board, can be a thrilling experience for most. Here is a list of exciting war games that older kids will enjoy playing.
Star Wars Rebellion is one of the latest board games for Star Wars fans. Play and participate in the combat between the rebels and the Galactic Empire. Players get to run the empire of the Galactics and curb the flying rebels, while mandating the starships and troops for their cause. The game comes with a two-piece board and over 150 miniatures along with cards featuring the popular Star Wars heroes and villains.
Age: 14+
Players: 2-4
Playing time: 180-240 minutes
Type: War strategy game
King Robert Baratheon dies and the land of Westeros is gearing up for battle. In the Game of Thrones board game, players take up the roles of the great houses of the seven kingdoms of Westeros as they vie for the control of the Iron Throne through warfare. Choose strategy, sweet words or diplomacy to influence the Westeros and claim the throne.
Age: 14+
Players: 3-6
Playing time: 120-240 minutes
Type: Strategic War planning
In the War of the Ring, one player takes control of Free Peoples (FP) and the other controls the Shadow Armies(SA). The enormous map of the Middle Earth lies on the table as the board. There are more than 200 miniature figures each representing the Fellowship, the Witch King, and the Nazgul. The game takes your kids into the story of the Lord of the Rings, which makes this ideal for fans of the books or the movies.
Age: 13+
Players: 2-4
Playing time: 150-180 minutes
Type: Adventure, fantasy
Strategy Board Games
Strategy board games are fun and productive as they require the kids to work their brains. These games help your kid evolve in strategic thinking, planning and using their wits to outscore your opponents. Here is a list of fantastic strategy games you can try.
9. Best Strategy Game: Splendor
Splendor is an addictive strategy game for kids. Players don the role of a wealthy renaissance merchant who's set to acquire mines and transportation, hire artisans to make gorgeous jewelry and impress the nobility. Players trade precious stones for development cards and vice-versa, to create better jewelry, gain prestige and win.
The game is easy to learn and can keep the kids busy for hours!
Age: 10+
Players: 2-4
Playing time: 30 minutes
Type: Strategic resource management
10. Best Team Game: Pandemic
Players don the role of scientists to fight four deadly diseases, and find the cures for the illnesses before humanity gets extinguished. Pandemic is a cooperative game and encourages the players to work together and plan their strategies before outbreaks. The game has some extension packs and never gets old.
Age: 8+
Players: 2-4 players
Playing time: 45 minutes
Type: Strategy, Collaboration
Catan is a building game where players can collect resources to build roads, cities, harbors, and settlements, enabling the kids to create an entirely new board each time they play. The objective is to acquire resources and build better than the other players, while thwarting their plans to rob you or dominate you.
Age: 12+
Players: 3-4 players
Playing time: 20 minutes
Type: Strategy, Planning
Educational Board Games
Games need not be overtly educative, but educational board games help kids get a firm hold over communication, learning, sharing, and imagination. Here are our picks of the best educational board games for kids.
7Wonders board game takes the kids through three different ages, allowing them to lead an ancient civilization from its primitive roots to its rise as a world power. Create a nation of artisans and philosophers or lead your troops towards military victory. You can also master the mysteries of science and technology, while building an influential merchant state. Then, rule!
Age: 10+
Players: 2-7
Playing time: 30 minutes
Type: Strategic planning
Scattergories is an excellent classic word game for anyone to play, individually or as teams. Each player has to fill a category list where the answers have to begin with the same letter. If no player matches up to your answers, you score points. After three rounds, the winner is declared. Then, begin a new game!
Age: 12+
Players: 2-6 players
Playing time: 30 minutes
Type: Wordplay, vocabulary
Apples to Apples is one of the top rated party games for kids. There are two decks of cards, namely 'Things' and 'Descriptions.' An active player draws a 'description' card featuring an adjective, and the rest of the players secretly choose the 'thing' card that best matches the adjective. Active player reveals the card and decides the card best matching the adjective. The winner becomes the next active player.
Age: 12+
Players: 4-10 players
Playing time: 30 minutes
Type: Literacy, creativity
A mathematical take on the classic board game of Monopoly, Mathopoly is fun in every way. Players have to earn as many segments and units as they can by solving simple math equations. The game introduces kids to simple concepts of math in such an exciting way that they'll end up loving the subject.
Age: 11+
Players: 2-5
Playing time: 30 minutes
Type: Math board game
Scrambled States of America is a geography board game for kids, The objective of the game is to match cards up while learning more about the states and their geographical location. You win by collecting most state cards and become the head of the states.
Age: 8+
Players: 2-4
Playing time: 20 minutes
Type: Geography board game
Sports Board Games
Sports-based board games bring on both mental agility and playful spirit, and encourage the child to learn more about a sport. Following is a list of sports board games for your children.
This game pits two American-football teams inside a gridiron. Strategic playing will determine which dice you get to roll for each play and the roll of the dice determines the yardage gained or lost. The right offensive play earns you a lot of yardage, unless the defense comes back with a better play roll. The game begins with 60 Offense and 60 Defense cards.
Age: 13+
Players: 2-4
Playing time: 120-150 minutes
Type: Football dice game
Blood Bowl is a fantasy football game, parodying American football. The game is occupied with conventional fantasy elements of 22mm miniatures representing humans, goblins, dwarfs, orcs, elves, and trolls. Blood bowl is a new way of playing football while boosting the child's imagination and creativity!
Age: 12+
Players: 2
Playing time: 45- 120 minutes
Type: Fantasy football
Logic Board Games
The best board games are not only about entertainment, but also about boosting the child's mental agility and thinking acumen. Here are a few logic games that your children should play:
Robot Turtles is a very encouraging game for young programmers who want to code. While making silly turtle-noises, they learn about coding, functions and the fundamentals of programming. Try this game and before you know, your little one could become the programing expert who creates computer games instead of just playing them!
Age: 4+
Players: 2-5
Playing time: 15 minutes
Type: Coding
A color-coded cooperative matching play, Hoot Owl Hoot! is an award-winning game where players help the owls reach their nest before the Sun rises. Pick one color card, and you fly to that place; pick a Sun card, and you are one step nearer to daylight. Help all the owls reach their nests before the sun rises, and in the end, everybody wins.
Age: 4+
Players: 2-4
Playing time: 15 minutes
Type: Problem-solving, collaboration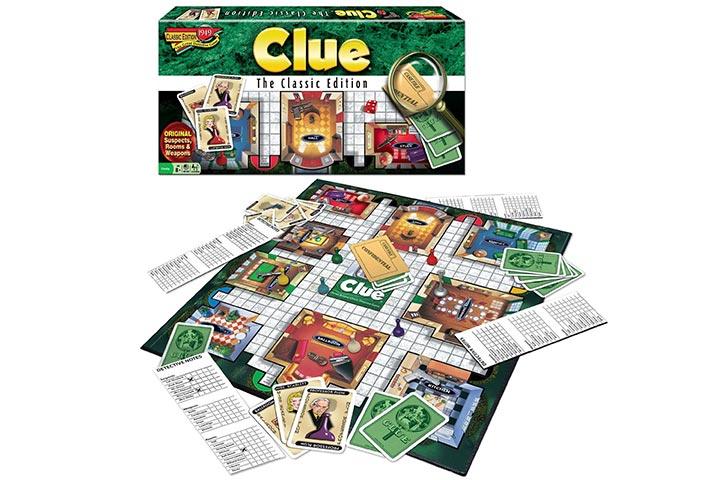 Clue is a classic board game that is popular among kids and adults!
The game begins with six legendary suspects who have killed Mr. Boddy. You have to find out in which of the nine rooms, by which of the six weapons was the murder committed. Pick up the right clues, deduce correctly and find out by who, where and how the crime was committed. Solve the mystery and you win the game!
Age: 8+
Players: 3-6
Playing time: 45 minutes
Type: Mystery deduction
Even if you are relatively new to the board-game scene, your kid and you can play and learn at the same time, and have fun too. Just know that cool games needn't always be on your PC or mobile. They can be right on your coffee table.
How To Choose The Right Board Games For 8-14-Year-Olds?
Consider the following factors before buying a board game for children aged 8-14 are:
Age: Check the game's age recommendations to ensure it is suitable for your child. Age-appropriate games will help your child understand the rules better for a fun playtime.
Theme: Consider your child's interests when choosing the theme of the board game. From strategy and war games to fun guessing games, you can opt from the several options available.
Number of players: Some board games need a single player, while others need a fixed number of players to start a game. Check the information to ensure it suits your needs.
Skills: Choose board games that offer an opportunity to learn how to compete, collaborate, and strategize. These games develop logic and analytical thinking. Consider board games with challenging gameplay to keep your child engaged and help them focus.
Why Trust MomJunction?
Priti Bose specializes in kids' toys and gifts. Her deep understanding of the topics helps her articulate informative write-ups for her readers. In this post, she has prepared a list of the best board games for kids that will enhance their thinking and analytical skills. Priti has explained every recommended product in detail by highlighting its important features. You may read the article to find complete information about the products and then decide which suits your needs.
Frequently Asked Questions
1. Where can I find board games that are easy for kids to play?
You could shop for them online. Going through the product details of the board games listed in this post can help you better understand the nitty-gritty of the games in order to decide whether they'd be suitable for your child.
2. What kind of board games do kids like to play?
It may vary from one child to another. It mainly depends on whether they like to strategize more or analyze more or prefer historical or sports themes. Based on these factors, you may select the game.
3. What are some board games that kids can play in large groups?
That would depend on the theme. Games that involve strategizing, such as mystery-solving ones, could accommodate a large number of players. Read the product details as the manufacturers generally specify the number of players a game is meant for.
4. Which age group plays the most board games?
It's a matter of personal preference and the type of board game. Some board games are relished until we outgrow them, while others, such as the good old chess, are revered even in old age.
Board games are a fun way to keep children away from screens as they socially interact in an immersive and entertaining experience. Our list of the best board games for kids includes options to test the child's mental agility while improving their analytical and problem-solving skills. When choosing the right board games for 8-14-year-olds, ensure that they are age-appropriate, made from safe, non-toxic materials, and pique your child's interest. You could also choose from multiple game genres and themes, including war board games, strategy board games, educational board games, logic board games, etc.
Let us know what your favorite board games are in the comment section below.

Recommended Articles:
The following two tabs change content below.

Priti Bose is a poet, songwriter and blog writer. She did her masters in English, Public Relations and Advertising from Delhi University. Her creative skills and hunger for details make her do in-depth research on the topics she covers. For MomJunction, she writes on product analysis and reviews, especially for kids' products, toys and gifts. Before her association with MomJunction,...
View Profile

›