It is normal to yearn for a skincare product that can provide us with soft and glowing skin. The good body butter is rich in the necessary vitamins and antioxidants that provide essential nourishment and hydration to your skin, leaving it radiant and smooth. It has a thick and smooth consistency and is suitable for dull, dry, and flaky skin. Learn more about the best body butter in India that will keep your skin fresh and smooth.
11 Best Body Butters In India
Infused with the richness of cocoa and shea butter, this body butter helps in dealing with itchy skin and stretch marks caused due to pregnancy. The skincare product increases your skin's elasticity and provides it with the necessary comfort. This vegan product is free of harmful toxins, SLS, parabens, and synthetic ingredients. Vitamin C-rich rosehip oil enhances collagen production while vitamin E actively prevents skin damage.
The mCaffeine naked and rich choco body butter provides deep nourishment and hydration to your dull and flaky skin. It is a powerful blend of pure cocoa butter and caramel, giving your skin a smooth velvety touch. Infused with argan oil and Vitamin E, the gentle formula easily gets absorbed in your skin and moisturizes it. The body butter works brilliantly on dry skin and minimizes puffiness, providing an even skin tone. It is an FDA-approved product suitable for all seasons and is completely free of harsh toxins.
Infused with vitamin E and moisturizing wheat germ oil, the Body Shop body butter is suitable for men and women. The key ingredients of the product are cocoa butter and shea butter, which work to provide your skin a silky touch and smooth texture. It smoothly hydrates your skin and maintains moisture for 24 hours period. The body butter is suitable for every skin type.
Mamearth ubtan body butter deeply nourishes your skin with the necessary moisture and softness. Enriched with 100% natural ingredients, such as turmeric, honey, shea butter, and sunflower seed oil, this dermatologically tested body butter is suitable for every skin type. The natural oils infused in the product effectively treat acne, dark spots, pigmentation, and aging wrinkles Free of harmful chemicals, sulfates, silicones, parabens, and SLS, this body butter could a great choice to attain perfectly vibrant skin.
The creamy and smooth body butter from UrbanBotanics gives ultimate hydration and enriches your skin with essential fatty acids and antioxidants. It is lightweight and a soothing blend of cocoa butter, kokum butter, shea butter, and caramel extract. The body butter gets absorbed easily and helps your skin in getting rid of dryness, irritation, and stretch marks caused due to pregnancy.
The nourishing body butter is a radiant skincare product enriched with kumkumadi tailam, almond, and kokum. It is infused with vitamin E and deeply nourishes your skin with velvety smooth softness and evens skin tone. The nourishing oils in the body butter effectively improve skin elasticity and remove dead skin cells. Its natural antioxidant and anti-inflammatory properties of honey and turmeric work to heal acne and blemishes. The dermatologically tested product is free of chemicals, parabens, sulfates, and silicones.
The all-natural, non-greasy body butter enhances the skin glow by improving elasticity and reducing stretch marks. It is a lightweight product and free from harsh toxins, parabens, sulfates, and mineral oils. The key ingredients of this cruelty-free, vegan body butter are white lotus, cocoa butter, and shea butter. It is a perfect Korean formulation infused with rich vitamins and antioxidants that ensure smooth and vibrant skin.
Rejuvenate your dull and dry skin with the perfect blend of rose water, shea butter, and rose essential oils. The body butter is suitable for every skin type and is enriched with the goodness of almond oil and aloe vera extract, which ensure healthy and radiant skin.  It deeply hydrates your skin and keeps it soft, while its subtle floral fragrance lasts longer. The vegan product easily absorbs into your skin and is completely harmless.
The pure formulation of Plum body butter is a delicate blend of shea butter, kiwi seed oil, and vitamin B3. It provides moisture and intense nourishment to your skin, and kokum butter keeps your skin soft and shiny. The mild fruity fragrance stays with you throughout the day. Rich in essential vitamins and antioxidants, this skincare formula relieves you of itchy and flaky skin.
The skincare formula is enriched with all-natural shea butter, cocoa butter, soya, and rich almond oil. It provides a natural glow and intense hydration to your skin. The ayurvedic body butter has a pleasant aroma that lasts longer. Its anti-aging properties tone your skin and provide it with an ultra-shine.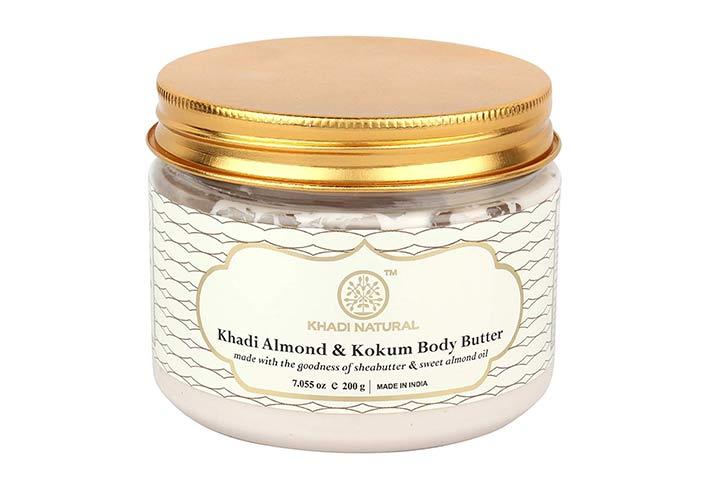 The Khadi Naturals body butter is formulated with the goodness of shea butter, soothing almond oil, coconut oil, and kokum butter. It enhances your skin's elasticity, making it soft and supple. The skincare product contains the essential antioxidants that work against wrinkles and removes dead skin cells, thus helping in cell regeneration.
How To Choose The Right Body Butter?
Here are some features to consider while buying body butter.
Key ingredients: Choose the right ingredient that works well for your skin type. Body butter containing shea helps treat dryness while a product containing turmeric or honey is good for oily skin.
Skin type: Buy a product that goes well with your skin type and texture. Some alternatives are suitable for every skin type while some are made specifically for a particular skin type.
Purpose: If you are suffering from acne and breakouts, look for an all-natural product. Likewise, choose a product enriched with anti-aging properties for reducing your wrinkles. Therefore, choose a body butter that targets a specific skin issue.
Non-toxicity: Look for the body butter free of harsh chemicals, parabens, silicones, and sulfates. Also, try to a dermatologically tested product safe for application even on sensitive skin.
Fragrance: Buy the one that offers mild fruity or floral fragrance in comparison to the one with a strong scent that might get overwhelming at times. 
If you are looking for ways to pamper your skin, then body butter is a must-have. It helps reduce skin dryness and leaves it nourished, smooth, and radiant. Further, body butters free of parabens and artificial ingredients give your skin all the goodness of nature. Body butter is more than just a nourishing agent—it helps reduce skin problems and makes your skin look young and healthy. Ensure you choose one after understanding your skin type and opt for one with a subtle and refreshing smell over a strong one.
Recommended Articles: 
The following two tabs change content below.

Poulami Nag is a writer and associate editor at MomJunction. She did her MA in English from Miranda House, University of Delhi and has qualified UGC-NET. Her journey as a content writer began in 2017 and since then she has garnered diverse interests along the way. Her knowledge of literature and language has given her an eye for detail and...
more