In recent times, the subject of weight has become a very sensitive topic. The need to lose weight and fit a socially acceptable size has increased tremendously. While it is good to be physically fit and look good, losing weight shouldn't become an obsession. However, along your fitness journey, an unavoidable piece of equipment is a weighing scale. This small and often overlooked piece of equipment is necessary for tracking progress and motivating you to strive harder each day.
Weighing scales for personal use are normally compact and can fit in almost any space at home. If you've been contemplating purchasing one but haven't yet done so, you've come to the right place. Here is our list of the 15 best body weighing machines in India.
15 Best Body Weighing Machines In India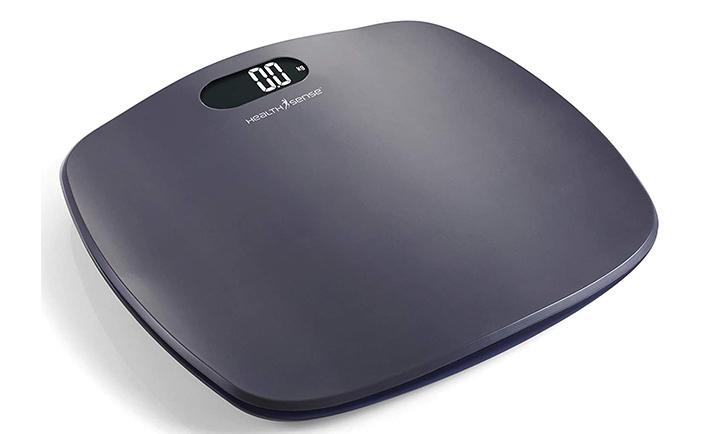 The lightweight design and rounded corners make it portable and comfortable to use. The body is constructed from ABS material and the gray finish is simple yet classy. The large LCD with white fonts is easily viewable. Precision G sensors have been used in this weighing machine by Health Sense to ensure that readings are accurate and reliable. Under the weighing machine are 4 silicone pads that help stabilize it when under pressure. This weighing machine is equipped with a 'unit' button that allows the user to toggle between kilogram, pound, and stone. The Health Sense weighing machine can weigh between 5kgs to a maximum of 180 kgs.
Pros
Auto calibration
Energy efficient
Step on technology
Anti-skid
Cons
The plastic body may suffer cracks under extreme weight.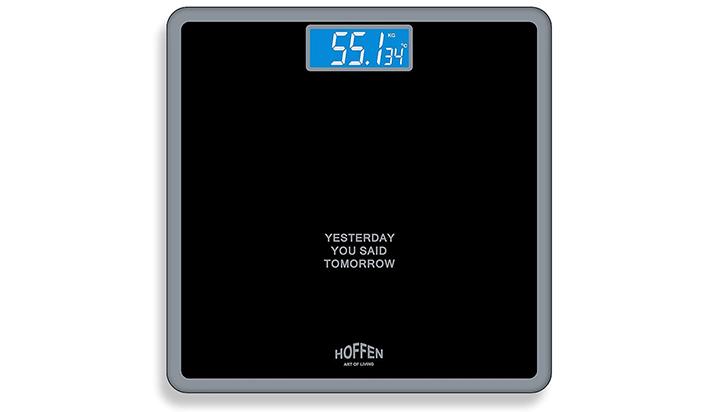 The plain yet the striking black design of this weighing machine makes it perfect for use at home and even in public places like a gym. The slim and sleek layout of this Hoffen weighing scale makes it convenient to carry from one place to another. Made out of tempered glass, the platform is strong and durable. High precision sensors have been incorporated into this machine to deliver reliable and accurate readings. The weighing scale can measure anything between 2.3 kgs to 180 kgs.
Pros
Battery low indicator
Overload indicator
Digital display panel
Auto-power off
Cons
May not provide a good grip when standing on it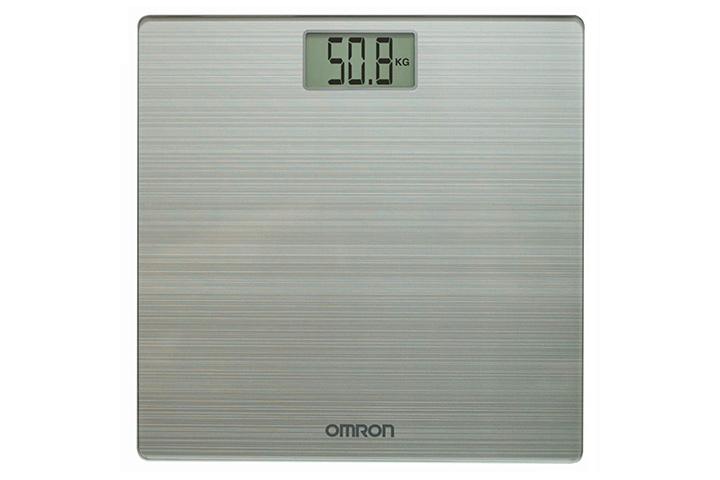 The silver-coated tempered glass makes this weighing scale by Omron strong and durable. The ultra-slim 18 mm design makes it compact and also adds to its already good looks. Under the hood are 4 high-precision sensors that measure weight accurately and display precise readings. This weight machine makes use of a lithium battery that lasts for almost a year. With a maximum weighing capacity of up to 180 kgs, this weighing scale is ideal for personal use. The company slaps a 1-year warranty on this product and sells it along with a trial battery and an instructional manual.
Pros
Auto-on and off
Anti-slip
Visible display
Digital
Cons
The base might be prone to wear and tear over time.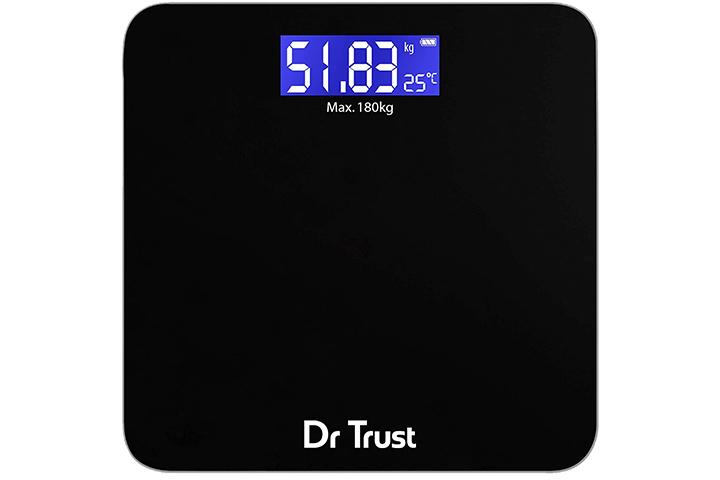 Made of super-strong toughened glass, this weighing scale by Dr. Trust will serve you well for the years to come. Its glossy black finish not only looks good but also makes it easy to clean. The LCD with blue backlight display is easy to view during the morning and night. Apart from displaying the weight reading, it also shows the room temperature. This machine boasts displaying weight readings of up to 2 decimal points. At the press of a button, one can easily switch between kilogram, pound, and stone. A 500mAh rechargeable battery powers this weight scale. This weighing scale is capable of weighing up to a maximum capacity of 180 kgs and comes with a 6-month warranty.
Pros
Auto-off
Instant step on technology
Overload indicator
Low battery indicator
Cons
May show slight inaccurate readings in decimals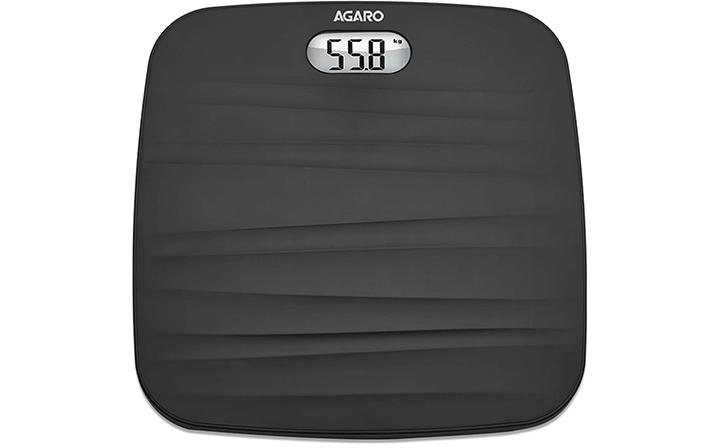 This work of wonder looks good and functions even better. The design is ergonomic and the rounded corners add comfort and safety. The ultra-slim design makes it portable and even facilitates easy storage. At the heart of this machine lie 4 high-precision sensors that provide clear and accurate readings. This weighing machine is user-friendly as it offers 3 different selectable standards of measurement including kilogram, pound, and stone. The AGARO weighing machine supports up to 180 kgs.
Pros
Step-on technology
Backlit LCD
Skidproof
Auto-on
Cons
The plastic finish may not be preferred by some.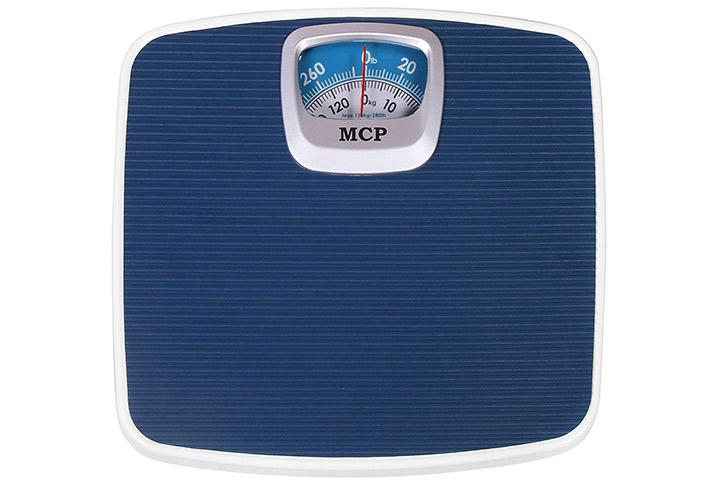 This mechanical weighing scale by MCP has a hardened body and durable construction. Its design is attractive and the shade of blue is easy on the eye. The extra-large display makes it easy to view even in low lit rooms. Since this is a mechanical scale, users must be sure to set it to 0 before weighing. The readings provided are accurate and can be viewed in kilograms or pounds. This machine operates with a battery, can measure up to a maximum weight of 130 kgs, and carries a 1-year warranty.
Pros
Easy-to-read
Large surface area
Slip-resistant platform
Adjustable knob
Cons
May lack an ergonomic design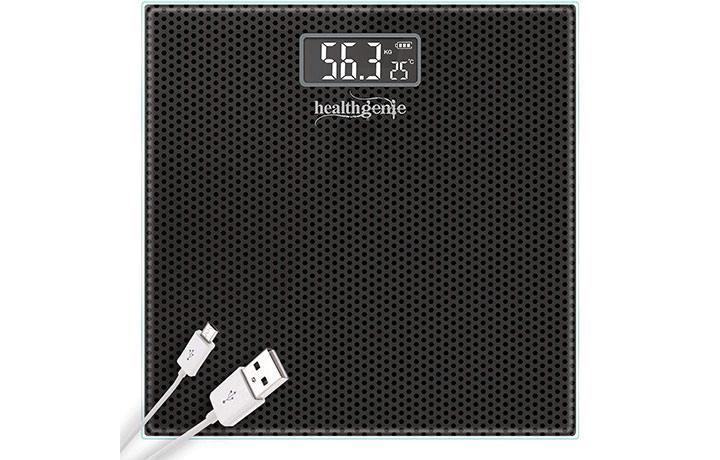 The full matte black construction with a dotted pattern on this weighing scale makes it visually appealing. Designed with 5 mm tempered glass, this weight scale will stand the test of time. The rounded corners are designed to prevent accidents during usage. The neat and fairly large LCD is easy to read and displays fairly accurate readings. The weighing scale features an instant step-on technology and auto-calibration. The machine is powered by a rechargeable 3V lithium polymer battery and has support for USB charging. The anti-skid surface of the weighing scale ensures a smooth and seamless experience. The scale supports a weight capacity of 180 kgs and has a standard warranty of 1 year.
Pros
Temperature display
Low battery indicator
Overload indicator
Auto-on-and-off function
Cons
May take longer than usual to display readings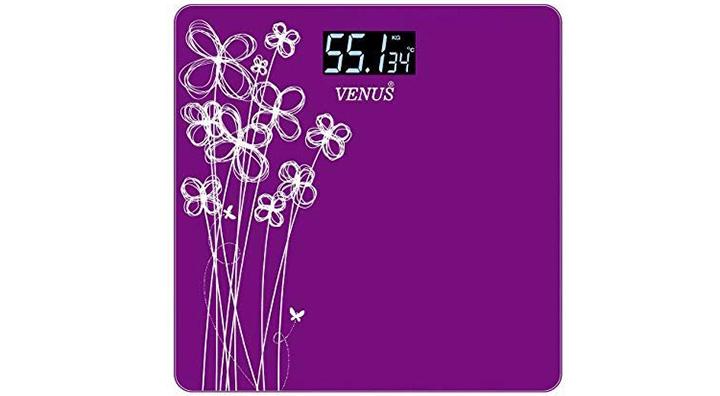 The floral pattern printed on the 6mm tempered glass makes this weighing machine by Venus fashionable and flashy. The platform is wide enough for individuals to comfortably stand and position both feet on either side of the weighing scale. The device is powered by a lithium battery and is equipped with an overload indicator as well as a low battery indicator. Embedded into the weighing scale are precise G sensors for high accuracy weight measurements. The scale is capable of outputting readings between 5 kgs and 180 kgs and comes with a 1-year warranty.
Pros
Lightweight
Available in 2 colors
Clear digital display
Auto-on-and-off function
Cons
The surface might be a little slippery.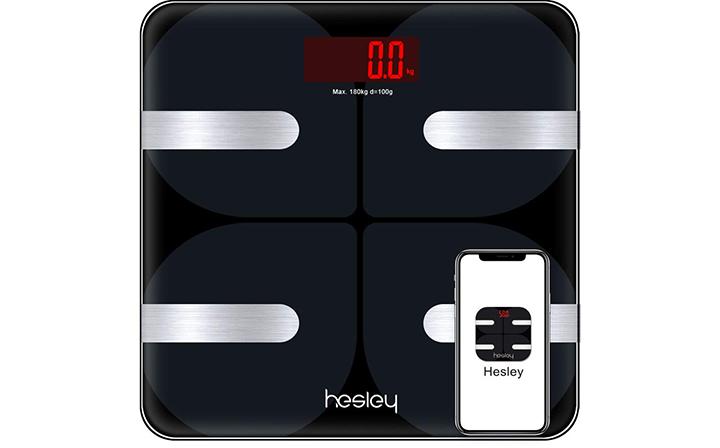 The Hasley smart weighing scale is a blend of premium looks, elegance, and multi-functionality. The red luminous display is viewable under various lighting scenarios. Using complex algorithms and advanced bioelectrical impedance analysis, the machine can accurately measure body weight. Reinforcing accuracy of readings is its 4 high accuracy German sensors that support step-on technology. This device can connect to your phone and all details regarding weight readings can be viewed through the Hesley app. Needless to say, this weighing machine is loaded with features including auto on and off, auto-zero, auto-calibration, low battery indicator, and an overload indicator. It supports a maximum weight of up to 180 kgs.
Pros
18 measurement functions
8 user profiles
Bluetooth support
Supported by Android and iOS
Cons
Reconnecting the device to the phone through Bluetooth may be time-consuming.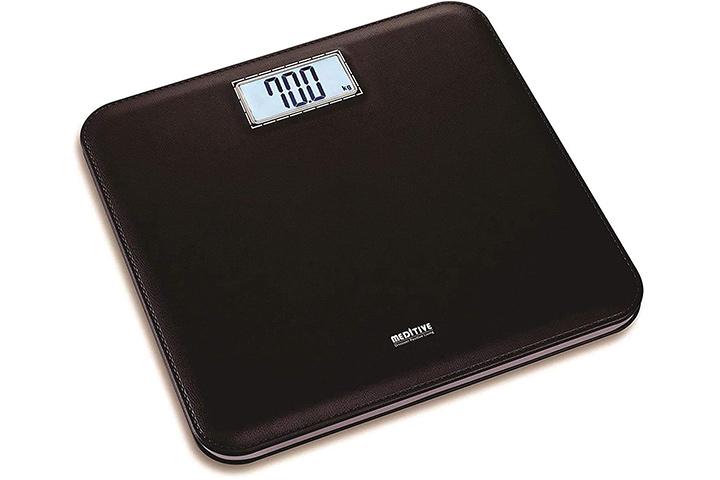 While this is more of a traditional weighing scale, it excels in the looks department. The premium leather look and finish make it look elegant and classy. To ensure precise readings, the company uses 4 G-sensors. The device also features an auto step-on function, low battery indicator, and error indicator. This weighing machine is capable of measuring a weight capacity between 12 kgs and 180 kgs. Like most other weighing machines, it also comes with a 1-year warranty.
Pros
Large LCD
Lightweight design
Easy-to-clean
Stainless steel mirror edge
Cons
The platform might be a little small for some.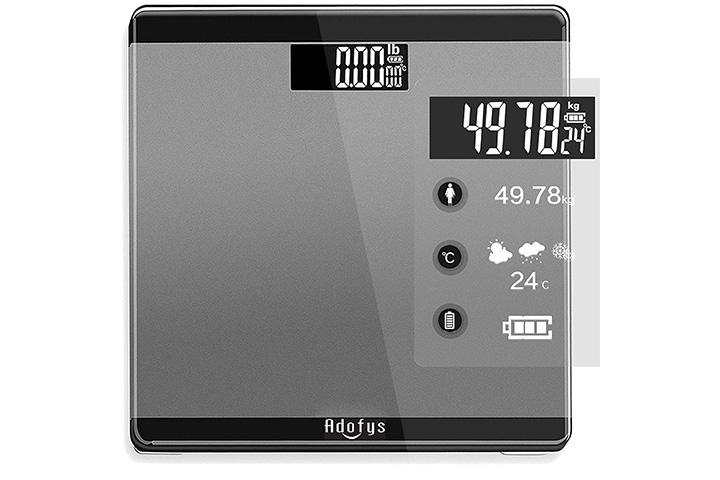 This lightweight weighing scale with a dual-tone gray and black color looks impressive. The surface of the machine is made out of tempered glass that makes it durable and sturdy. The lightweight design makes it convenient to carry from one place to another. Apart from displaying weight, it also displays room temperature. For ease of use, the company has equipped its weighing scale with effortless unit conversion at the press of a button. The 4 high-precision sensors deliver accurate readings and the unit itself can support up to a maximum of 180 kgs.
Pros
Overload indicator
Battery low indicator
Auto-on-and-off function
Large LCD
Cons
Might show slight variations when the battery is low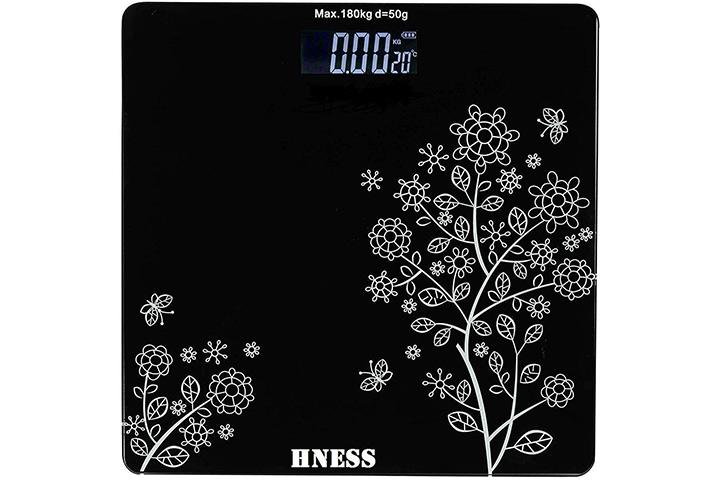 The floral texture on the face of this weighing scale makes it attractive and highly desirable. Along with the weight measurement, the temperature is also displayed on the LCD of this weighing machine. The surface is made of 8mm-thick tempered glass to reinforce its durability. Taking into consideration its compact size, it can be stored in any place. The 4 high precision sensors work together to provide reliable readings. This weighing machine can weigh products ranging from 0.2 kgs to 180 kgs.
Pros
Clear LCD with backlight
Auto-on and off
Low battery indicator
Anti-skid padding
Cons
The glossy surface might be prone to scratches.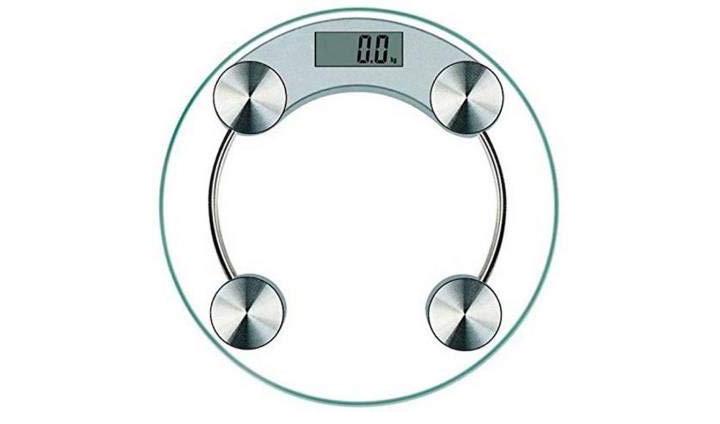 A unique feature of this weighing scale is its all tempered glass finish. Embedded into the unit are high-precision strain gauges and load sensors for correct weight measurement. This energy-efficient weighing scale has a large LCD making it easy to see the digits under any lighting conditions. Added to this are features like auto-zero and overload detection. Built with premium materials, it can support up to 180 kgs.
Pros
Sense-on technology
Skidproof design
Low battery indicator
Error indicator
Cons
The surface may not provide a good grip.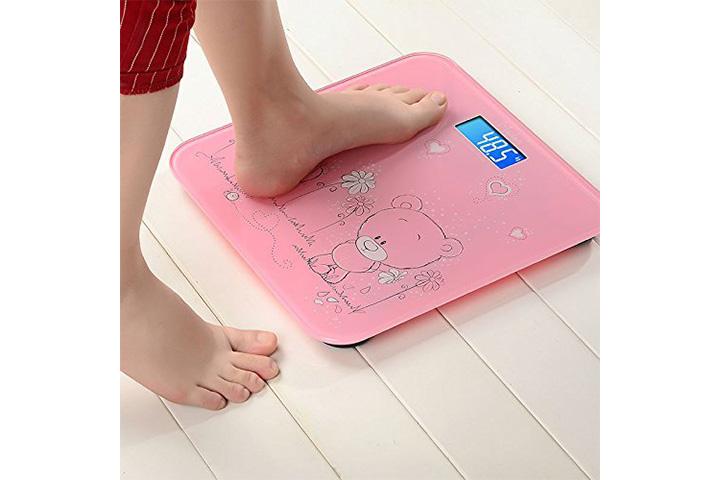 This digital weighing scale is made out of tempered glass. Using precision sensors, it can accurately weigh body weight of up to 180 kgs. Equipped with basic functionality and powered by 2 AAA batteries, this scale should serve you well for personal use. This product is available in different colors and is easy-to-operate.
Pros
Auto-on-and-off technology
Anti-skid padding
Displays large digits
Low battery indicator
Cons
The platform might be too small for adults.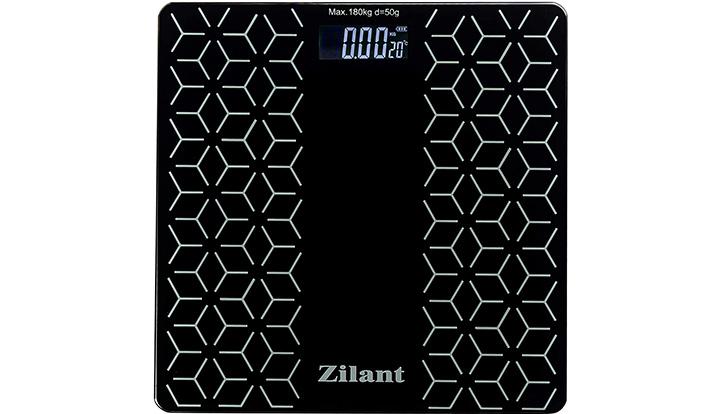 The face of the weighing machine is made out of tempered glass. The curved edges are ergonomically designed to prevent accidents and for added safety. For best use, the scale should be placed on a flat surface. The auto-on and off function helps save battery while the switch located under the machine can be used to change between kilograms and pounds. The machine is battery-operated and supports a weight capacity of up to 180 kgs.
Pros
Error indicator
Low battery indicator
Sense-on technology
Available in different colors
Cons
Might not provide accurate readings when low on battery
Now that you've viewed an extensive list of different weighing machines to choose from, you need to know what to choose and why. Before making that purchase, carefully go through these considerations to get a clearer picture of what you're looking for.
How To Choose The Right Body Weighing Machine In India
There are mainly 2 types of weighing scales. One being analog and the other being digital. Digital weighing scales are commonly known to be a little more accurate when compared to their analog counterparts. This is because of the mechanism on which the weight is calculated Analog weighing machines use interior springs to calculate weight. Over time, these springs get worn out and adversely affect results. Apart from these 2 types, a popular kind of digital weighing machine on the rise are smart scales. These connect through Bluetooth to a phone and are equipped with several features.
The capacity of a weighing machine is the maximum supported weight that it can measure without either inaccurately weighing or breaking. Most weighing machines support between 150 to 180 kgs. Before purchasing a weighing scale, it is important to keep in mind who will be using it. Bearing this in mind, choose one that can more than easily handle the weight.
2 of the most common materials for weighing machines are ABS plastic and tempered glass. While both serve the purpose, weighing machines with tempered glass surfaces are tougher and sturdier when compared to those that have plastic surfaces.
Some common features to look out for while purchasing a weighing machine include auto-on and off, low battery indicator, error indicator, overload indicator, and  large LCD. However, if you want to take it a step further and invest in a smart weighing machine, some of the features to look out for include fat, body mass, lean muscle, and cardio rate indicators. Smart scales also connect to smartphones to make all data easily available through an application.
Frequently Asked Questions
1. How do you know if my weighing machine is accurate or not?
The best way to test if your weighing machine is accurate is by using an item with an exact weight. For instance, a pound-free weight could be used for testing this. When placed on the scale, the weighing machine registers it as 10 pounds, then you know your machine is working fine. If not, your machine might need to be recalibrated.
2. How to measure body parameters correctly in smart scales?
Smart scales measure body parameters using bioelectrical impedance analysis. This works by sending a small electrical current from one foot through the body and to the other foot. When it comes to smart scales, most of them are accurate. The only thing you must keep in mind is to stand in the correct posture while measuring body parameters on a smart scale.
3. Does the surface affect measurement accuracy?
While it may not have a direct bearing on the accuracy of a scale, it can to an extent cause an imbalance on the scale leading to a slight fluctuation in the weight reading. However, this can be easily remedied by using the weighing scale on a flat and hard surface to minimize errors that arise due to surface imbalance.
In today's world, weighing scales have improved in terms of form factor, accuracy, and features. They have become more reliable, durable and the readings have become more consistent. Keeping this in mind, it is worth investing in one. Are you tired of guessing whether you've lost weight? Well, to track your daily progress and weight loss, it is crucial to have a weighing scale at hand. Checking your weight daily could be a huge motivating factor on your weight loss journey. Take a look at our list of the 15 best body weighing machines in India and choose the one that best suits your needs.