If you are a connoisseur of fine literature and feel proud of your home library, you might have come across a book stand that makes reading easier and more comfortable. The best book stands allow you to keep the book down conveniently and get through it hands-free. You can also adjust the height and angle of the stand and make sure your back, neck, and shoulders aren't hunched over, which can damage your posture over the long run. This handy piece of furniture is super-portable and easy to carry around, so you can take it with you to college or the library and make your reading experience more pleasant.
Check out the options for book stands listed below that will help you relax and immerse yourself in your favorite book.
Top 13 Best Book Stands Of 2021
No matter what type of book you want to read, be it novels, cookbooks, textbooks, or magazines, this reading/book stand will suit your every need. Made of PVC and ABS materials, this stand measures 10.5×7.9 inches and can hold a book of up to 62 mm. It has a tilting angle feature that allows you to adjust the position in 18 different ways so that you find your perfect angle all the time. It also ensures that you read your book at eye-level and maintain a proper posture for better spinal health. Plus, this green stand includes 2 plastic clips that hold the bottom part of the book. Aside from being functional, this book stand is well-constructed and stylish.
Your search for a lightweight and durable book stand can end here. This book stand may look bulky at first glance due to its wooden appearance, but don't be fooled as it is made of bamboo and is super light. One of the best book holders, this stand can be folded down when not in use and carried around in mid to large-size bags or backpacks. This portable book stand can be adjusted to 5 different angles, helping you maintain a correct posture while reading. It is stable and sturdy enough to support books of any size, phones, and laptops. Meanwhile, the attached spring pegs hold the book in place.
This book stand is a great option for those who like to carry their favorite books to their workplace. It is lightweight, foldable, and portable and fits easily in a backpack. At the same time, it is sturdy and has an extra-wide front shelf to support large and thick books. It features 5 adjustable positions to help you read at a comfortable angle and avoid eye fatigue, neck strain, and headache. This book holder is also great for people with limited mobility. Ergonomically designed, it features aged bronze durable hinges, plastic reinforcements fitted at the corners, and acrylic covers on the sharp edges. It can be used on the kitchen countertop, desk, and in bed, thanks to its non-slip rubber feet that keep the stand firmly in place. All while the flexible page holder keeps the pages open and the paper clip allows for easy turning of pages.
Ideal for holding not only books, but also phones and iPads, this book stand is suitable for home, library, and office. This sleek black device features a steel holder plate and a plastic base. With 7 grooves, this stand provides 7 different viewing angles for a comfortable reading experience. It includes 4 non-slip rubber pads at the bottom for stability and 2 adjustable plastic holders that work well to hold books with less than 900 pages.
Sometimes all you might need is a simple book stand with no unnecessary extra features. This minimalistic stainless steel book is lightweight and sturdy. It can easily support large hardcover textbooks without flipping over, making it one of the best textbook stands on the market. The frame of the book stand features a Fold-n-Stow mechanism that swivels to create a narrow or wide base, which allows you to use books of any size. Plus, the M-shaped bar in the black support sleeve can be adjusted to any angle between 40° and 50°, helping you maintain a proper posture when reading. The best part about this stand is that it can be folded flat for easy storage or portability. This stand can also be used to hold iPads, display photos, and craft projects.
Looking for a book stand that will last for years? SYITCUN Adjustable Book Stand is an excellent choice. Made of heavy-duty aluminum alloy, this book stand includes a sturdy and durable front tray and frame capable of holding books of different sizes, tablets, documents, laptops, and more. This multifunctional stand has 2 adjustable, flexible, and robust paper clips with soft rubber tips that help keep your book wide open and make it easy to turn pages without damaging the paper. In addition to that, it features buttons that can be pressed to adjust the height of the stand and angle of the frame according to your needs. When not in use, the stand's collapsible design enables you to fold it for compact storage. If you are an avid reader, this device is a great item to invest in if you want to maintain a good posture and correct eye-level when reading.
When a few grad students decide to design a reading stand, what you get is an ergonomically-designed stand with adjustable height and angle features to help you read comfortably. Made of anodized aluminum, it features a wide panel that is strong enough to hold books of any size, including the huge law and medical school books. Considered as one of the best book stands for large textbooks, this device has a vertical, tiered design that offers an open space at the bottom for taking notes. While the 360° rotating panel locks in at 15° increments to help you choose a better viewing angle, the legs' height can be adjusted to up to 2 feet. This product is ideal for school and college students or for those who have to read a lot.
A reading stand that can hold your book at any angle and can be used anywhere in your house? Yes, please! This floor-standing book holder can be adjusted in every aspect from the height of the stand to the panel's angle so that you have the best reading experience, whether you're sitting, reclining, or lying in bed. It ensures excellent comfort and eye-level reading. This book stand is suitable for the elderly, the disabled, people with neck and back problems, or just about anyone who wants to have a comfortable time when reading. But remember that the book weight should not exceed 2 kg when the stand is extended all the way.
If you are someone who likes to read when you're traveling on an airplane or a train, this portable book stand by SmartMe is a perfect choice for you. When folded into a compact size, it takes up very little space, making it ideal for carrying in your bag or backpack. This device is straightforward to install – all you have to do is hold the device, pull out the head, and lower the plate. At 0.33 lbs, it is incredibly light and can only support books that are 10.43 inches or lesser in size with a 1.18-inch thickness. Made of ABS plastic, this device has a 5-level adjustable angle feature that promotes good posture and clamps with a built-in spring that makes flipping of pages possible with one hand. An important aspect of this stand is that it features a 4-point mounting system that enhances reading efficiency and prevents rolling or folding, especially near the ends of a book.
Add a touch of style to your modern kitchen or any other room with this elegant-looking bamboo cookbook holder by Pezin & Hulin. For those who refer to cookbooks or browse recipes on their laptops, this holder makes for an excellent device. The panel features a 3-angle setting that can be adjusted to your convenience to avoid neck pain and fatigue. It is made of sustainable bamboo, which is non-toxic, sturdy, durable, and reusable. This multifunctional device is also lightweight and can be folded down flat for easy portability and convenient storage.
Tired of hunching or slouching while reading a book? What you need is an adjustable book stand, such as this one by Autom. Also known as a bible stand, this device measures approximately 11.5×9.7 inches, which means it's big enough to accommodate large books or a bible weighing 10 lbs. Made of good-quality solid wood, this folding book stand is hand-carved and is designed to look like an antique piece, which is sure to elevate the look of any traditional decor. It features 3 adjustable angles to ensure you sit in a correct posture when reading. When not in use, you can just fold it flat and store it securely.
Is your child a voracious reader who loves reading in bed for hours? But they are always complaining about cramps in their hands caused due to holding a book for long periods. So let's give those little fingers some rest with this plush Peeramid Bookrest by Hog Wild. This unique book holder is designed in the shape of a pyramid that allows you to place the book on the slanted surface for the perfect angle and hands-free reading. It features a built-in bookmark and can accommodate everything from a book to a tablet. What we love the most is that it has a ledge that acts as a page holder to keep your book wide open. Made of polyester microfiber, it has a pillow-like softness, making it comfortable to place on your lap as well. It is available in various colors and patterns for you to choose from.
Compact, portable, and adjustable – what's not to love about this cookbook stand? This metal cookbook stand features an adjustable wireframe that uses the Fold-n-Stow mechanism to accommodate small and large books. Plus, you can adjust the height by raising the bar in the blue support sleeve for better viewing or reading angle.  With the help of this stand, you can decrease your neck pain and enjoy a hands-free reading experience. It can be folded flat so that you can tuck it away in a drawer when not in use, making it one of the best cookbook stands in the market!
Are you still confused about choosing the right book stand? Then go through the points below to know what makes for the best book holder/stand.
How To Choose The Best Book Stand
Material: Plastic, wood, bamboo, metal, and polyester are the most common materials used to make these devices. The material of a book could determine the durability and strength of the device. While some materials are lightweight and low-maintenance, others are environment-friendly and well-built. What material you choose depends on your preference and how and where you intend to use a book stand.
Size: Book stands are meant to make your reading experience convenient, so look for a size that best suits your needs. For someone studying law or medicine, a large book holder will be beneficial, since they use heavy textbooks. But if you are someone who reads novels or cookbooks, a small book holder would do.
Adjustability: If you want to maintain good posture and ensure eye-level reading, you need to opt for a stand with adjustable height and angle.
Other features: Ensure the holder has a clip to hold the book in place and prevent pages from turning. You could also look for additional features such as foldable design for convenient storage, anti-skid rubber feet for added stability, or small wheels for easy maneuverability.
Benefits Of Using A Book Stand
It helps you maintain a proper posture while reading.
It allows you to read hands-free.
It takes up less desk or counter space.
It is versatile and can be used to hold books, laptops, and iPads.
It features multiple angle settings that help you choose the best reading position.
Tips: Proper Reading Posture
When you sit on a chair, always pay heed to the right leg height. This means that your legs should be perpendicular to the floor, and your thighs should be parallel to the floor. Sitting this way will keep the blood circulation in your legs intact.
Provide good cushioning to your feet if you want to sit in a relaxed position. Never keep your feet hanging; otherwise, your muscles could cramp, leading to immense pain.
Neck, shoulders, and back should be adequately supported.
Do not hunch forward or slouch. Sit up straight by keeping your spine in a neutral position.
Keep the book at eye level, which will, in turn, help in keeping your back straight.
Book stands will help you hold your book in place without using your hands. They are specially designed to reduce neck, back, and shoulder aches and alleviate stress so that you can have a convenient and relaxed reading experience. Whether you are reading a novel, studying, or cooking, a book stand is sure to come handy. That's our compilation of the 13 best book stands that you could consider buying. We hope with this list deciding on the right one won't be a difficult task.
Recommended Articles: 
The following two tabs change content below.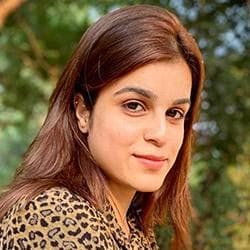 Sakshi John
Sakshi did her graduation in Journalism from the Madras Christian College, Chennai, before starting her career as a freelance writer. She is into blog writing and for MomJunction, she covers various topics, including products to buy for your kitchen, furniture, and other home requirements. Previously, she interned as a content writer in a cyber security firm. As a content writer, Sakshi...
more