A box grater is an essential kitchen appliance with different grating surfaces for grating various foods. It is easy to store,compact, and easy to clean. The multi functional kitchen utensil is convenient to use as the shreds are held inside the box,preventing a mess on the kitchen counters.
Using a box grater, you can easily slice raw vegetables, fruits, spices, chocolates, and even cheese. Here, we have curated a list of the best box graters to help you invest wisely in this fantastic kitchen tool.
15 Best Box Graters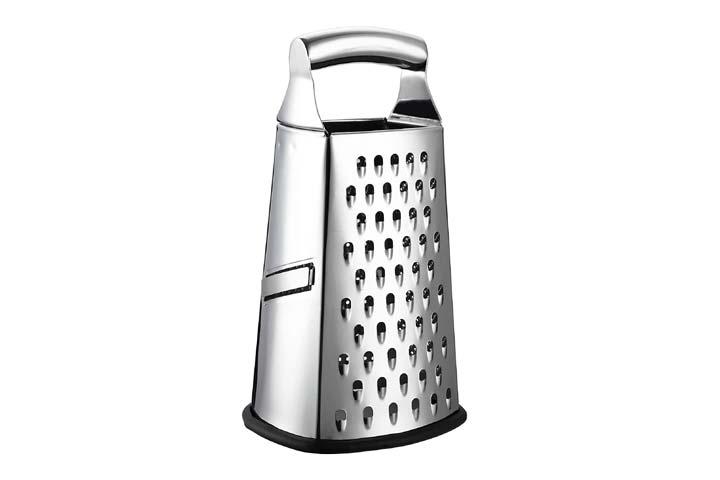 The stainless-steel box grater is one of the best choices for slices, grates, and zests. It is easy to clean and is also dishwasher-safe. The grater also comes with a lifetime warranty.
Features
Comfortable handle for easy gripping
Multiple functions in one
Rubber bottom to prevent sliding
High-quality stainless steel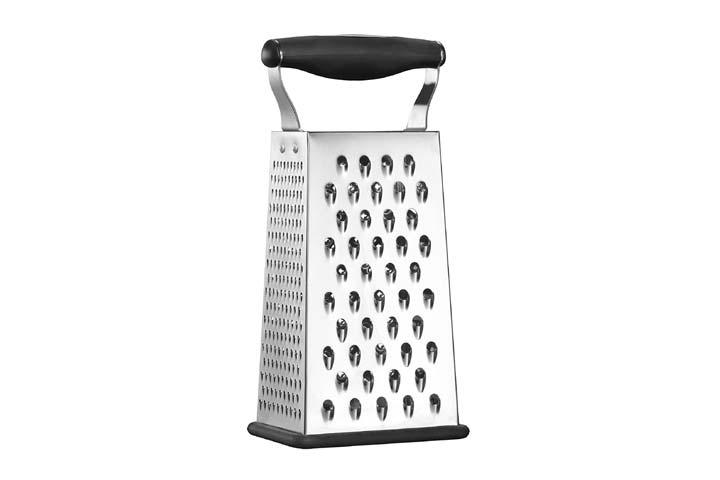 Cuisinart four-sided box grater comes with a soft handle for a comfortable grip and good control. The handle is big enough to accommodate even if you have larger hands. It is dishwasher-safe.
Features
Made with durable stainless steel
Non-slip base
Versatile use
High-precision stainless steel blades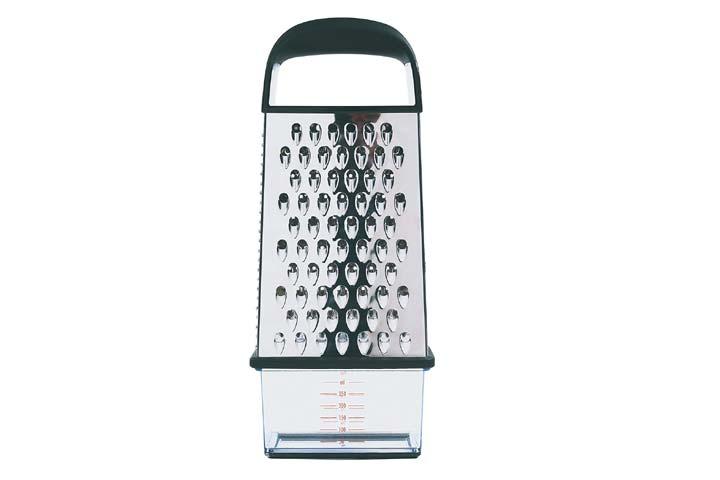 OXO four-in-one box grater series is perfect for ensuring mess-free grating. The transparent plastic container at the bottom catches the grated bits to make the process manageable. It is also marked with metrics to quantify your ingredients,reducing the need for a weighing scale.
Features
High-precision blades
Slip-resistant bottom
Easy to store
Comfortable and secured gripping handle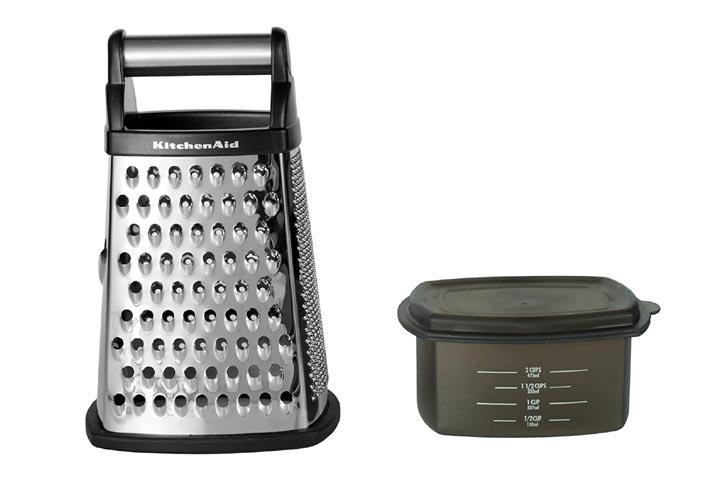 The KitchenAid Gourmet Grater is made of high quality and rust-resistant stainless steel material. It comes with a three-cup container to hold the grated and shredded bits ensuring a clean worktop. The grater is dishwasher-safe.
Features
High-precision blades for uniform grating and shredding
Well-labeled capacity markings on the container
Handy
Non-skid base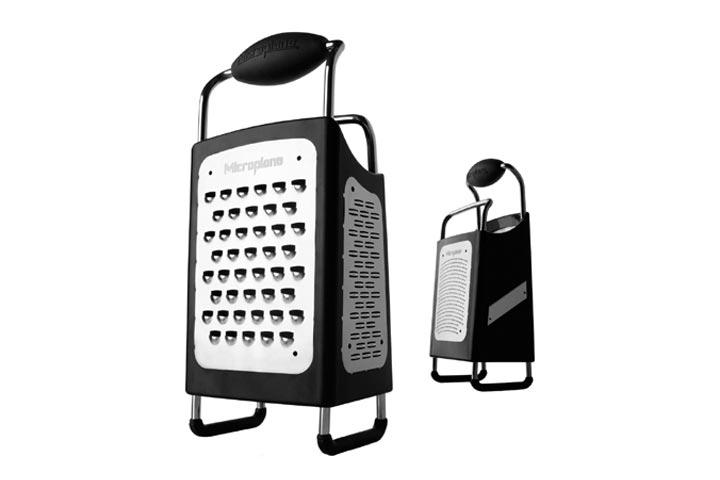 Microplane offers a four-sided box grater with three grating blade surfaces and one slicing blade. The ultra-sharp, photo-etched blades are made in the USA. The grater comes with a reusable cover for easy and safe storage.
Features
Easy-grip handle
Rust-resistant blades
Easy-to-clean detachable blade panels
Versatile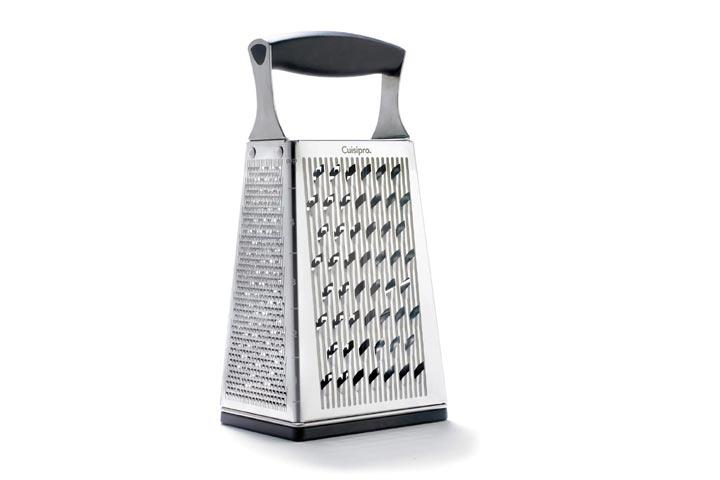 The Cuisipro box grater uses surface glide technology for advanced cutting and gliding. It has a grooved-pattern surface that gives a uniform and effortless grating experience. The ginger grater base is a plus that shreds fresh root while leaving the residue behind.
Features
Razor-sharp blades
Non-slip rubber base and handle
Removable base
Protective cover doubles as a measuring tool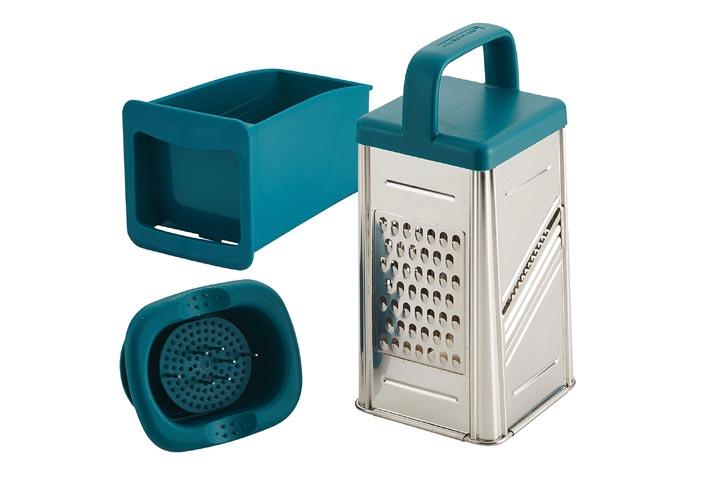 Rachel Ray Box Grater is super strong, versatile, and durable. It is made of heavy-gauge and high-quality stainless steel. The ultra-sharp blades facilitate effortless cutting, and the two-way slicer and julienne blades save time. The grater comes with a protective sleeve for safe storage.
Features
Contoured top handle
Four-cup ingredient bucket
No-slip stable bottom
Dishwasher-safe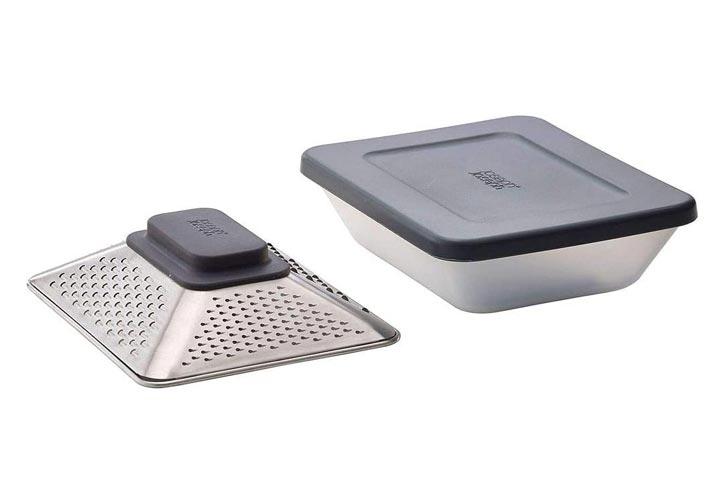 The pyramid-shaped box grater combines four types of blades for grating various foods from cheese and spices to zesting citrus fruits. The grater base is perfect for storing various grated food and comes with a lid. The blade section can be flipped and kept inside the container for safe storage.
Features
Non-slip handle and feet
Dishwasher-safe
Compact and portable
Includes storage container base with lid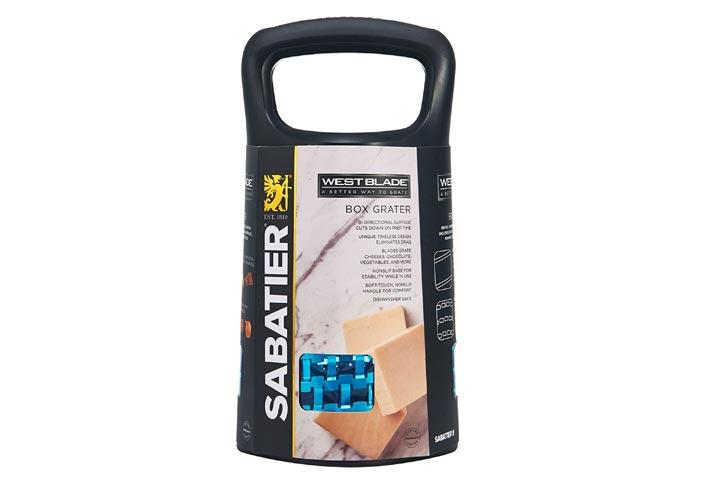 The Sabatier Grater uses a patented West Blade technology to give a revolutionary zesting and grating experience. Its bi-directional blade saves time and effort during meal preps. The ergonomic handle provides a comfortable and easy hold.
Features:
Dishwasher-safe
Made with high-quality stainless-steel
Non-slip base
Easy to clean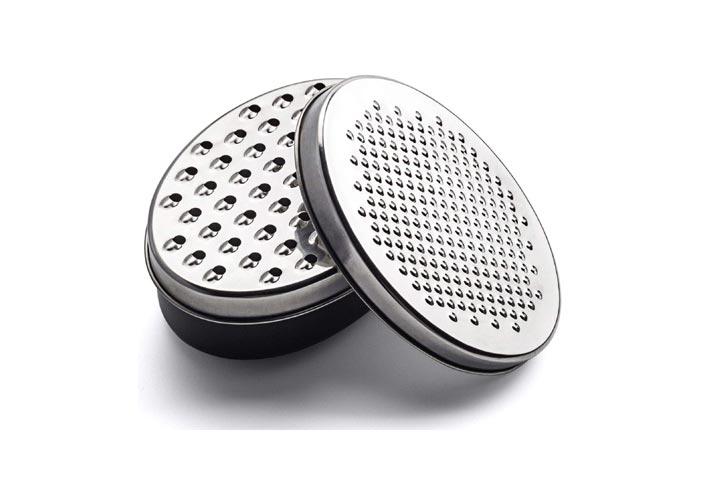 The six-sided box grater is a multi functional kitchen essential at par with professional-level graters. It offers a lifetime after-sale service and a 100% risk-free satisfaction guarantee. The ergonomic design is impressive as its arch offers improved safety and no risk of grating your knuckles.
Features
Sturdy and premium build
Dishwasher-safe
Non-stick coating surface
Non-slip base keeps grater in place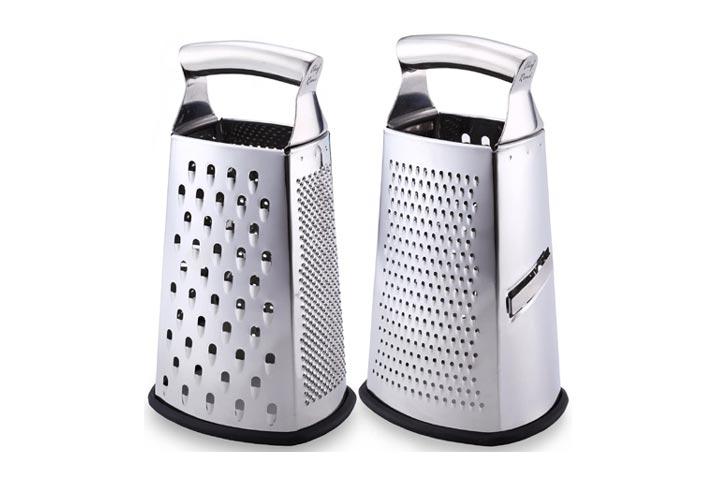 The professional level box grater makes food preparation easier. Its blades are made of 430 Grade Stainless Steel and are sharp enough to cut through any food type. The curved design is easy to clean and is also dishwasher-safe.
Features
Non-slip removable rubber base
Wide ergonomic handle for a comfortable and controlled grip
Unique design reduces accidental scratching of knuckles.
Robust and durable build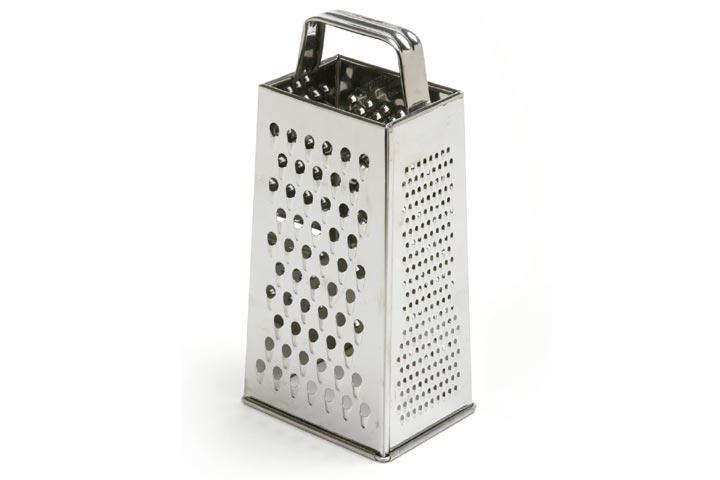 The Nopro Box Grater is a perfect addition to any kitchen and has a multitude of uses. It includes blades for coarse, medium, and fine shreds and also for slices. It is ideal for grating or slicing through hard cheese or root vegetables, and it also works as a zester.
Features
Sturdy and durable
Made of rust-resistant stainless steel
Versatile box grater
Requires minimal effort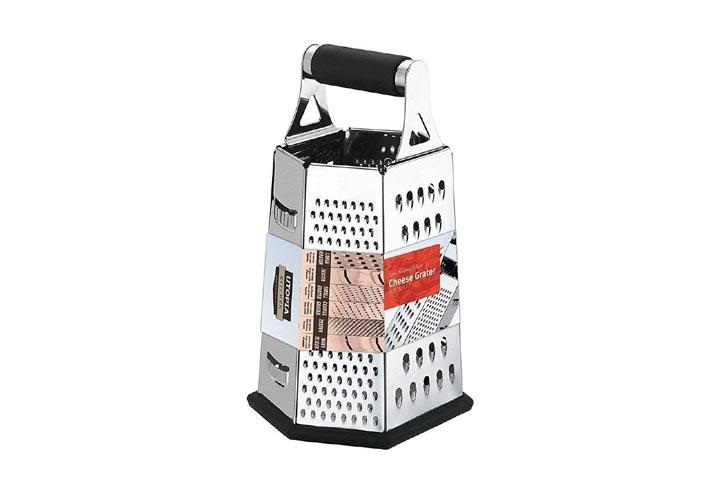 The Utopia Kitchen Box Grater is one of the best multipurpose box graters. It is a six-in-one grater that not only grates coarse, fine, or superfine cheese or vegetables but can also be used for slicing, shredding, and zesting. It is made of food-grade 430 stainless steel material for added safety.
Features
Comfortable rubber handle for easy gripping
Dishwasher-safe
Non-slip rubber bottom
Highly efficient and easy to clean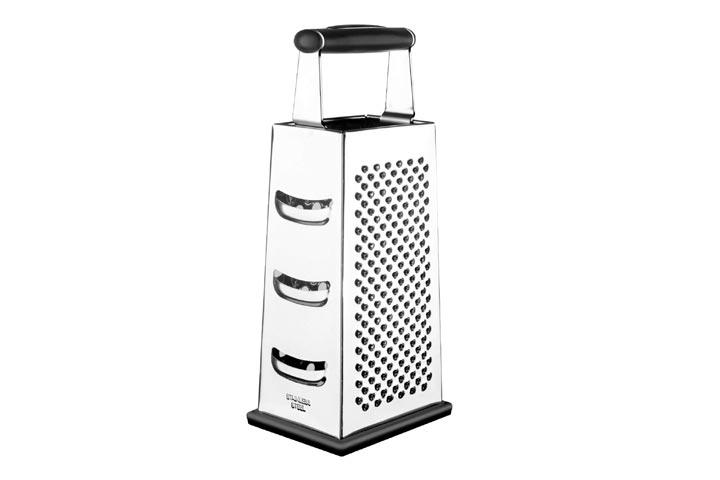 The Mcomce box grater is made from food grade 430 stainless steel material. The blade is durable, rust-resistant, and does not deform. The multi functional kitchen tool with four types of blades provides customized thickness for cutting and shredding.
Features
Non-slip base for stability
Soft and comfortable rubber handle
Easy to clean and dishwasher-safe
Operation is simple, convenient, and fast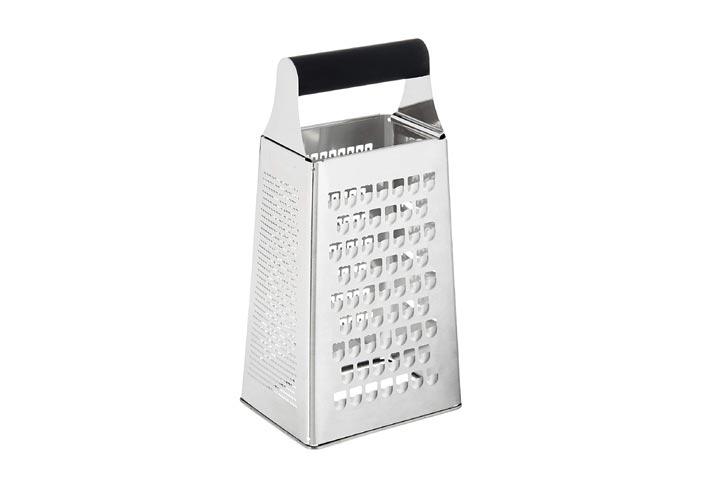 The four-sided box grater by Mercer Culinary brand is made of heavy-duty 18-8 stainless steel material. The blades are resistant to corrosion and rust. They are versatile in size and use, and the unit comes with a lifetime warranty.
Features
Rubberized handle for a firm grip
Razor-sharp cutting blades
Suitable for grating and shredding any food
Reinforced base for greater durability
How To Choose The Right Box Grater?
Here are some factors to keep in mind while buying a box grater.
User experience: Determine who will be using the grater in the kitchen. Choose from a basic version to a professional one based on your requirement.
Durability: As the box grater is a multi functional household utensil, it is likely to be bent out of shape with repeated use. Look for a strong and durable build that can handle falls and regular use.
Easy to clean: Cleaning a box grater can be messy and complicated. Some box graters are coated with non-stick coating and can be cleaned with just plain dish soap. Consider buying a dishwasher-safe grater.
Material: A box grater with thicker walls is likely to be sturdier and less likely to bend under pressure.
Grating and shredding holes: Deeper holes give uniform shreds and slices. You will need large holes for grating hard vegetables such as carrots and small, fine holes for lemon zest.
Handle design: The handle design defines the comfort levels while grating and shredding. Choose graters with a soft but comfortable grip for better control. A good knuckle space is an added advantage.
Safety: Choose a grater with an anti-skid or anti-slip base to prevent the grater from sliding across your countertop. It also reduces the risk of accidentally harming your knuckles and fingers.
Warranty: Ensure the time and other terms and conditions that are covered under the lifetime warranty.
Extra features: Some box graters come with a container or a plastic bowl at the bottom to collect the shredded bits and keep the counter mess-free.
A box grater is an essential tool for every kitchen. It helps reduce the meal prep time even when you are cooking something elaborate. The box graters in our list pose great features for your cooking needs and help you buy the best one.
Recommended Articles: