Whether for a healthy breakfast or a quick bite, having homemade bread is one of the most preferred options. However, not everyone has time to mix, knead and wait for the dough to rise. To avoid this time-consuming process, you can opt for a bread maker machine.
You need to add ingredients and push a couple of buttons to make healthy bread in little time. So, if you wish to have a quick, hassle-free bread-making experience, choose one of the best bread maker machines from the list given below.
Types Of Bread Makers
Vertical bread machines: These pans are slightly rectangular and square, and the bread turns out vertical and taller than the standard bread shape. These machines have a smaller footprint; they don't take a lot of counter space and are easy to store.
Horizontal bread machines: These machines offer rectangular, horizontal loaves, similar to a standard loaf. They have longer pans and a larger chamber for baking. Also, they may consume more space in the kitchen. 
Top Products From Our List
11 Best Bread Maker Machines
Ideal for making various yeast doughs, including pizza crusts and dinner rolls, this machine allows you to serve fresh homemade bread in three simple steps. You need to add the ingredients, choose the cycle, and hit the start button. The machine also lets you select between 1.5lb and 2lb loaves. It comes with several settings, including French, quick bread, gluten-free bread, sweet, dough, cake, jam, bake, and whole grain.
You can easily control the nutritional value while baking the bread. It also comes with a large digital display to view and choose the cycle, crust, and loaf size with ease.
Pros
Includes recipe book
Two kneading paddles
Delay timer
Non-stick and dishwasher-safe
Cons
May be noisy when mixing dough
No alarm available

With advanced Cuisinart-quality technology, the bread maker has up to 12 pre-programmed menu options to choose from. The machine is fully automatic and easy to use, baking up to a 2lb loaf, and offers three crust shades of light, medium, and dark. It is compact and counter-friendly, with a removable bread pan and kneading paddle.
Pros
Lid with viewing window
Interior light to check the baking process
Recipe book
13-hour delay start
Cons
May not be versatile
Bread may sink in the middle
May not be airy

Offering various healthy course settings, this machine lets you bake multigrain, rapid whole wheat, whole wheat, salt-free, gluten-free, vegan, and sugar-free recipes. This bread maker features an easy-to-read, large LCD with a convenient keycode on the lid to streamline the course selection process.
Pros
Includes liquid measuring cup, nested measuring cup, and a measuring spoon
Sturdy built
Dual heaters
Double-kneading blades
Cons
May not have a timer for dough settings
Parts may not be durable

With up to 14 settings,  the machine allows you to bake cake, dough, quick bread, French bread, whole grain bread, etc. This machine comes with a digital display and a delay timer option that lets you add ingredients and select the loaf size, crust and cycle accordingly. Its interior pan is non-stick and easily removable.
Pros
Detailed manual
Keep-warm function
Easy-to-use and low noise
Nut dispenser
Cons
Could be intimidating for beginners
May release pollutant particles in the air

Automatic and foolproof, this machine helps make fresh artisan bread at home easily. With three settings, you can bake up to 2lb of bread, and it helps knead, rise, and bake. This bread maker is equipped with up to 19programmed preset menus for several doughs, from oven pizza dough to basic white bread. It also offers a 15-hour delay timer and a 60-minute keep-warm function.
Pros
Lightweight
Easy to use and clean
Includes measuring cup and spoon
Helps manage the nutrients
Cons
Manual might only help experienced bakers
Pan could be difficult to handle

Featuring up to 12 pre-programmed menus, this bread machine provides several course settings, including basic, French whole wheat, gluten-free, quick bread, dough, sweet bread, sandwich, cake, kneading, buttermilk bread, and baking. This versatile machine comes with a large capacity and offers an audible reminder for adding nuts and fruits.
You can opt from three color crust settings, such as dark, medium, and light, and get two loaf capacities of 1.5lb and 2lb. It comes with a five-layer stretch pan to bake the bread evenly.
Pros
100% food-grade material
Low noise
Helps retain the nutritional value of ingredients
Easy to use and comes with accessories
Cons
Non-stick coating may be thin
Dishwasher may scratch the product
Buttons and different modes may confuse beginners

Offering up to 15 pre-programmed menu options, this device comes with a unique knob design that helps bake fresh bread automatically. Including basic, French, whole-wheat, quick, sweet, etc., the machine also features a special menu function for baking, cake, jam, dough, dessert, yogurt, and DIY. It offers three crust colors and three loaf sizes, such as 1lb, 1.5lb, and 2.2lb.
With a large torque DC mute motor for uniform heating, the machine has a sleek stainless-steel design with a removable cover lid and a non-stick ceramic pan.
Pros
User-friendly
Heat dissipation holes
360-degree annular heating tube
Easy to clean and store
Cons
May not be durable
May not support all the recipes
May be loud

Offering a large capacity, this bread maker has up to three bread size settings of 2.2lb, 2.7lb, and 3.3lb, and light, medium and dark crust options. It features a display that shows the total time as per the chosen settings and offers an intelligent 15-hour delay start to let you prepare the ingredients with ease. The device comes with 12 programmed menus to help you bake as you wish.
Pros
Low noise
Digital touch screen
Easy to clean and manage
60-minute keep-warm technology
Cons
Accessories may not be dishwasher-friendly
Pan may not be non-stick
Could be difficult for beginners

Compact and automatic, this bread maker features up to 12 programs. Its design consumes less space and has several settings to make cake, buttermilk, sweet bread, quick bread, and gluten-free. The machine gives an audible reminder to add nuts and fruits. With three crust color settings and two loaf sizes, the device provides up to 13-hour delay and one-hour warming functions.
Pros
Includes various accessories
Large viewing window
Dishwasher-friendly accessories
100% food-grade material
Cons
Cord may be short
May not allow turning the alarm off
Lid screw may not be tight

Offering up to 29 automatic programs, this machine includes 21 bread menus, seven non-bread menus, and customizable cycle-level programming. Beginner-friendly and handy, this machine offers a unique one-click operation, a 15-hour delay timer, and one hour to keep warm. You can also avail the 15-minute power interruption recovery feature.
Pros
Easy to operate
Retains nutritional value of ingredients
Handles fresh fruits and vegetables
Add-nuts alarm
Cons
Bread recipes may not work well
May not be durable
Can be louder

Within an hour, this bread maker helps serve a loaf of fresh bread. Including up to 12 settings, the machine is easy to customize, offers three crust settings, and comes with an automatic dispenser for fruits and nuts.
Pros
Durable stainless-steel material
Easy to use
Beginner-friendly
5lb to 2lb bread capacity
Cons
Could be noisy
May shake and rattle
Fruit and nut dispenser may cause issues

How To Choose The Right Bread Maker Machine?
Here are some factors to keep in mind while buying a bread maker machine.
Loaf capacity: Although several machines come with multiple loaf-size settings, the maximum size may vary. If you are baking a two-pound loaf in a machine that supports only one pound, the result will be pale and underdone. Choose a capacity that suits your family's needs.
Machine size: If you want a machine that you can store easily, go for a small size. Whereas, if you want more settings, you can choose a device with a larger size.
Kneading paddles: While budget-friendly machines include at least one paddle, the high-end models have two or more. Therefore, if you wish to achieve the best kneading results, go with multiple paddles.
Pre-programmed settings: Extra settings come in handy if you wish to experiment with different bread styles and grains. However, if standard bread suffices, you can choose one with limited settings.
Frequently Asked Questions
1. How long does homemade bread last?
On average, if put at room temperature, a homemade bread loaf can last up to two to four days. Avoid storing the bread in the fridge as it makes the bread drier, leading to faster staling.
2. How do I freeze homemade bread?
If you have baked a large quantity of bread at once, allow it to cool completely. Then, pack the loaves with plastic wrap, place them into an airtight freezer bag, and put them into the refrigerator.
3. Do I need to grease the bread maker pan?
You should always grease the bread maker pan before putting in the ingredients to help remove the baked loaf.
If you love consuming bread daily or weekly at your home, choose an advanced and attractive bread maker machine to enjoy all the benefits. So, go through our list of the best bread maker machines to know more about their features and buy one.
The following two tabs change content below.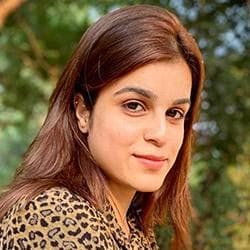 Sakshi John
Sakshi did her graduation in Journalism from the Madras Christian College, Chennai, before starting her career as a freelance writer. She is into blog writing and for MomJunction, she covers various topics, including products to buy for your kitchen, furniture, and other home requirements. Previously, she interned as a content writer in a cyber security firm. As a content writer, Sakshi...
more