Do you like toasted bread slathered with butter or jam? Crispy toasted bread with a warm cup of tea is among the most simple yet most enjoyable pleasures of life. Whether you are a working professional who likes to have breakfast on-the-go or you desire a simple yet tasty morning sandwich, a pop-up toaster can be your best friend in the kitchen. Breakfast is the most important meal of the day, and toasters make that meal a joyful event, every single time. Before we discuss the best pop-up toasters in India, let's look at some of the different types of toasters.
Types Of Toasters
There are primarily 3 types of toasters:
Pop-up toasters
Conveyor belt toasters
Toaster ovens
Pop-up toasters
They are the most popular type of toasters and are simple and easy to use with 2 or 4 slots for bread. Owing to its no-fuss operation, it is a popular choice all over the world. One simply has to insert bread slices into the slots provided, and within 2-3 minutes, a toasted bread will pop out. 
Conveyor belt toaster
These toasters use chain-driven belts to carry bread into toasting chambers. Conveyor belt toasters are popular for commercial use as they can toast more than 1000 slices per hour. They are used in large scale catering operations and institutional cooking facilities.
Toaster ovens
Toaster ovens often resemble a small conventional oven. They are preferred in restaurants and bakeries as the bread can be toasted horizontally with toppings. This feature makes it ideal for making items like garlic bread and melted cheese sandwiches. They take around 4-6 minutes to toast the bread completely.
As impressive as the different types of toasters are, pop-up toasters continue to be the most popular and beloved type of toaster for all those jam-filled breakfasts. We have searched far and wide to bring you the 11 best pop-up toasters in India.
Top 11 Best Pop-up Toasters In India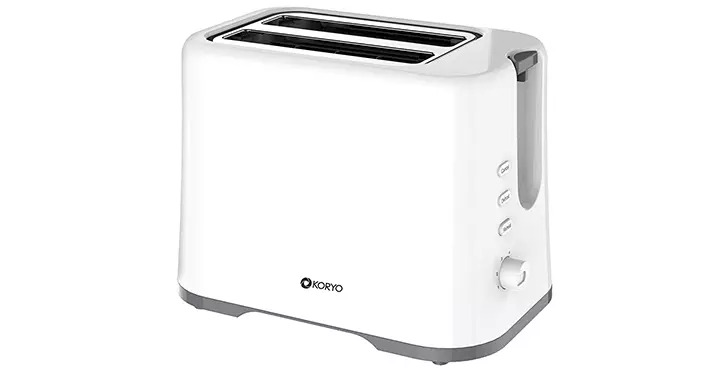 The Koryo Pop-up Toaster comes with a hard plastic shell, which protects it against impact and provides a durable exterior. It is sleek, compact, and equipped with a removable crumb tray, a handy feature while cleaning the toaster. This Indian brand is owned by the famous supermarket chain, Big Bazaar — home to all things affordable and reliable. The 2-slice toaster comes with a rotary dial that features 7 browning modes along with defrosting, reheating, and a cancel button on the side.
Pros 
Budget-friendly
ABS plastic shell
Automatic pop-up function
Auto shut off
Cons
It may not toast bread evenly at the lowest setting.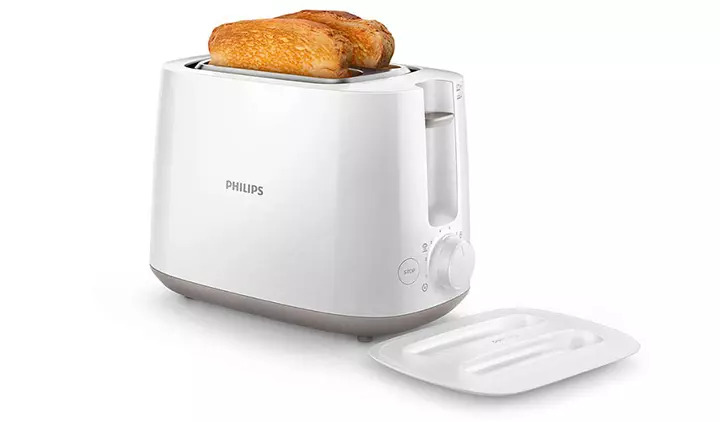 The Philips Daily Collection Toaster is a well-known toaster with great reviews, both online and offline. It comes with 8 browning settings, which allows you to toast 2 slices of bread from golden brown to dark dark brown. The toaster also comes with a crumb tray and a bun rack, making it easy to clean and heat pastries and buns. The high-lift function helps you pop out smaller bread slices easily. The toaster can also be used to reheat and defrost frozen bread.
Pros 
Auto shut-off feature
Removable crumb tray
Cancel button
Dust cover
2-year warranty 
Cons 
Some may find the cord too short.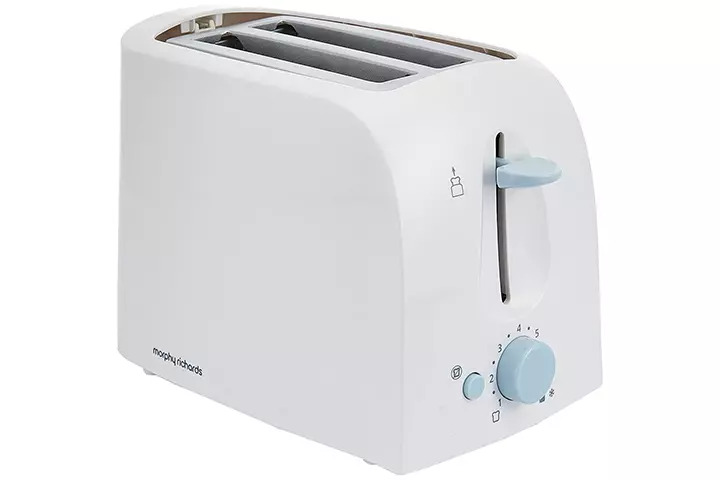 Affordable and durable is the best way to describe this toaster. The Morphy Richards AT-201 Toaster is a 2-slice toaster with large bread holders. It has 7 browning settings and a high-lift feature, which toasts bread evenly and helps in the cleaning process. The toaster has an anti-skid foot design that prevents it from falling off the kitchen top. With a low power consumption of only 650 watts, the Morphy Richards AT-201 Toaster makes for an excellent gift for new homeowners.
Pros 
Energy-efficient
Automatic pop-up
Crumb tray
Cool body touch
Cons 
Some may find the lever slightly rigid.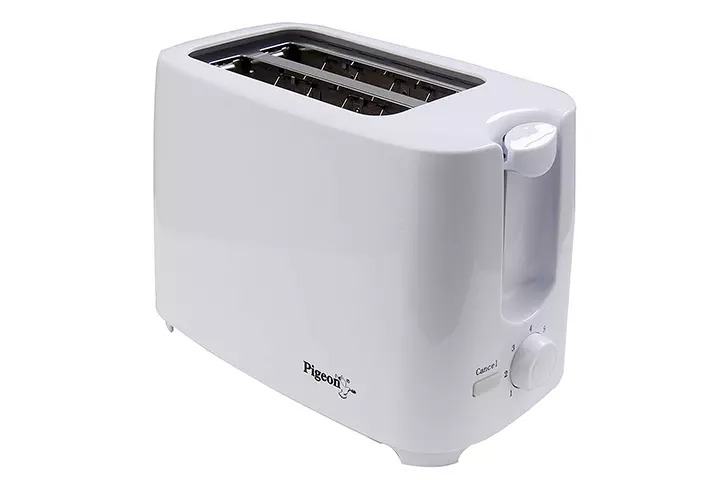 Need to rush for an early morning meeting but don't want to skip breakfast? Pigeon's Pop-up Toaster has got you covered. This toaster transforms plain slices of bread into crisp toasts in an instant with 6 levels of browning control, a reheat button, and an automatic pop-up function. Make your kitchen a smarter and easier place to work as this toaster is ergonomically designed and has a shock-proof body.
Pros
Quick toasting
Cord winder at the base
Cancel button
Lightweight
Cons
It does not come with a crumb tray.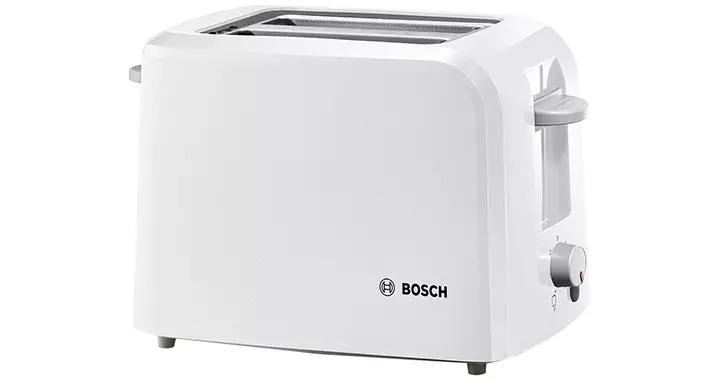 Bosch is a well-known brand in the electronic world for its high-quality products. The Bosch TAT3A011 Toaster uses a powerful 980 W motor to toast bread slices quickly and effortlessly. The Automatic Bread Centering feature is unique to the toaster, and it places the bread in the correct position without you having to worry about it. The toaster comes with additional features such as automatic shut-off and an integrated warming rack, which keeps your buns warm and your kitchen safe.
Pros 
Sturdy legs for stability
6 levels of browning
Stop button
Long wire
Cons
It may not be easy to clean.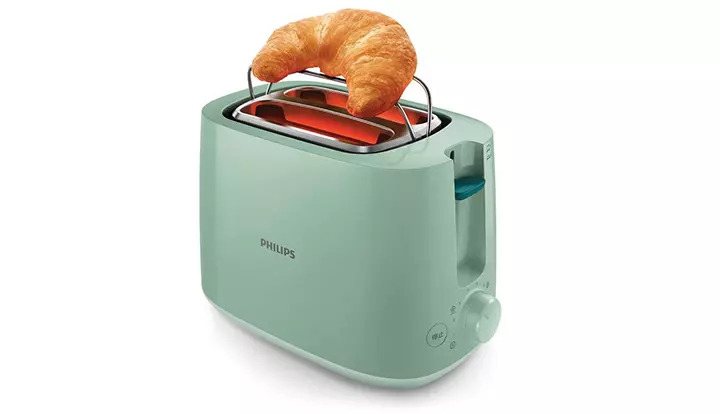 You know a brand is good, especially when it appears on the top 11 list twice. Here is another fantastic toaster by Philips, which toasts like a pro and much more. The desert green color is sure to jazz up any kitchen. The toaster comes with a high-lift feature, large slots for different bread sizes, and 8 browning modes. It also comes with a dust cover, which protects it against insects and dust in the slots. Colorful and compact, this toaster makes it a great option to add style and functionality to your kitchen.
Pros
Integrated bun rack
Cancel button
Cool exterior
Removable crumb tray
Cons 
Some may find the cord length too short.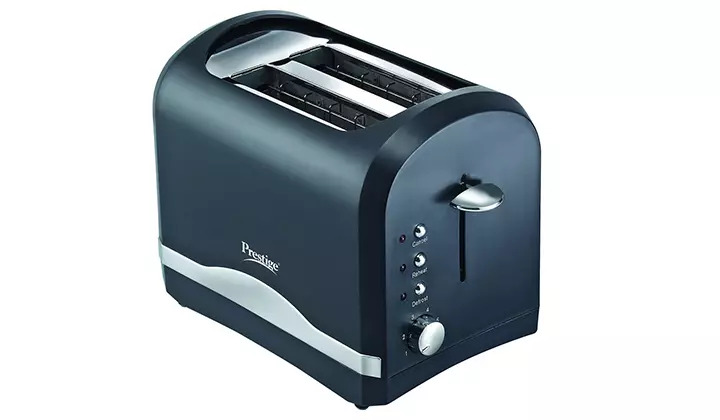 The Prestige PPTPKB Pop-up Toaster is a simple yet efficient toaster with 6 browning modes. It features a slide-out crumb tray that collects crumbs and makes the cleaning of the toaster a hassle-free task. The toaster also comes with reheat, defrost, and cancel options with indicators for all 3, making it a user-friendly and affordable option if you are in the market for a reliable toaster.
Pros
3 toasting options
Adjustable temperature control knob
Cord winder storage at the base
Anti-slip feet
Elegant design
Cons 
Some may find the knob slightly fragile.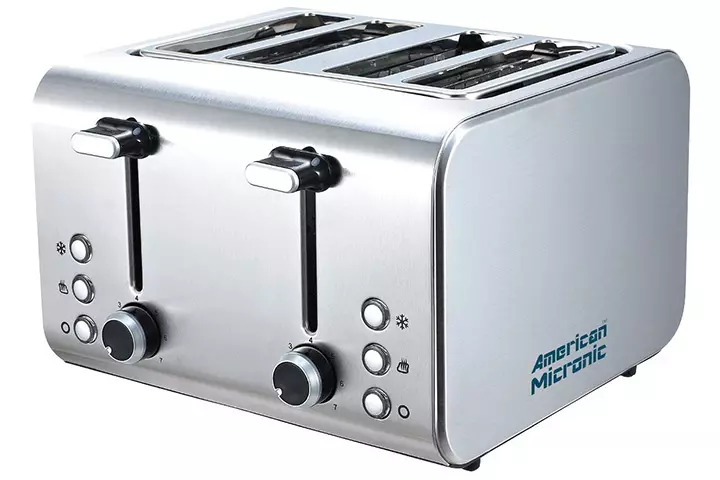 Most pop-up toasters can toast only 2 slices at a time. If you have a large family and need to toast many slices of bread at one go, this toaster by American Micronic won't disappoint you. The stainless steel construction keeps it cool, safe, and durable. The toaster is efficient and quickly toasts bread according to your preferences with 7 browning settings.
Pros
4 slots for bread
Automatic shut-off
Defrost and reheat option
Fire-proof cable 
Cons
Some may find it slightly heavy.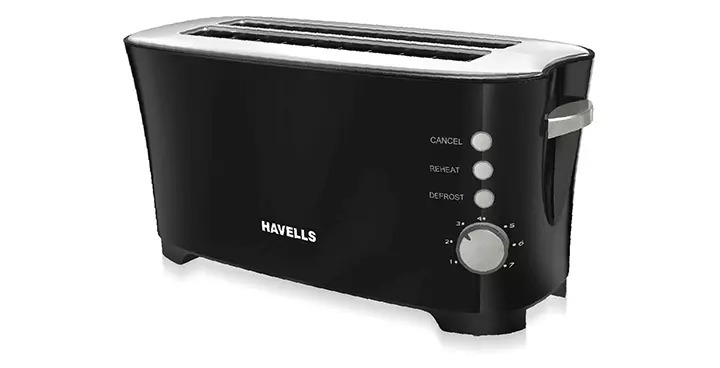 If you're looking for a 4-slice bread toaster but don't want to burn a hole in your pockets, the Havells Feasto Toaster is the way to go. The pop-up toaster comes with features such as defrost, reheat, and 7 temperature settings. The stainless steel construction ensures durability and is easy to handle due to its heat-resistant body. With a stable base and ample space for 4 slices of bread, this toaster makes for an excellent option for restaurants and large families.
Pros 
Illuminated function buttons
High-lift lever
Extra-large bread slots
Elegant design
Cons
Some may find the toaster slightly bulky.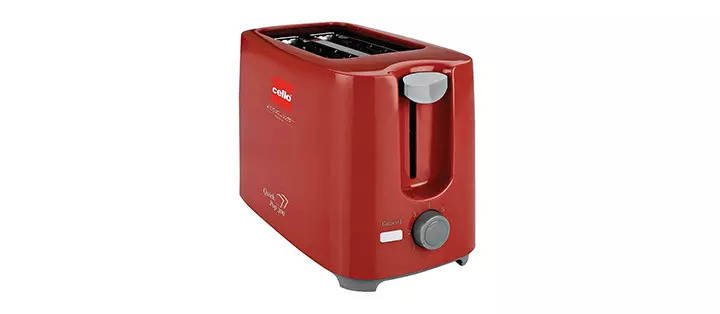 The Cello Quick 2-Slice Toaster is a budget-friendly gem that toasts bread to perfection. It comes with a stainless steel bread tray and a high-lift function. With 7 levels of toasting, you can enjoy a healthy breakfast every day with the help of this toaster. The non-slip base and cord storage facility provides additional safety and makes it a great appliance for any kitchen.
Pros 
Red light indicator
Cancel button
Aluminum-plated upper cover
Anti-skid base
Available in white
Cons
It does not come with defrosting and reheating options.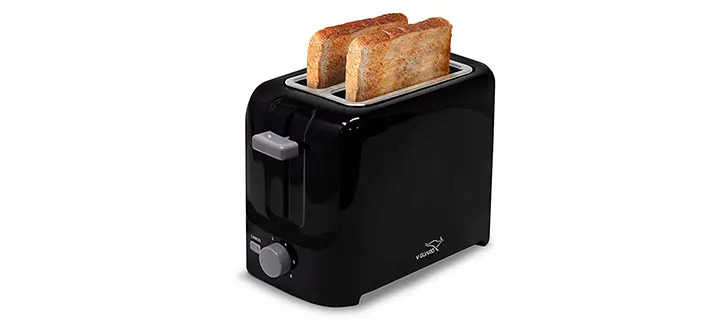 Rounding off the list of the best toasters available in India, comes the trusted brand that is V-Guard. The V-Guard VT210 800 Toaster is fast, quick, and convenient in its duty. It operates at 800 W, allowing the toaster to make your bread crispy in no time. It comes  with 6 browning settings and an Auto Bread Centering Technology.  It is also equipped with an LED illuminated cancel button and a removable crumb collection tray, making it a breeze to clean.
Pros 
Fast heating
Cord winder for clutter-free storage
Elegant exterior
Lightweight
High-lift release lever
Cons 
It does not reheat or defrost bread.
Now that we have looked at 11 best pop-up toasters available in the market currently, let us check a few factors, which can help you choose the best pop-up toasters in India.
How To Choose The Right Pop-up Toaster In India
Some of the helpful factors that you should keep in mind while selecting a pop-up toaster include:
1. Usage
pop-up toasters come in 2 primary types – 2 slice and 4 slice toasters. 2 slice toasters are great for basic home use and suitable for nuclear families or people living alone. 4 slice or even 6 slice toasters are ideal for large families and commercial use. 4 slice toasters can toast large amounts of bread quickly, making them a desired option in bakeries and restaurants.
2. Cost
Toasters come in a varied range of prices. From a basic 2 slice toaster that starts at Rs. 700/- to fancier 4 slice toasters that cost Rs 3000/- and above. There are plenty of reliable and budget-friendly options in between, which can suit every need, so choose the one which fits your budget and meets your needs.
3. Durability
Toasters are often a one-time purchase. If the correct one is used according to the instructions provided, it can last you a very long time. Durability here refers to usage over long periods. Look for a toaster with stainless steel construction and high-quality components.
4. Warranty
Toasters are affected by the environment, how they are handled, and may fail due to electronic issues or otherwise. Most toasters come with a 1-year warranty, which covers the basic damages and parts failures. Do look for ones which come with a 2-year warranty or more. Extended warranties are always a great protection to have for unexpected issues, and some brands offer extended and comprehensive warranties.
Frequently Asked Questions
1. Does a pop-up toaster consume a lot of electricity? 
No. pop-up toasters consume anywhere from 700 to 1500 watts of energy. They are       often more energy-efficient than microwave ovens for small meals, sometimes using less than half of the energy used by ovens for the same amount of food.
2. Are plastic pop-up toasters safe to use?
Yes. Plastic pop-up toasters are completely safe to use. They are well-tested for safety and performance before being introduced in the market.
Pop-up toasters are a great addition to any kitchen. They are incredibly useful and provide a quick breakfast option with toasted bread prepared in minutes. They are easy to use and beloved by bachelors, families, and restaurants alike for its functionality and features. We hope you find the one which meets your needs from this list of the 11 best pop-up toasters in India.