A few strokes of bronzer can define your looks, giving you chiseled features. It adds instant warmth to your skin, giving it an even and healthier look. Bronzers are available in compressed powder form in matte and cream finishes. With multicolor options, you can blend the formula for luminous-looking skin. They can also be used for contouring and highlighting, depending on the shades available. Below is a list of the best bronzers for Indian skin to flaunt your looks.
Types Of Bronzer For Indian Skin
1. Powder bronzer: Powder bronzer is the most commonly suitable for all skin types. It is widely used for contouring and is usually applied with an angled or sparser brush.
2. Cream bronzer: Cream bronzer is used for heavy coverage and subtle glow. It is perfect for dry and wrinkled skin and can be easily applied and blended with your fingers or a brush. It leaves a long-lasting moisturizing effect on your skin.
3. Liquid bronzer: Liquid bronzers are similar to cream-based bronzers, except that they have a thinner consistency. They can blend easily with any foundation, and are best suitable for normal, dry, and combination skin types.
4. Sheer bronzer: It adds a finish to your makeup for a radiant glow. It is mostly used on the cheekbones, nose bridges, and temples.
5. Shimmer bronzer: A shimmer bronzer is mostly used on the high points of your face. It cannot be used for contouring or to cover uneven skin tone or blemishes.
6. Matte Bronzer: Matte bronzers are used to add more depth and definition to your face and work with all skin types. They are used for contouring and are usually applied under the cheekbones, on the sides of the face, under the jawline, and on the temples.
13 Best Bronzers For Indian Skin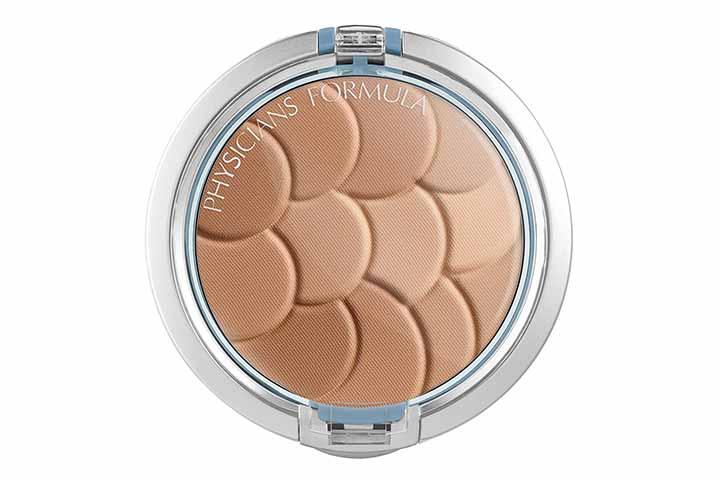 The multicolored custom formula, Physicians formula bronzer combines several shades in one compressed compact palette. It allows you to create your bronzer hue according to your skin tone. This formula can be used to even out your skin tone or as a highlighter. Enriched with murumuru, cupuacu, and tucuma butter, it nourishes your skin and adds a subtle glow. Made from the finest Italian talc, this compact contains built-in-mirror and a brush. Dermatologically tested, this formula is hypoallergenic, fragrance-free, oil-free, and non-comedogenic.
The Sugar Cosmetics' power-packed trio of bronzer, blush, and highlighter is available in two stunning variants. Its unique creamy texture blends easily to give contoured look. Each of the three powders in the palette has excellent shades that blend effortlessly for long-lasting hours without flaking. The built-in-mirror is useful for on-the-go applications. This lightweight bronzer with rich pigmentation gives high color pay-off and is free from parabens, D5, mineral oils, and nano-ingredients.
Mars offers a multifunctional skin perfector with added snake venom-like peptide. It includes a bronzer, concealer, highlighter, and contour cream. This professional makeup palette is a delicate formula providing maximum coverage for scars and minimizes fine lines and wrinkles. The well-balanced shades of highlighter, bronzer, and concealer of this vibrant-themed face palette give an ultimate glowing look.
Spanking is a 3D stick, including concealer, highlighter, and bronzer. Formulated from eco-friendly premium material, it gives total coverage to your skin. It helps hide your blemishes, dark circles, and fine lines for a clean and subtle look.  Available in two vibrant colors for different skin tones, they help create unique looks. This cosmetic primer is waterproof and is suitable for medium skin tone.
Swiss Beauty offers a multicolor bronzing powder, highlighter, and blush. The soft shimmery color of the four shades creates a vibrant look. It is a long-lasting formula and gives an even application on the skin. The soft-touch of high-intensity hues brings out a natural glow on your cheeks. The blush has transparent pigments to prevent heaviness on your face. Its shimmering colors highlight your skin with a radiant glow.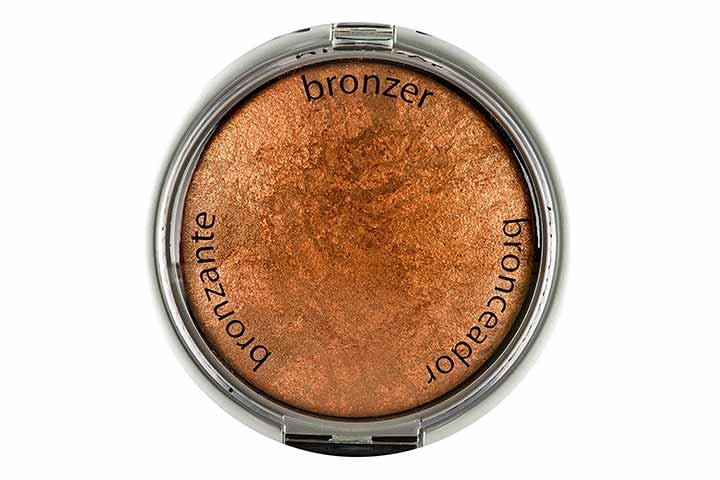 The Palladio bronzer blends evenly into your skin to give a flawless finish with perfectly chiseled features. Its silky-smooth formula blends with your natural skin tone. Designed with ultra-fine pigments, it lights up your skin with a shimmery touch. Infused with aloe vera and chamomile, it helps to hydrate and condition your skin. Natural ingredients, including camellia and safflower with their anti-inflammatory properties, restore the skin's elasticity. The all-natural formula is paraben-free and helps in revamping your skin.
Formulated from silky soft formula, Milani bronzer feels luxurious on your skin. It is an oil-free formula that reduces breakouts by clearing your pores. The matte finish side blends in your face to give you a fake tan color, and the shimmery highlighter side gives a special glow to your skin. It has a powdered finish for a smooth and simple application and is best suitable for all Indian skin tones.
Aya Cameleon is a face and body bronzer formulated in a golden finish. It is a perfect formula for a natural sun-kissed glow and luminous-looking skin. The highly pigmented product does not leave any crease or cracks on the skin. It lasts for hours without flaking or cracking. The silky soft formula feels luxurious on your skin. This shimmery bronzer is waterproof and does not wear off in sweaty conditions.
The L.A girl is a high-definition matte finish powder that covering all the imperfections, such as fine lines and blemishes, giving a flawless look. It is an oil-free formula that protects your skin from breakouts. The long-lasting formula leaves your skin radiant and highlights your best features. You can use it as a wear-alone product or apply it over foundation for full coverage. The compact includes a mirror and a high-quality sponge for easy application.
For a radiant look and sun-kissed glow, Wet and Wild bronzer blends easily with your skin. The gel-based formula ensures there are no creases or cracks. This long-lasting formula is available in five shades. It blends easily to give your skin an even skin tone. A dermatologically tested formula, it is vegan, oil-free, cruelty-free, and gluten-free with no added fragrance.
Miss Claire is a richly pigmented bronzer and highlighter palette to give you candle-lit skin. This makeup studio palette is a combination of various shimmery shades suitable for medium and dark skin tones. It highlights your cheekbones for the ultimate 3D look. The product allows you to customize the depth of your glow for a flawless look. It can be used as a wear-alone product or as a combination to pop up your features with a shimmery touch.
Formulated from a shimmery finish, L.A Colors Bronzer brightens up your skin with a sun-kissed glow. The bronze color blends seamlessly with all skin types to give a radiant look. It is a highly pigmented product that adds instant warmth and dimension to highlighted features. The product is perfect for enhancing your skin tone and not making your skin feel cakey or powdery.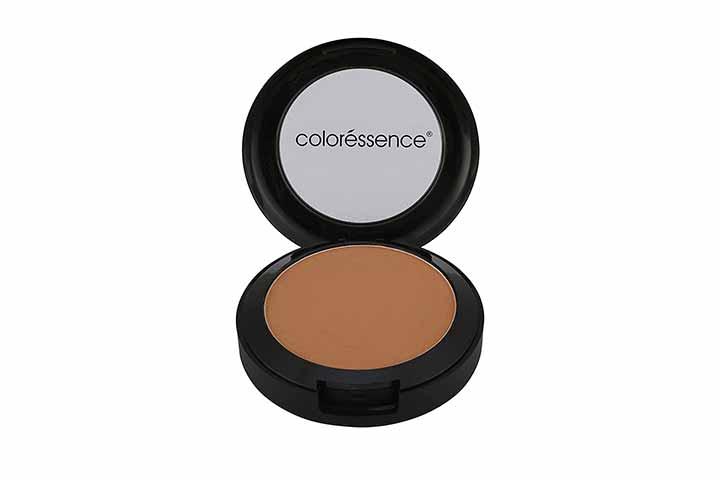 Compressed powder in a matte finish, Coloressence bronzer is ideal for contouring, sculpting, and shading. Enriched with antioxidant-rich vitamin C, it gives your skin a healthy complexion with a velvety glow. You can highlight your cheekbones with a natural finish glow. The natural color of the bronzer conceals your fine lines and evens out your skin complexion. Designs in a disc-shaped box, it includes a mirror and a round sponge for easy application.
How To Choose The Right Bronzer For Indian Skin?
Here are some factors to keep in mind to choose the best bronzer for Indian skin.
Skin type: For normal or combination skin, choose powder-based bronzers as they blend well. Dry skin requires cream-based or liquid bronzers as the skin needs more moisture.
Skin tone: Choose a bronzer that is one or two shades darker than your skin tone. For light-toned skin, warm peach or beige is ideal. For a warm skin tone, golden-brown shades work better. Natural brown goes well for a neutral tone.
Long-lasting: Check from the label if the product is long-lasting after application. Choose the one that does not wear off easily.
Sun protection: Look for bronzers with SPF content as they can be used as a wear-alone application for double protection.
Brand: Skin is a sensitive part of your body. Do not buy any product that is cheap in quality. A good brand never compromises on quality.
Frequently Asked Questions
1. Can I wear bronzer without foundation?
You can wear a bronzer without foundation. Wear-alone bronzers even out your skin tone for a natural look.
2. Do I put bronzer or blush first?
Bronzer is applied first, followed by blush and then highlighter. Bronzer is applied below your cheekbone and blush on apples of cheeks.
3. Is it alright to use bronzers every day?
Yes, you can wear bronzer every day. But choose a shimmer-less bronzer for everyday use as it will add a natural touch to your skin.
A bronzer is a makeup essential that helps add depth and define your features. It helps you get a sun-kissed glow with just a simple step. You can find both high-end and drugstore bronzers, so choose one based on your budget while not compromising on the quality by understanding all that you need to factor in when choosing one. Firstly, ensure that it complements your skin tone and skin type. Also, ensure that it is long-lasting and highly pigmented and comes with SPF to protect your skin from the sun's harmful rays.
Recommended Articles:
The following two tabs change content below.

Poulami Nag is a writer and associate editor at MomJunction. She did her MA in English from Miranda House, University of Delhi and has qualified UGC-NET. Her journey as a content writer began in 2017 and since then she has garnered diverse interests along the way. Her knowledge of literature and language has given her an eye for detail and...
more