A bubble ball is a fun prop where you can get inside a plastic bubble to roll or wrestle with your friends. If it sounds fun, check out our list of the best bubble balls to choose the right one. These balls are made of inflatable plastic, which is odorless and non-toxic, and are easy to wear. You can roll around in these balls to enjoy a fun, entertaining, and high-energy activity.
Suitable for all ages, these balls are durable and allow people to have fun outside, away from screens and video games. So, if you're thinking of spending your weekend bouncing off in the garden, here are the bubble balls we've handpicked for you.
Tips For Safe Use Of Bubble Balls
Ensure the bubble is properly inflated before use.
The ball must cover at least 8in above your head for protection.
If the bubble ball doesn't fit your body, avoid forcing yourself inside. You must buy a bubble ball that fits your size.
There should never be two players in the same ball.
You must not run at full speed while wearing a bubble ball for play. Only bump slowly into others during the game to prevent any mishaps.
You must always adjust and appropriately strap yourself before playing.
11 Best Bubble Balls
Bubble football is a fun game to play in teams. Garybank's bubble ball is made from sturdy Plato PVC material and is specially designed, keeping in mind the average Americans' build and physique. The inner diameter is 59.06in and is extra-large to fit an adult or a teenager. The thickness of the soccer ball is 0.8mm and weighs around 22.4lbs. The dimensions of the ball are 8.7×8.2×6.1in.
The inflatable bubble soccer ball is made from non-toxic and odorless 0.8mm PVC. It is equipped with seven fasteners in a row, has two handles, and two adjustable shoulder straps for attaching the ball to your body, thus ensuring safety. The bumper zorb ball can be easily deflated or inflated within 1-2 minutes using an electric air pump.
The ball's diameter is 47.24-59.06in, suitable for players of height 3ft9in to 6ft2in and of weight 60-200lbs. The ball has welded edges to prevent leakage, weighs 22.65lbs, and measures 17x13x12.25in. In this YouTube video, you will find a detailed review of this product.
The bubble bumper balls are a set of two 36-inch heavy-duty wearable body bubble balls made from heavy-duty sturdy PVC vinyl. The balls are heat-sealed and come with a repair kit of four-hole patches for repairing wear and tear of the balls.
Use the valve that comes with it to fill the air in the ball and prevent loss of air while playing. The balls are collapsible and can be transported with ease after deflating. The dimensions of the ball are 14×3.7x11in, and weight is 5.04lbs. The product comes with a 30-day warranty.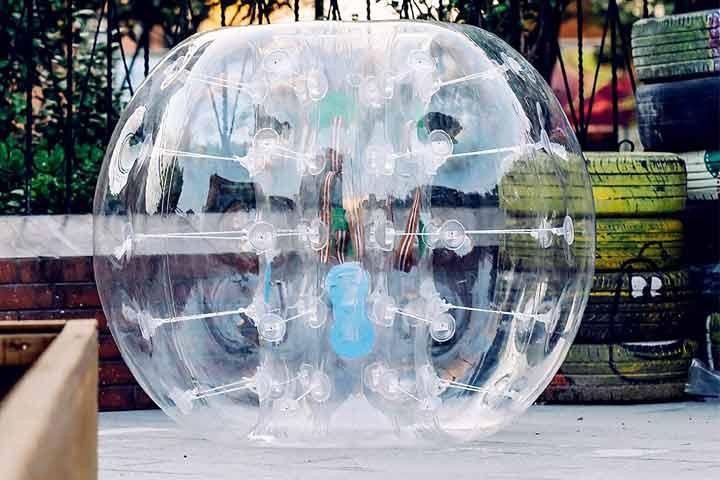 The inflatable and eco-friendly transparent zorb ball is made with 0.8mm PVC and measures 48inin diameter. The durable and odorless plastic ball is designed with a 3-way safety system for air protection. The Popsport ball has handles to hold and a harness for safety. It can be inflated with an electric air pump within 90 seconds. The ball weighs 20lbs and measures19x15x15in.
The bumper bubble ball is designed to deliver a fun-filled soccer experience. The ball is inflatable and easy to carry. It is made from durable, non-toxic 0.8mm PVC and is washable and reusable. The diameter of the ball is 24in, and it comes with a patch kit for mending holes in the plastic. The ball weighs 22.5lbs, and its dimensions are 60x60x48in. Check out this video on YouTube for a detailed understanding of the product.
The inflatable bumper balls come in two and are made of 0.3mm durable, non-toxic, heavy-duty PVC. The product comes with instant patches wherein one patch can repair 1-3 small holes. The balls are of 36in diameter and weigh 4.3lbs individually. The dimensions of the ball are 35.43×35.43×31.5in.
The wearable bumper ball is made of 0.3mm non-toxic, tasteless, and durable PVC. The ball can be inflated or deflated using an electric air pump within 3-5 minutes. There are thick double handles integrated into the ball for safety and an adjustable shoulder strap for comfort.
The ball has eight split chambers for balance and enabling collision with ease. Once deflated, it is compact and easy to carry, lightweight, and convenient to store. The ball weighs 6.6lbs, and the dimensions are 43.31×43.31×4.33in.
The set has two portable Keenstone bumper balls is made of thick, non-toxic, sturdy, and durable 0.8mm PVC and can be deflated within two minutes. The ball is equipped with two handles and two adjustable shoulder straps, making it convenient to wear while playing. The ball is tightly sealed, air-proof, and resistant to heat and cold. The diameter of the ball is 59.1in.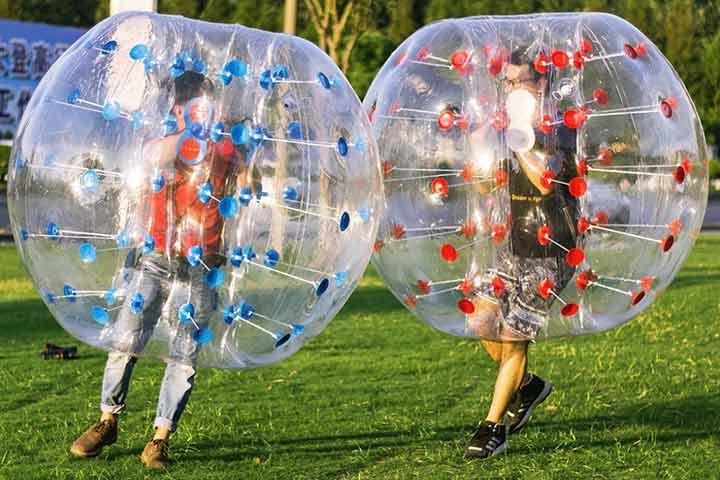 The bubble soccer ball is made from eco-friendly, non-toxic, odorless, thick, and durable 0.8mm PVC and comes in a set of two. The diameter of the ball is 47.3in and can be inflated within 1-3 minutes using an electric pump. The bubble ball has two handles inside and two adjustable straps for wearing it conveniently and safely. The product comes with a two-year warranty and weighs 45.25lbs. The dimensions of the ball are 15.75×27.56×13.8in.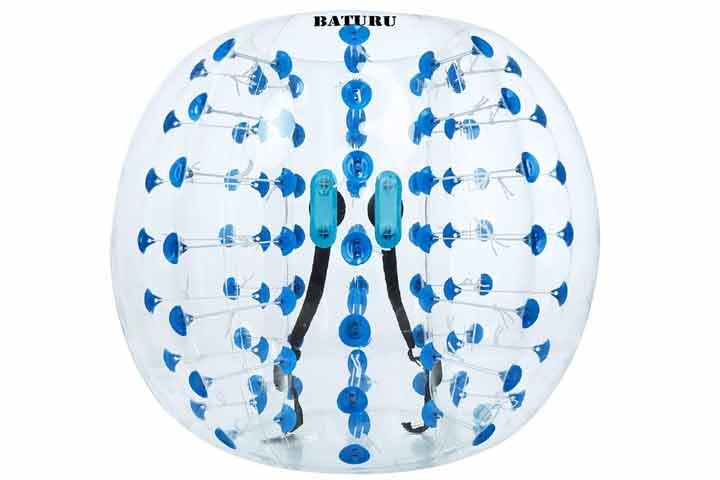 The Baturu ball is made of 0.8mm ultra-thick PVC that is sturdy, durable, odorless, tasteless, and non-toxic. The ball can be easily inflated or deflated using an air mattress pump or an electric air pump. The handles of the ball perfectly fit in your hand and are comfortable to hold. The diameter of the ball is 59in, weight is 20.5lbs, and the dimensions are 60x60x49.2in.
The two Theefun inflatable bubble soccer balls are made of 0.3mm non-toxic PVC vinyl and come with two repair patches. The balls are heat-sealed and tested for quality and can be inflated or collapsed within seconds for convenient transport and handling. The diameter of the fully inflated ball is 36in, weight is 10lbs, and dimensions are 14x11x4in.
Factors To Consider When Buying A Bubble Ball
Playing soccer or any other sport with bubble balls is fun. But a good quality ball that is comfortable and eco-friendly is a hard find. Consider these factors when you shop to buy a bubble ball that is best for you.
Size: Bubble balls come in different sizes that are ideal for different age groups. Bubble balls are designed for people of a certain height and weight. So, refer to these parameters before buying one.
Sets: Bubble balls that come in sets are always better than the balls sold individually.
Inflation: Bubble balls need inflation before use and using a manual pump to fill air could be tiring and tedious. You may want to buy an electric pump to make filling air easy and hassle-free.
Material: Bubble balls are typically made from PVC of different thicknesses and quality. Refer to the specifications about the material, its toughness, and non-toxicity to finalize upon a sturdy, good-quality bubble ball made with high-quality plastic.
Construction: Bubble balls are usually threaded or are constructed in a honeycomb structure. The threaded balls have strings to distribute the air and pressure inside uniformly. The honeycomb style balls have interlocked pockets that gather at sealed seams to avoid bounce-back reactions while playing. Threaded balls are preferable as they offer more protection and cushioning.
Harness and handles: Bubble balls with adjustable straps and handles help secure a good grip and position while you wear them. You may want to look for these added design features for a safe and enjoyable playing experience.
Playing with bubble balls can guarantee a fun time for you and your children. You can wear a bubble ball to play games such as wrestling or soccer with a twist. When choosing one for your family, ensure that it is made of non-toxic and long-lasting materials and comes with a threaded design to offer more protection and cushioning. Besides, always read the safety manual for a safe experience and purchase one that fits your size. Further, it should have adjustable straps and handles for a secured fit.
Why Trust MomJunction?
Bubble balls provide you a fun way of enjoying playtime. Our team of experienced researchers and writers have analyzed the various options available online and put together a list of the best bubble balls that are safe, eco-friendly, and durable. We have included a detailed description of each product and provided tips on using them safely. Furthermore, we have included a buying guide to help you select the one that suits you best.
Recommended Articles:
The following two tabs change content below.

Tikendrajit Pegu is a content contributor at MomJunction. An engineering graduate, he also holds a postgraduate degree in management. He gravitates towards writing articles related to sports and adventure, and also has a good understanding of topics related to finance and economics.  Tikendrajit has over five years of corporate experience working on digital projects. Currently, he is based in Guwahati,...
more