The secret to a perfect Bundt cake? Generous amount of love and a stellar Bundt pan. Of course, a Bundt pan is multi-purpose. You can use it to make a myriad of sweet treats such as jello, marble cakes, babka, and monkey bread. You can also make juicy meatloaf and roast chicken in this pan.
This mold was popularized in the 1950s and 1960s in North America after cookware manufacturer Nordic Ware trademarked the name "Bundt" and began the production of their Bundt pans. The product received a boost when it was mentioned in the New Good Housekeeping Cookbook in 1963. In this post, we take a look at these landmark baking pans that have been part of the rich culinary and enterprising history of North America. Here's our pick of the 11 best Bundt pans for your every baking need in 2021.

Top Products From Our List
11 Best Bundt Pans Of 2021
Nordic Ware's Bundt pans are the gold standard for any baker. So, it is only fitting that we introduce this Nordic Ware Platinum Collection Bundt Pan, which is known for its sturdy cast aluminum body that is taller and narrower than most of its peers in the market. It has an elegant architecture with well-defined ridges and curves. The cake comes off easily and bakes evenly across the mold.
Pros
Durable
Lifetime warranty
Premium non-stick interior
Heat-reflective silver platinum exterior
Cons
May take a bit longer to clean
If you are just starting out and experimenting with baking, you may not be in the mood to make a big investment on a Bundt pan, but would instead prefer something low maintenance. This Wilton Fluted Tube Pan is exactly that. It gives your Bundt cake a decent height and an even gold color. It is made of chromium steel and is easy to clean.
Pros
Durable
Affordable
Quick-release
Reliable non-stick surface
Cons
Grooves may not be well-defined 
Built with heavy gauge aluminized steel, this Cuisinart Chef's Classic Nonstick Bakeware delivers consistently good bakes. It has a non-stick exterior and interior, and its thick rolled edges prevent warping. Rest assured, this bakeware will never let you down. The pan is of good quality and will stand the test time of time as you go about your baking adventures.
Pros
Even heating
Quick-release
Dishwasher-safe
Easy to clean
Cons
May change color after a while
If you are hosting a big party, try making mini-Bundt cakes in this CHEFMADE Mini Bundt Pan Set to serve each of your guests. It takes less cooking time and ensures consistent color and taste of your bakes. It is made of premium carbon steel that does not cause harmful substance precipitation when exposed to exceedingly high temperatures in an oven.
Pros
Non-stick
Teflon-free
PTFE & PFOA-free
Food-grade silicone coating
Cons
It may rust if not wiped clean thoroughly. 
Of all the bakewares in the market, this one delivers the most stunning Bundt cakes you will ever see. The interior grooves are crafted efficiently, giving the cake a swirled diamond pattern. Most of all, your guests are going to absolutely fall in love with the hidden heart that appears within this pattern. It holds 10-15 cups of cake batter.
Pros
Fast-release of bakes
Easy to clean
Bakes evenly
Convenient to use
Cons
This silver colored and ceramic coated granite pan looks great and bakes even better. This casaWare Fluted Cake Pan is part of the brand's best-selling bakeware items and for good reasons. It can hold 12 cups of batter approximately and has a heat tolerance of up to 450°F. Plus, it does not peel off or blister when exposed to high temperatures.
Pros
Durable
Ensures easy release
Scratch-resistant
PFOA, PTFE, and PFOS-free
Cons
May not be dishwasher-friendly
If you are in the mood to have fun and get experimental with your Bundt cakes, then this Mity rain Bundt Cake Silicone Pan will suit you well. Whether you are a beginner, in a rush, or enjoying baking time with your kids, this is a great pan that allows you to bake 6 mini Bundt cakes. It is made of food-grade silicone and is extremely convenient to use. It hardly needs any maintenance or upkeep.
Pros
Durable
Easy release
Fancy design
Strong elasticity
Cons
Built with organic and non-toxic materials, this CopperKitchen Original Mini Bundt Pan is safe and an excellent Bundt pan for when you're throwing a big party and baking mini cakes. It has 6 cavities and is extremely convenient to use. It bakes bundlettes of pretty decent sizes like the ones you will find at popular bakeries. It is dishwasher-safe and comes with a coating that's PFOA, PFOS, and PTFE-free.
Pros
Durable
Easy release
Non-stick coating
No greasing needed
Cons
May not be suitable for bigger batches
This Tomods Bundt Cake Pan is made of high-quality, food-grade carbon steel, which is ideal for baking. It allows fast and even distribution of heat, allowing the cake to cook well and uniformly. All while its thick rolled edges prevent warping. It can withstand temperatures of up to 450°F and is convenient to use and move around. It is advisable to use a mild cleanser and warm water to wash this Bundt pan.
Pros
Durable
Non-stick surface
Dishwasher-safe
Instant pot/air fryer-safe
Cons
May not be scratch-resistant
Made of heavy-duty cold-rolled steel, this Wilton Excelle Elite Mini Fluted Tube Cake Pan will make your life easier every time you need to make individual desserts. Just get your Bundt batter ready, and make multiple batches, with different toppings each time to impress your guests. It is great for frequent bakers who experiment often and make several batches of cakes with alterations to come up with the perfect recipe.
Pros
Easy release
Non-stick surface
Dishwasher-safe
Limited 10-year warranty
Cons
May not be rust-resistant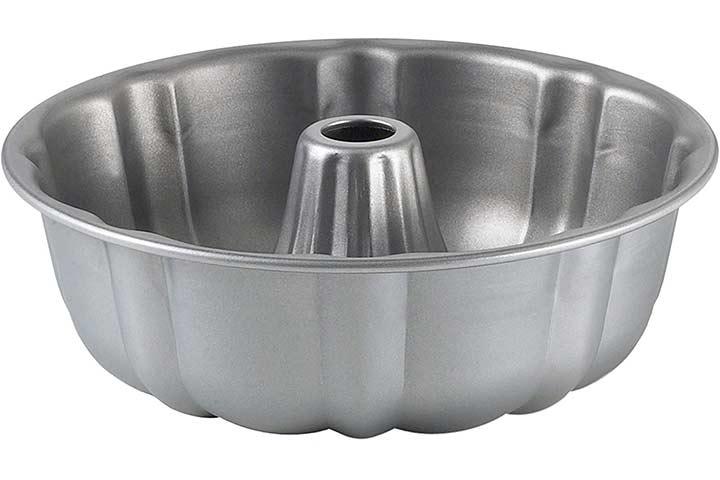 If you are looking for a multi-purpose Bundt pan that also doubles up as a vessel to make ice cream cake and deep-dish pizzas, then this Calphalon Nonstick Bakeware Bundt Pan would be ideal for your needs. It is made of high-quality carbon steel and has a latching side panel that detaches easily for easy and quick removal of your delicate bakes.
Pros
Durable
Non-toxic
PFOA, PTFA, and BPA-free
Double-layer non-stick coating
Cons
May need to be wiped with cooking oil after use to last long
Now that you are caught up on the best Bundt pans in the market, here are a few key things you must keep in mind before buying one.
How To Choose The Best Bundt Pans
Here are a few parameters that can determine what Bundt pan will suit you best.
Material: Pick a non-stick pan made of metal. Of course, you will grease your pan before pouring in the flour, but it is important to have a non-stick pan so that the baked cake releases cleanly from the pan. Among the types of metal, aluminum is your best bet. It conducts heat well, and you will find a better collection in terms of size and design among aluminum pans.
Size: For most recipes, a 10-12-cup capacity Bundt pan is ideal. There are also bigger ones available in the market, with 15-cup capacity. You can also make cute tiny Bundts where there are 6-12 molds in one pan. So, you can buy the size that suits you best.
Design: Design is everything here. Of course, you would expect well-defined lines and intricate crevices. Of course, the more detailed the design, the more effort it will take to grease the pan so that the cake doesn't stick on the edges.
Whether you are looking to buy a mini-Bundt cake for parties or a bigger one to bake standalone cakes, ensure that you have your priorities right and get the pan that best suits your needs. After all, durable bakeware will prove to be your loyal companion in your culinary baking adventures in the kitchen. And if your idea is just to have some fun, then there are several fancy design mold pans that you could go for. Whether you are upgrading to a better pan or starting out with your first, we hope our list of the 11 best Bundt pans of 2021 served you well.